Study in Ireland
Ireland is the most popular study abroad destination for international students and provides a high quality of education that is recognized around the world, combining a great higher education experience with historic cities, beautiful scenery and unique heritage. Ireland is located on the western coast of Europe, and it is a member of the European Union. Currently, Ireland is home to 35,000 international students from 161 countries. Among many globally recognized institutions, Ireland is the most popular choice for international students from all over the world. The country has consistently been recognized as a safe and peaceful city in the world rankings, complemented by the friendly nature of the Irish people.

Universities in Ireland provide first-class education in a traditional but modern environment. Thousands of study programmes in two dozen schools attract international students from all over the world. Higher education is provided by several institutions. Those are universities, colleges and institutes of technology. All of the Irish universities are public and therefore state-funded. Seven universities in Ireland are in the top 500 in the 2019 QS World University Rankings. The best Ireland universities offer courses at the standard levels of study. These include undergraduate, postgraduate and doctoral, as well as diplomas and other standards.
Recognitions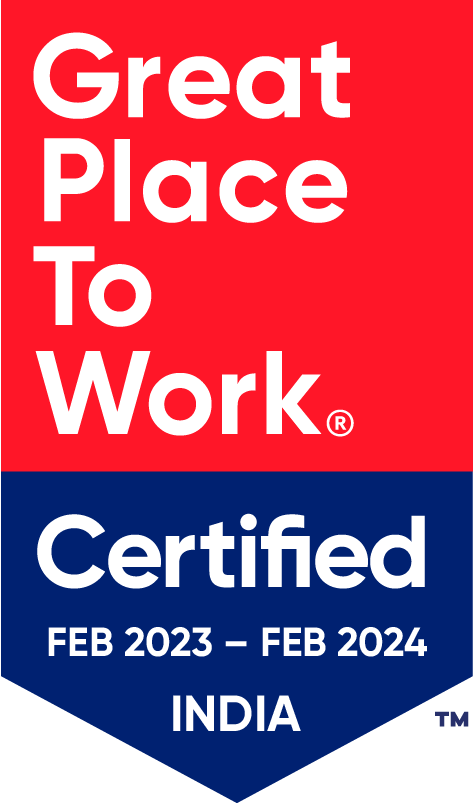 GoIreland is a proud Great Place to Work®-Certified™ organisation, which is the 'Gold Standard' in identifying and recognizing high trust and high performance work culture. We represent Credibility, Respect, Fairness, Pride and Camaraderie.
Why Study in Ireland?
There are many reasons to graduate in your home country, but if you want to make the most of your university experience, you should consider studying abroad. There are several advantages to studying in another country, even for a short time, and these goods can vary depending on where you like to go. If you're looking for a unique experience full of beautiful scenery, rich history, and access to English, you might want to take a look at study abroad plans in Ireland. Ireland has a reputation for high-quality education. There are many top universities in Ireland, including 14 technical institutes and 24 certified private institutes. Universities in Ireland offer study programs from the undergraduate to postgraduate level. Over the years, it has traditionally been a popular destination for Indian students. Ireland offers a high quality of life, peaceful and safe country.

Studying in Ireland offers a lot of great opportunities for any potential and current students. Being able to enter a large network of nearly 35,000 international students from 161 countries is a strong reason for you to come to the country. Students are given priority because they are provided with the best education system due to the several investments made to develop their schools and facilities. Students are also granted the freedom to select from over 500 globally recognized credentials in world-class institutions. Also, students can achieve their ambitions in the most entrepreneurial country in Europe. Entrepreneurship sounds creative in Ireland, with 32,000 people starting new businesses in 2013.
We are the Official Representative for Top Ireland Universities
Let's find out why Ireland is a perfect destination for you!
Ireland, known for its vast expanse of lush green fields and magnificent palaces, is a country that offers you the best of both worlds - lush countryside and a vibrant urban lifestyle. It's the world-class universities; a wide variety of courses and an array of job opportunities make it a perfect destination for Indian students. As a technology hub with the European headquarters of many leading companies, Ireland will guarantee you a complete experience beyond your studies. Here are the top reasons for studying in Ireland.
Quality institutions
One in ten full-time students in Ireland is an international student, which explains the specialty offered by Irish institutions. The Irish Government controls the standard of education through the National Qualifications System (NFF). It means that, regardless of the institution you are enrolling in, the standard of education remains consistent.
Excellent Education System
Universities in Ireland offer degrees in all types of fields. However, If you want to take advantage of the world's best programs, pharmaceuticals, chemistry and technology are the fields to pursue. Irish universities are well known for their academic capabilities, and chances are high that your qualifications will be accepted almost anywhere in the world. You can choose to Study in Ireland for only a semester, one year or longer. No matter how long you continue your education, you will transfer your credits to many universities around the world, perhaps even in your own country, to be able to complete your degree
Plenty of opportunities in Ireland
Whether you are applying for an undergraduate or graduate program, you can find plenty of opportunities in Ireland. In reality, it houses the key strategic research facilities of many of the world's largest and best organizations. Ireland has more than 1,000 multinational companies with 9 out of 10 global ICT companies, 8 out of the top 10 global pharmaceutical companies, 6 out of the top 7 testing companies, 8 out of the top 10 gaming companies, and 15 out of the top 20 medical device companies. Phew! In fact, 50% of the world's largest financial services companies are based in Ireland.
Innovation and research opportunities
Universities and colleges of Ireland are the top 1% of the world's research institutes with influences in 19 disciplines including social science, natural science, humanities, and healthcare. It offers a great opportunity for undergraduate and graduate students to apply for research programs driven by innovation and abundant opportunities. Add to that name like John Bell, Oscar Wilde, Ernest Walton and James Joyce, which simply re-establish the fact that innovative thinking, creativity and problem-solving are some of the integral aspects of the Irish curriculum.
Work Opportunities for International Students
If you are worried about earning money while continuing your education, the government allows students to apply for a green card, also known as a work permit. Many universities also offer internship opportunities to help students gain practical experience in their field of study. There is a variety of abroad studies loan that offer international students in addition to their education in Ireland. If the job opportunity does not appeal to you, you can apply for a scholarship to study abroad in Ireland. You would want to explore financial assistance solutions for the best outcomes before applying for a particular program. You can also support your studies in Ireland by working part-time. You will be permitted to work for 20 hours a week during the academic session and forty hours per week during the vacation. After completing your course, you will stay again to apply for jobs under the Irish Third Level Graduate Scheme for non-EU third level graduates.
20 Branches Across 12 Countries!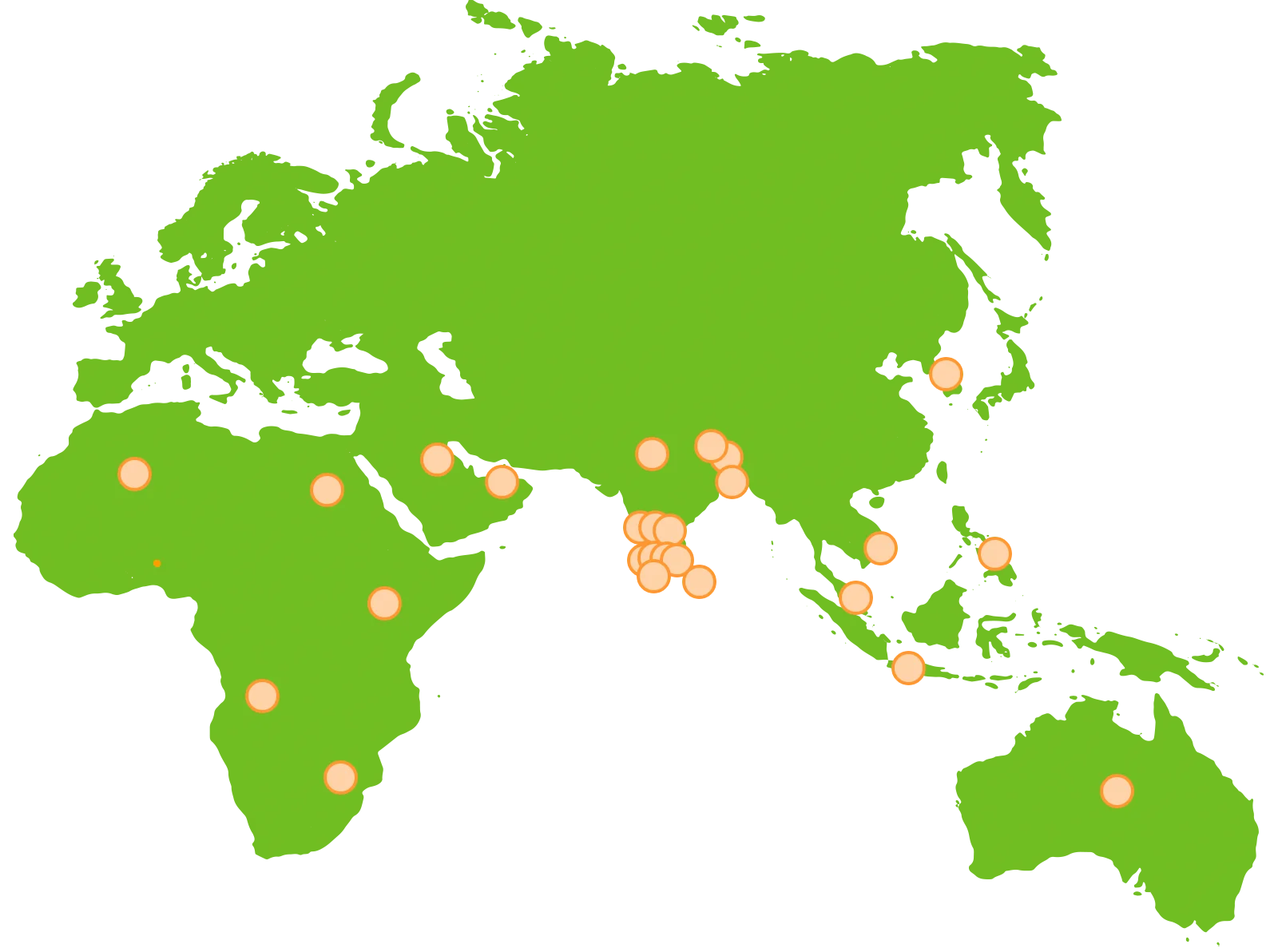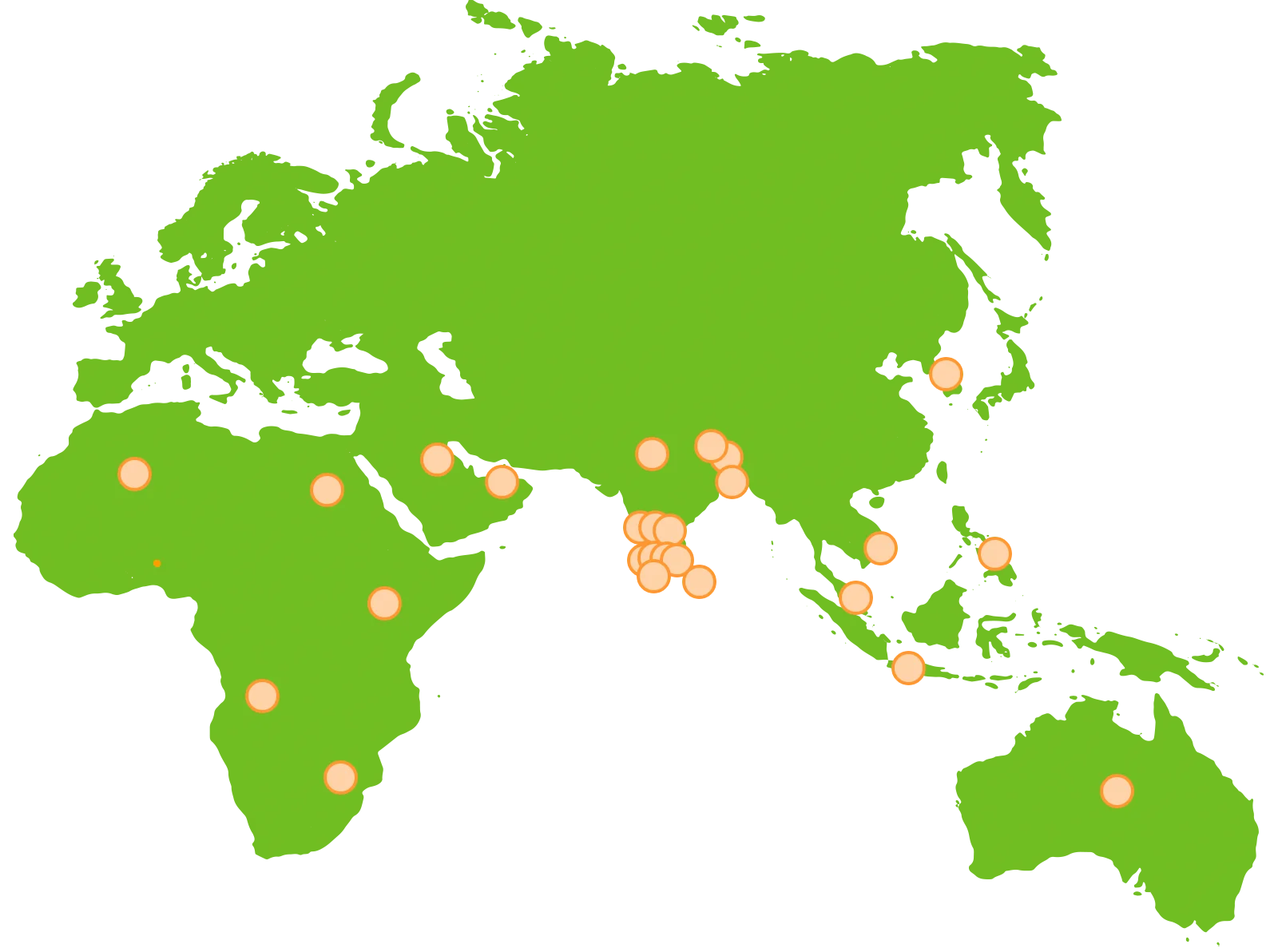 Stay in a safe environment
The Irish are acknowledged for their friendly and welcoming approach. They like their conversations and can be great people to make you laugh. It is a family-oriented community that extends to their approach to international students. Ireland ranks in the top 10 countries in Global Peace Indices of 2018 and 2019, making it one of the safest countries in the world. You will enjoy the same rights as every other Irish citizen and live in a community that is always willing to help and support you. Moreover, festivals are an integral part of Irish culture, filled with traditions, customs and folk music. You will be delighted to see the celebrations and festivities during St. Patrick's Day, Galway Oyster Festival, Puck Fair, Fleadh Traditional Irish Music Festival and more! When in Ireland, you will always feel at home.
Best universities to study in Ireland
Ireland has some of the best universities in the world. Most universities in Ireland rank impressively well at the international level and the country as a whole is naturally a popular choice for international students. Different types of higher education institutions combined with historic cities, beautiful countryside and the unique culture of Ireland will make the country an attractive place to study. Higher education in Ireland consists of colleges, universities and institutes of technology. The latter not only offers courses in technical subjects but also include a wide range of vocational programs in healthcare, pharmacy, hospitality, textiles, media, marketing and more. Some of the important fields Irish universities specialize in include the natural sciences, economics, technology and the humanities. Ireland's seven public universities are all ranked within the world's top 700 in the QS World University Rankings® 2019, as is one of the 14 institutes of technology.

Top Universities in Ireland
Trinity College Dublin
Dublin City University
University College Dublin
University College Cork
Dublin Institute of Technology
Maynooth University
National University of Ireland, Galway
University of Limerick
Degrees and Courses in Ireland
Irish higher education institutions offer degrees at ordinary Bachelors, Masters and Doctorate degrees, undergraduate and postgraduate diplomas in a wide range of disciplines. Universities in Ireland offer a wide range of study programs for international students who can pursue both full-time or part-time. Admission requirements vary between institutions and from course to course so check with your preferred university before applying. Enroll in a distinguished educational institute in Ireland and graduate with degrees in Data Analytics, Data Science, Information Technology, Cloud Computing, Engineering Degrees - Mechanical, Civil, Aerospace, Automotive, Artificial Intelligence, Biotechnology, Design, Digital Marketing, Telecommunications, Business, Nursing, etc. programs with internships. Ireland gives the best digital business courses with qualifying scholarship opportunities. Students can take advantage of the post-graduate work rights 2 years after completing their studies. They are allowed to work part-time for up to 20 hours per week. Universities in Ireland offer a great student support system and the opportunity to earn while you study.
Study Masters in Ireland
Master's programs in high-level institutes such as University College Cork, University College Dublin, University of Limerick, Dublin City University, Maynooth University and graduate with specialized degrees in Computer Science, Cloud Computing, Information Technology, Business, Engineering, Machine Learning, Food Technology, Artificial Intelligence, Biotechnology, Pharmacy and Finance.
Study PhD in Ireland
Typically, Irish doctoral degrees last three to four full-time years, and you can study both 'traditional' and 'structured' programmes. Structured PhD has the same academic elements as conventional PhD but offers an additional degree of support by integrating organized programmers of training and evaluation. Some PhDs are obtained at universities, but there are also high-quality programs on offer at Institutes of Technology.
Study in Ireland requirements
Below is the list of eligibility criteria to Study in Ireland and for getting admission in top universities in Ireland.
English Requirement
The minimum IELTS score is 6.5 for UG and 6.5 or higher for PG programs.
The minimum of TOEFL score is 90 for both UG and PG.
PTE Academic scores: 51-58 for UG and 59-64 for PG.
Undergraduate
Minimum of 12 years of elementary and secondary education is required to apply for a UG program.
The required minimum aggregate marks is 65% in 12th grade.
A minimum of 6 in IELTS and equivalent TOEFL/PTE academic scores is also a part of the eligibility criteria.
A most common prerequisite for some sciences and technology courses is Mathematics in class XII.
Post-Graduate
For postgraduate studies in Ireland, most universities require an equivalent qualification for an Irish bachelor's degree, which requires 16 years of formal education. This refers to another year of education after the Indian Bachelor's degree or a four-year Bachelor's degree such as B.E or B.Tech. Or other such courses.
First-class in undergraduate level degree.
Mathematics in-class XII (a prerequisite for some sciences and technology courses)
Required minimum of IELTS and PTE academic scores.
Relevant work experience.
Study in Ireland cost
Getting a Bachelor's or Master degree in Ireland is a fantastic opportunity for your career development but little expensive than anywhere else in Europe. Of course, how much you pay will eventually depend on a large range of factors. Typical tuition fees in Ireland range from €10,000 to €50,000 annually at both the undergraduate and graduate levels; Europeans studying in Ireland are fortunate to get free undergraduate tuition. Cost of living in Ireland depends on what city you are living in, but you can expect to pay between €7,000 and €12,000 a year for food, accommodation and other things.
Tuition fees in Ireland for Indian undergraduate students
Business: €10,000 - €16,000
Arts and humanities: €10,000 - €16,500
Sciences: €10,000 - €21,600
Engineering: €10,000 - €21,600
Medicine: €31,000 - €50,000
Tuition fees in Ireland for Indian postgraduate students
Engineering: €10,500 - €19,500
Business: €10,500 - €30,000
Arts and humanities: €10,500 - €20,000
Sciences: €10,500 - €18,000
Medicine: €12,000 - €52,000
Study in Ireland Scholarships for International students
The Republic of Ireland has a remarkable scholarship program for international students. Every scholarship depends on specific criteria for qualification laid by individual institutions in Ireland. The Scholarship will cover half of the education fees on taught Masters Programs for which the scholar has been offered a place. Several universities offer full scholarship and other offers a partial scholarship. This is one of the best opportunities for Indian students. You can now go to Study in Ireland easily. There are many such Government-funded, Private Institutional grants and scholarship opportunities that one can profit, to Study in Ireland. For example, the Dublin Institute of Technology offers a Centenary Scholarship Program for all international students seeking a Master's degree at the institution. Similarly, the National University of Ireland in Galway offers a few scholarships, especially for Indian students.
Student visa Ireland requirements
For visa requirements, Ireland has an agreement with numerous countries. GoIreland education consultants will guide you and make the visa process less complicated than you think. For EU student's visa is not needed to travel or Study in Ireland.
Top Cities to study in Ireland
Ireland is distinguished by a different education system, due to which thousands of students choose to Study in Ireland each year. If you want to be one of these students, we can support you with all the information related to studying in Ireland. In this article, we will bring you closer to the most important cities to Study in Ireland.
Dublin - the capital of Ireland
Dublin is the capital of Ireland, which has a population of over 550,000. The city has a turbulent history but is a major tourist destination today. The centre of the city is divided into parts, which are referred to as quarters. These include the Medieval Quarter, the Georgian Quarter, the Docklands Quarter, the Cultural Quarter and the Creative Quarter. Located in the city of Dublin are three public universities such as the Dublin Institute of Technology, Dublin City University, and National University of Ireland.
Galway
Galway does not get the same number of international students who come to Dublin each year, and it is a good choice to Study in Ireland. The city is located on the west coast, with beautiful beaches and gardens offering breathtaking natural landscapes. Galway combines modernity and originality as its features of traditional Irish culture and shows the contemporary side of modern Ireland. Galloway offers a group of colleges and universities for international students who wish to complete their university studies, including
National University of Ireland, Galway
Galway May Technology Foundation
Cork
Cork is a city that is famous for attracting a large number of tourists, thanks to which it has beautiful landscapes in addition to significant historical landmarks. People are proud of their city. The city attracts a significant number of students every year as it is an important place for university study because the city has a university college cork, which allows students to pursue studies in specialties and majors that meet all levels of university study
Limerick
Limerick is located in the middle of Western Ireland, on the Shannon River, and is the fourth largest city in Ireland in terms of population. The city of Limerick is famous for its art. The city was named the country's first national cultural city in 2014. Many international students come to the city because of the availability of important institutions of higher education
University of Limerick.
Limerick Institute of Technology.
Griffith College, Limerick
Mary Immaculate College.
Therefore, Ireland has a good reputation in the field of higher education. This is one of the most important places for students to continue their studies. English is the official language of the country. It plays a major role in attracting many students from all over the world to consider this language as a global one.
Study in Ireland consultants
GoIreland is one of the best Ireland education consultancy providing international educational services to students wishing to Study in Ireland. Our main expertise is in short listing courses and universities based on students' preferences and helping them enroll in their dream institution. We provide free and professional advice with many value-added services to our students. GoIreland offers personalized attention for all students with Customized Study Plans and Individual Trackers to achieve high scores in IELTS, PTE and TOEFL. If you would like to Study in Ireland at the top university, arrange your free consultation with GoIreland now.