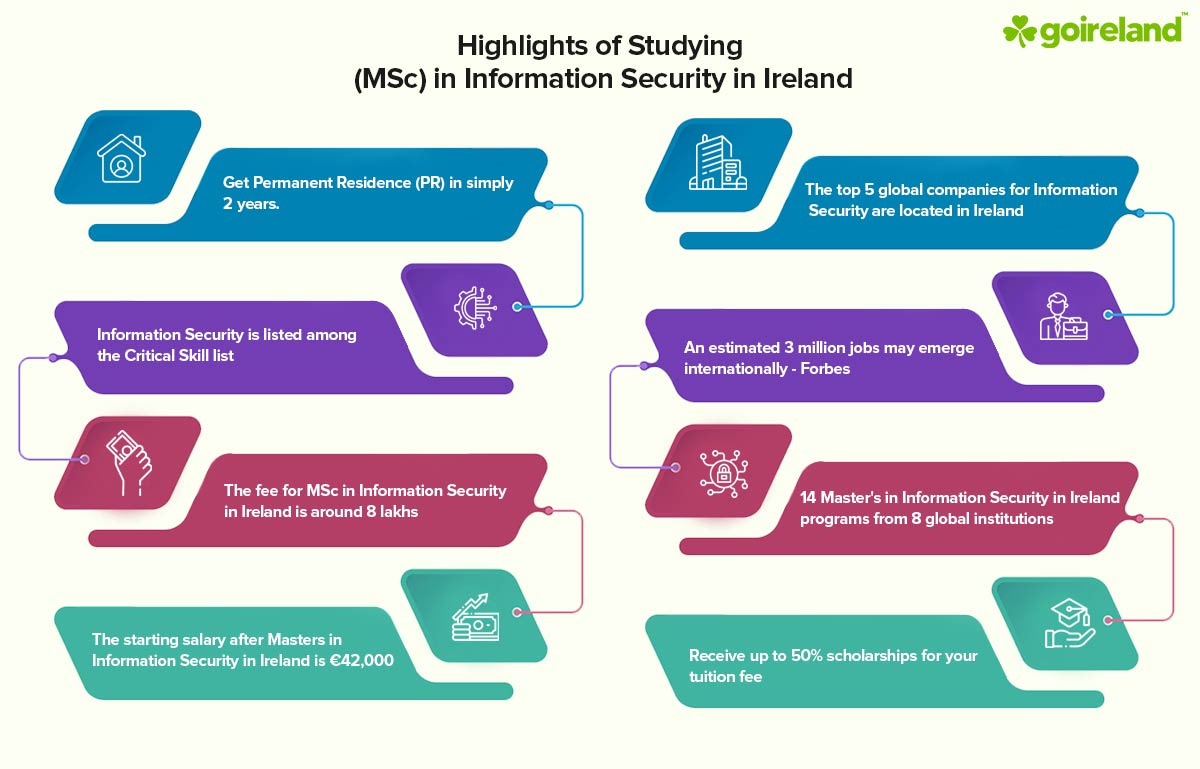 Get all your doubts
clarified now for

Free
I agree to GoIreland terms and privacy policy
or Masters (MSc) in Information Security in Ireland
Deciding to study Masters (MSc) in Information Security in Ireland is perhaps the best decision students can make toward their career prospects. Cybersecurity is related to Information security as it deals with the protection of information online. Ireland has been a significantly flourishing economy over the last decade, and the extensive number of companies dealing with technology setting up their bases in the Irish nation has compelled students to consider Ireland as one of the best destinations for their future employment prospects. In addition, multiple recognized universities and top-notch institution faculties in Ireland make education in the country unparalleled. Information Security Masters in Ireland for Indian students is a comprehensive course coupled with all kinds of rational, analytical, practical as well as theoretical sessions to bring impressive skills among students.

Information Security in Ireland for International students is taught at some of the most prestigious Irish institutions, and the certificate issued to the students has higher recognition value when seeking employment prospects in multiple leading organizations in both Ireland and all across the globe. Information technology (IT) security, usually referred to as "cyber security," is concerned with defending data from intrusive assaults on computers, networks, servers, and mobile devices. Among the biggest concerns for cyber security, specialists are the rise in internet-connected products and the new, inventive attacks by cybercriminals. Basic security design principles, IT components of the system, scripts programming, cryptography, cyber dangers, financial investigation, legal and ethical considerations, and other subjects are just a few of the subjects you can anticipate studying for a Masters in Information Security in Dublin. Professionals in cyber security or IT security safeguard sensitive information for organizations in a variety of industries, including banking, retail, cybersecurity, education, and social media. You are in charge of sustaining, assessing, and enhancing the security infrastructure as a cybersecurity specialist.
GoIreland's Extensive Footprint in India
Offices across India
250+ Experienced Consultants
Chennai, Coimbatore, Bangalore, Cochin, Hyderabad, Mumbai, Pune and many more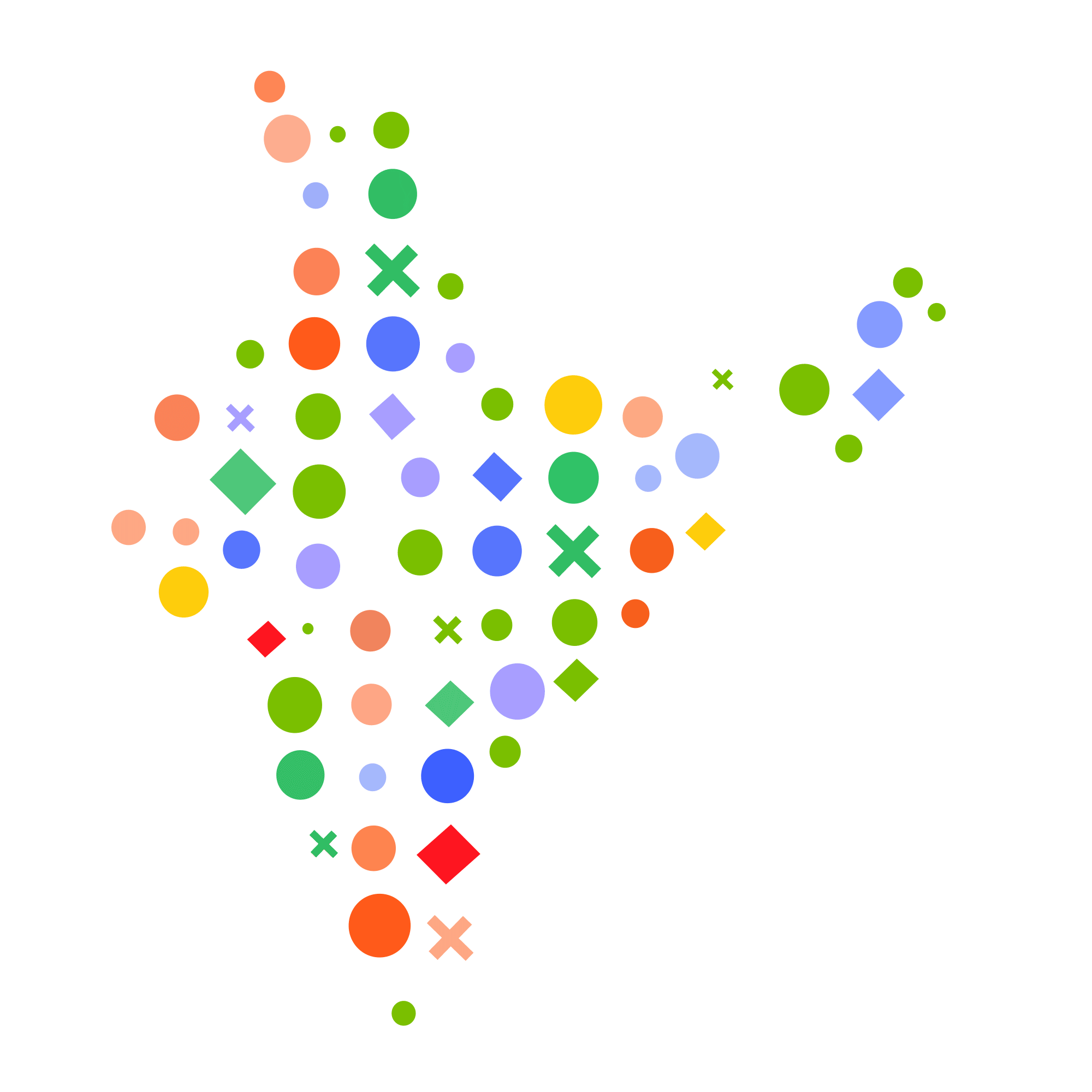 Specialists in cyber security deploy firewalls, keep track of network connections, back up data, and develop and put into practice security procedures. If there is indeed a web security violation, professionals quickly rectify it and look for ways to stop the next attacks. A competent IT security worker must have a variety of talents, including analysis and problem-solving, decision-making, time management, organization, attention to detail, communication, and creativity. Students majoring in Ireland Information Security Masters (MSc) can find employment as cryptographers, informational security personnel, security engineers, vulnerability scanners, forensics specialists, system administrators, ethical hackers, etc., after graduation. In today's culture, when information services and technologies permeate every part of our lives, cybersecurity is a need. The fastest-growing area of IT is cybersecurity, and there is a serious labor shortage in this sector, according to the labor market. This program's objective is to give participants the required expert technical knowledge, competence, and research skills of the most crucial cybersecurity technological ideas and how those concepts are used in developing fields like device security and forensics.
Get application fee waiver
by applying through us
I agree to GoIreland terms and privacy policy
or To know more about the requirements
For additional information on the requirements and standards for admission to the top Irish universities offering Information Security degree programs, review all the pertinent information provided below. For the greatest career guidance as well as additional assistance with admission to these universities, you can always rely on the GoIreland experts.
To know about costing
Check out the below detailed information to comprehend better all the costs involved in pursuing Information Security in Ireland, including education, food, beverages, lodging along with other necessary expenses. You can also come in for a consultation with any GoIreland consultant for better clarification on the costs involved.
Salary After Masters (MSc) in Information Security in Ireland
The major companies are constantly raising the average salary in Ireland after Masters (MSc) in Information Security, considering the market potential that the growing cybersecurity market has created. In an attempt to draw in the best, the cybersecurity companies also are boosting the connected fringe advantages, and vacation days they offer while working in Ireland after Masters (MSc) in Information Security. It's safe to state the average salary range for Masters in Information Security in Ireland is increasing, even if starting salary for Information Security in Ireland can't be correctly estimated because of changes across verticals, businesses, and job positions within companies. Moreover, if predictions are essential (as of 2020), the vast majority of cybersecurity experts have an expected salary after studying Information Security in Ireland which hovers at about €65,000 per year. These provide an annual wage of approximately €40,000 in regards to the freshers' salary after Information Security in Ireland. Fetching somewhere between 40,000 to 120,000 a year, Masters in Information Security is the most employable degree in Ireland.
Get all your doubts
clarified now for

Free
I agree to GoIreland terms and privacy policy
or FAQ:
---
Which University is the best for an MSc in Information Security in Ireland?

Trinity College, Limerick, Maynooth, and Griffith are the leading universities in Ireland for pursuing Information Security.
---
Is Ireland good for studying MSc in Information Security?

According to Cyber Ireland, one out of every 100 workers in Ireland is employed in the field of cyber security. You could soon become one in 100 in Ireland with a master's in cyber security.
---
How to Become A Information Security Expert in Ireland?

A bachelor of science in computer technology, data management, or a closely related discipline is often required to work as an information security specialist. However, rather than a four-year degree, some businesses could accept years of expertise in creating computer programs together with certification.
---
What Can I Do With an Information Security Degree in Ireland?

Students successfully completing an Information Security postgraduate degree in Ireland can work as Chief Information Security Office, Security Architects, Malware Analysts, Cybersecurity Engineers, Cloud Security Specialist, Vulnerability Tester, and much more.
---
Does Information Security Involve a Lot of Maths Lessons?

Yes, to answer briefly. Computer science's technical subject of cybersecurity necessitates strong analytical abilities from job candidates. Unlike astrophysics or engineering, it is not a math-intensive job, although it does require familiarity with some forms of math.
---
Is Acquiring Masters in Information Security Hard?

There is a distinction between tough and difficult. Although mastering cybersecurity can be difficult, it doesn't have to be, especially if you have a strong interest in technology. Develop an interest in the technologies you use, and you could discover that difficult abilities become simpler.
---
How Many Hours a Week are Information Security Masters?

Typically, the course will consist of 16 lecture hours each week and 2 hours of lab time. Throughout the semester, approximately 1 - 3 field trips would be planned.
---
Can I Get A Job After Masters in Information Security in Ireland?

Following graduation, you will easily be able to find employment in one of the many IT protection and security professions with a competitive income. The top 11 well-paying positions in cyber security in the Irish republic aren't below the salary figures of 75,000 EURO per annum.
---
What is the highest job position in MSc in Information Security?

Chief information security officers (CISOs) are valuable senior-level executives and some of the most highly compensated individuals in the cybersecurity industry.
---
What are the five levels of Information Security?

Network security seeks to reduce risk rather than completely remove it. In light of this, users can use the following five best practices to increase network security: Network security, device security, SCADA network security, enterprise security, network security, and physical protection.
---