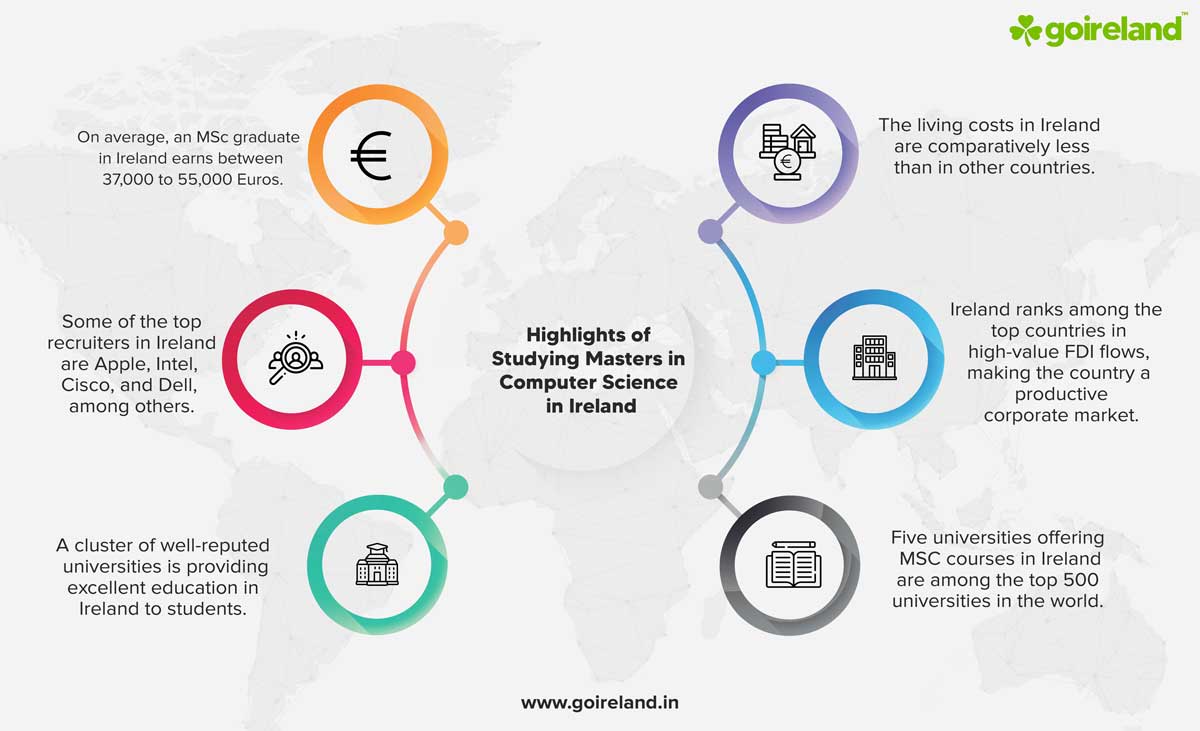 Masters (MSc) in Computer Science in Ireland
To study Masters (MSc) in computer science in Ireland means spending one to two years in the country. Several universities in Ireland are providing higher education at the master's level in a wide range of subjects, including Computer Science. Among other nations, Ireland has a better reputation for imparting education in technical domains, including computer sciences and engineering. To study here, the students must have a Bachelor's degree in computer science. In addition, students who have completed a Bachelor's degree in Mathematics or Engineering can also pursue Masters in Computer Science in Dublin.

The top universities for Computer Science Masters in Ireland for Indian students are the National University of Ireland, University College Cork, Trinity College Dublin, and University College Dublin. In addition to this, other good universities include the Maynooth University of Ireland, the Waterford Institute of Technology, and the University of Limerick. Ireland is home to the world's great educational institutions, an impressive education system, and some of the world's top IT companies, and it offers students several opportunities. Companies like Google, Facebook, Apple, IBM, Twitter, LinkedIn, and Pfizer have chosen Ireland as a base for their operation. Besides this, the fact that international students can also apply for a work permit after completing their studies makes Ireland an even better study destination. Overall, Ireland is a career-building destination giving students a better chance to study within an intelligent and enabling environment.
After completing the Computer Science course, the students can get higher salaries. With globally recognized companies operating from here, entry-level computer science engineers can fetch £25,000 annually. The average salary of a computer science engineer here is £40,107, and on the higher end, the take-home salary of an experienced computer science engineer is £60,295. Pursuing Masters in Computer Science in Ireland for international students means capitalizing on a fantastic opportunity. Ireland's education system is revered globally for being advanced and rewarding. It trains the students to understand the core concepts of the subject matter and become an expert in the same. Irish universities have a reputation for producing intelligent graduates who go on to take important roles in a wide range of organizations.

In Ireland, students can also become a part of research universities and institutions. These educational institutions go beyond the standard learning process and procedures and help the students take on strategic approaches to learning. A research-based curriculum allows students to partake in in-depth education and help solve global challenges with innovative techniques. Given these benefits, it is no surprise that students from across the globe, including India, have chosen Ireland as their go-to study destination. The Ireland government has also recognized the STEM-based degree course. In this setting, the students become eligible to join optional training related to their courses. The additional training system helps students understand the core of the subject matter and become an expert in the same.
After completing Masters in Computer Science in Ireland for international students, the graduates can get high-paying jobs. However, in addition to this, the course is set to ensure that the students can launch their startups after completing them. They are taught to be innovative and solve problems, which drives their approaches to becoming better and achieving success. Ireland has built an enabling environment amidst a growing economy, making it an approachable destination for higher studies. With its ties to the European continent, graduates can further explore opportunities in neighbouring countries. The students can take advantage of the country's acceptance of the English language allowing students from across the world to gain entry quickly. Universities in Ireland accept different types of English proficiency tests like IELTS and PTE. Passing these tests will allow students to be admitted into different universities.

A country with great history and welcoming culture, Ireland is one of the most sought-after study destinations. After completing their studies here within a harmonious environment, the students can also get a one-year stay-back visa. Given its prestigious universities, the students can also avail of an easy loan to pursue higher studies. The Ireland Computer Science Masters (MSc) course offers a mix of technical and theoretical study. The students taking the course will learn extensively about different concepts related to computer science and become intelligent programmers, innovators, and architects in this field. Furthermore, the universities have set easy eligibility criteria for students to gain admission. These conditions help filter the best candidates for admission and allow everyone to study amongst like-minded students. However, not all universities have the same eligibility criteria. In some universities, students might have to satisfy particular requirements to gain admission. These requirements further help the universities find the best-fit students for the course.
GoIreland's Extensive Footprint in India
Offices across India
250+ Experienced Consultants
Chennai, Coimbatore, Bangalore, Cochin, Hyderabad, Mumbai, Pune and many more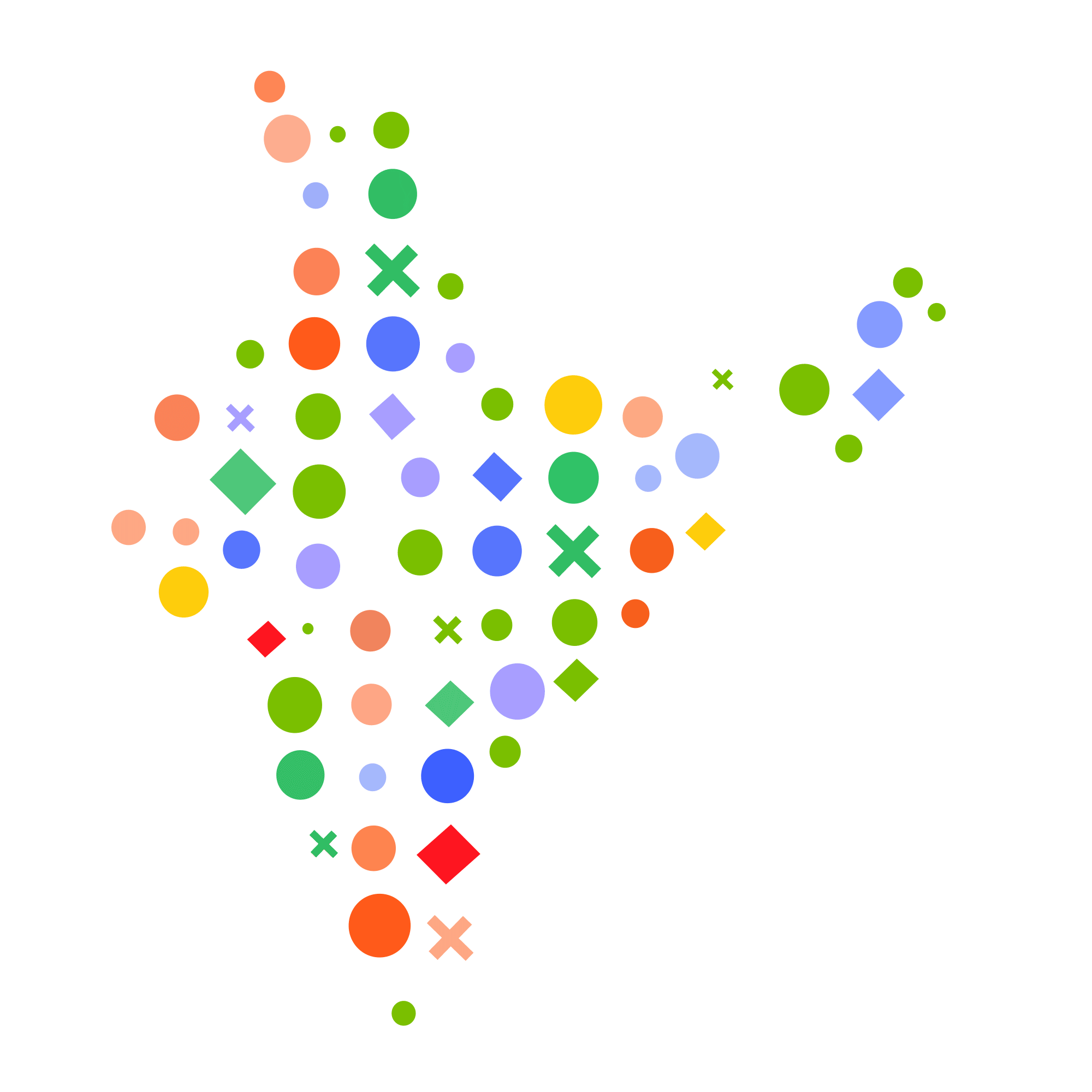 The universities here offer online application submission services for international students. These students must submit their Bachelor's degree mark sheets, test scores, English proficiency tests, aptitude test scores, resume or CV, cover letter, Statement of Purpose, and a few other documents. The admissions committee will review the procedures' documents and inform the students about their candidature. Ireland is an amazing study destination offering good education, a welcoming environment, and promising career opportunities to the students. The next few years have an amazing scope for IT students to build their careers. If you want to explore the opportunities in Ireland, find GoIreland and let us know about your requirements. We will help you find the best way to study in Ireland and gain admission to the top universities. Studying at good universities is beneficial for your career and can give it a jump start.
To know about the Requirements
A masters level course in Computer Science is highly beneficial for your career. Given the study level in Ireland and the conducive environment, if you wish to know more about a Master in Computer Science course in Ireland, read on.
To know about Costing
The cost of studying in Ireland isn't the only thing you should consider before migrating here. The course fee is essential but considers other expenses as well. Let's go through the types of costs besides the tuition fee you must incur in Ireland. We will also learn about the scholarships available in Ireland for Computer Science graduates.
Salary After Masters (MSc) in Computer Science in Ireland
After completing studies in Ireland, it is evident that every student will want to explore different job opportunities available inside and outside the country. Working in Ireland after Masters (MSc) in Ireland can become easier if you get a higher score than others. Besides the scores, the hiring companies also check the student's personality and other traits. For this, you can take the help of your university's placement wing to prepare for the interview and access placement opportunities. You can also get an idea about the expected salary after studying Computer Science in Ireland. Some of the job roles a student can take after completing MSc in Computer Science include;
Software or Application Developer
Data Analyst
Web Developer
Information System Manager
Game Developer
Database Administrator
Software Engineer
The average salary in Ireland after Masters (MSc) in Ireland ranges between €37,000 to €55,000 per year. This salary range is not fixed and can change according to the company, academic record, position of the job, skills, and company location. As a student, your prerogative should be to get the proper credentials. Masters in Computer Science is most employable degree in Ireland and attracts high-paying jobs. Moreover, this is a degree that teaches future-oriented skills and talents. As a result, many companies not necessarily from the IT domain will want to hire computer science professionals. Their salary range for Masters in Computer Science in Ireland can also increase.

In Ireland, the starting salary for Masters in Computer Science in Ireland is €26,000 for a data scientist. Moreover, the salary can also change with the position and job role; the salary can also change. A senior software engineer can earn up to 118,000 per year. Starting with a freshers salary after Computer Science in Ireland, the student can learn new skills on the job and progress further to reach higher levels. Another factor determining the salary range for Masters in Computer Science in Ireland is the company you are working at. Globally recognized companies like Google, Twitter, LinkedIn, Meta, etc., will pay higher salaries than other less famous companies.
FAQ:
---
How can GoIreland support a student in their journey?

GoIreland can provide students with personalised services. We can curate a specific study plan, including the choice of universities, courses, scholarships, and even where students can take a loan.
---
Are the services provided by GoIreland chargeable?

No, we are not taking any fees from the students. All our services are meant for the benefit of the students.
---
Can GoIreland also help the students with visa application and processing?

Yes, we have a 100% success rate for getting study visas for our students. Due to our understanding of the entire system, our experts are the most qualified professionals to seek assistance.
---
What about preparing the cover letters, SOPs, and LORs?

Our experts can help students build impressive resumes and write SOPs plus LORs according to the university they are applying for.
---
Is GoIreland licensed to assist students seeking admission to Ireland universities?

Yes, GoIreland is licensed to represent students from other countries to study in Ireland universities and colleges. We have strong ties with the educational community in Ireland and can help our students get into the front of the admissions committee with the proper credentials.
---
Is a master's degree from Ireland also applicable and valid in India?

Yes, the Masters in Computer Science from Ireland degree is valid and recognized in several countries, including India.
---
Is the international student community in Ireland prominent?

Yes, there are more than 32,000 international students in India, and out of them, 5000 are Indians.
---
How much money can a student earn while working part-time in Ireland?

In Ireland, a student can work part-time and earn up to €2800 a week.
---
Can I stay in Ireland after completing my degree?

Yes, extending your stay in Ireland after completing the master's degree for up to 2 years is an option.
---
Is Ireland the right choice for higher education?

Yes, Ireland is one of the best choices for pursuing higher education. The country's conducive study environment provides students with practical knowledge backed by experiential learning.
---