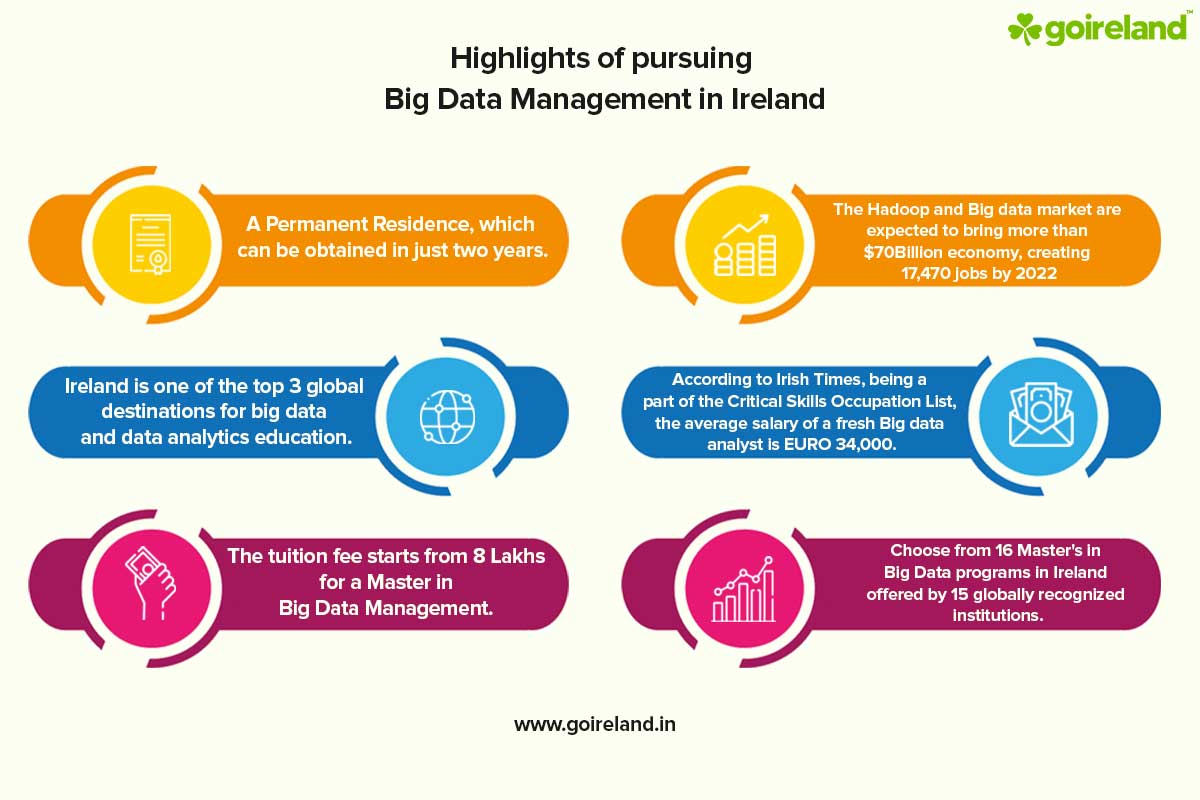 Masters (MSc) in Big Data Management in Ireland
Want to pursue your higher education in Ireland, especially in Big Data Management? Well, GoIreland is the perfect place to get unparalleled help when you are looking to study Masters (MSc) in Big Data Management in Ireland. Big Data Management deals with the study of processing information that cannot be processed using conventional databases. Big Data Management Masters in Ireland for Indian Students is a postgraduate course that can be done in one year to two years that comes with the feasibility of completion at the candidate's comfort. Working professionals are always free to go for courses that are part-time, so they can manage work and continue their research at the same time.

Companies are spending millions every year trying to improve their data management systems, and as a result, big data management companies are jumping on the opportunity to become the next big data management company. Big data management can improve businesses' efficiency in many ways, not just through convenience and accurate data management. Data science is crucial because it can help you make predictions about everything, from customer retention to profits and profitability.
Big Data Management can have a wide range of benefits for your business, from identifying potential risks to managing complex supplier networks to cost optimization and customer retention. The proper and exact management of information helps companies improve their business and increase their revenues significantly, so it is no wonder why you should study for a masters in big data management in Ireland. With a projected economy of over USD 70 Billion generated by Big data management, you can look ahead to a very promising career after completing your course. According to BusinessWire, investment in Big Data Management is at least USD 217.5 Billion worldwide, of which Ireland is predicted to contribute USD 70 Billion annually. Data processed by big data management is collected from a number of online and is processed to find several business prospects.
These days, most technical and non-technical business organizations are looking for skilled and proficient data scientists who can decode and process a lot of data rapidly. The increasing demands for skilled data scientists to decode bigger data chunks for business results have shown the way for a glorious employment career in Big data management in Ireland for International students after completing the course. Ireland appears to be the best location for fulfilling your future objectives, hosting the best universities for a Masters in big data management, like Dublin University, Faculty College Cork, Letterkenny Institute of Technology, etc. The Masters in Big data management in Dublin appears to be an exclusively created program for meritorious students supported by comprehensive theoretical and practical classes that are regarded as a career-enhancing module for the future generation.
GoIreland's Extensive Footprint in India
Offices across India
250+ Experienced Consultants
Chennai, Coimbatore, Bangalore, Cochin, Hyderabad, Mumbai, Pune and many more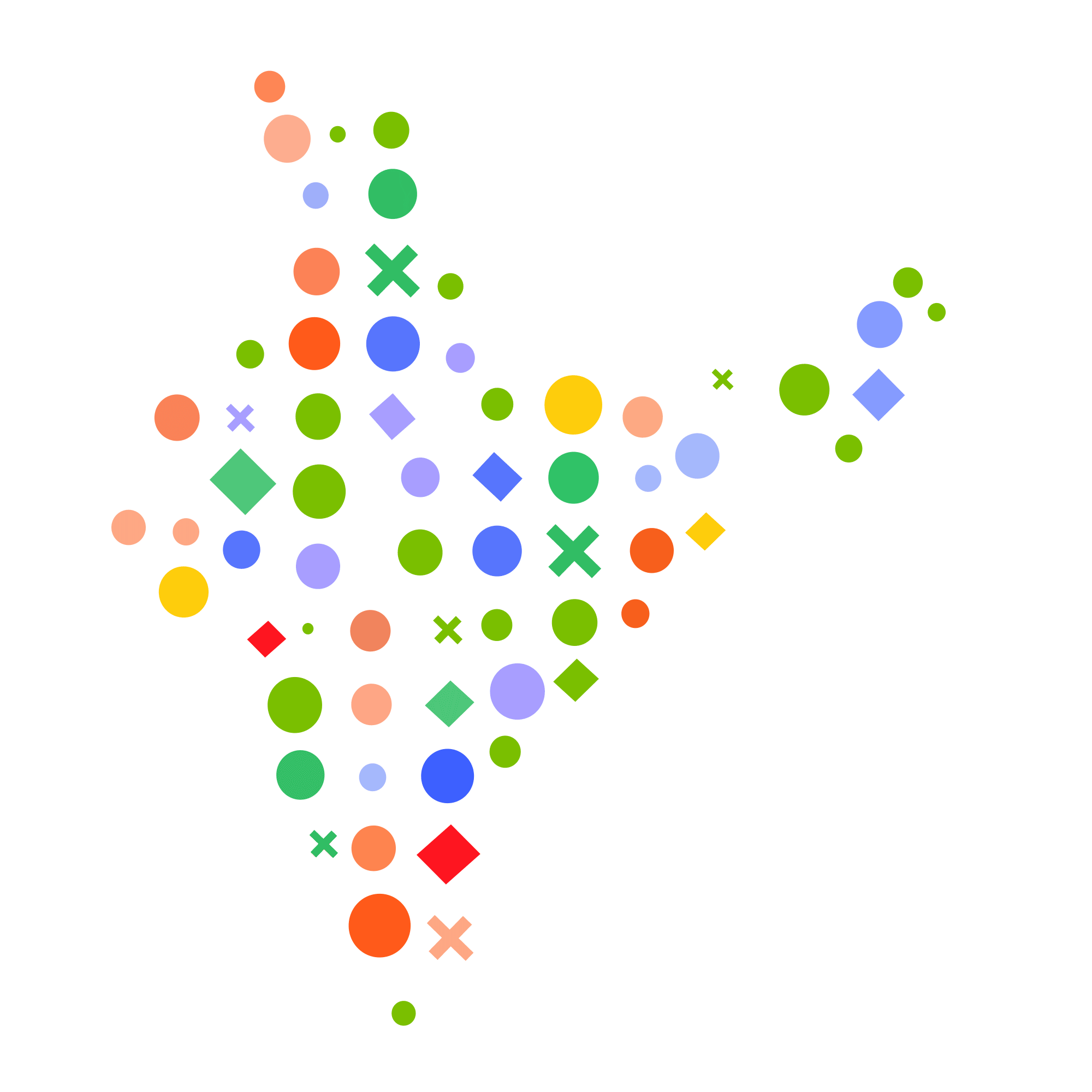 Before being admitted, you must have high marks in the discipline of science, commerce, or others that are linked to Ireland Big Data Management (MSc). The level nine specialized course "Big data management course masters" aims to provide students with the knowledge and analytical attitude required for a fruitful analytics profession in the rapidly expanding data management business. The course aims to help students comprehend a parallel programming process to create concurrent programs to address actual data management issues. It assists you in putting into place the end-to-end Big data management storage solutions by improving efficient technologies that can easily and precisely process large data volumes.
To know about the Requirements
Take a look at the following information to understand the requirements better for a Master in Big Data Management in Ireland. For your better understanding, we have carefully dissected every information relating to your education abroad. For any further information or advice, please reach out to a GoIreland advisor.
To know about Costing
Look out for the below details on accommodation costs, tuition fees, and other valid expenses to pursue a Masters in Big data management. You can get in touch with any GoIreland consultants to enquire about the requirements and other details pertaining to education.
Salary After Masters (MSc) in Big Data Management in Ireland
Big data management masters in Ireland are among the most sought-after and exceptional Masters programs with many options awaiting. After concluding the big data management training course, you will be prepared to face enormous employment leads in huge companies like Merrill Lynch, BT, IBM, Bank of America, Enterprise Ireland, Cisco, Apple, and Ericsson, as well as other proficient data engineers. The average salary in Ireland after Masters (MSc) in Big Data Management is around €48,000 to €72,000 per year, based on the task profile of the job. Working in Ireland after Masters (MSc) in Big data Management can provide you with an impeccable salary of €92,000 per year in organizations such as Ericsson, IBM, Google, Apple, Merrill Lynch, Bank of America, etc.

Masters in Big data management is most employable degree in Ireland that paves the way for employment opportunities, including big data analysts, big data techniques lead engineers, big data analytics associates, business intelligence professionals, Data platform specialists, Senior EO data researchers, and also much more. The salary range for Masters in Big Data Management in Ireland ranges significantly on the bigger side than various other European nations. Also, it is available with a ninety percent hike probability after the initial year of service based on the overall work. The Starting salary for Big data Management in Ireland generally ranges around €35,961 for a data analytics professional with a medium-sized company. The freshers salary after Big Data Management in Ireland ranges from €35,000 rising to €52,000 per year, which is much better compared to almost all places. The expected salary after studying Big data Management in Ireland from the best colleges is not below €56,951 per year in almost any significant business in Ireland based on the statement of Employment Bureaus throughout 2022.
FAQ:
---
Which are the Ireland Universities Best for MSc in Big Data Management?

Some of Ireland's top universities for big data management are Trinity College,, Griffith College, University College Dublin, University Cork College, etc.
---
Is the country Ireland the right choice for Masters in Big Data Management?

The World Ranking states that eight significant Irish universities that offer a master's degree in data science are among the best in the world. In addition, you can make between 55,444 USD and 88,710 USD per year while paying an average charge of between 8,000 USD and 25,000 USD annually.
---
How can I become a Data Scientist in Ireland?

You need a Masters degree in big data management or analysis to succeed as a data scientist in Ireland. Solving mathematical and related statistical problems is crucial for candidates in this sector.
---
What should I Do after the completion of Masters in Big Data Management in Ireland?

Students can easily get employed in big companies as senior data scientists, data analysts, or business intelligence analysts post the study for Masters in big data management.
---
Does Big Data Management need immense knowledge of Coding?

To deal with big data, you don't have to be a master coder, but you need to be conversant in using analytics tools, data visualization software, and data management systems. Being a Mathematical enthusiast is a must.
---
Does Big Data Management Involve a Lot of Math?

Linear algebra, probability, and statistics are the core of big data management.
---
How Can a consultancy like GoIreland guide With Big Data Management Masters?

After reviewing their profiles, GoIreland engages with the right candidates to help them choose the best universities for them, and it also assists them in obtaining admission to those universities. Besides we also assist the students with the application for a VISA, obtaining a loan, and finding housing while studying in Ireland and pursuing their dreams.
---
What are the fees charged by GoIreland?

Our charges at GoIreland are your contentment and a successful career. For all the services we provide to candidates, there are no fees associated with them.
---
What is your VISA attainment percentage?

GoIreland has a perfect success rate for receiving VISA acceptance because of our tenacious effort. For further information, engage with us, and we will ease your burden of worries regarding the VISA process.
---
Is GoIreland an authorized representative for Masters in Big Data Management in Ireland?

Yes, we have the right to speak on behalf of the top Irish colleges. We concentrate on assisting you in finding the most accurate big data management courses at your desired universities.
---
Will I be placed in a company soon after completion?

Yes, following successfully completing the course, some of the top colleges we cover will assist you in securing the greatest career offers, and based on your progress, they may even offer you attractive internship possibilities. Contact our specialists at GoIreland for further details.
---