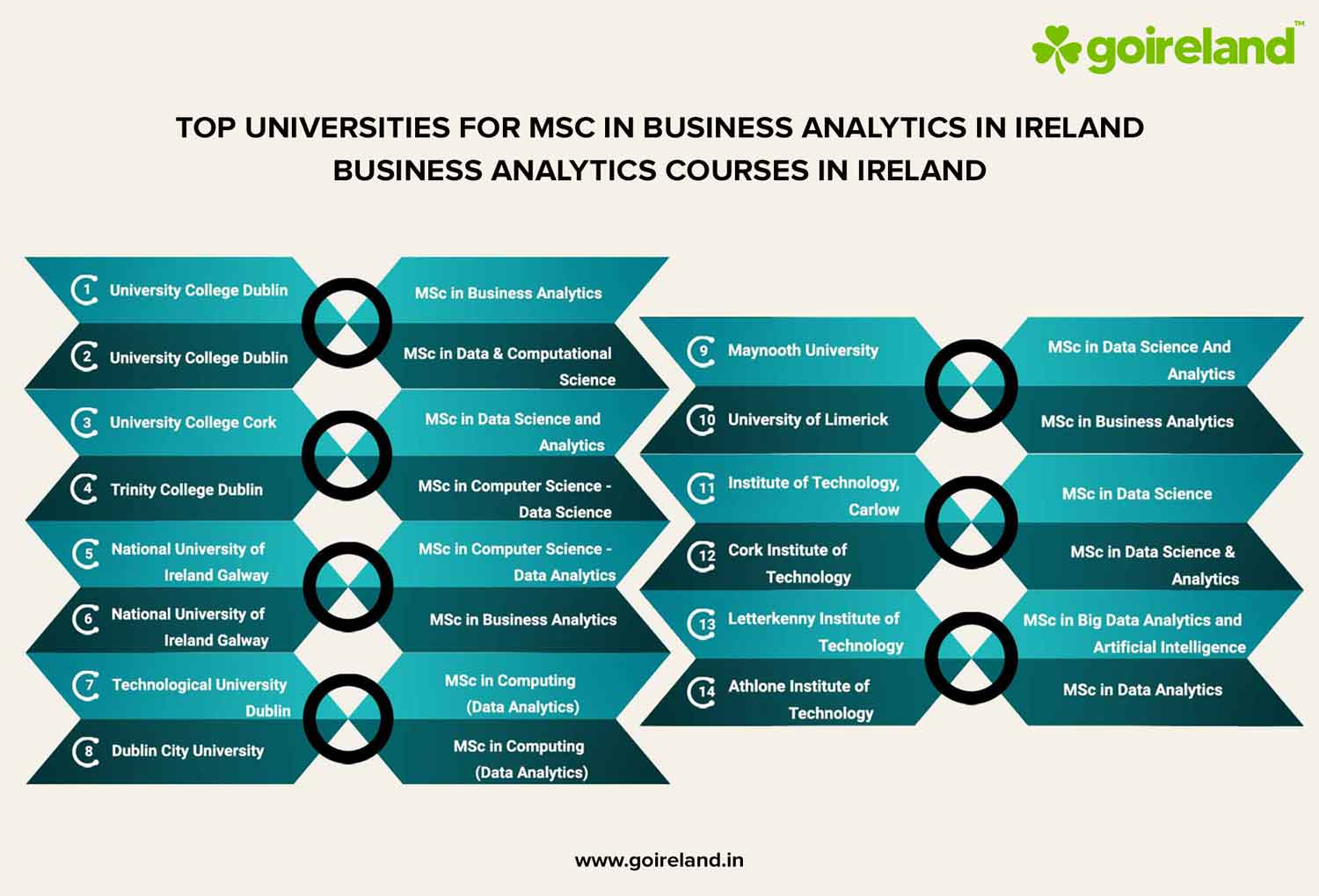 Masters (MSc) in Business Analytics in Ireland
Ireland stands second among the countries most preferred for taking up Masters in Business Analytics, next to the United States. The popularity of Ireland Business Analytics Masters (MSc) has been increasing over the years, all thanks to the huge demand for graduates in top-notch companies across the nation. Therefore, if you are thinking of pursuing your Masters in Business Analytics in Dublin, it is a good idea. Business Analytics Masters in Ireland for Indian students is a program that aims to train students in different technical aspects, such as prescriptive and predictive analytics. Business Analytics in Ireland for international students also offers information about business applications, such as finance, supply chain, and marketing.

It is a good idea to study Masters (MSc) in Business Analytics in Ireland as the program paves the way for data engineers, specialists, and innovators to move one step ahead into managerial job positions. Masters in Business Analytics in Ireland is the study of the effective use of technical and mathematical skills to solve different business issues. It offers students thorough theoretical and practical business analytics understanding in computational, qualitative, quantitative, and data-oriented techniques. Masters in Business Analytics in Ireland details the students about different analytics methods that promise improved decision-making, outcomes, and insights into the industry.

MSc in Business Analytics in Ireland aims to offer learners theoretical knowledge and practical skills to critically analyze, evaluate and implement big data techniques and concepts to generate valuable business insights. Such insights can further help individuals make informed and strategic business decisions specifically designed to increase profitability, productivity, and an organization's value and market share. The program has been designed with integrated delivery from the all-inclusive covering of a wide assortment of business strategies, technology topics, and analytics to a major focus on the regulation and application needed in this field.

The program also focuses on contextual and theoretical knowledge in some of the most important areas of study, like decision theory, statistics, finance, and business strategy. It also offers applied practical skills in different contemporary topics, like visualization, data analytics, simulation and forecasting, big data and business application development, project management, and modeling.
Get all your doubts
clarified now for

Free
I agree to GoIreland terms and privacy policy
or Students who complete their Masters in Business Analytics in Ireland, including the research projects, also move on to develop and improve their research potential through detailed analytical problem-solving and inquiry. On the whole, the program aims to help learners get a critical understanding of strategic and core business management and analytics while also enhancing their practical technical skills and research capabilities.

Specific programme objectives include:
Helping learners develop a detailed understanding along with critical awareness of the present and developing field of business analytics.
Giving learners a systematic and deep understanding of analysis and research related to business analytics.
Offering learners specialized knowledge of data management and data mining techniques to further provide insights into business strategies, solutions, and propositions.
Enabling learners to enhance and develop autonomous learning skills.
Helping learners identify, develop and use detailed creative, research, analytical, and problem-solving skills in business analytics.
Equipping the students with advanced skills that directly complement and are relevant to business analytics work environments.
Give students an all-inclusive platform to develop their careers, learn professionally, and innovate in data analysis and business management.
GoIreland's Extensive Footprint in India
Offices across India
250+ Experienced Consultants
Chennai, Coimbatore, Bangalore, Cochin, Hyderabad, Mumbai, Pune and many more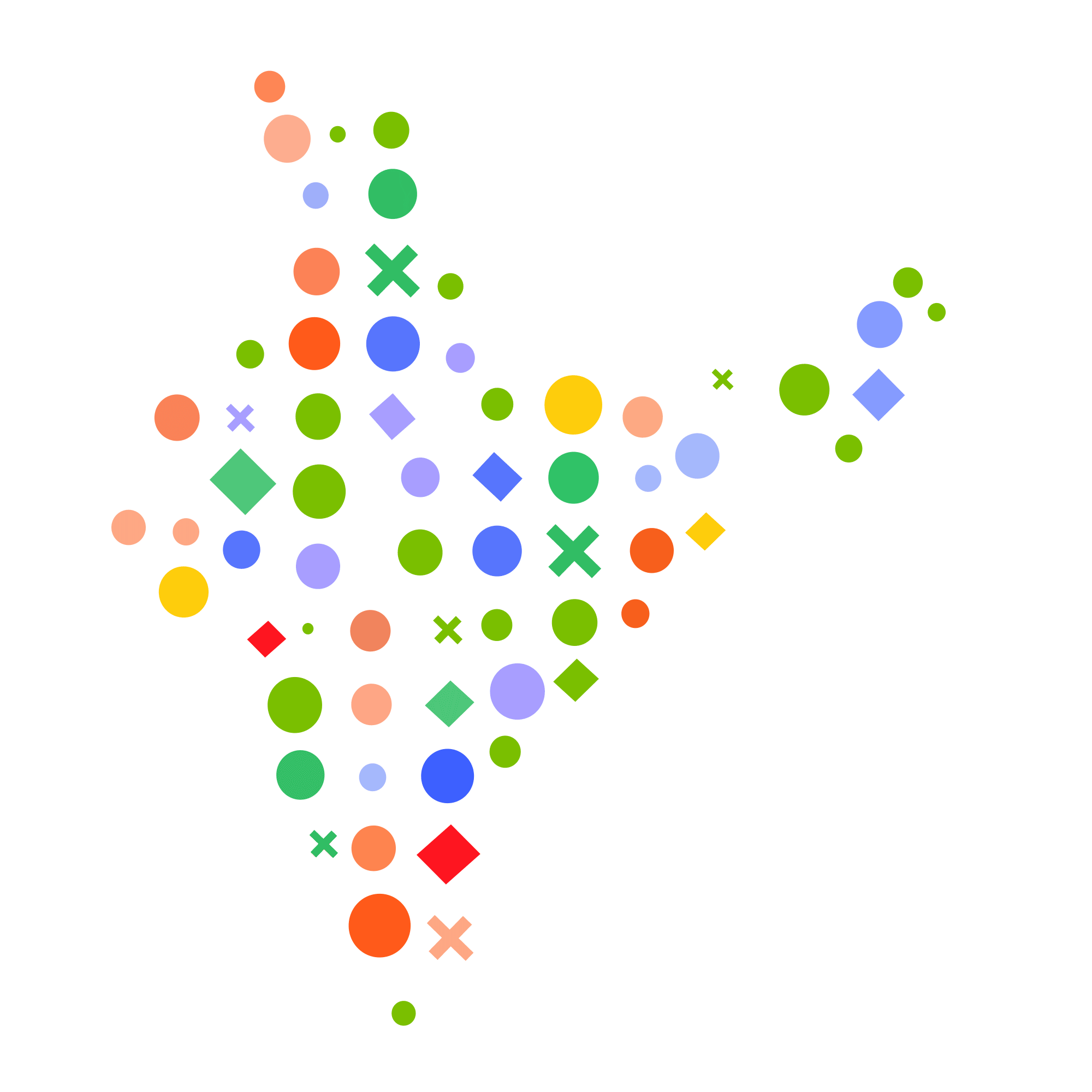 Masters of Business Analytics in Ireland involves workshops, lectures, hands-on technology-related tutorials, and guest lectures from industry experts. It helps students blend their existing talents with the business knowledge and technical skills required to use and manage business analytics and big data in modern organizations.
Get application fee waiver
by applying through us
I agree to GoIreland terms and privacy policy
or Students with a technical background in mathematics, computer science, or engineering and a fondness for solving business issues with big data interpretation are perfect candidates for Masters in Business Analytics in Ireland. Available in 1-year full-time and 2-year part-time formats, Masters Programme in Business Analytics in Ireland will equip students with the potential to make solid business decisions and prepare an organization for a better future by interpreting big data across the market.
To know about the Requirements
MS in Business Analytics is here to stay, and there are many big organisations going out of their way to employ capable business analysts and data interpreters. So, check out the requirements for admission in Business Analytics in Ireland below and prepare to enrol in any of the top universities in Ireland.
To know about Costing
Pursuing your Masters in Business Analytics in Ireland is a good idea, mainly because the expenditure here will be more affordable than in any other country. Check out the details below to learn more about the cost of Masters in Business Analytics in Ireland at some of the best universities
Salary after Masters (MSc) in Business Analytics in Ireland
Working in Ireland after Masters (MSc) in Business Analytics gets exciting for the students mainly because they can earn good money as the average salary in Ireland after masters (MSc) in Business Analytics. Master in Business Analytics is the most employable degree in Ireland. Most businesses and organizations demand data-savvy professionals with business analytics skills to help them make informed decisions in accomplishing different goals.

As far as the expected salary after studying Business Analytics in Ireland is concerned, you can expect it to go up to €14,000. The salary range for Masters in Business Analytics in Ireland is quite attractive, with the starting salary for Business Analytics in Ireland being around €33,192 and the highest being €69,146. Freshers salary after Business Analytics in Ireland could be anything starting from €30,000 to €55,590 per year.

For Masters in Business Analytics graduates, there are different interesting job profiles. A few important job positions and their average base salary are as follows:
Market Analyst: €49,179
Business Consultant: €41,682
Statistician: €53,067
Business Development Specialist: €47,076
Get all your doubts
clarified now for

Free
I agree to GoIreland terms and privacy policy
or FAQ:
---
Can GoIreland help me with a student's statement of purpose and letters of recommendation?

Yes, GoIreland has a team dedicated to supporting candidates in drafting a compelling statement of purpose and obtaining letters of recommendation that can boost your profile's credibility.
---
Can you help me make the right course choice?

We offer proper assistance in course choice to prospective students helping them select the best course based on industry trends and their skills and interests.
---
Do you offer visa services as well?

With us, you can get help with the entire procedure of applying for a visa.
---
Can you support me every step of the way through my overseas education journey?

Yes, we help students looking to pursue higher education every step of the way. They have expert counselors to aid students in comparing universities, sorting visa applications, and landing in the desired nation.
---
What about choosing a university?

GoIreland can also help you with this. They have consultants to help students select the best universities as per their career goals, aspirations, and profile.
---
Can you help me with my English language test preparation?

Yes, we provide personalized assistance for TOEFL, PTE, and IELTS English language examinations.
---
How to get in touch with GoIreland?

You can contact us by visiting our official site, or drop us an email, or call us to get answers to all your queries.
---
What are the other services available at GoIreland?

We are also into providing Visa consultation services while giving students the scope to get in touch with us for accommodation purposes.
---
Do you charge for the services you offer?

No, we do not charge anything for the services that we provide.
---
Why choose GoIreland?

GoIreland is the only platform where you can get all your queries related to Masters in Business Analytics solved. Not only this, but you also remain in touch with an expert team that guides you at every step of the study abroad journey.
---