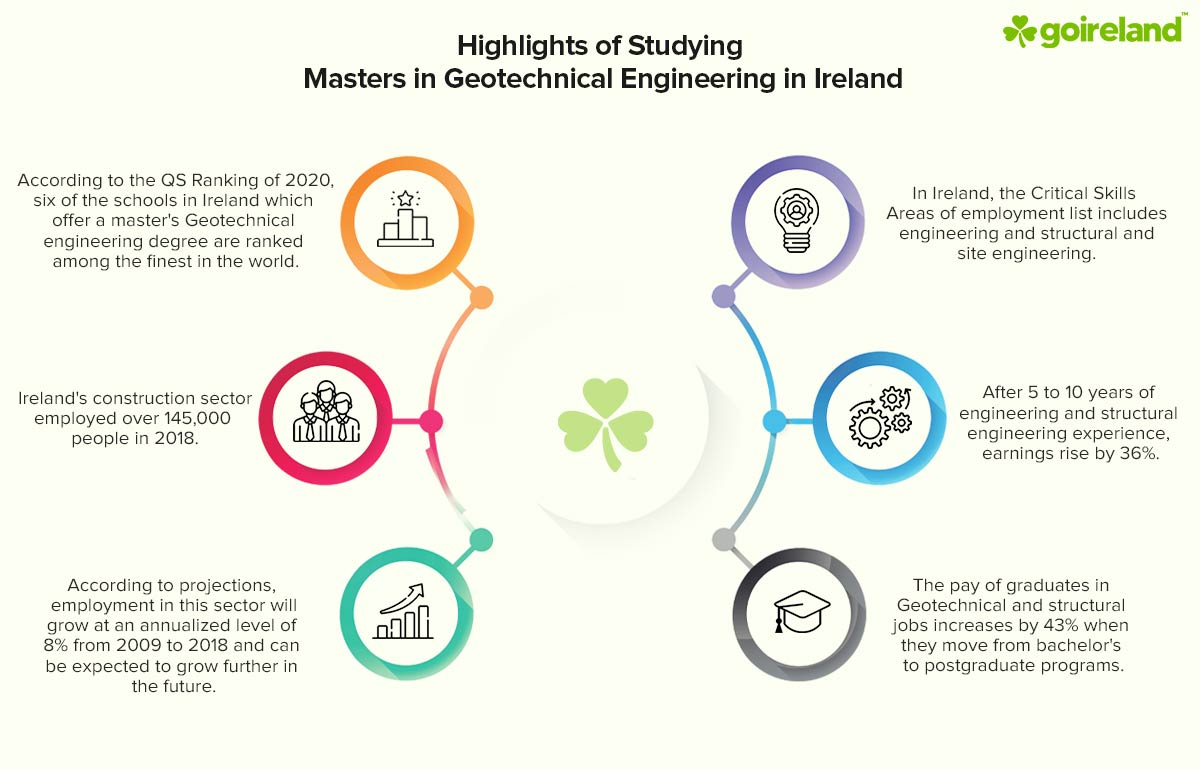 Master (MSc) in Geotechnical Engineering in Ireland
Engineering graduates who wish to pursue higher education at the top of structural engineering or geotechnical engineering can choose Trinity's MSc in Structural & Geotechnical Engineering in Ireland. The Study Masters (MSc) in Geotechnical Engineering in Ireland on the topic of structural/geotechnical engineering addresses current problems in this field, such as earthquakes, bridge design, soil-structure interaction, advanced modeling, including structural analysis. Students can undertake cutting-edge structural and geotechnical research studies linked to topics that the school is actively engaged in while listening to lectures provided by departmental faculty on a wide range of engineering and geotechnical subjects.

The following structural and geotechnical engineering topics will be covered in the course:
Modern structural analysis
Building mechanics
Seismic engineering
Bridge building
Engineering for façade
Geological geology
Materials physics
Interaction of dirt and structure
Unified structural theory
Durability and sustainability of buildings
Engineering leadership
Get all your doubts
clarified now for

Free
I agree to GoIreland terms and privacy policy
or The demand for geotechnical engineering Masters in Ireland for Indian students is strong and rising as the geotechnical engineers have good job prospects because they lay the foundation for most building projects. Additionally, both the government and industry require geotechnical experts. One of the fastest-growing engineering specializations is geotechnical engineering. According to The Better Business Bureau, geoengineering employment is expected to increase by 11% in the next ten to fifteen years, which is greater than the average rate of job creation. Others, though, report a rising rate of up to 19% during the same time frame, according to PayScale.
GoIreland's Extensive Footprint in India
Offices across India
250+ Experienced Consultants
Chennai, Coimbatore, Bangalore, Cochin, Hyderabad, Mumbai, Pune and many more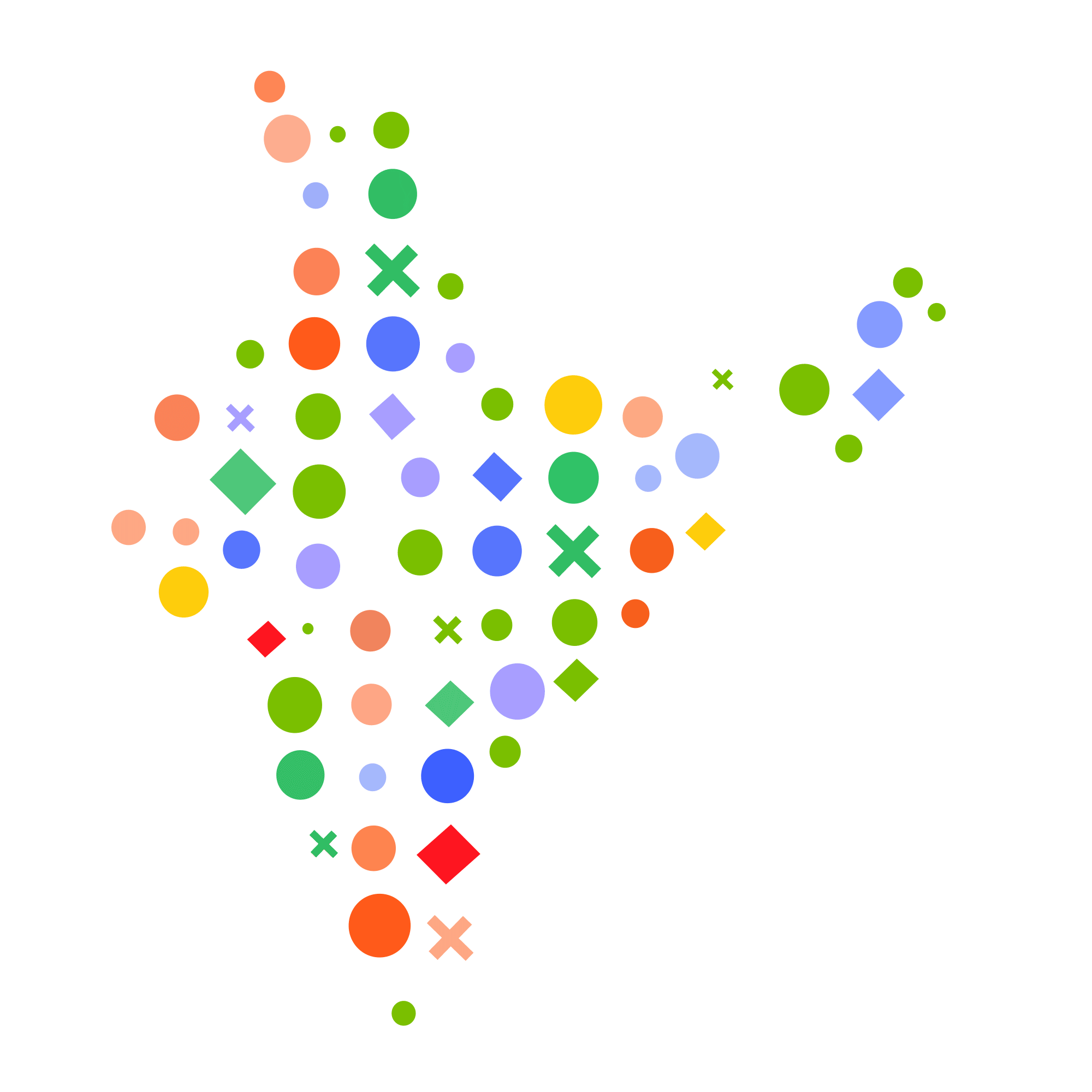 Geoengineering, a more specialized branch of Geotechnical engineering, is needed by a broad range of businesses, including Geotechnical engineering companies, consulting firms, government organizations, utility companies, academic institutions, and research and advancement major corporations. Those who wish to conduct their research in geotechnical engineering must pursue the MEng in Geotechnical Engineering with Structural Engineering, and students who wish to conduct their academic research in engineering structures must continue to study the MEng in Engineering Technology to Geotechnical Engineering. Both courses use the same taught modules.
Get application fee waiver
by applying through us
I agree to GoIreland terms and privacy policy
or Graduates from such programs are prepared for design or site engineering positions in geotechnical and structural engineering, including levels of responsibility corresponding with the complex and specialized tasks currently required by the business. Both these are one-year postgraduate programs for seasoned and graduate engineers who only retain an Honors/Level 8 extent and wish to advance their schooling and up-skill in the geotechnical and structural engineering disciplines. In addition, Ireland's geotechnical engineering Masters (MSc) are also interesting for Geotechnical engineers seeking to move into the geotechnical and structural engineering disciplines from some other field of specialty.

In addition, to providing training and support to existing Geotechnical engineers who work or intend to work in the Geotechnical / Engineering Technology domains, the graduate engineers are provided with a way to meet the educational necessity for Chartered Engineer membership of Engineers Ireland while also developing valuable geotechnical and structural engineering skills. Some of the geotechnical engineering projects are Numerical analyses of sheet piling vibrations. To mitigate the effects of circularly generated deformation, a study is being conducted regarding the use of geosynthetic reinforcement in integral bridge design. The Masters in Geotechnical engineering in Dublin has a greater scope. With the high demand, many around the world are applying for geotechnical engineering in Ireland for International students.
To know about Requirements
There are several requirements pertaining to higher education in Ireland. After your decision of pursuing masters, you should know that you are bound to complete a few requirements that are compulsory for almost all universities. Further down you will find the different requirements that need to be fulfilled for your stay and study in Ireland.
To know about costing
Cost is the one element that always comes between you and your dreams. However, knowing the cost details before and preparing for it well ahead of time can help in shrinking the distance. The following provides the details of the costing for the geotechnical engineering in Ireland.
Salary After Masters (MSc) in Geotechnical Engineering in Ireland
The Average salary in Ireland after Masters (MSc) in Geotechnical Engineering is around 37,900 EUR. The starting salary for geotechnical engineering in Ireland would be 18,200 EUR, which can increase to a high of 59,500 EUR as they gain experience. Keeping this figure amount, you can calculate the estimated salary after studying geotechnical engineering in Ireland based on your experience. For the best pay for their Geotechnical engineers, firms like World Professional Consultants, 3d People, and Headhunt International are very well, which come with a good salary range for masters in geotechnical engineering in Ireland.

Ireland is always open to the idea of providing international graduates jobs in Ireland when they finish their studies. The third-tier guarantee plan is meant to develop this idea, and by opting for these jobs part-time, you can definitely meet the living expenses of your study in Ireland. The students from non-EU and EEA countries are allowed to work within Ireland for 24 months in a filled position for a maximum of forty hrs a week. While they do not require a special permit to use this alternative, they will have to renew their residency permit. They will require a letter from their school attesting that a postgraduate course has indeed been completed successfully.

In Ireland for Masters in Geotechnical Engineering most employable degree in Ireland, a person employed in the construction, construction, or installation sectors makes 70 percentage points higher money on average than a structural engineer. So, working in Ireland after Masters (MSc) in geotechnical engineering has a great scope which can be reflected in the fresher's salary after geotechnical engineering in Ireland. After Dublin, Cork offers the second-highest salary.

There is currently a lack of available workers due to the company's incredibly high demand. The construction and Geotechnical engineering sector generate 60,000 new job opportunities for fresh college grads. In this profession, only 12.1% of applicants are women, while 87.9% are men. Due to the comparatively cheap tuition and short program duration, students are attracted to a Master in Geotechnical Engineering program in Ireland. Utilizing the existing educational opportunities and career options will help you greatly.
Get all your doubts
clarified now for

Free
I agree to GoIreland terms and privacy policy
or FAQ:
---
What qualifications are needed for Indian students to pursue an MS in Ireland?

In Ireland, candidates for MS studies must have a bachelor's or a comparable degree in the field of their choice. Applicants must have a 2.1 honors degree or a minimum score of 60% in their undergraduate program from an Indian university. Furthermore, students must have a good command of the English language. The student's undergrad degree needs to be related to the master's program they are pursuing.
---
Does Ireland have a good Geotechnical engineering certificate degree?

A survey by QS Rankings in 2021 ranked eight Irish universities among the world's best for Geotechnical engineering master's degrees. So, receiving a degree from a reputed university can add weight to your CV for a professional career.
---
Do companies need geotechnical engineers?

Absolutely, there is a demand for geotechnical. One of the quickest engineering specialties is geotechnical engineering. According to the Business Bureau, geoengineering jobs are expected to increase by 11% over the next ten to fifteen years, which is faster than the average amount of job growth.
---
Are engineering master's courses good in Ireland?

Some of the most famous universities in the world, such as "Trinity College Dublin," are situated in Ireland. Several specializations are offered in the professional study known as an engineering master's degree. Ireland's master's courses do not require the GRE for admission making it an ideal choice for candidates.
---
Geotechnical research or structural engineering—which is superior?

Simple. Choose the career trajectory you desire if you have work chances in both fields. If you are given the choice of two fields and job possibilities from each, select the one that pays better. This way, you would be learning as well as earning.
---
When should a person apply to Ireland for postgraduate studies?

Ireland's universities function on two methods. Late August or early September marks the start of the academic year, which lasts until May. The online application form could begin at any time between both the start of February and the end of April. The application period for master's programs in Ireland is near to nine months. However, the dates may vary based on the university.
---
How long does a master course last in Ireland?

The bulk of courses lasts one year of full-time study, though some are two decades overdue.
---
Is there a ready to obtain financial assistance to pursue an MS in Ireland?

Based on merit, the Irish government and other organizations grant scholarships to foreign students who want to pursue MS degrees in Ireland. These could be a few of the scholarship programs for students from different nationalities.

1. Administration of Ireland Postdoctoral Fellowships

2. State of Ireland Grant for International Study

3. College Scholarships

4. scholarships paid for by private or non-profit organizations.
---
Where can One seek jobs in geotechnical engineering?

Engineering degrees or a Master's degree with a geotechnical, soil, or pre-planned focus are prerequisites for engineering careers. With a masters degree from an Irish university, you will be easily placed in one of the top firms.
---
What are the requirements for a VISA application?

The visa application process has certain requirements, which are to be fulfilled to refrain from getting a rejection letter. The requirements are

1. Two recent colored electronic pictures and a photograph

2. A copy of the passports from the past and the present

3. Acceptance letter from the organization

4. Financial proof showing at least EUR 7393

5. Personal medical coverage and related information

6. English proficiency and residence proof
---