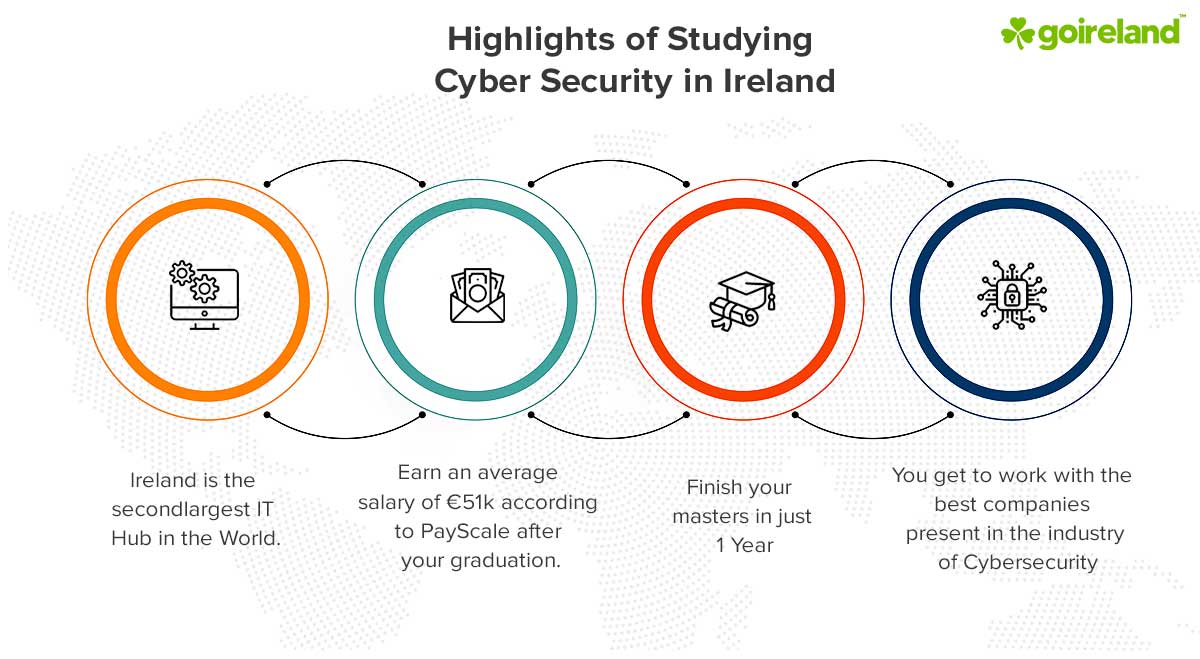 Masters (MSc) in Cyber Security in Ireland
You can study masters (MSc) in cyber security in Ireland with the help of GoIreland, as it provides you with various benefits and perks that will enhance your future and career goals. GoIreland provides the best services and up to 100% scholarships for students who want to pursue Cyber Security Masters in Ireland for Indian students and Cyber Security in Ireland for international students. Ireland Cyber Security Masters (MSc) will build a door to a rock-solid career that will give you multiple opportunities and placement in top Fortune 500 companies. You can study Masters in Cyber Security in Dublin to get a 2-year post-study work permit to add relevant points to your resume. This work permit will not only increase the value of your resume. Still, it will also provide a relevant experience that will help you sharpen your skill, and ultimately you will become ready for the industry.

GoIreland is the best education consultancy that helps you transform your career by assisting you in pursuing a better career in Ireland. We are serving students with high aspirations for their future, and hence, we have gained experience which adds to providing quality services and support to the students. Approximately 35,000 international students who were a part of the GoIreland family have vouched for its supremacy in providing support with high standards. Usually, the student's main concern is that the employment ratio from various prestigious institutions is abysmal. To resolve such issues, the courses offered by universities are in-demand critical skills that provide excellent employment opportunities and career growth.
We understand that there is a skill gap in the market regarding demand and supply. There is a huge difference between what the corporations demand and what is being taught by the institutions. Still, Masters in cyber security in Dublin is one of the in-demand skills required by the current industry to fill the gaps that are happening in the online world. Therefore, you can earn a lucrative package in this industry and provide a luxurious lifestyle to your parents. If you choose to pursue Masters in cyber security in Ireland with assistance from GoIreland, also get 2 years of post-study work permit that will be extremely beneficial in case you want to create an excellent resume. This resume will help you in getting employment in the top companies in your field that will pay you heavily for your skill as they are earning the best revenue every year.
GoIreland's Extensive Footprint in India
Offices across India
250+ Experienced Consultants
Chennai, Coimbatore, Bangalore, Cochin, Hyderabad, Mumbai, Pune and many more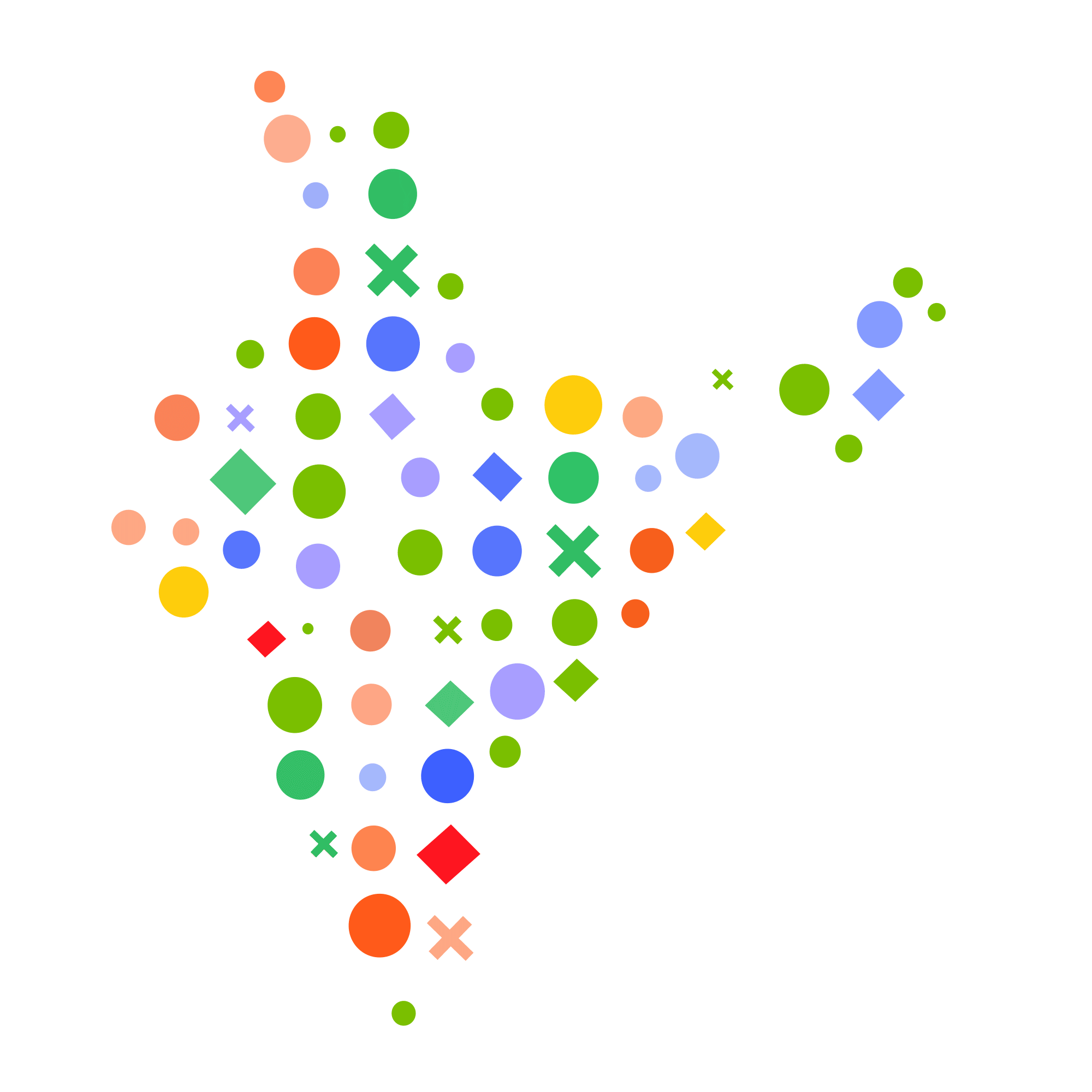 GoIreland is your career support while you pursue a course in Cyber Security. We provide you with the best career opportunities with the right guidance about courses and universities. We understand there is a huge cost involved in education abroad, and we completely empathize with your concern and investment. Therefore, we also provide professional guidance on SOPs, LORs, and resumes so that we can ease your burden and you can focus on your education and career. GoIreland provides personalized guidance the admission process and scholarship with the guidance of various certified Irish education experts. Studying in Ireland involves various complex methods, which are made simple when collaborating with Goireland in your journey for Masters in Ireland. are also provided with education loan assistance by the customer care services of GoIreland with full information on Visa documentation and filing.
Get application fee waiver
by applying through us
I agree to GoIreland terms and privacy policy
or To know about the Requirements
When you apply for Masters courses in Ireland, there are certain requirements from the Universities you must fulfill to secure your seat in a prestigious institution. There is a certain amount of cost associated with the online application of universities in Ireland; therefore, before proceeding, you must understand these requirements. Read the next part to understand all the requirements for securing admission to a prestigious university.
To know about costing
When you move from your home country to Ireland, many expenses are incurred in between and after you reach your final destination. Usually, these expenses will depend on the kind of lifestyle you will choose. Still, drawing a rough calculation of your monthly expenses is essential to make an informed decision. Read ahead to get an estimated idea of the overall costs you will incur while moving to Ireland for further studies.
Salary After Masters (MSc) in Cyber Security in Ireland
As you have invested time, money, and efforts in your studies in Ireland, it is much needed to research the average salary in Ireland after masters (MSc) in cyber security. Working in Ireland after Masters (MSc) in cyber security in top 500 Fortune companies like EY, Accenture, Deloitte, Google, and Bank of Ireland, etc., is a dream for many students. There are very high chances that you will also get a place in the industry where you are doing a package because Masters in cyber security is most employable degree in Ireland due to the huge demand for cyber security as a skill.

The salary range for Masters in cyber security in Ireland is around € 39,000- 75,000 per year. As you know, in every industry, the starting salary for cyber security in Ireland is lower than that of an experienced individual. The freshers salary after cyber security in Ireland is approximately € 39,000 per year, but after a few years of experience, the expected salary after studying cyber security in Ireland will be around € 48,000. The starting salary for cyber security in Ireland is € 39,000, therefore, the payscale after a masters in cyber security is one of the most lucrative for any student studying in Ireland.
FAQs:
---
Is Ireland good for a Master's in Cyber Security?

You should choose Ireland for your further studies if you want to gain expertise, knowledge, and skills for a solid career in cyber security. Ireland provides a conducive environment for your professional growth.
---
Is Cyber Security in demand in Ireland?

Cybersecurity is in demand in the current market, and the top 500 fortune companies highly reward students with this skill. The sector is growing at the rate of 10 PC per annum in Ireland.
---
Which country is best for a Master's in Cyber Security?

Ireland and Switzerland are the top-notch countries to build an amazing career in cyber security.
---
Is it worth it to get a Masters in Cyber Security?

Cyber security is worth it because it provides a higher pay scale in comparison to other industries.
---
Is Cyber Security a good career in Ireland?

Yes, cyber security is a great career in Ireland because this country holds a lot of opportunities for any student who has gained expertise in this field. The demand for cyber security is not just increasing in Ireland, but it is increasing on a global level.
---
How can I apply for Cyber Security in Ireland?

You can apply directly by filling out an online form on the website of your desired University. The applicant fees depend on the choice of your University. It usually varies on the grading of the college or University.
---
Is Cyber Security an essential skill in Ireland?

Cyber security is an in-demand skill and it is a simple rule that the higher the demand, the higher is the pay scale. Therefore, this field can give you a stable financial income with the increasing number of online startups and businesses every year, which indirectly increases the rate of cyber crimes.
---
Which country pays the highest package in Cyber Security?

Besides having good control over their communication, event managers are also quick decision-makers. They are leaders and can supervise a team of people to deliver the intended results. Most of all, event managers are great at time management. Luxembourg pays the highest amount of income to cyber security experts.
---
Is coding essential to learn Cybersecurity?

There is no requirement to learn coding to get skilled in cybersecurity. You can easily enroll in a masters degree in cyber security and learn the basics of the course from your faculties.
---
Is a Master's in Cyber Security difficult?

No, it is not difficult to pursue a master's in cyber security, but it does require medium-level efforts from the student's side.
---