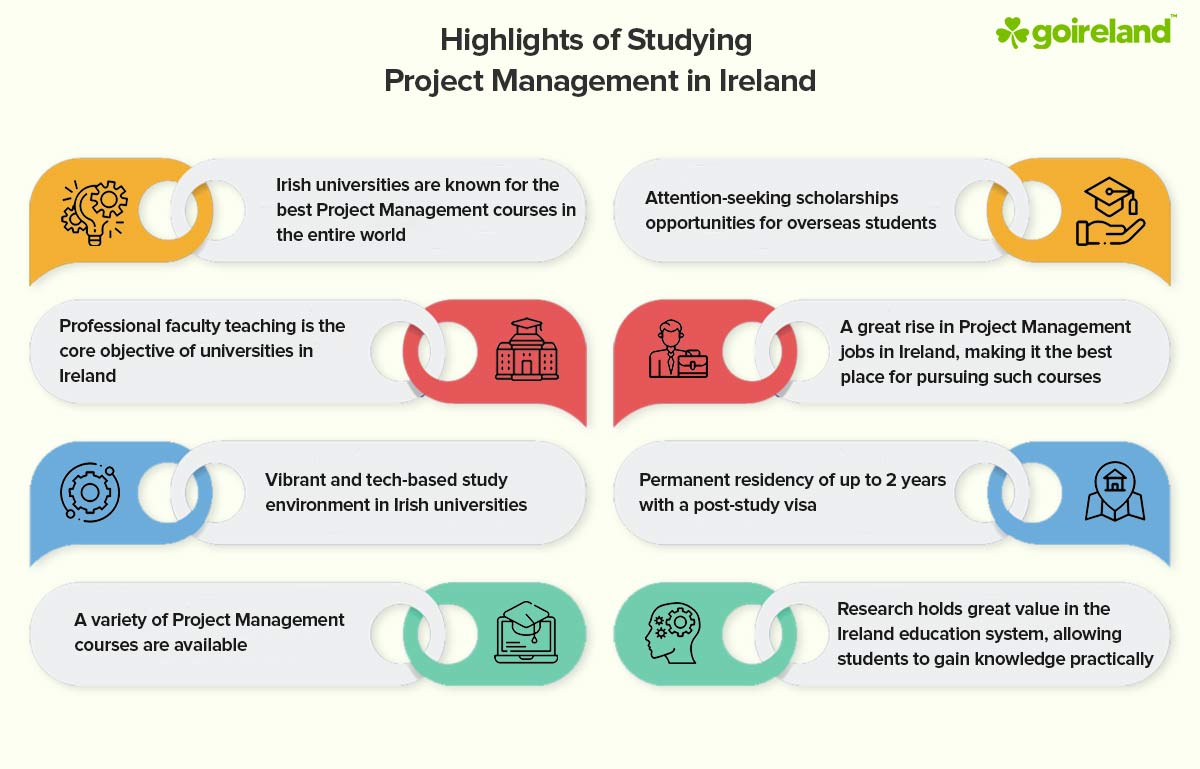 Masters (MSc) in Project Management in Ireland
Today, project managers are in huge demand worldwide in many sectors, particularly the software and IT industry, insurance companies, pharmaceutical, and medical equipment, energy and environmental, and construction industries. Not only in Ireland, but there is also a vast scope of project managers in the entire world. Having a qualification in any field of management lets you do interesting work with interesting people, improve people's lives, and explore unlimited opportunities as a part of your career. So, if you are passionate about working in such sectors, then the Project Management Masters in Ireland for Indian Students is made for you.
But before opting for a master's in Project Management in any country like Ireland, make sure you are familiar with each and everything related to the course. Students pursuing an Ireland Project Management Masters (MSc) should be dedicated to their field before thinking of enrolling in the course at any Irish university. It is a highly specialized field where you will be going to develop skills in project documentation, planning, monitoring/tracking, managing, and communicating with others to complete a task, event, or duty within the scope, time, and budget constraints.
GoIreland's Extensive Footprint in India
Offices across India
250+ Experienced Consultants
Chennai, Coimbatore, Bangalore, Cochin, Hyderabad, Mumbai, Pune and many more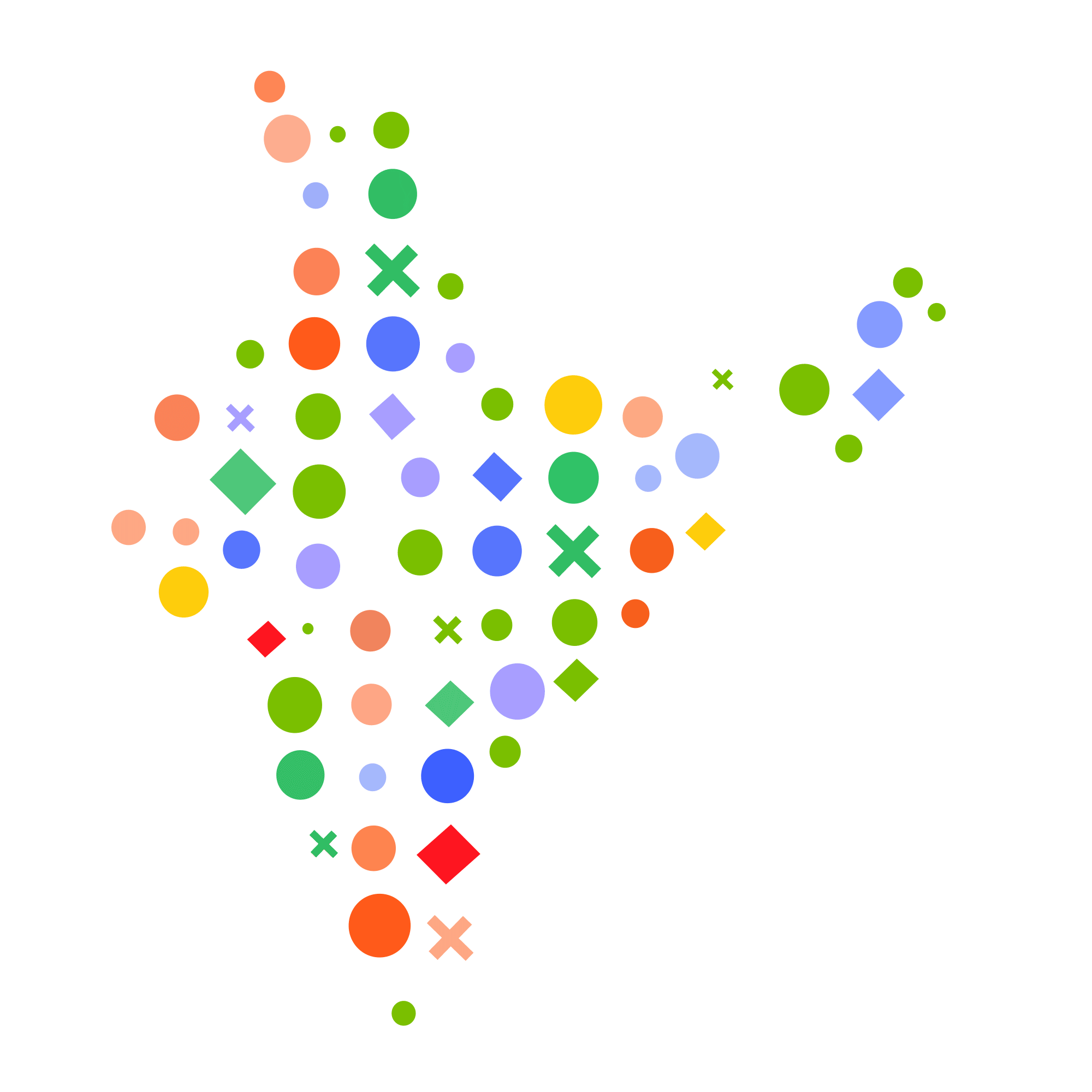 Project Management in Ireland for International Students lets students collaborate with each other to make connections that they can carry over to their post-graduate life and career. They can join professional companies and organizations after becoming a master's degree holder in Project Management to continue making personal and professional connections. Most positions in the field of Project Management require project managers to have a strong hold on the tools and techniques used scientifically to meet the objectives of a particular project. This is why applicants who are thinking of enrolling in any university in Ireland, he/she must be skilled in analyzing, identifying, and solving problems. If you think you are good at such things, then don't waste your time, just secure your seat in a reputed Irish university. Such project management master's courses in Ireland help students receive knowledge and skill sets to engage in project management effectively. Being a project manager, you will be handling a variety of complex issues.
Get application fee waiver
by applying through us
I agree to GoIreland terms and privacy policy
or Do you want to Study Masters (MSc) in Project Management in Ireland? If yes, then it will be a wise decision in your life. The existence of top-rated universities or colleges, plenty of work opportunities, and varied project management courses make Ireland the best option for studying master's in project management among international students. The field of Project Management requires evaluation of what tasks in a particular project must be completed, when they need to be done, and who will be going to work on it. A project manager also needs to make sure that the work or task is done accurately and that any risks related to the project are identified and alleviated. This is how Masters in Project Management in Dublin or any other Irish city will help you in getting the right expertise in this field.

Project management is one of the top-rated and sought-after skill sets across all industries, business areas, and organizations in different parts of the world, as many changes are accomplished through projects. A Master's in Project Management will make your personality and expertise highly attractive in the global market. Students from all academic backgrounds can get the opportunity to choose from both full-time and part-time masters programs in Ireland. This is the main reason why it is a suitable program for those who are new to project management, as well as current professionals interested in progressing in their careers.
To know more about requirements
When you are going to take admission to any Irish university to study the master's course in Project Management, requirements are an important thing to consider. There are some general requirements for international students that you need to follow. To be a part of Ireland's education system, fulfill the basic requirements of a particular Irish university that you can find on its official website.
To know about costing
When you are applying for a master's program in project management in Ireland, many things need to be considered, like the eligibility criteria, curriculum, and other general requirements. At the same time, the cost is another factor that plays an important role when you are considering the selection of the best Irish university. The cost of any master's program in project management depends on expenses like the cost of living, tuition fees, etc. Once you know the cost of this master's program, you can easily arrange the funding. Get a look at the fee structure of the masters in project management in Ireland by visiting the website of an Irish university.
Salary After Masters (MSc) in Project Management in Ireland
Working in Ireland after Masters (MSc) in Project Management is very easy because of the availability of the limitless jobs. Undoubtedly, the Masters in Project Management is the most employable degree in Ireland ever chosen by millions of professionals. The Salary Range for Masters in Project Management in Ireland is €38,342, and it depends on the designation of an employee. Here is the Average salary in Ireland after Masters (MSc) in Project Management per year for different professionals working in the field of project management:
Construction project manager: €66,400
Project Coordinator: €38,342
Information Technology Project Manager: €71,792
Consultant: €42,828
Environmental Research Project Manager: €40,000
Project Scheduler: €68,397
The Expected Salary after studying Project Management in Ireland can be dependent on your knowledge and the choice of a company or an organization. The Starting Salary for Project Management in Ireland ranges from €38,000 to €39,000 per year. Due to the presence of thousands of multinational companies and organizations in Ireland, there is nothing to worry about regarding the Fresher's salary after Project Management in Ireland. Of course, companies today in Ireland understand the demand for professionals having advanced degrees in particular fields, such as Project Management. This is the main reason why they offer a handsome salary to graduates after completing the masters in Project Management in Ireland. The salary you are expecting after this degree is also dependent on your skills and knowledge about a particular topic in Project Management. So, to get the best salary package in Ireland, become an expert in the field of Project Management.
FAQ:
---
Is the master's in Project Management the best career choice in Ireland?

Yes, why not! In Ireland, there is an 89% to 93% employment rate. It means that after completing the master's in project management in Ireland, it is very easy to start your career in the best MNC and other businesses that require project management graduates.
---
Is Ireland a good choice for a master's in Project Management?

The answer is yes! The reason is that Ireland is home to top-rated and quality education-based universities. There are both private and public universities in Ireland that emphasize the core subjects needed for a professional in Project Management.
---
Does Ireland provide permanent residency after the masters in project management?

Overseas students can get their PR in Ireland after completing their studies. But they must have a job in Ireland after the masters and stay in the country for a decided period of 2 years. Only after that can they apply for Permanent Residency in Ireland.
---
Are there any scholarships available in Ireland?

Of course, yes! There are many public organizations in Ireland offering scholarship-based programs for students who are more than the average ones. Even international students can receive scholarships based on their performance in academics.
---
Is there any eligibility criterion for getting admission to the masters in Project Management in Ireland?

Yes, it is a major requirement to meet when you are thinking of studying master's in project management in Ireland. To know more about the eligibility requirements, visit the genuine website of a particular Irish university in which you are interested.
---
Can international students apply for a master's in project management in Ireland?

Yes, they can apply for a master's in Project Management in Ireland only if they are eligible. Check the eligibility requirements for a particular Irish university on its official website if you come from an international country.
---
Do you need any previous work experience?

Before entering the master's program in Project Management in Ireland, there is no work experience needed by any Irish university. But at the same time, if you have some knowledge of project management, then it will be good for you.
---
Which subjects are covered in the MS in Project Management?

Some main subjects that are covered in a master's in Project Management include Managerial Economics, Strategic Management, introduction to International Business, Bank Strategy and Management, HR Management, Accounting, and many others.
---
Which Irish university is the best for a master's in Project Management?

There are many universities in Ireland offering a variety of master's programs in Project Management. Cork Institute of Technology, University College Cork, Dublin Business School, University College Dublin, Maynooth University, and the University of Limerick are some best options you can consider.
---
Is the fee structure for non-EU students the same as for EU students?

No, there is a huge difference between the fee structure for a Masters in Project Management in Ireland between EU and non-EU students. Non-EU students need to pay more fees than EU ones.
---