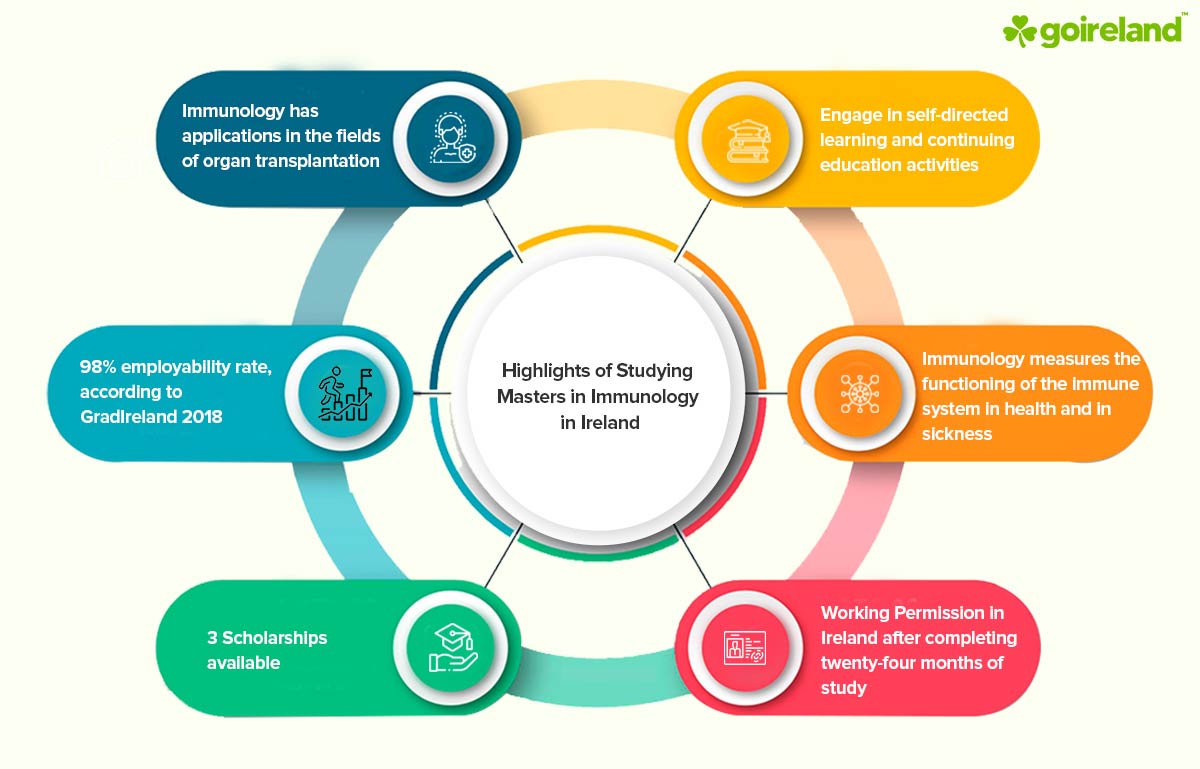 Masters (MSc) in Immunology in Ireland
By deciding to study Masters (MSc) in Immunology in Ireland, you have presumably taken the best step toward achieving your career aspirations. The land of opportunities and unrivaled advancements offers students a distinctive and comprehensive postgraduate system to study for a Masters (MSc) in Immunology in Ireland. The country's immense opportunities in this sector and also the growing need for skilled doctors, researchers, nutritionists, etc., have paved the way for hundreds of job opportunities. Furthermore, the staggeringly increasing numbers of prolific Irish institutions providing a comprehensive and diversified curriculum on the subject make the nation one of the best places to study the course. Immunology Masters in Ireland for Indian students plans to open up a minimum of 55 % more job prospects in the next five years. The Immunology in Ireland for International students is an intensive course that trains students in all sorts of analytical, rational, and critical thinking skills for better conducting research on the human body's immune system and thus protecting our society from the grasp of various complicated diseases and pandemics.

Learning about and investigating the human immune system is part of the study of immunology. Our defense against diseases brought on by germs, including viruses, bacteria, and fungi, is immunology or the immune system. As a result, it plays a significant function in the human body, which by design gives this topic of research a lot of significance. The study of Masters in immunology in Dublin has not only resulted in the creation of numerous vaccines and treatments for ailments that were previously thought to be incurable, but researchers in the area have also contributed to the advancement of numerous research techniques, including flow cytometry as well as antibody technology. These have grown to be fairly significant in the medical community and the pharmaceutical sector. These facts demonstrate the elevated significance of pursuing a master's degree in immunology.
Get all your doubts
clarified now for

Free
I agree to GoIreland terms and privacy policy
or The study of immunological mechanisms, their roles in disease, and potential therapeutic manipulation are all topics covered in this M.Sc in Immunology. Students will thoroughly grasp the pathological conditions behind immune-mediated diseases and how they could be managed by concentrating mostly on molecules, cells, organs, and genetics of the immune function, their interaction, and the way they are triggered and regulated. From a practical standpoint, the course entails in-depth training on contemporary approaches to immunology/biomedical studies, including cellular and molecular biology principles. Students will also receive instruction in data handling, experimental design, and fundamental research techniques. The master's program's objectives are to give students a well-rounded and comprehensive theoretical and practical understanding of immunology and to emphasize the advancements in this field. The required modules that make up the course's teaching material are as follows: Immunogenetics, Microbe Detection and Evasion, Clinical Immunology, Parasite Immunology, Tumour Immunology, Global Infectious Diseases, Immunotherapeutics, and Product Development are some of the subfields of immunology that fall under this category.
GoIreland's Extensive Footprint in India
Offices across India
250+ Experienced Consultants
Chennai, Coimbatore, Bangalore, Cochin, Hyderabad, Mumbai, Pune and many more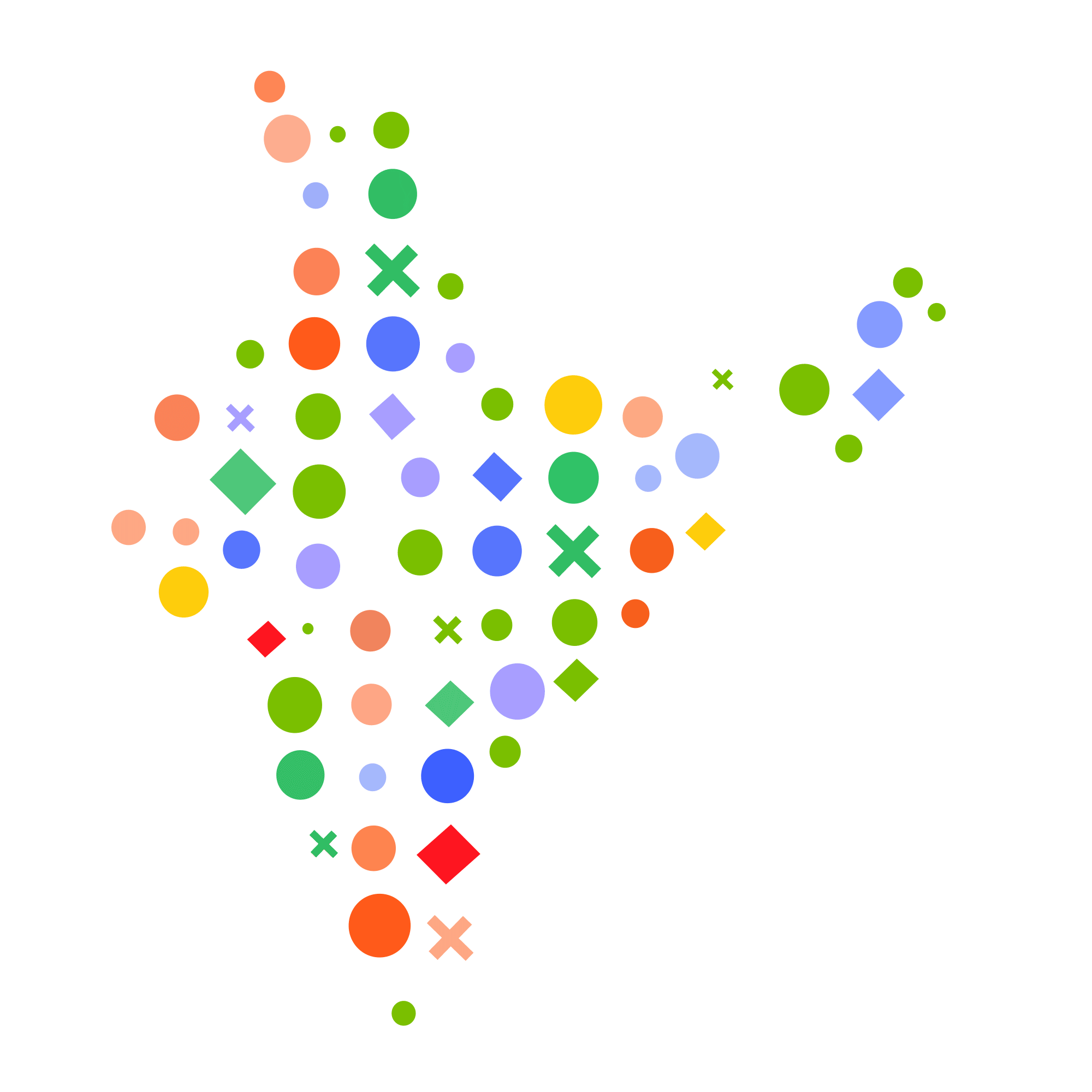 Students will also be expected to complete a dissertation as well as a research project in any of the immunology groups housed within or associated with the School of Biochemistry as well as Immunology. Students who successfully completed this course have gone on to pursue jobs in academic research, medicine, and the pharmaceutical business, all of which call for a solid foundation in immunology, immunologically pathogenic processes, and immunotherapy. A novel advancement in higher degree possibilities in the biomedical sciences can be seen in this program. Graduates in biological and health sciences who are interested in today's significant health and development concerns and who want to learn more about immunology, its role in global health, and the variables that affect immunological intervention techniques in health and disease are the target audience.
Get application fee waiver
by applying through us
I agree to GoIreland terms and privacy policy
or The Ireland Immunology Masters (MSc) course includes a significant section on newly emerging and reemerging diseases, such as those caused by poverty. The course will enable students from various backgrounds who seek to advance from elementary-level Immunology to advanced clinical as well as applied Immunology. It is open to graduates of scientific, medical, dental, and veterinary schools. The advanced modules' pacing and complexity will also be appealing to candidates who may have earned an Immunology degree but want to get a broader understanding of the field before embarking on a Ph.D. Successful candidates will possess a third-level degree with a baseline Upper Second Class Honours (2.1) in either biochemistry, molecular biology, veterinary science, dentistry, or genetics. An M.B., B.Ch., B.A.O. or equivalent degree medical institution is required of medical graduates. Graduates of accredited veterinary programs must hold a B. Vet. Sci.
To know about Requirements
Check out all the relevant details provided below to learn more about the prerequisites and standards for admission to the best Irish colleges on Immunology degree programs. You can always rely on GoIreland experts for the best career advice as well as additional aid with admission to these universities.
To know about costing
See the estimates below for more details on the multiple expenses related to obtaining a master's degree in Immunology in Ireland, including accommodation, meals, and other fees. To learn more specifically about the costs, you may always speak to a GoIreland counselor.
Salary After Masters (MSc) in Immunology in Ireland
The leading companies are consistently raising the average salary in Ireland after Masters (MSc) in Immunology, taking into account the market potential that the expanding healthcare sector has produced. In an effort to attract the finest of the best, the corporations are also increasing the associated fringe benefits and vacation days they provide while working in Ireland after Masters (MSc) in Immunology. It is safe to say that the average salary range for Masters in Immunology in Ireland is only increasing, even if starting salary for Immunology in Ireland cannot be accurately estimated due to changes across areas, businesses, and employee positions within businesses. Additionally, the job profile's provision for professional growth only results in future financial gains for people working in the sector.

Furthermore, if projections are necessary (as of 2019), the majority of medical scientist professions have an expected salary after studying Masters in Immunology in Ireland that hover about €37,000 per year. Additionally, several post-doctoral researcher positions frequently exist at other universities. These provide an annual salary of about €40,000 as the fresher's salary after Immunology in Ireland. It should be emphasized that as the topic develops during the course of the study, these numbers are just likely to increase. Personal negotiating abilities and social networks are also significant factors in influencing the income of immunology graduates in Ireland. Fetching somewhere between €37,000 to €99,000 a year, Masters in Immunology is a most employable degree in Ireland undeniably.
Get all your doubts
clarified now for

Free
I agree to GoIreland terms and privacy policy
or FAQ:
---
Which University is the best for an MSc in Immunology in Ireland?

Trinity College, Maynooth, and Griffith are some of the leading universities in Ireland for studying Immunology.
---
Is Ireland good for studying MSc in Immunology?

Due to its expanding economy, Ireland has become a hub for entrepreneurship investment and company expansion. As a result, it has been advantageous for healthcare to grow in the area. Due to this, some of the best immunology organizations in Ireland were founded. These businesses then employ specialized and trained graduates to carry out their research and implementation responsibilities.
---
How to Become A Immunology Expert in Ireland?

A graduate honors degree (NFQ, Level 8) in a field of study related to health care, such as medicine, nursing, pharmacy, occupational therapy, speech-language pathology, audiology, physiotherapy, psychology, dietetics, nutrition, or social studies.
---
What Can I Do With an Immunology Degree in Ireland?

Students who successfully completed this course have gone on to pursue jobs in academic research, medicine, and the pharmaceutical business, all of which call for a solid foundation in immunology, immunologically pathogenic processes, and immunotherapy.
---
Does Immunology Involve a Lot of Chemistry Lessons?

Immunologists frequently work in laboratories. Here, they research the immune system's physicochemical properties. They study the various allergies and hypersensitivities that living things encounter.
---
Is Acquiring Masters in Immunology Hard?

In the field of infectious disease and immunology, mastering the immune response and battling infectious diseases is the focus of the major. Graduates begin working immediately away in fields including government and the pharmaceutical sector, or they choose to enroll in medical school, pharmacy school, or veterinary school.
---
How Many Hours a Week are Immunology Masters?

It is expected of students to consider their academic pursuits as full-time job that takes up at least 40 hours per week.
---
Can I Get A Job After Masters in Immunology in Ireland?

By 2029, it's anticipated that 72,500 additional jobs for allergists and immunologists will have been filled due to an increase in demand. Over the following few years, this entails a yearly growth of 2.15 percent in prospects such as immunologists, biochemists, bio-researcher, lab-researcher, molecular scientists, and a whole bunch of other professions.
---
What are the two most important conditions Immunologist treats?

Immunologists also referred to as allergists, are medical professionals who identify, manage, and take steps to prevent immune system failures. You might visit an immunologist if you have hay fever, eczema, dietary or seasonal allergies, or autoimmune diseases.
---
Is an Immunologist a Doctor?

The doctor with the utmost level of training for treating allergies is an immunologist. They also treat several autoimmune illnesses and are leading authorities on immunological deficiencies.
---