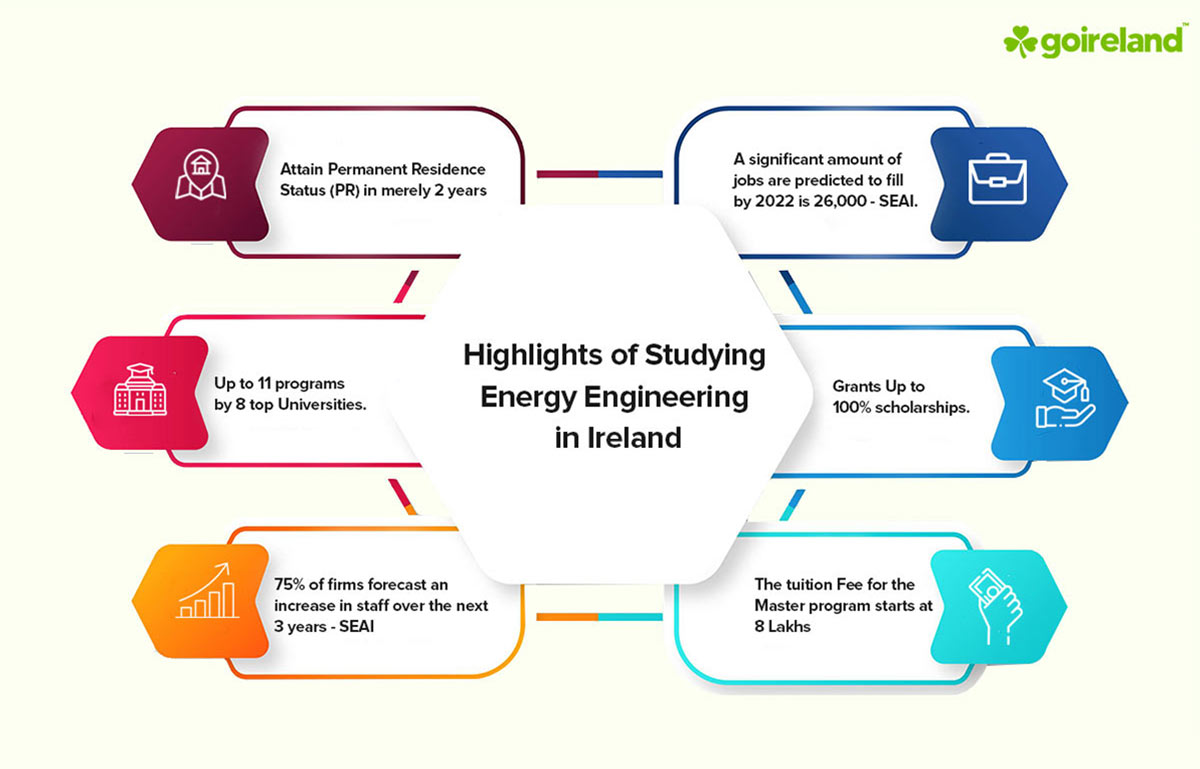 Masters (MSc) in Energy Engineering in Ireland
If going for a Masters degree in energy engineering in Ireland is your career goal, and you are looking for the best sources to make your dream come true, none can match the heights of GoIreland. Taking the aid of GoIreland is the best career decision you can make if you want to study Masters (MSc) in Energy Engineering in Ireland. Energy Engineers are associated with the research, design and improvisation of new and advanced energy systems, for instance, wave energy and tidal energy alongside wind power. Although most work in this periphery is at the nascent research stages, as there are more technical breakthroughs in this field, more and better-defined engineering roles will come to exist, thereby requiring more talents who have attained specialization in MSc in Energy Engineering in Ireland. The diversified and elaborate course of Energy Engineering Masters in Ireland for Indian Students is considered 2 years of postgraduate degree specialization, offering the convenience of learning full-time courses along with part-time in sync with the student's affordability. Most working professionals opt for the part-time course that takes a bit more time but helps them learn and earn simultaneously.
Get all your doubts
clarified now for

Free
I agree to GoIreland terms and privacy policy
or Ireland's spectacular post-graduation energy engineering course features a comprehensive periphery of career prospects. It offers talented aspirants the most advanced and trending opportunities in the energy engineering sector. Sustainable energy enhances the lives of everyone, bringing comfort and convenience simultaneously, and offers resolution to multiple environmental challenges. It is beneficial to boost the economy by creating and protecting a consistent stream of jobs. The Sustainable Energy Authority of Ireland aims to offer a helping hand to homes, businesses, communities, and industries to be more energy efficient. Experts of Masters in Energy Engineering in Ireland can find unparalleled opportunities in terms of employment in the sector. Specialists in energy engineering can also help in developing advanced clean energy technologies that help eliminate different challenges that the environment faces daily. Ireland has energy and emissions targets for 2020 that double the employment opportunities.

Our modern society needs to work together to bring improvements in energy efficiency and needs to focus on the prevalent use of renewable energy resources. The study of energy engineering masters in Ireland is one of the core elements of understanding, planning, and improvising the most advanced technologies that are dominant in today's modern world in producing multiple energy resources. From energy resources as well as improvisation of advanced energy resources via the planning and execution of modernized ways of using pollution-free energy resources, masters of energy engineering in Ireland is a study that has based major course in training students with the fundamentals of advanced energy creation for multiple industries and residential applications. Designed on the core fundamentals of energy engineering science, the study of energy engineering in Ireland integrates critical dimensions of unique energy production. Advanced systems are improvised to handle real-world energy requirements and solutions to save more energy resources. The study of energy engineering in Ireland brings together the most critical dimensions of energy engineering. Students better understand renewable energy resources use, thereby contributing to Mother Earth. The energy savings target by 2020 is 20% of the historic average energy use from 2000–2005. Ireland's National Energy Efficiency Action Plan (NEEAP) provides details of the current policies and measures planned and in action now.
GoIreland's Extensive Footprint in India
Offices across India
250+ Experienced Consultants
Chennai, Coimbatore, Bangalore, Cochin, Hyderabad, Mumbai, Pune and many more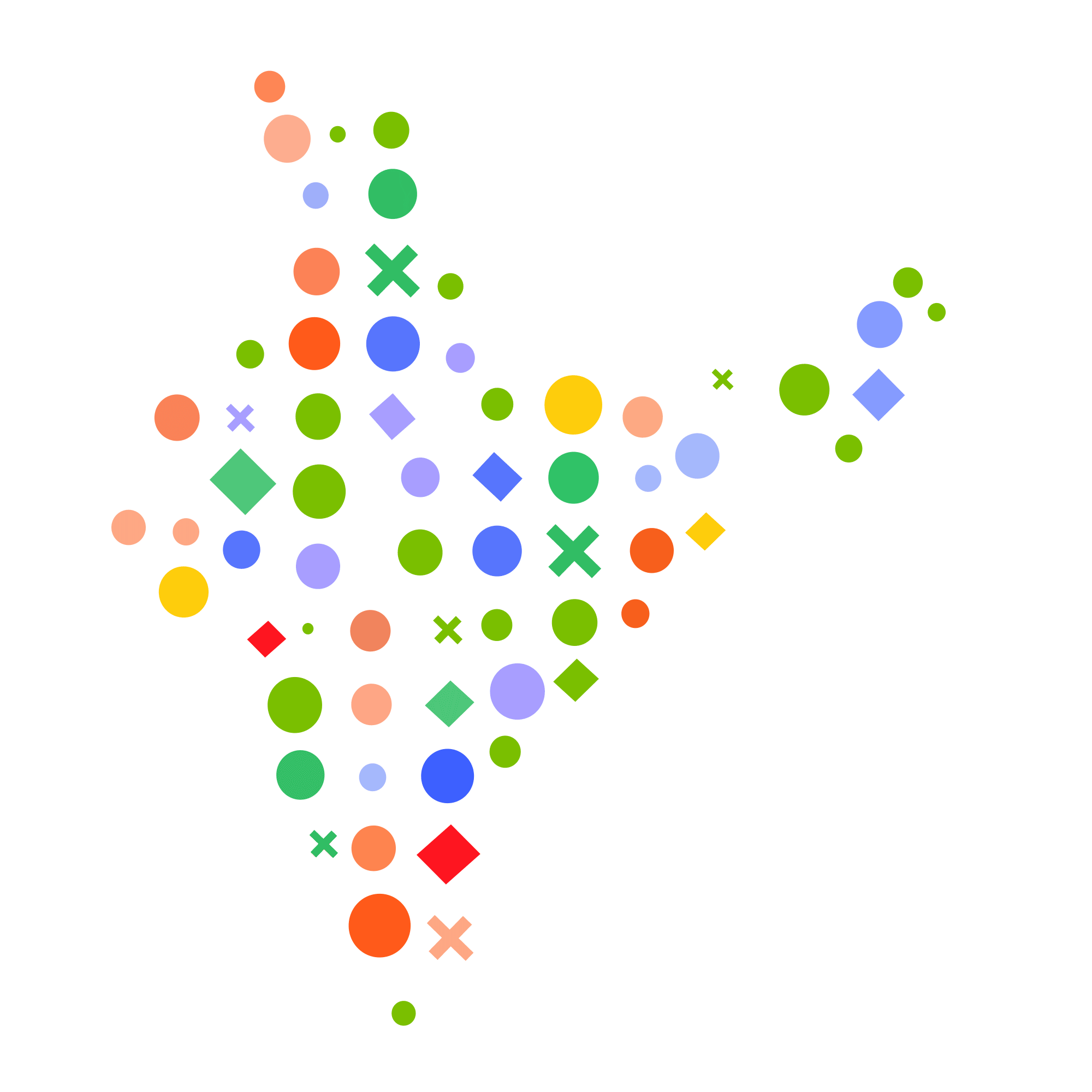 Ireland's energy development and production sector is a consistently thriving and emerging industry with leading and ensconced companies setting up their hub in Ireland. The whooping economic contribution of the energy engineering sector is significant, with the ICT industry lately liable for an estimated 25% of Ireland's entire turnover, representing one-third of Ireland's exports in terms of value. There are prevalent job opportunities available for energy engineering in Ireland.

With a projected investment of more than a whopping EUR 100+ billion in the energy engineering field by implementing numerous reforms as well as a modernized approach towards devising newer strategies in producing renewable energy resources, it is the right time for aspirants to consider this study as the best path for employment prospects. With multiple organizations such as ESB International, Airport Authority, Commission for Energy Regulation, Intel Ireland Limited, Accenture, and Dalkia Ltd, the Irish market is projected to host hundreds of new energy projects over the next few years in the sector of energy engineering. Coming directly under the Critical Occupations Skills List, energy engineering is not just lucrative but is relentlessly offering more than 5000 jobs per year.
Get application fee waiver
by applying through us
I agree to GoIreland terms and privacy policy
or MS in Energy Engineering in Ireland is supported by thorough study assessment, critical learning, and integrated coaching lessons that define the assessment's supremacy or significance in the sector. The enhanced and thorough learning and systematic coaching styles offer detailed and adept knowledge of energy engineering. Multiple curricula such as coursework assignments, tutorials, lectures, seminars, project work, and practical work alongside independent research programs or internships are splendid enough to help the students have a thorough understanding of the technical and non-technical aspects of the energy engineering sector. The postgraduate course assists aspirants in critical thinking to resolve complex energy requirements problems with a very logical and structured learning approach. Opportunities exist for talented graduates of MSc in Energy Engineering in Ireland for green energy building and transport simultaneously. Masters in Energy Science Engineering in Ireland are liable for working on projects integrating the technologies of ICT, biotechnology, nanotechnology, and multiple cognitive sciences. These might include energy-efficient microprocessors, efficient batteries, controllers and sensors for 'smart' products, energy-efficient servers and PCs, smart grids, and solar cells.

The program's training module offers expertise in various energy modes, ways of producing them, learning ways to improvise them for the greater good, and bringing modifications to various peripheries of renewable energy production. Offering skills in these innovations will help students to build specialized expertise and skills for advanced markets outside conventional industrial practices. A recent Forfás report on skills shortages of graduates of MSc in Energy Science in Ireland in this area focused on the need for graduates with specialist expertise in business analysis, engineering (particularly electrical, electronic, design, manufacturing, and mechanical), mathematics, and statistics, which are high in demand among prospective employers after completing Energy Engineering in Ireland for International students. Owing Ireland features the top THE recognized and high-ranking educational institutions for the study of Masters degrees in energy engineering, such as University College Dublin, Cork College, National University of Ireland, Galway, Griffith College Dublin, and Letterkenny Institute of Technology, etc., is certainly the best choice for accomplishing future career goals. Masters in Energy Engineering in Dublin comes with a diverse post-graduation program for talented aspirants supported by intense practical classes as well as theoretical sessions that can drastically reshape your entire career over the years.

Ireland Energy Engineering Masters (MSc) demands students to attain high-performing graduation reports, especially in the branches of Math, environment, and Pure Science due to the field requiring systematic calculative methodologies. Engineers need to strongly emphasize the generation of a seamless power supply to a particular device or product or solve any complex problems related to modern energy production, their functioning, and optimal working conditions. Graduates of MSc in Energy Science in Ireland will also find roles in designing, manufacturing, using, and the sustainable disposal of computers, servers, monitors, printers, storage devices, and networking and communications systems. Due to the critical nature of the energy engineer's role, the resolutions to critical energy problems require the assistance of an expert and specialized teamwork that are adept in tidal, wave energy, and wind energy simultaneously. Often, these teams have professional energy engineers skilled in solving multiple energy engineering peripherals by producing renewable and pollution-free energy resources to enhance business productivity and ensure no harm is brought to the environment simultaneously.

By encouraging students to develop their technical and professional skills to a complex level and allowing them to use stuff learned to handle real-world problems, the course trains them with the knowledge of various energy engineering verticals to have an extra edge over the competition. There's a wide range of verticals where energy engineering has relevance, like Aerospace, Energy, Environment, Health, Energy performance, Telecommunications, chemical industry, marine, nanotechnology, and Security. Securing jobs in these sectors comes with highly rewarding salaries. They must be highly skilled and adept in communicating with the team members and improvising multiple ideas for optimum workflow. All these talents are only possible for the students when they complete their masters program in energy engineering in Ireland.
To Learn more information about the Admission Requirements
Review the comprehensive information below to become familiar with all you need to know. For your benefit, we have broken down every bit of information. Any further questions can be discussed in detail with a GoIreland consultant.
To know about Costing
Have a look at the most important expenses starting from the accommodation, academic fees, ticket prices, food, etc. You should discuss with any GoIreland educational advisors anytime for consulting about your postgraduate study in Ireland.
Salary After Masters (MSc) in energy engineering in Ireland
Energy engineering masters in Ireland have always been the best sought-after and preferred post-graduation courses with ample opportunities ready for talents. Post-completion of the energy engineering courses in Ireland opens up multiple employment opportunities in leading companies, namely Jabil, Eaton, Siemens, Samsung Electronics, Broadcom, Infineon Technologies, and various others as unparalleled energy engineers. The average salary in Ireland after Masters (MSc) in energy engineering is somewhere around EUR 42,000 to EUR 84,000 per annum, based on the specific employment profile. Working in Ireland after Masters (MSc) in energy engineering can provide students with an impeccable salary as much as EUR 84,000 every year in organizations like Jabil, Eaton, Siemens, Samsung Electronics, Broadcom, Infineon Technologies, Egis Project Ireland, etc.

Masters in energy engineering is most employable degree in Ireland that can pave the way for job opportunities such as energy engineers, Instrument Design engineers, Instrumentation and Design engineers, Automation engineer, Process Automation engineer, and distinctly more job profiles. The salary range for Masters in energy engineering in Ireland is much on the higher side compared to multiple European nations and comes with a havoc hike chances after the first year of service, depending on the abilities. The Starting Salary for energy engineering in Ireland is basically EUR 42,240 for an energy engineering analyst and specialist in a start-up or mid-level business organization. If you happen to be a complete fresher, you may anticipate freshers salary after energy engineering in Ireland, starting from EUR 38,000 to EUR 64,000 yearly; that is better than many other nations. The expected salary after studying energy engineering in Ireland from leading institutions does not come under EUR 48,951 yearly in a leading business enterprise in the country of Ireland, according to the report of the Europe Employment Council for 2022.
Get all your doubts
clarified now for

Free
I agree to GoIreland terms and privacy policy
or FAQ:
---
Which university is best for an MSc in Energy Engineering in Ireland?

The leading universities for energy engineering in Ireland are Trinity College in Dublin, Maynooth University, Griffith College Dublin, University Cork College, etc.
---
Is Ireland a good choice for an MSc in Energy Engineering?

For the 2020 report from THE Global Ranking, eight leading Irish institutions teaching Masters in Energy Engineering come under the leading global universities. Students can also draw from EUR 48,444 - EUR 64,710 yearly as salaries against the moderate tuition charges of EUR 10,000 - EUR 26,000 every year.
---
How to become an Energy Engineer in Ireland?

To lead as a Pro energy engineer in Ireland, you need to have a graduation degree in science, engineering, energy engineering, analytics, etc. Mathematical along with statistical problem-resolving traits are important for candidates in this segment.
---
What can I do with an Energy Engineering degree in Ireland?

Students are able to earn employment as energy engineers, Instrument Design engineers, Instrumentation and Design engineers, telecommunications engineers, radio engineers, smart device process automation engineers, Automation engineers, and Process Automation engineers post the study Masters in energy engineering in Ireland.
---
What kind of work for MS in Energy Engineering in Ireland is done by GoIreland?

GoIreland offers students one-on-one counseling as well as other services, such as helping you find the ideal university for you by looking at your profile, applying to the university of your choice with the necessary paperwork and a visa, and finding you housing and loans in Ireland.
---
Does Energy Engineering involve a lot of math?

Indeed, if you want to succeed in the field of energy engineering, you must possess a solid understanding of mathematics. The majority of energy engineering courses are calculus-based.
---
How can GoIreland help with Energy Engineering Masters in Ireland?

After reviewing their profiles, GoIreland meets with the students personally to help them choose the universities that are the best fit for them, and we also assist them in obtaining admission to those universities. Additionally, we assist you with the procedures for obtaining a loan, a VISA, and housing while studying in Ireland.
---
What are the fees charged by GoIreland?

Our fees at GoIreland are your satisfaction and a successful career. For any of the services we provide to students, there are no fees associated with them.
---
What is your VISA attainment percentage?

GoIreland has a perfect success rate for receiving VISA approval because of our tenacious effort. Contact us for further details.
---
Are you authorized representatives for MS in Energy Engineering Ireland Universities?

Yes, we are licensed to represent prestigious Irish universities and are committed to assisting you in finding the most reliable information.
---
Will I get employment right after completion?

Yes, the top Irish colleges that we collaborate with will assist you in receiving the greatest job offers once the course has been successfully completed. Depending on how you perform, it can offer attractive internship chances. Contact our consultants at GoIreland for more details.
---