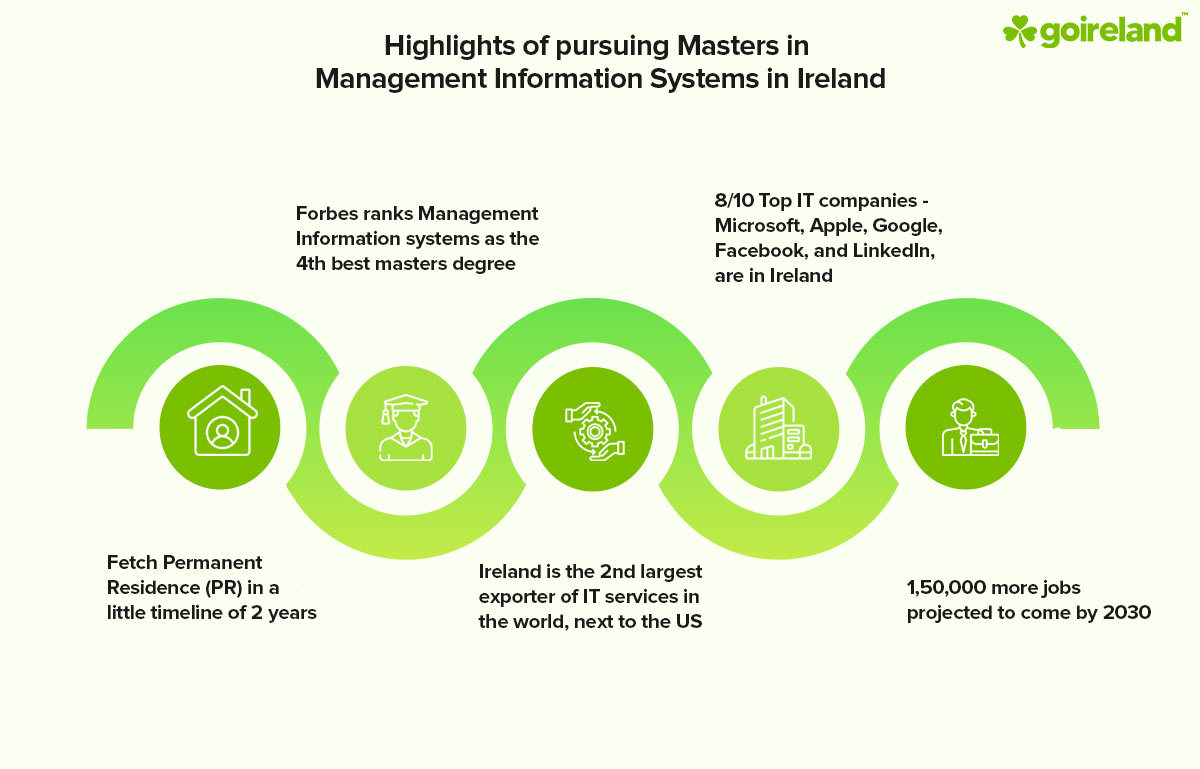 Masters (MSc) in Management Information Systems in Ireland
Are you planning to enter Ireland's dynamic and ever-increasing Management Information Systems industry? Then your decision to study Masters (MSc) in Management Information Systems in Ireland is the best choice. Your decision to study Management information systems in Ireland will bring a lot of positive impacts on your career prospects. Since you have already taken the decision to pursue Management Information System Masters (MSc) in Ireland for International students you should be well aware of the immense employment prospects this nation has in store for you and know the ins and outs of this industry and the way Ireland is consistently emerging victorious in this regard. However, to lighten up the scope, salaries, prospects, universities, and all other aspects of Management Information Systems, we have created this in-depth article for you.

Management Information System Masters in Ireland for Indian students is a dynamic course that promises not only an enhanced career but also unmatched recognition in the industry as a true talent. The Master of Science in Management Information Systems program prepares students for careers as programmers, budding business analysts, program managers, and seasoned technology consultants by focusing on information technology, various software, and systems. You can design, implement, and manage systems in ways that directly affect strategy and operational decisions through the STEM-designated Master of Science in Management Information Systems degree in Ireland. Business intelligence, data mining, managing various supply chains, and advanced mass customization are important factors in how well an organization manages information.

All of these systems call for the efficient administration of massive amounts of data utilizing cutting-edge technology. The program is meant to prepare potential project managers, technological leaders, and potential CIOs and is taught by top Irish academic faculty. By helping students improve their business, leadership, and IT skills, a master's degree in Management Information Systems can prepare them for employment in the technology industry. IT Masters degree courses combine business management, modern telecommunications, and programming, as well as technological education.
The Masters in Management Information Systems in Dublin postgraduate degree program is an in-depth single-year to two years program that comes with enormous flexibility, such as the option to complete both a full-time course and a part-timer course depending on the candidate's feasibility. Most times it is seen that for working students the part-time option suits the best and they are more comfortable with it whereas for fresh graduates, the full-time course works well. MSc in Management Information Systems in Ireland is considered to be a very lucrative course that is not only comprehensive for the students to learn but helps in better comprehension of various verticals of the MIS industry and its associated verticals. Ireland is one of the world's best, leading educational destinations, and owing to the emergence of multiple renowned MIS companies offering new opportunities, loads of international students are always eager to study in the nation. The best 9 of the globally leading educational institutions for Management Information Systems are in Ireland, and this is something that will draw every talent's attention. Irish colleges, in particular, ensure that students are prepared thoroughly and comprehensively for employment prospects throughout the world.
GoIreland's Global Presence
| | |
| --- | --- |
| 21 | Branches across the Globe |
| 12 | Countries |
| 150+ | Certified Experts |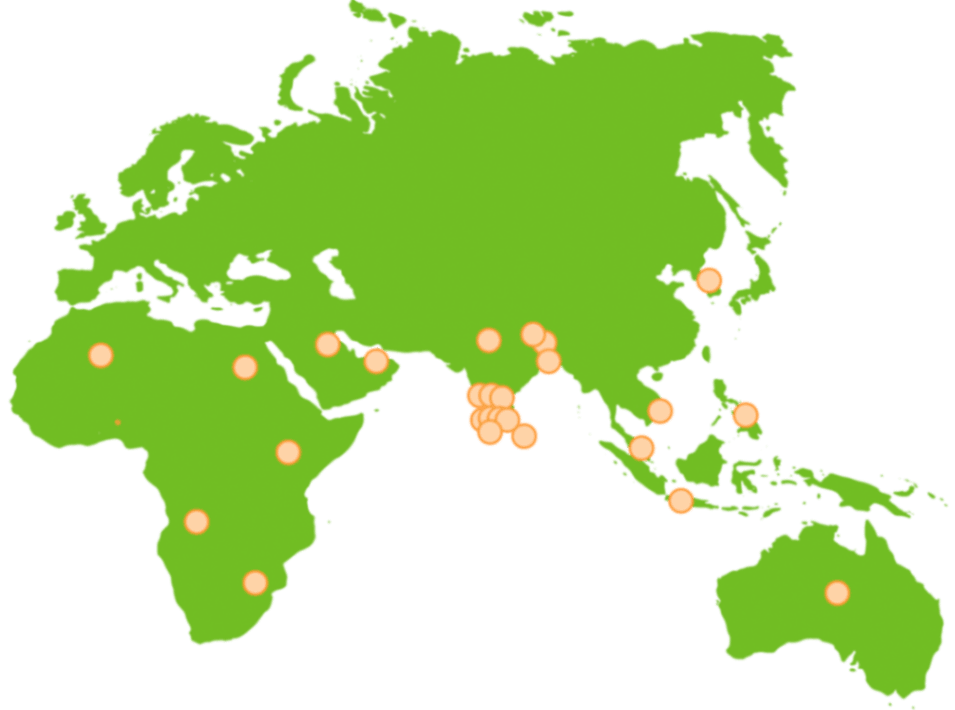 The MSc in Management Information Systems combines elements of data analytics as well as various information technology aspects with a solid foundation in social science. The program, which is inherently interdisciplinary, looks at how data is gathered, analyzed, and conveyed together with cutting-edge artificial intelligence techniques in the context of developing ethical issues regarding the effects of technology on society. Students will gain the ability to use machine language and professional network analysis to extract additional information from databases and the fundamental theoretical ideas involved in designing, developing, and deploying technologies like machine learning and artificial intelligence.

The Ireland Management Information Systems Masters (MSc) is a conversion degree course developed with significant industry input to enhance graduates' employability, which is shown by an excellent work record. The necessity for info systems across business and society is now more apparent than in the past. The world is constantly changing, and the preferences and needs of consumers are constantly changing. Nowadays, in order to remain competitive in the marketplace, organizations must adopt new technologies that help them compete. The development, implementation, and management of info systems are therefore central to how organizations transform successfully. This unique program is created to offer a unique combination of core skills in areas such as cloud computing, web technologies, programming, databases, security, and management of info systems. This program offers a coherent set of modern technology management techniques to meet the growing expectations and demands of the industry, which are vital to digitally transforming modern companies. Key skills that are now in demand, such as machine learning, big data analytics, and AI ethics evaluation, are taught in the MSc in Information Systems program.
The Management information system (MIS) is a broadly defined computer system that offers managers tools to manage, evaluate and efficiently manage departments of an organization. MSc Management Information systems students in Ireland study databases, decision-making software, decision-support systems, hardware resources of a system, personnel management, and project management programs, and one of the computerized tasks which allow the department to run effectively. A manager who's completed a Masters in Management Information Systems in Ireland focuses on the Information and Technology Systems of the organization. In Ireland, an MSc in Management Information Systems generally analyzes business issues and develops and maintains computer programs to resolve the organization's problems.
To know about Requirements
Check out all the criteria and prerequisites marked below for you to learn more about the Masters in Management Information Systems. You may always get in touch with GoIreland educational advisors for the greatest assistance with respect to learning in Ireland if you have any extra questions.
To know about costing
Students can look at the alternatives below to discover more about the costs associated with a postgraduate degree in management information systems in Ireland, including rent, food, and other expenses. You can always speak with a GoIreland counselor to better understand the fees.
Salary After Masters (MSc) in Management Information Systems in Ireland
The master's degree in management information systems offered is unquestionably a remarkable postgraduate course that aids students in finding the best employment prospects from the top tech firms. After completing the postgraduate program, some of the top companies in Ireland, including Hewlett Packard, IBM, Apple, Google, Information Mosaic, Avaya, Bearing Point Consulting, Dell, Metalogic, and numerous other businesses, provide excellent employment opportunities to become Management Information Systems Experts. Depending on the position, the average salary in Ireland after Masters (MSc) in Management Information Systems ranges from €35,000 to €51,890 annually. Working in Ireland after Masters (MSc) in Management Information Systems can give you a lump sum package and the potential for a high rise once the service is completed in the first few years. Companies like Hewlett Packard, IBM, Apple, Google, Information Mosaic, Avaya, and Bearing Point Consulting can provide candidates with a generous package worth up to €99,875 every year.

Masters in Management Information Systems is most employable degree in Ireland, offering students incredible employment opportunities in many companies that are internationally recognized. For jobs like QA Analysts, Application Developers & Analysts, Information System Engineers, IT Business Analysts, Data Analysts, IT Information Security Analysts, IT Application Managers, Risk Specialist, etc., the starting salary for Management Information Systems in Ireland is at least €42,000 every year. The salary range for masters in management information systems in Ireland is consistently among the highest in all of the European countries. In start-ups or SMEs, the beginning freshers salary after Management Information Systems in Ireland is a respectable €35,000. After finishing Masters at Ireland's top universities, graduates can anticipate the expected salary after studying Management Information Systems in Ireland ranges between €49,000 and €98,000 every year, which is a wonderful range.
FAQ:
---
Which University or college is right for Management Information Systems in Ireland?

One can learn MSc in Management Information Systems in Ireland in multiple premium institutions such as Waterford Institute, Griffith, Maynooth, Limerick University, Letterkenny, and Dublin College, among others.
---
Is Ireland perfect for an MSc in Information Technology?

The majority of Irish universities and institutes are classified as internationally renowned academies by the Times Higher Education (THE) rankings. Thanks to these institutions' top-notch teaching staff, Ireland is a top destination for students seeking an MSc in IT. Furthermore, the country's need for MIS talent and the presence of top tech organizations here make it the ideal place to studManagement Information Systems.
---
How can I be An Management Information Systems Expert?

The standard admission requirement for masters in Management Information Systems programs in Irish universities is a bachelor's degree in engineering, computer science, mathematics, or science with a score of 70% or above. Working experience could be advantageous.
---
What are the opportunities after an Information Technology in Ireland?

Candidates learning Management Information Systems Masters degree in Ireland are able to work as QA Engineers, Application Analysts, Data Analysts, Information System Engineers, MIS Application Managers, Risk Specialists, IT Information Security Analysts, and MIS Business Analysts.
---
Does Management Information Systems Involve Math Lessons?

Yes, Ireland offers many prospects for those who have acquired knowledge in this subject, making the Management Information System an excellent career choice. Not only is there a growing need for Management Information System in Ireland, but also around the world.
---
Is pursuing Masters in MIS Hard?

Certainly, In comparison to undergraduate programs, master's degrees require more work. You can, however, advance your academic career and personal life by enrolling in a postgraduate program in Ireland.
---
How Many Hours in a Week is MIS Masters?

For a master's degree taught in Ireland, students typically have five to ten contact hours each week, split between seminars, lectures, and workshops. For master's programs that include laboratories, more contact hours will be necessary, often 20 hours per week.
---
Can I pursue Masters in MIS and Work simultaneously?

Most education programs for part-timers frequently offer options for evening or nighttime study. You can always decide to work and learn part-time in order to have the best of both worlds.
---
Can I acquire A Job once I complete Masters in MIS?

Yes, it's simple to do, and after getting a job, you may apply for a Green Card to look for long-term employment opportunities in Ireland. Students can apply for a work visa if they want to continue working in Ireland.
---
Does Ireland have better scope for Masters in MIS?

Chief MIS officer and chief IT officer positions are among the highest-paying ones in the technology sector in Ireland, with salaries ranging from €120,000 to €210,000. These positions can be obtained with a master's in Management Information Systems.
---