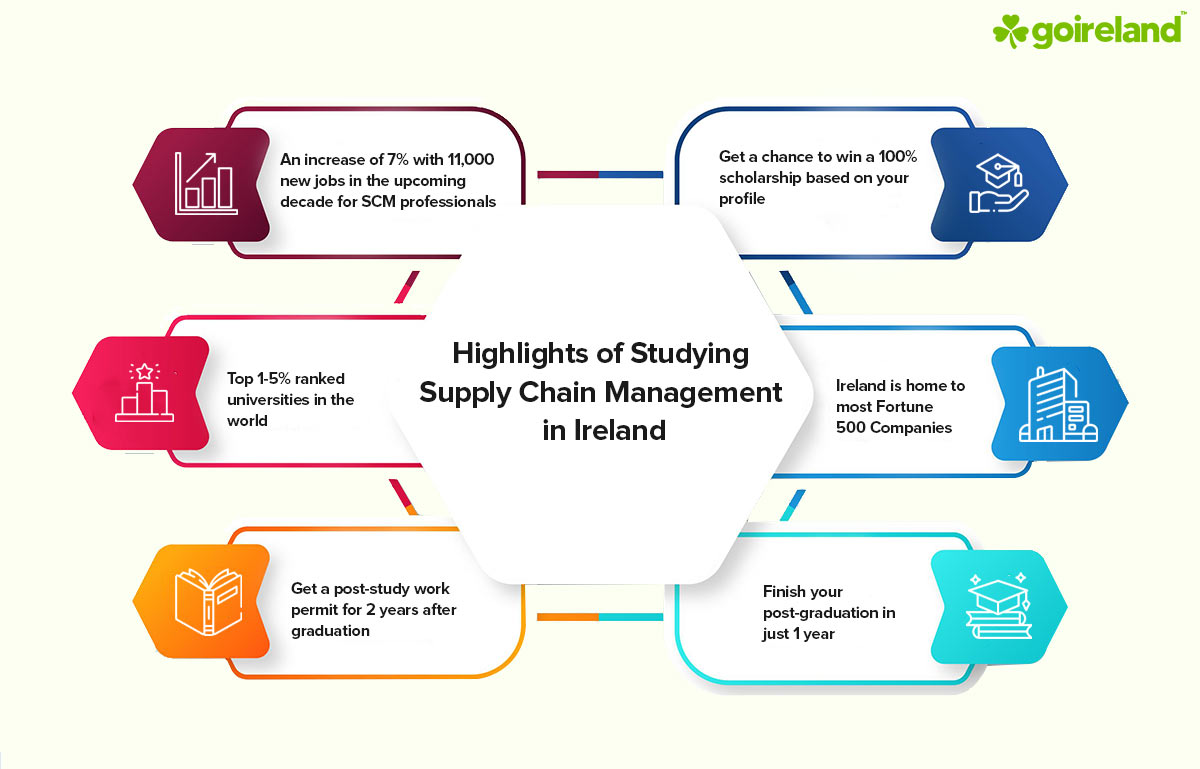 Masters (MSc) in Supply Chain Management in Ireland
Supply chain management is like the soul of the business as it regulates what is required by the whole world, services, and goods. There are significant procedures involved in churning out the final product from raw materials. A supply chain is correlated to the development of a product, production, information system, etc. all this opens doors of opportunities for students and highly rewarding prospects across different sectors. Supply Chain Management in Ireland for International Students is a win-win decision. There are high prospects in Ireland, so if you pursue supply chain management, you are going to have a competitive advantage.

Supply chain management is spread across various sectors which means you have plenty of options later. The sector is booming, so there is no struggle after completing your course. There are many well-recognized institutions in the country offering well-compiled SCM courses that carry essential theoretical learning and practical skills that will assist you to hone your dexterity within logistics. Supply Chain Management Masters in Ireland for Indian Students is a prosperous career not just in management but operation management, inventory planning, management consultancy, and other sectors. You will join an SCM company where you are expected to not only plan well but also bring in more and more profit. To achieve this goal, you will need to focus on many things, such as
Keeping an inventory up to date
Preparing tasks in cost-effective management
Lower labor cost
Boost sales
Understanding important business operations
Enhancing business operations
Keeping production running
Entering new markets etc
Every day you will have to deal with a challenge that will require skills and knowledge. Ireland Supply Chain Management Masters (MSc) is going to build up these skills in you. Ireland is a country with a host of numerous supply chain companies. These firms conduct activities like preparation, scheming, and executing tasks on an industrial scale. Everything from raw material sourcing to production and distribution is done in a well-organized manner. Ireland is a country having its own aspirations, like boosting its economy, which opens up a lucrative chance for Indian students. In this field, employment opportunities are no doubt admirable. For instance, there is a huge demand for Masters in Supply Chain Management in Dublin city. So there is no reason why you don't want to be qualified in this field. There are the best institutions in Ireland with programs that are combined with planning and implication of the entire process. All this helps in developing an ideal flow of material, information, and capital across diverse sectors. Supply chain management is a vast study area, and students learn so much that it helps them gain a competitive advantage over other courses.
GoIreland's Global Presence
| | |
| --- | --- |
| 21 | Branches across the Globe |
| 12 | Countries |
| 150+ | Certified Experts |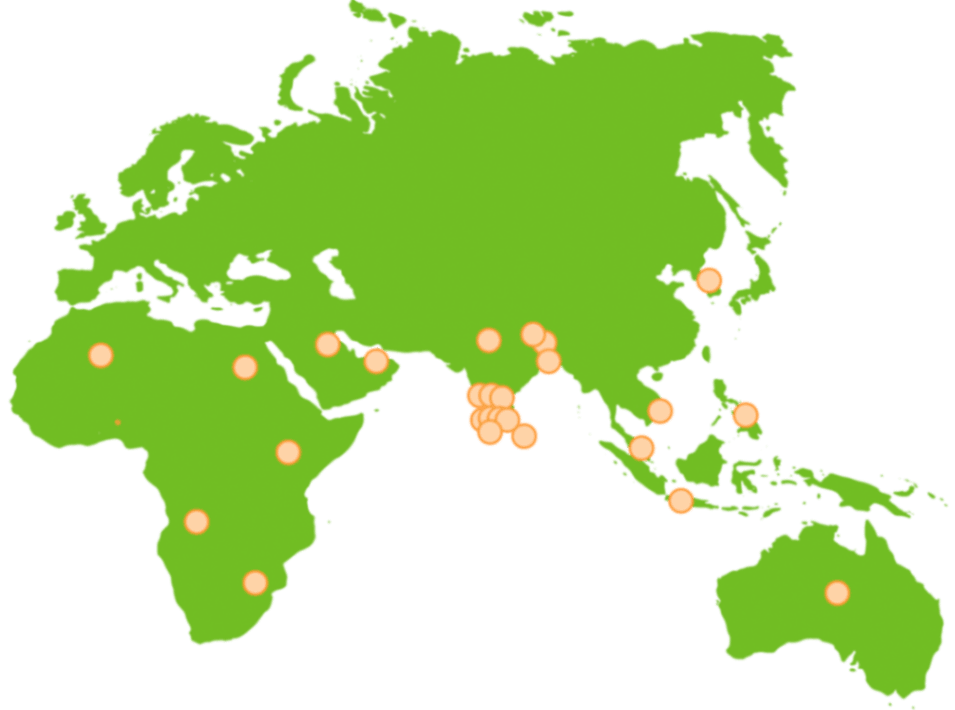 Study Masters (MSc) in Supply Chain Management in Ireland to gain expertise in the field and to open yourself to an ocean of chances. You don't just get to work with the world's corporate giants, but you can start your own supply chain company. So, why delay applying for the course and fulfill your dreams? There are many alternatives available for Indian students. There are instant education loans, the best universities, courses, scholarships, and many other perks accessible. If you are willing to shape your career, there is hardly any obstacle in 2022 that can stop you.
To know about the Requirements
If you are fascinated by studying supply chain management in Ireland, then you must know about the eligibility requirements. Many students apply but not all succeed. Even if one requirement is skipped can drag you back from studying at the top-ranked university of Ireland. Below are the details of the eligibility criteria. Pay close attention. Do not forget to check out the website of the university because every university is different, and the requirements may also vary.
To know about Costing
Irish universities are the most popular choice among Indian students. Ireland has the best-performing and top-rated higher education universities in the world. The cost of the study depends upon the region, university, lifestyle, and expenses. Non -EU students need to fund their courses. The expenses, like tuition fees, depending upon the level of study. There are easy student loans available for Indian students. These are the most secure, fast, and affordable ways to fulfill the dreams of studying abroad. Before you apply for a student loan, you must know how much it is going to cost to study in Ireland.
Salary after Masters in Supply Chain Management in Ireland
Masters in Supply Chain Management is most employable degree in Ireland because the supply chain management course is a cherry-pick. All the global companies have European headquarters in Ireland. Several big companies like Facebook, Airbnb, Google, and Accenture are present in Ireland. The expected Salary after studying Supply Chain Management in Ireland is 40,000 to 60,000, depending upon your job title. It will be much easier to avail of handsome salary packages if you will have relevant work experience. Ireland has many job opportunities for all those who have supply management postgraduate degrees. Working in Ireland after Masters (MSc) in Supply Chain Management is not a struggle, as jobs are ready once you complete your course.

A freshers salary after Supply Chain Management in Ireland is around €20,000 to €40,000 and beyond, depending upon the job title, responsibilities, and experience. Salary Range for Masters in Supply Chain Management in Ireland is €40,000 to €80,000 if you have a master's degree. The Average salary in Ireland after Masters (MSc) in Supply Chain Management is going to vary depending on the company you choose. Starting Salary for Supply Chain Management in Ireland is quite satisfactory for freshers, which will grow as your experience will grow in the industry. The average salary package of supply chain management in India is Rs 8-9 lakh.
FAQ:
---
Is Supply Chain Management a good career choice?

Supply chain expert demand is growing because there is a huge requirement for raw materials, and the demand for warehousing is also increasing resulting in the increased stipulation of highly skilled professionals in the field. It is definitely a great choice for the future.
---
Career opportunities in Ireland after Master in Supply Chain Management

For Indian students, Ireland has plenty of career opportunities. Some of the top companies like Pramerica, Facebook, Apple, and many others are looking forward to enhancing their international business appeal, for which they need highly skilled professionals.
---
Is Ireland a safe student destination?

Ireland is considered one of the friendliest and safest countries on the planet. Ireland is a young island, and one-third of the population is below twenty-five years. You will find more than thirty thousand students coming with their dreams to Ireland like you.
---
Is supply chain management in Ireland recommended over other countries?

Ireland is a beautiful young country on its way to building economic relationships with other major countries. This is the reason it is very easy to find a job in Ireland. If you have a supply chain degree, you can work in different sectors like accommodation, customer service, IT, travel, etc.
---
Where to study for a Master's in supply chain management?

There are the best universities like Trinity College Dublin with a QS ranking of 2023 98, University College Dublin at 173, IT Carlow, and many others with impressive QS Rankings. Every university is uniquely well-ranked and has well-equipped courses for international students.
---
What subjects will I study in supply chain management?

There are 4 basic courses: Planning, Sourcing, Operations, and Logistics.
---
How much work experience is required?

Prior to entering the MSC supply chain management program, there is no work experience required. Some universities may expect to have some industry engagement experience before applicants enter the program.
---
How long are IELTS /TOEFL scores valid in Ireland?

IELTS and TOEFL scores are only valid for 2 years from the date you took the examination. You must submit your application before the scores get expire.
---
What is the minimum IELTS score required for applying for the MSC supply chain management program?

IELTS scores are 7.0 or higher and TOEFL scores are 100 or above internet-based examinations. The requirements will depend upon the university you are applying to. The scores vary from one university to another. The minimum requirements for the majority of Irish universities are 6.0-6.5.
---
What scholarship opportunities are available for the supply chain management program?

There are plenty of scholarship opportunities available to students who are having outstanding academic records. There is a scholarship section available in the application form which students must fill out before the deadline and submit.
---
What is the scholarship amount for international students?

The funding for supply chain management depends upon the university. Typically scholarship funding ranges from $5000 to $15,000 per year. There are both partial and fully funded scholarships available for international students.
---
What are the pros and cons of a supply chain management course?

SCM jobs are lucrative and there is no minus if you choose supply chain management, especially from an Irish university.
---