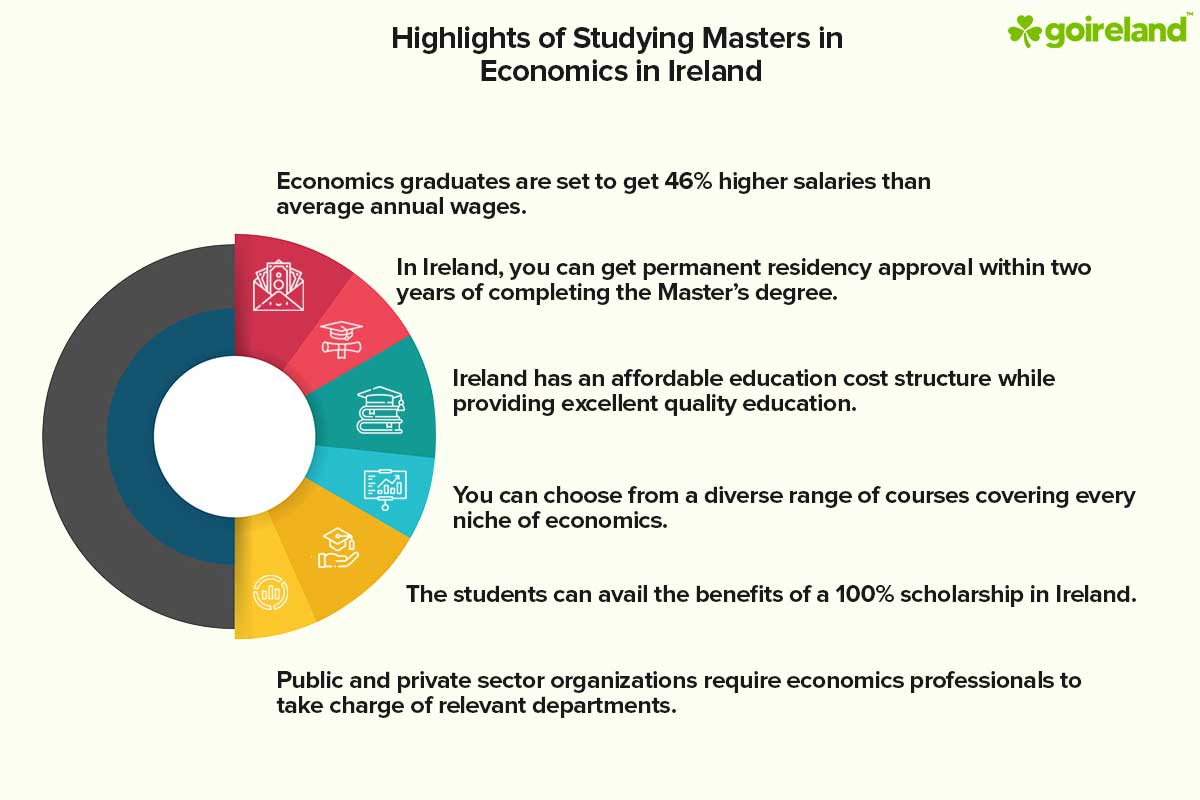 Masters (MSc) in Economics in Ireland
A degree in economics means the student will understand how our economy and financial system work. Understanding these things will help you make better decisions in your daily life and make you competent enough to make the right development decisions for an organization or a government. Economists are in high demand in various fields and sectors. As a result, if you are interested in this field, make sure to study Masters (MSc) in Economics in Ireland. A country that breeds excellence and has a fantastic culture, Ireland is host to a wide range of world-class universities offering excellent education. By the time you complete the Masters degree in Ireland, you will have an understanding of the financial trends and changes. The right degree will help you find the right employment opportunity in a globally renowned organization.

Studying economics gives the student a unique perspective. And when you are going for Masters in Economics in Dublin, you will experience a great mix of culture and education. Ireland, as a country, has a welcoming and warm environment. Students from all over the globe come here for higher students and get exposure to the developed world. Studying economics means gaining mastery over a mix of social sciences and mathematics. In Ireland, universities and colleges have set the perfect curriculum for students looking to build a future in this field. They are taught to find solutions to everyday problems; today, like poverty, and unemployment, among others. Moreover, economics graduates are also supposed to work with communities and ensure the welfare of everyone in society with their programs and schemes.

In their pursuit of gaining a good education, Economics Masters in Ireland for Indian students is a great career opportunity. Talking about the curriculum is set to cover the economic position of Ireland. However, the course also covers the global economy and takes examples from worldwide. Due to this, the students can gain a global perspective and how economics plays a role in creating a beneficial structure. After completing their studies in economics, the students can explore a wide range of career-defining opportunities. These include working within government organizations, in financial services providers, with banks, non-profits, and other public sector organizations.
Economics graduates can take up the role of a researcher and help find solutions. They can work with policymakers, lawyers, and financial experts to bring a global view of their field and help make better decisions. Economics Masters in Ireland for international students is a great opportunity that will help them upgrade their knowledge and skill set to a global level. Students will learn from highly qualified teachers and professors at globally acclaimed universities.

A great thing about learning economics is that you will gain a unique perspective of the world around you. Since economics is a mix of theory and practice in social sciences and mathematics, it explains how different concepts work. This includes taxes, inflation, budgets, and much more. The curriculum in the universities in Ireland is set according to the latest events and happenings across the globe.

Among other career opportunities you can explore after completing your degree are a data scientist, market researcher, budget analyst, policy analyst, professor, statistician, etc. All these are high-pay, growth-oriented, and respectable professions. To reach this stage, you need exposure to the right study environment, excellent education, and good teachers. Fortunately, an Ireland Economics Masters (MSc) degree course will provide everything you need. Your study structure and curriculum will help you learn about supply and demand analysis, wage determination, and other essential concepts for any organization or government.
GoIreland's Extensive Footprint in India
Offices across India
250+ Experienced Consultants
Chennai, Coimbatore, Bangalore, Cochin, Hyderabad, Mumbai, Pune and many more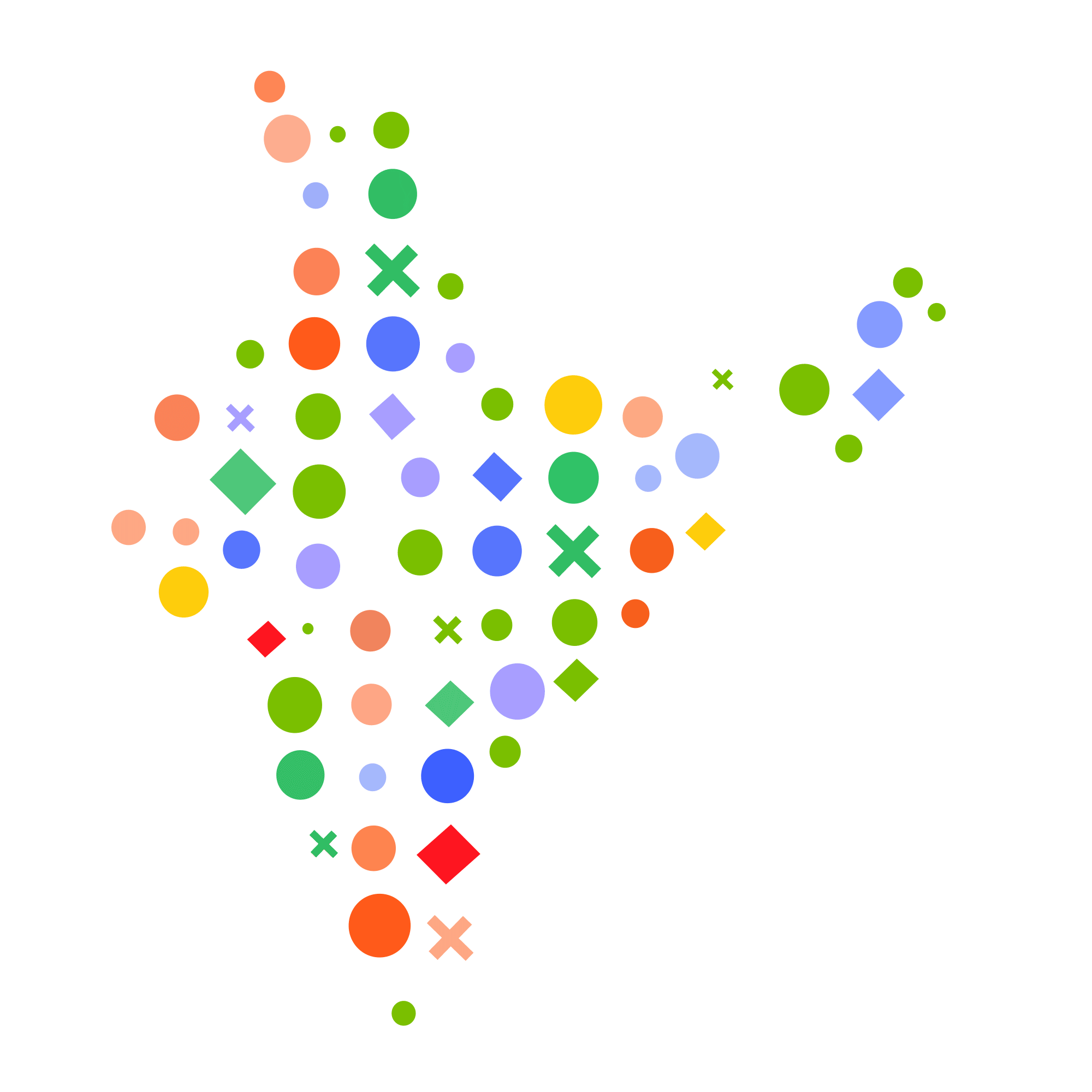 You can pursue a master's degree in Economics at some of the most amazing institutions in Ireland. These include Maynooth University, Trinity College Dublin, University College Cork, University of Limerick, University College Dublin, and other prestigious institutions. These universities are in the top 1000 colleges, and universities list globally given by QS World University. With GoIreland by your side, you can study in the best educational institutions suitable for your life and professional goals. Our experts help students find the best institution, submit the paperwork, and create an impressive profile for the admissions committee.
Get application fee waiver
by applying through us
I agree to GoIreland terms and privacy policy
or With our ties to Ireland's educational system and institutions, we can assure our students of excellent results. We can help you get a visa, take a loan, and apply for a scholarship. At GoIreland, we are making your future with the right approach. Our understanding of Ireland's educational and migration system makes us eligible and proficient to provide the perfect consultation advice you will need for higher studies.
To know more about the Requirements
As you apply for Economics courses in Ireland, understand that the proper course will help you form a great career. Moreover, there are no free Economics courses in Ireland. All the courses available have a set fee structure, which varies according to the student's native country. Joining the right course is essential. As universities accept students from across the globe, they have set eligibility criteria, which will be discussed in detail below.
To know about Costing
Studying in Ireland is relatively cheaper than studying in other countries. The fee structure of universities and colleges includes tuition fees, infrastructure fees, insurance, and other services costs. The following details the fee structure for a Masters (MSc) course in Economics in Ireland.
Salary After Masters (MSc) in Economics in Ireland
Getting the right salary is the key motivator for anyone studying hard abroad or in their home country. When studying in Ireland, the good thing is the exposure you will get and the opportunities surrounding the country. Ireland is an integral part of the European Union, and students completing their studies here will get the benefit in other nations as well.

The average salary in Ireland after Masters (MSc) in Economics is €70,000 per annum. However, this is your salary when working in global companies. The pay can be less in local companies with less workforce, but you will also get a chance to learn more from here. In addition, understand that the freshers salary after Economics in Ireland begins at €53,000 per year. Working in Ireland after Masters (MSc) in Economics becomes easier for students with higher grades and academic qualifications. Throughout the course, the students must get the required scores and grades to advance in their academic careers. During their tenure, they must obtain the necessary skills and talents to become better than their peers. This will help them get a better starting salary for Economics in Ireland.

Masters in Economics is most employable degree in Ireland because the graduate can take on different roles. These include economic analysts, senior data analysts, research analysts, finance operations executives or managers, etc. All these are high-pay and promising roles that have tremendous career growth. The salary range for Masters in economics in Ireland graduates starts from €35,000. It can go higher, and the higher level executives and managers earn more than €110,000 after completing their degree in Economics. You can also join a university or college as a professor and get the expected salary after studying Economics in Ireland of €76,000 per year.
FAQ:
---
What subjects will I study for the MSc Economics degree in Ireland?

The exact list of subjects and topics depends on your chosen economics course. However, the general subjects you will study include microeconomics, macroeconomics, data analysis, and econometrics.The exact list of subjects and topics depends on your chosen economics course. However, the general subjects you will study include microeconomics, macroeconomics, data analysis, and econometrics.
---
Can I choose MSc economics after completing my Bachelor in Engineering or Maths?

Yes, even though you can choose Economics after studying a different subject, the choices are limited. Engineering and Maths are eligible, along with computer science.
---
What's the average course duration of an MSc economics program in Ireland?

The course tenure can be one year or two years. Some programs have a one-year run-time, while others have two years and eight semesters. However, if you go for an integrated degree program, you will be here for up to five years.
---
What type of jobs can a graduate in Economics take up after completing their degree?

An economist's role is the most feasible option for an Economics graduate. Other than this, they can also become a data analyst, researcher, business analyst, policy analyst, professors, etc.
---
How can GoIreland help me get admission to Ireland?

GoIreland has official ties with several universities and colleges in Ireland. We can help you prepare for everything from choosing the right university to filling out the paperwork, applying for a visa, getting a scholarship, and even taking a loan.
---
Do I have to pay something extra besides the tuition fee?

Yes, in addition to the college tuition fee, you would be obliged to pay health insurance premiums, refundable deposits, library fees, lab fees, etc.
---
What can I do after completing my MSc in Economics?

After completing this degree, you can pursue an M.Phil in Economics and even a Ph.D. in Economics. These degrees will further improve your understanding of the subject and make you eligible for better employment.
---
Can I also pursue my Masters degree in Economics from India?

Some universities have the option of distance learning, especially after the Pandemic. But these courses are not as beneficial as a course would be when you are studying it in Ireland. So, the best option is to migrate to Ireland for your studies.
---
What costs does GoIreland impose?

GoIreland does not charge any fees for the services provided to the students. GoIreland works towards making the dreams of people come true at absolutely no cost
---
Can I work while I'm a student in Ireland?

During their academic semester, Indian students are eligible to work twenty hours weekly and forty hours per week from May to August and from 15 December to 15 January. However, it relies on the student's capacity to balance employment and studies
---