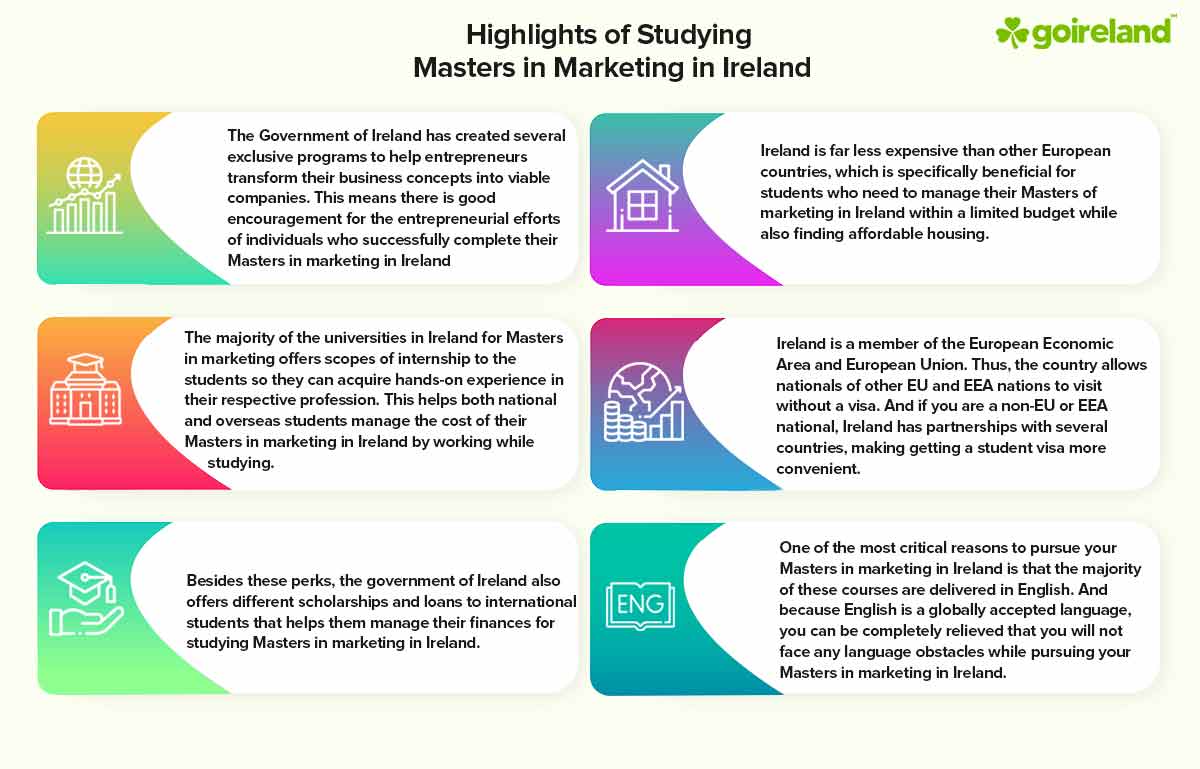 Masters in Marketing in Ireland
Ireland, the island country in the north-western side of Europe, is filled with some of the best opportunities for individuals looking to serve in the marketing field. The 3rd largest island in Europe and the 20th largest in the world, Ireland has Great Britain to its east and is separated from it by the Irish Sea. Ireland has always remained at the forefront of advertising, business, and marketing, offering it an exclusive scope to establish itself as one of the most attractive destinations to masters in marketing. If you are a student looking to make it big in the marketing field, you can always choose to study Masters (MSc) in marketing in Ireland. Marketing Masters in Ireland for Indian students can help in several ways that you may not be able to benefit from some other degree.

Marketing in Ireland for international students is a degree that lets you study and learn about the different aspects of business marketing that can further help you excel in your career as a marketing expert. Ireland marketing Masters (MSc) has several categories, like public relations, advertising, new product development, sales, and branding. Masters in marketing in Ireland is a full-time course that can be completed within a period of 2 years. It covers different topics, like marketing strategy development, market research, digital marketing, social media, and brand management. It teaches you how to create and use promotional and advertising plans to sell different products and services.

Effective marketing plans will click on the right individuals and transform them into loyal consumers who will return to your business for future services. They will even recommend your services and products to other individuals. Since word of mouth is one of the best marketing tools, Masters in marketing in Ireland delivers solutions to use some of the most successful marketing campaigns to create a positive brand image for the company you may be working for. Masters in marketing in Ireland combines business management, finance, consumer behavior, and marketing research perfectly. The course will help you understand how to market your products or services so your company witnesses increased sales revenues.
Students of Masters in marketing in Dublin and other cities in Ireland will develop analytical and technical skills along with the skills that can help them become the best storytellers. As a student, you will explore the right way to create advertising campaigns that focus on the four major marketing concepts: promotion, place, price, and product. Masters in marketing in Ireland is one of the greatest disciplines if you want to learn how to identify your business's target audience or market. Always remember, coming up with the best marketing plan is not enough; you also need to know how to share your marketing plan efficiently to reach your target audience easily. Once you run your business marketing campaigns successfully, your job is to gather resulting data and examine the results of your marketing campaign so you can improve in the areas you lag.

Students graduating with Masters in marketing in Ireland enjoy some of the most successful careers, such as advertising account professionals, market researchers, public relations officers, media planners, and social media managers. This highly rigorous study program is designed to prepare you for positions in marketing and brand management companies in Ireland and other nations. This program is perfectly suitable for all business and non-business individuals with marketing orientation and even marketing professionals looking to build upon the skills they already possess. Masters in marketing in Ireland even cater to students with undergraduate backgrounds in social sciences, psychology, and other cognate disciplines that inform marketing practice and theory.
GoIreland's Extensive Footprint in India
Offices across India
250+ Experienced Consultants
Chennai, Coimbatore, Bangalore, Cochin, Hyderabad, Mumbai, Pune and many more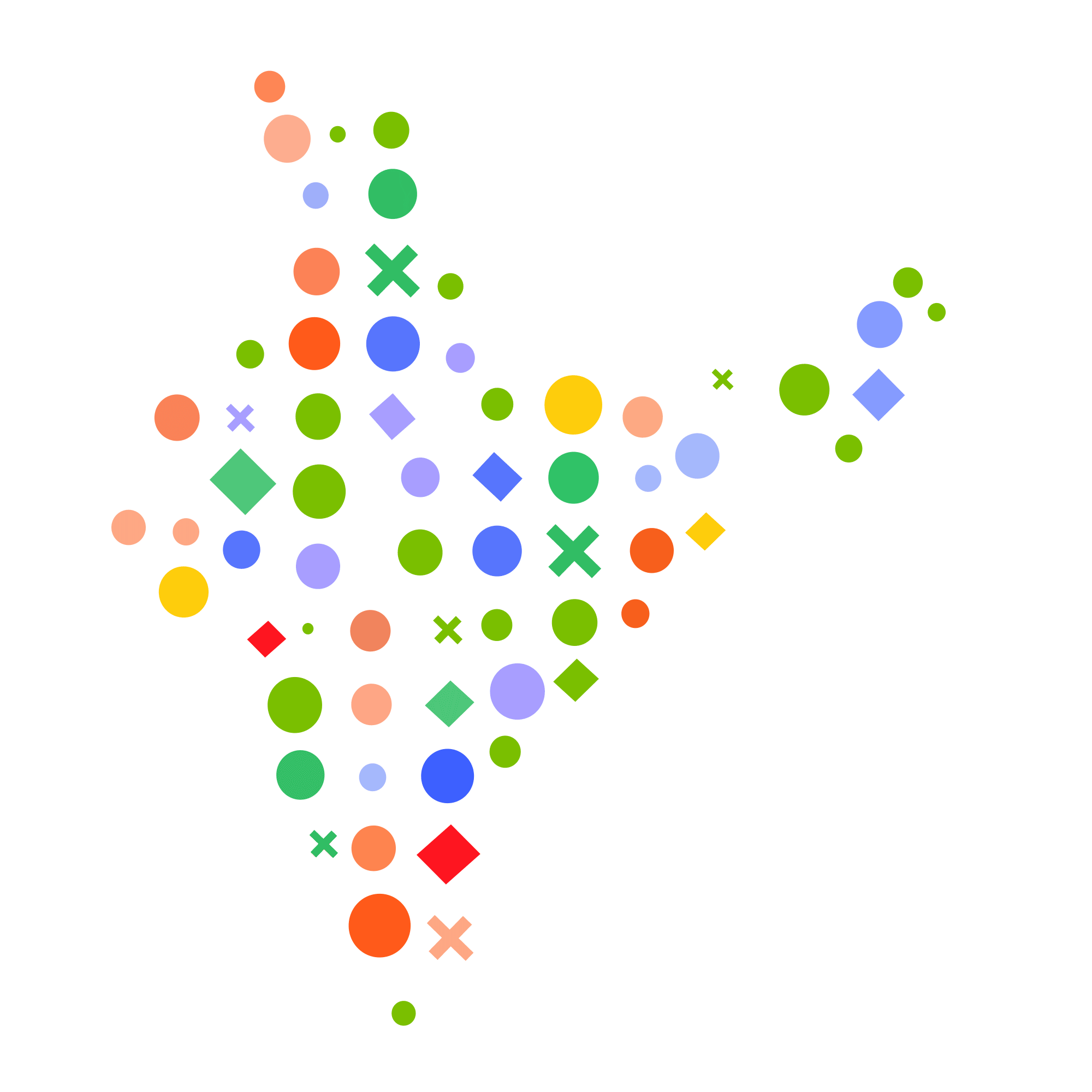 Marketing plays an important role in making, communicating, holding, and sustaining great value for society, customers and organizations. The large-scale digital evolution and an increase in savvy customers have made it crucial for companies to engage their consumers most innovatively and effectively, which will further help them remain competitive in the market. Masters in marketing in Ireland aims to boost the prospects of its graduates in different job markets while enabling them to enter different roles, starting from junior marketing professionals to senior executives in varied industries, both nationally and internationally. MSc in Marketing in Ireland is at Level 9 on the National Framework Qualifications. With the perfect blend of research and taught stages, the programs offer added value for employers and learners. This strategically relevant and academically challenging program equips students with emerging and current theories that comment on and inform about new marketing practices.

Masters in marketing in Ireland is specifically designed to meet the requirements of qualified marketing or business graduates. The program will help enhance your knowledge of different marketing practices and theories that will further help you pursue challenging senior job scopes. The program aims to develop future marketing leaders and is perfectly suitable for graduates of almost all disciplines looking to serve as marketing professionals. The key attribute of this study program is to offer them almost all the tools they require for success in real-world marketing. In other words, this program is a training ground for marketing professionals. It equips them with cutting-edge and fundamental concepts about the ever-changing marketing field.
Get application fee waiver
by applying through us
I agree to GoIreland terms and privacy policy
or These concepts come from recent research in the marketing and associated fields, through the expertise of top-rated marketing professors in the country, and through real-life studies that companies go through these days. The program focuses on six critical skills required by marketing professionals - decision-making, critical thinking, creativity, communication, problem-solving, and people management. The modules delivered within the study program offer at least a few of these critical skills through a proper teaching and assessment approach. Then there's a practice that brings all the things in one place. Masters in marketing in Ireland will also offer you several scopes to put your acquired skills and knowledge into practice across varied contexts so they will be activated automatically when required.

Learning outcomes of the program include
Once you complete your Masters in marketing in Ireland successfully, you will be able to demonstrate your knowledge of marketing basics, like marketing strategy, communications, and consumer habits. You will also gain the potential to demonstrate a clear understanding of everything new and yet to come in the marketing field.
You will gain the skills required to serve as an efficient marketing expert and will also apply your skills and knowledge to real-life contexts.
Masters study program in marketing in Ireland will also enable you to use your cutting-edge theoretical and foundational knowledge in practice in different theories.
Masters in marketing in Ireland has strong connections with the industry. One of the most important elements the course is known for is a Major Marketing Assignment, where you need to work on different marketing plans for some of the most popular global businesses. Internationally recognized, this study program is specifically awarded after around 5 to 6 years of strict study in a science-based field. The knowledge students gain from this program can help them become adept professionals who can successfully promote and sell different products and services using marketing plans, pricing, research, and trend analysis. Masters in marketing in Ireland will give you several advantages, including the scope to work with leading universities and even travel for tuition purposes. The study program will even offer you easy access to an assortment of scholarships and waivers, which most of the Masters degrees in Ireland do not offer.
To know about Requirements
Masters in marketing in Ireland helps students learn the process of marketing and selling products and services to target consumers. The students taking up the course learn to communicate directly and clearly, in classes such as sales & brand management, product planning, consumer behavior, and advertising. However, before taking the course, you must understand the admission procedure and requirements. The details are provided below.
To know about costing
If you have dreams of pursuing a Masters in marketing in Ireland, go through the details of tuition fees and other expenses below so you can maintain your budget in the long run. Hopefully, you will have a good time studying and staying in Ireland.
Salary after Masters (MSc) in Marketing in Ireland
Starting salary for marketing in Ireland is €53, 000 while the expected salary after studying marketing in Ireland will be around €60,000. There can be a hike in freshers' salaries after marketing in Ireland if the candidates applying fresh for jobs have some extra skills and talent that can benefit the employer. The salary range for Masters in marketing in Ireland is quite competitive, with the average salary in Ireland after Masters (MSc) in Ireland being between €34,000 and €38,000. Masters in marketing is the most employable degree in Ireland, which is why more and more professionals prefer working in Ireland after Masters (MSc) in marketing.
FAQ:
---
How much do I need to study for a Masters in Marketing in Ireland?

The maximum budget you need to study Masters in marketing in Ireland may vary from one destination to another. Always remain prepared to deal with tuition costs, living costs, and additional costs to handle emergencies.
---
What is the most affordable way to study for a Masters in Marketing in Ireland?

The most affordable way to study for a Masters in Marketing in Ireland is to get in touch with the best education consultant in India, like GoIreland.
---
Can I fund or sponsor my education in Ireland?

Yes, our education consultants at GoIreland can help you with this. Some of the best options in this category include government grants, university scholarships, fellowship programs, and education loans.
---
Do you provide services across destinations and universities in Ireland?

Yes, we have partnerships with several universities in Ireland, and we perfectly cater to all individuals' requirements.
---
How do you know which study program will be the best for me?

Yes, Ireland offers many prospects for those who have acquired knowledge in this subject, making the Marketing an excellent career choice. Not only is there a growing need for Marketing in Ireland, but also around the world.
---
Can I apply for Masters in marketing in Ireland even if I have not completed my undergraduate education?

Yes, an application for admission to Masters in marketing in Ireland may be accepted, provided the Ireland universities allow you to do so. Approval is given based on work experience also.
---
Is studying for a Masters in Marketing in Ireland worth it?

Masters in marketing from Ireland delivers better prices because of the global perspective and the exposure you get.
---
Will I have a decent income after my Masters in marketing in Ireland?

Yes, you will have a good income after your Masters in marketing in Ireland. We at GoIreland can also help you find the best placements.
---
Is work experience mandatory to study for a Masters in Marketing in Ireland?

No, work experience is not necessary to study for a Masters in marketing in Ireland. However, you must check with your preferred university for this because different Irish universities may have exclusive admission requirements.
---
Are there proper scholarships available to study Masters in marketing in Ireland?

Yes, you can go through an all-inclusive list of scholarships you can apply for to study Masters in marketing in Ireland.
---