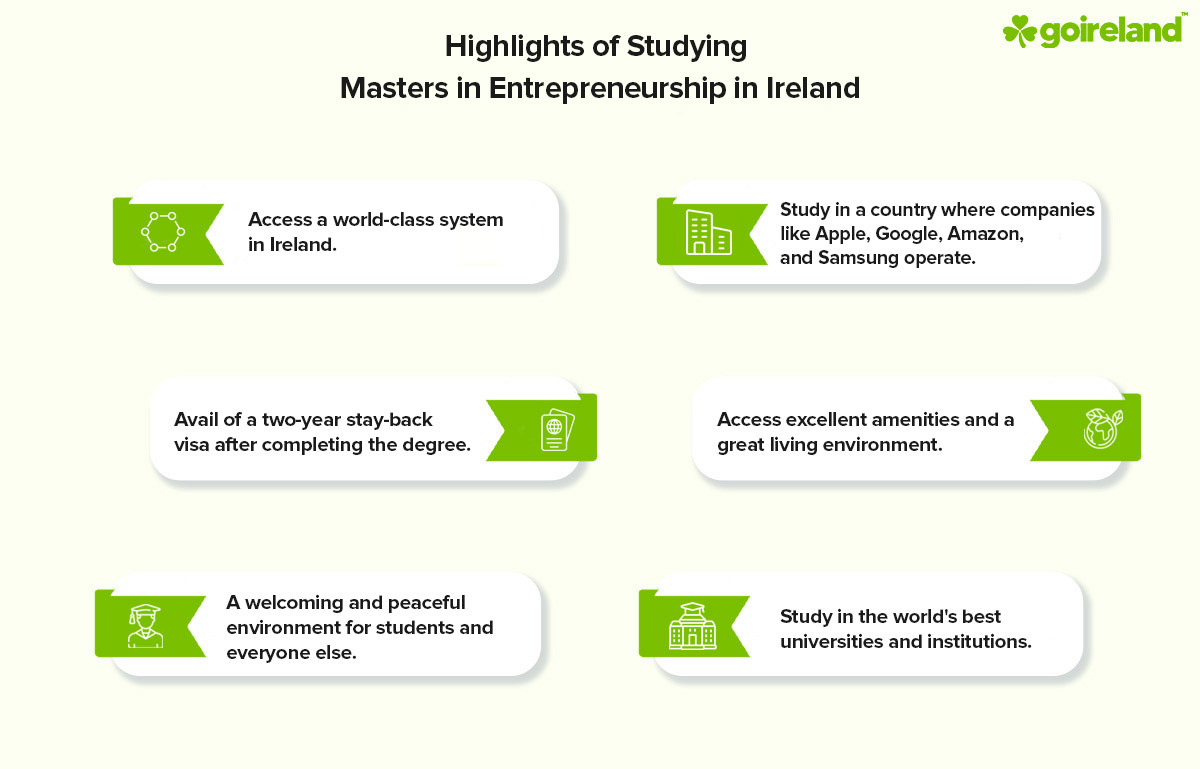 Masters (MSc) in Entrepreneurship in Ireland
It is said that entrepreneurs are not taught, but they are god-gifted individuals who bring some amazing ideas and create successful businesses. But what if we say that entrepreneurship can be taught to such an extent that the students will gain all the required knowledge and skills of a good entrepreneur? The Masters in Entrepreneurship in Dublin and Ireland courses are built to instill the students with the required intelligence. The courses here are specifically designed for students keen interest in creating and running high-impact businesses. They will learn the skills to not only run but also scale a business in a dynamic environment.

All the programs in Ireland, irrespective of where you wish to study, accommodate learners and students from all backgrounds. They are built to help the students gain proactive thinking and provide them with hands-on experience on the job. As you study Masters (MSc) in Entrepreneurship in Ireland, you will see visible progress in your thought process and understanding of the subjects here, which will help you become a better student and a great entrepreneur. However, anyone wanting to join this course must have the required dedication and the confidence to deal with challenging situations. The subject matter can get tough down the line, but it will be easier with the help of expert teachers and faculty. The key here is to choose your battles wisely and make sure you have a plan before joining the course.
Get all your doubts
clarified now for

Free
I agree to GoIreland terms and privacy policy
or The entrepreneurship masters in Ireland for Indian students can prove to be a career-changing degree course. Because once you learn to become an entrepreneur, it becomes easier to build a business with the right ideas. The courses related to entrepreneurship teach the students not only to execute an idea but also to find new and lucrative ways to build a business with novel ideas. In a constantly changing world and facing new challenges, we need entrepreneurs and innovators with the expertise to manage things effectively.

As you start preparing for a masters course in Ireland, you need to understand a few things. These are the courses offered by the universities and colleges here, their fee structure, admission requirements, living costs in Ireland, and availability of scholarships. We are going to discuss these components in detail in the following sections. Understand that your journey to Ireland for masters will begin the moment you start preparing for the tests. There will be a series of tests, especially for English proficiency. In addition to this, students going to Ireland need to show financial evidence of sponsoring the fees and living expenses in Ireland.
GoIreland's Extensive Footprint in India
Offices across India
250+ Experienced Consultants
Chennai, Coimbatore, Bangalore, Cochin, Hyderabad, Mumbai, Pune and many more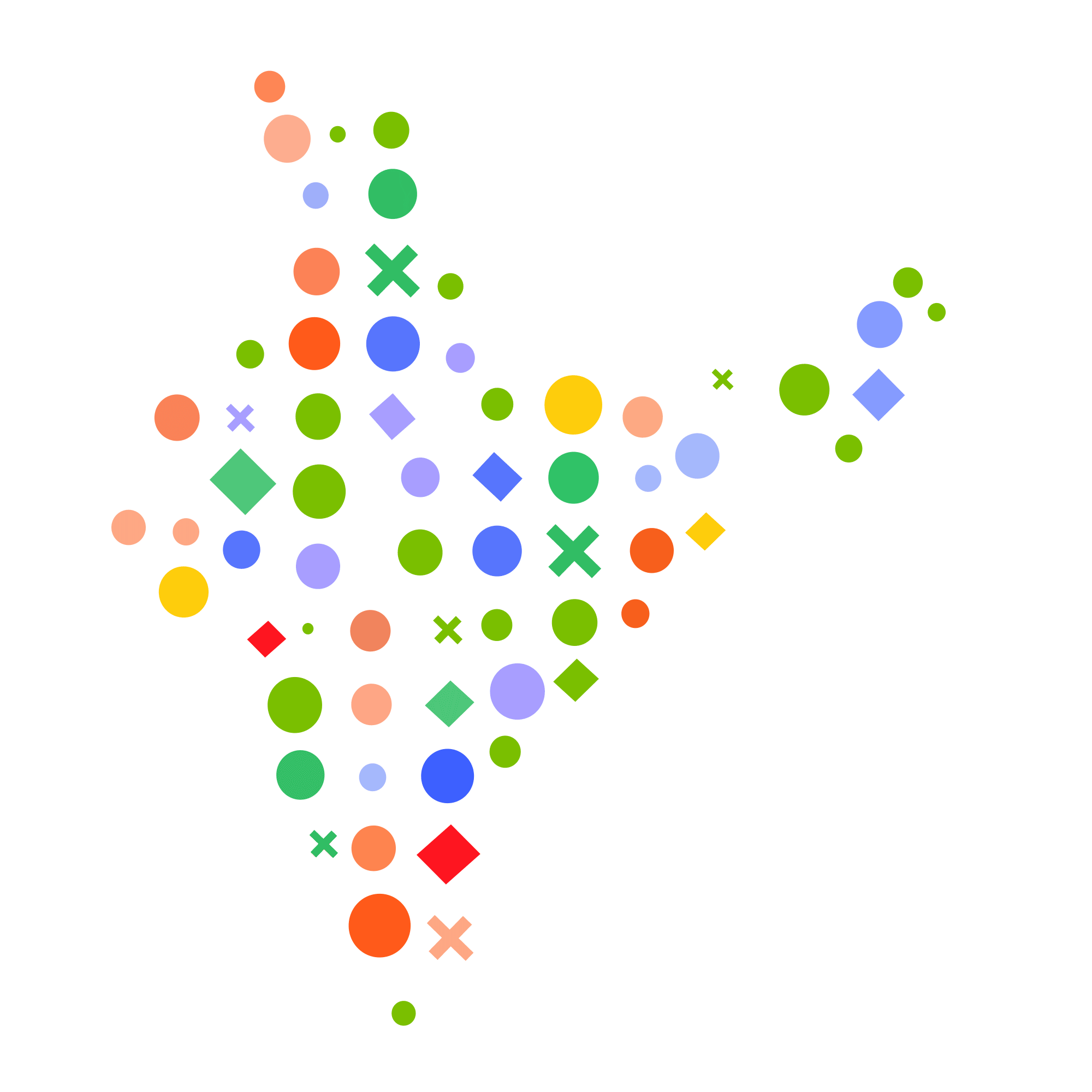 Coming to the courses, some of the best universities in Ireland offer degree programs in entrepreneurship. These universities include Trinity Business School, Dublin City University, University College Dublin, Technological University Dublin, and the University of Limerick, among others. These institutions offer both bachelor's and master's degree programs to students. If you ask, is entrepreneurship in Ireland for international students worth it? How about taking a look at the benefits of completing this course from Ireland? Ireland recognizes entrepreneurship as a critical element in improving the health and well-being of any thriving economy. Even the OECD agrees that entrepreneurship is central to the present challenges this country faces. The right entrepreneurial spirit will generate broad-based growth and prosperity in the country and ensure continued development in different sectors.
For a country that recognizes entrepreneurship and keeps it at a high podium, don't you think studying the course from that country will be great for your career? To help graduates and entrepreneurs improve their work, the government provides access to online resources, including accelerators, coworking spaces, networking, etc. Moreover, women completing their Ireland entrepreneurship masters (MSc) course can get even better and special support from the Ireland government. Our motive for sharing all this information is that once you complete your degree in Ireland, there are a lot of opportunities waiting for you. As far as GoIreland is concerned, we are here to choose the best university and take the right course. After completing your studies, you can earn more than €60,000 per year if you start your own company. If you choose to take up a job in the relevant field, then the salary ranges between €37,800 - €42,000 per annum. It can be more depending on your experience and skills.
Get application fee waiver
by applying through us
I agree to GoIreland terms and privacy policy
or Moreover, as an entrepreneur, you will explore several other high-paying opportunities because of your skills. However, this requires completing the course with good grades. In case you need financial support, you can take a loan from a bank or an NBFC. These financial institutions provide two types of loans, secured and unsecured. Secured loans have a higher limit and lower interest rates, but unsecured loans have a lower limit and higher interest rates. But here, too, our team of experts can help you source the best loan product according to your credit profile and requirements. GoIreland is the one-stop solution for all sorts of requirements you need to study in Ireland. We offer our services to students from across the country and have special ties with universities in Ireland. As a result, your migration to Ireland will become smoother and easier.
To know about requirements
A degree program in Entrepreneurship in Ireland will prepare you for a great future and build the right skills. However, getting admission into one of the Ireland universities requires knowing more about the admissions process, requirements, and conditions. Read the next sections to get detailed information on these topics.
To know about costing
As you get a grasp on the admissions and English test requirements for taking admission in Ireland, it is important to know about the costs as well. Given below are the detailed costing for higher education in Ireland.
Salary After Masters (MSc) in Entrepreneurship in Ireland


Entrepreneurship is not a simple job. It's a highly dynamic field and requires students to learn a wide range of skills. As a result, the average salary in Ireland after Masters (MSc) in entrepreneurship is higher than what you may expect. Plus, after completing your course, it's not essential to start your own business because you have done a degree in this field. There are a lot of jobs available that especially link your studies to a high-paying job.

The salary range for Masters in entrepreneurship in Ireland is between €30,000 per year to €65,000 per year. This includes the salary you might get after completing a masters course or if you take a salary from your venture. Masters in entrepreneurship is most employable degree in Ireland, according to several reports and studies conducted in the country. With Ireland's booming startup culture and a welcoming environment, a lot of good entrepreneurs are coming here to find jobs or start their venture. Besides, the freshers salary after entrepreneurship in Ireland is quite flexible.

The starting salary for entrepreneurship in Ireland can differ in terms of the company you are applying to, the university you have studied at, and your understanding of the subject. Companies hiring entrepreneurship graduates are looking for people with a specific skill set. If you can show your expertise in the area, chances are that you will get the expected salary after studying entrepreneurship in Ireland. When you start working in Ireland after Masters (MSc) in entrepreneurship, you do not have to limit yourself to the role of an entrepreneur. There are other befitting jobs that can land you in a pool of great salaries, benefits, and knowledge.
Get all your doubts
clarified now for

Free
I agree to GoIreland terms and privacy policy
or FAQ:
---
What's the duration of the Masters (MSc) course in entrepreneurship in Ireland?

The Masters course duration is between 1 to 2 years. The duration might be different depending on the university you choose for higher studies.
---
How soon can I get a job after completing my Masters degree in entrepreneurship?

You can start looking for or applying for a job even before finishing your final semester. Make sure to apply for the right roles available in Ireland. Because you have the option to get a 2-year work permit in Ireland after completing your studies, it's beneficial to get a job here only.
---
How can I start a business in Ireland after completing my Masters in entrepreneurship degree?

Non-EU nationals can start a business in Ireland via the Immigration Investor Programme and Start Up Entrepreneur Programme. These programs help foreign nationals build their business in Ireland and operate them while following the country's laws.
---
Are there any specific scholarships available for international students in Ireland?

Yes, there are a few dedicated scholarships available here for international students. However, the selection process for all is different, and you need to fulfill the eligibility criteria as well before applying. International students can also look for scholarship support from their own country's government.
---
Is Ireland a good place to study Masters in entrepreneurship?

Yes, Ireland is one of the best countries in the world for higher education. It has a great education system offering high-quality courses and programs to students. Moreover, in addition to a good education system, Ireland also has a great environment and a welcoming culture.
---
How can GoIreland help me in studying in Ireland?

GoIreland offers a wide range of services to students. We have strong ties with the universities in Ireland and help our students get admission into those universities. We have an expert understanding of the education and immigration system in Ireland and help students secure study visas, get a loan, and apply for the right scholarships.
---
Do GoIreland representatives have a license to help students study in Ireland?

Yes, our consultants and representatives are licensed officials who have expertise in their field of operations. In addition to this, GoIreland is also a licensed institution recognized by the universities and colleges in Ireland. We provide accurate and up-to-date information to our students for gaining admission to Ireland institutions.
---
Can you make it easier for a student to obtain a study visa?

Yes, we have a 100% visa accomplishment rate. This means that anyone applying for a study visa to Ireland gets 100% results.
---
Does passing anyone of the English proficiency examinations count?

Yes. The majority of universities in Ireland need proof of your fluency in the English language. You can interact with professors and many other people at the institution if you can speak, write, and understand the language.
---
How long does it take to complete an application exactly?

It is challenging to determine the precise application process time. The filing process, however, takes between 4 and 6 weeks to finish. Our educational advisors at GoIreland can help you with tasks like preparing for the visa application, obtaining a reference letter from your desired university, organizing the necessary paperwork for a visa, scheduling travel, and scheduling the interview while your request is being processed.
---