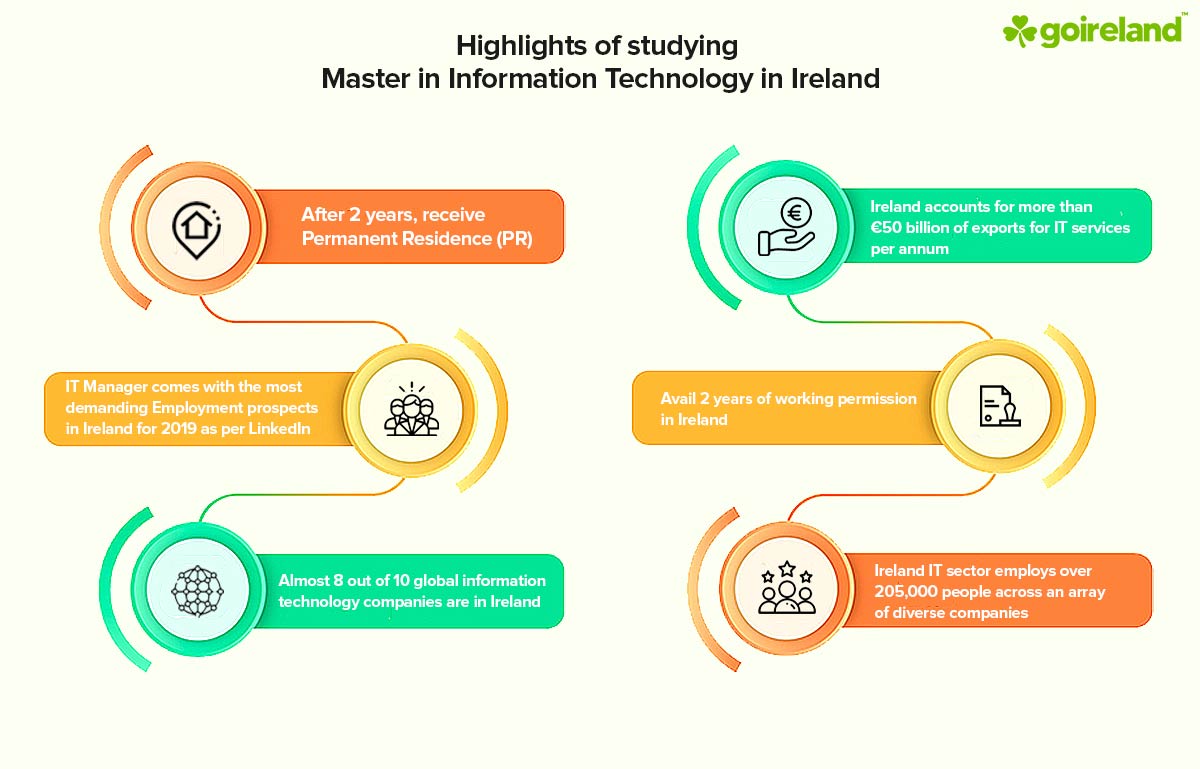 Masters (MSc) in Information Technology in Ireland
Have you always been fascinated getting involved in the information technology industry? Decided to study Masters in Information Technology in Ireland? You have absolutely taken the right decision that is going to have a long term impact on your career prospects. If you have planned to study for Masters (MSc) in Information Technology in Ireland, you have probably inquired about all the aspects and prospects of the industry and how Ireland can help you in this. Albeit, to make things clearer for you, this article focuses on the various verticals of the industry, the different scopes and the immense opportunities for Information Technology Masters in Ireland for Indian students. Information Technology is a subject that somewhat deals with the study of various branches of information technology science and the handling of multiple operations. Programs for an MS in Information Technology are frequently offered by Irish business schools in collaboration with departments of computer science and integrate management and leadership training with lessons in technology, analytics, and big data. A master's program in information technology can enable students to explore further employment in the tech world by helping them upgrade their business, leadership, and IT abilities. IT Masters degree courses mix business management, telecommunications, and technological education.
The postgraduate degree program in Masters in Information Technology is a full time masters degree course that lasts for the timeline of 1 year to mere 2 years in Ireland, however, students or professionals have both the convenience of accomplishing this certification as a full-timer or even part-timer. It depends on the comfortability and situation of the student, which is different for full-time students and working professionals pursuing the course. MSc in Information Technology in Ireland is a very comprehensive post graduate course that makes the candidates adept in all the verticals of the modernized Information technology industry with a diversified degree course curriculum. Ireland is a popular learning destination for international students and is renowned for its excellent educational system. Many foreign students choose to study in Ireland for their master's in information technology. The top six universities for the IT masters degree course in the world are located in this nation. Irish colleges prepare their pupils for the best job prospects available globally.

Several of the leading colleges in Ireland offer a Masters in Information Technology programme that can last up to two years. They make sure that their students graduate from the programme with the highest possible theoretical and applied knowledge of the subject matter. Ireland is home to a number of the world's largest companies, including Microsoft, LinkedIn, and Google, therefore there are numerous prospects for IT students there. Statistics show that because IT is on a list of crucial skills occupations, there should be roughly 150,000 jobs in this field by 2022. Graduates from Ireland's master's in information technology programmes can anticipate landing lucrative jobs in autonomous research, cyber warfare, operations and management, manufacturing, business management consulting, etc. Data Protection, Management and Strategy, Organizational Innovation, Technology system Integration and Application Development, Management of Information Security, Management of Data and Systems, and Various IT Service Management are just a few of the topics and sectors that students are likely to pursue in their coursework.

The fields of informatics and information sciences focus on the methods, equipment, and infrastructure used to gather, organize, store, and convey information. Information Technology and informatics study the characteristics of stored knowledge and data. We can create information systems that are user-friendly and offer simple access to any sort of data with the help of their insights. The fields of computer science, engineering, library science, psychology, cognitive science, and linguistics are all interdisciplinary fields that overlap with informatics and information sciences. Which factors have the largest influence on the flow of information, for example, are the subjects of informatics and information sciences? How can knowledge be organized and stored in a way that is rational, understandable, and available to the majority of people? How to stop data from being lost, corrupted, prevent unauthorized data manipulation etc. Quantitative approach, IT auditing, information structures, advanced mathematics, algorithm, database management system, information security, business practices, electronics and operating systems, computer forensics, program modeling, and other topics are typically covered in an informatics or information Technology degree. Graduates from the information sciences have a wide range of career options available to them, including records managers, system administrators, software developers, system engineers, web developers, webmasters, information architects, data scientists, data engineers, product managers, and web content managers.
GoIreland's Extensive Footprint in India
Offices across India
250+ Experienced Consultants
Chennai, Coimbatore, Bangalore, Cochin, Hyderabad, Mumbai, Pune and many more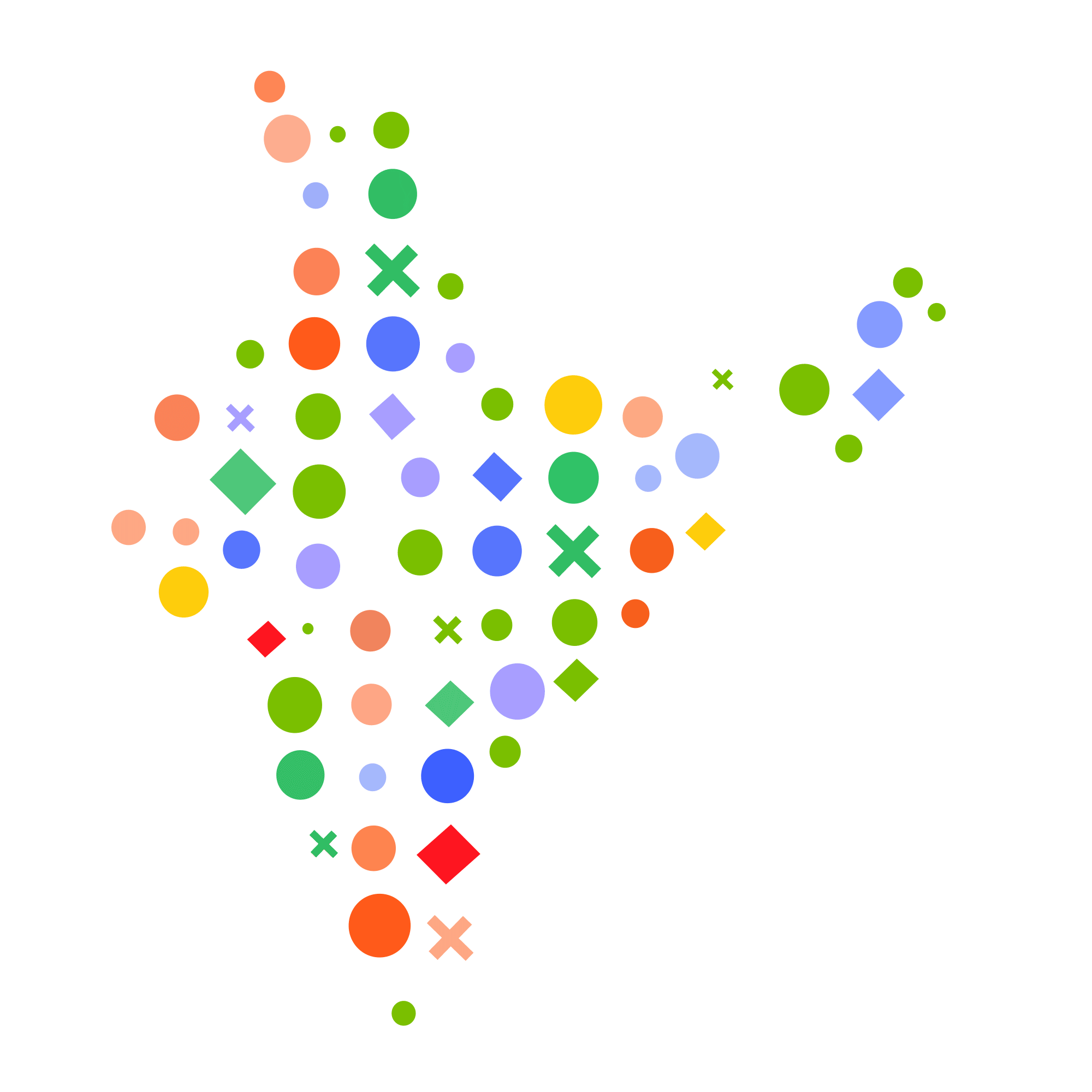 An Information Technology Degree (ITM) for Master's in Ireland enables students to outperform the competition in this growing and constantly evolving field. Through a blend of management theory and IT training, the Information Technology Masters in Ireland for International Students programme aids students in gaining a thorough understanding of information technology. Students who seek masters degrees in information technology management in Ireland are highly employable, knowledgeable, and qualified to work as IT management professionals in a variety of big and small enterprises. They also have the chance to work abroad. Candidates who successfully complete the Masters in Information Technology in Dublin will be in a position to apply what they have learnt in the modules to modern workplaces, where technology seems to be both essential and ubiquitous in maintaining a competitive advantage. Before moving on to other crucial topics like data analysis and information security, the modules and projects included in the Masters in Information Technology Management in Ireland place an emphasis on risk and technology. This programme includes essential information management tools as well as a broad spectrum of organizational functions.

Students in the MSc Information Technology Masters programme in Ireland get knowledge about how to create, manage, and build information technology and systems. They only take into account information technology and the various ways it can be used successfully. The graduates are well-equipped for a fulfilling career in the field of information technology. Ireland Information Technology Masters in Management (MSc) programme in Ireland offers students the opportunity to look into how information technology benefits businesses and how it may help businesses get better. The MSc in Information Technology Management (ITM) is a course offered in Ireland that teaches students through course installations, written class assignments, seminars, and a variety of educational technologies. Students also collaborate with an accomplished academic team and have access to the most up-to-date teaching tools throughout the course.
Get application fee waiver
by applying through us
I agree to GoIreland terms and privacy policy
or To know about the Requirements
For more information on the Masters in Information Technology in Ireland, you should check out all the criteria and requirements marked below for your perusal. In case of additional queries, you can always reach out to GoIreland educational advisors anytime for the best help in regards to studying in Ireland.
To know about Costing
For learning more information on the various expenditures of an Information Technology postgraduate degree in Ireland comprising rents, fooding, academic charges etc, students can check out the options below. At any point of time, you can also consult with a GoIreland advisor for better ideas on the costs.
Salary After Masters (MSc) in Information Technology in Ireland
Information Technology Masters in Ireland is undeniably an astonishing postgraduate degree for candidates that helps them in securing the best job opportunities in the leading technological companies. Some of the leading companies present in Ireland such as Hewlett Packard, IBM, Apple, Google, Information Mosaic, Avaya, Bearing Point Consulting, Paddy Power, Dell, Metalogic and many other enterprises offer impeccable employment chances as dominant Information Technology Experts after completing the postgraduate course. The average salary in Ireland after Masters (MSc) in Information Technology lies between € 38,000 to €58,890 per year depending on the job. Working in Ireland after Masters (MSc) in Information Technology can hand you a lump sum package along with maximum hike possibility immediately after the completion of your service in the first couple years. Companies such as Hewlett Packard, IBM, Apple, Google, Information Mosaic, Avaya, Bearing Point Consulting can offer a lucrative package of as high as €95,875 annually to candidates.

Masters in Information Technology is most employable degree in Ireland that can land students with unbelievable employment opportunities in many of the globally acknowledged organizations. The starting salary for Information Technology in Ireland in job profiles such as Application Analyst, QA Engineers, Information System Engineer, Data Analyst, IT Application Manager, IT Information Security Analyst, Risk Specialist, IT Business Analyst etc are no less than €43,000 yearly. The salary range for Masters in Information Technology in Ireland is never lower than any other European nations and always ranks among the best. For freshers in the field, the starting freshers salary after Information Technology in Ireland is a decent €38,000 in start-ups or mid-sized enterprises. The expected salary after studying Information Technology in Ireland from the leading institutions are between the brilliant benchmark figures of €54,000 to €95,000 per year.
FAQ:
---
Which university is ideal for an MSc in Information Technology in Ireland?

MSc in Information Technology in Ireland is taught in multiple leading institutions such as Carlow Institute, Griffith, Maynooth, Limerick University, Letterkenny and Dublin College to name a few.
---
Is Ireland good for studying MSc in Information Technology?

According to the Times Higher Education (THE) rankings, most Irish universities and institutes fall under globally acknowledged academies and the excellent teaching faculty of these institutions make Ireland a leading choice for MSc in IT. Moreover, the country's demand for IT skills and involvement of leading tech companies here has made it impeccable to study here.
---
How to become an Information Technology expert in Ireland?

A bachelor's degree in computer science or a closely related discipline with a minimum GPA of 60% is required for students to be eligible to enroll in the Masters in Information Technology programme in Ireland. Before allowing admission to international applicants, Irish universities demand mandatory English proficiency test results.
---
What can I do with an Information Technology degree in Ireland?

Candidates with Information Technology Masters degree in Ireland can opt for employment choices such as Application Analyst, QA Engineers, Information System Engineer, Data Analyst, IT Application Manager, IT Information Security Analyst, Risk Specialist, IT Business Analyst .
---
Does Information Technology involve a lot of math lessons?

In a strict sense, no... Unless you work in an area of IT that requires a deep understanding of mathematics (or taking other IT routes via computer science).
---
Is acquiring a Masters in IT hard?

Are master's degrees challenging? Yes. Master's degrees require more work than the majority of undergraduate programmes. However, the best approach to advance your academic career and personal life is through a postgraduate programme in Ireland.
---
How many hours a week is an IT Masters?

Students who are enrolled in a classroom-based taught master's programme often have five to ten contact hours each week, split between seminars, lectures, and workshops. More contact hours will be required for laboratory-based master's programmes, typically 20 hours per week.
---
Can I do a Masters in IT and work at the same time?

The majority of part-time education programmes frequently include evening or nighttime learning choices. To have the best of both worlds, you can always choose to work and study part-time.
---
Can I get a job after Masters in IT in Ireland?

Yes it is easily possible and, after landing a job, you can continue to hunt for long-term employment prospects in Ireland by requesting a Green Card. Students who want to keep working in Ireland can apply for a work permit.
---
Is a Masters in IT in Ireland better than other countries?

With wages in Ireland ranging from 99,000 EUR to 170,000 EUR, Chief Information Officer and Chief IT Officer positions are among the highest-paying jobs in the technology industry and can be attained with a Master's in Information Technology.
---