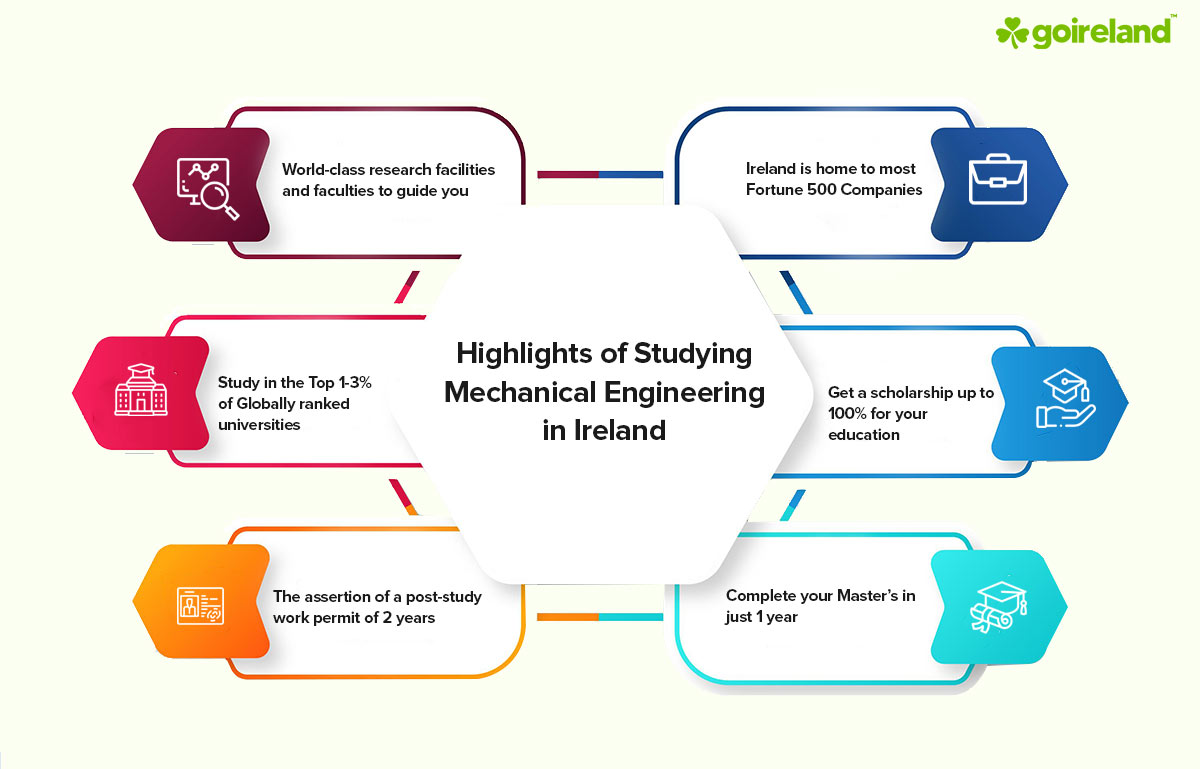 Masters (MSc) in Mechanical Engineering in Ireland
Are you taking the next step towards securing your seat in any Irish university for a master's in mechanical engineering? If yes, then do you know what this field has in its bag? The major thing is that you should not go with anything without interest and curiosity. So, get complete info about this field of engineering before pursuing its master's degree in Ireland. Getting started with a master's in Mechanical Engineering in Ireland for International Students is not an easy thing. Only enter this field of engineering if you have a great interest in creating machines and you need specialization in this field. Through the curriculum of this degree, you will see yourself evolving new devices and tools, which help solve challenges faced by different industries and society. To be an expert in the field of mechanical engineering, it is important to have complete knowledge of the latest trends and developments. This is where the role of Mechanical Engineering Masters in Ireland for Indian Students comes in.

A Master's program in Mechanical Engineering is an interdisciplinary degree, which is going to teach students how to design or enhance thermal and mechanical devices using analysis and computer-aided design. Engineering universities in Ireland teach students the best ways to discover solutions to evolve new products and processes, ranging from the designs of small components to extremely large plants, vehicles, or machinery. Master's courses in Mechanical Engineering are designed to provide training in highly advanced topics in this field. Such programs have been customized to meet the needs of the field of mechanical engineering, which requires graduates with advanced skills in design, analysis, and resting. Graduates after this program are highly sought-after by most of the major multinational companies in Ireland and many other countries across a wide range of sectors like aerospace, automatics, energy, manufacturing, biomedical, chemicals, and pharmaceuticals.
Get all your doubts
clarified now for

Free
I agree to GoIreland terms and privacy policy
or Ireland Mechanical Engineering Masters (MSc) also focuses on the advanced methods employed in Mechanical Engineering, including computational and experimental methods, theoretical foundations, and engineering applications. The major objectives of this program in Ireland are:
To equip graduates with complete knowledge of advanced methods or topics
To boost the awareness of the opportunities provided by current research in Mechanical engineering and its variety of applications to current practice
To fulfill the industrial need for graduates with the appropriate qualities and skills at a Master's level
To improve the current educational base and employment viewpoints of graduates
Get application fee waiver
by applying through us
I agree to GoIreland terms and privacy policy
or Mechanical engineering is one of the oldest and widest engineering disciplines in the world. It applies principles of materials science and physics to develop, design, evaluate, manufacture, and maintain mechanical systems. After a Masters in Mechanical Engineering in Dublin or any other city in Ireland, you will be able to apply your skills professionally and diligently. Applications in business, statistics, print media, systems and controls, design engineering, modeling, architecture, power machines, complex assemblies, and manufacturing are some professional functions where you will get a breakthrough in your career. Study Masters (MSc) in Mechanical Engineering in Ireland will help you in seeking Chartered Status with Engineers Ireland. This way, you will be going to have significant CPD and professional networking breaks in your career.
GoIreland's Extensive Footprint in India
Offices across India
250+ Experienced Consultants
Chennai, Coimbatore, Bangalore, Cochin, Hyderabad, Mumbai, Pune and many more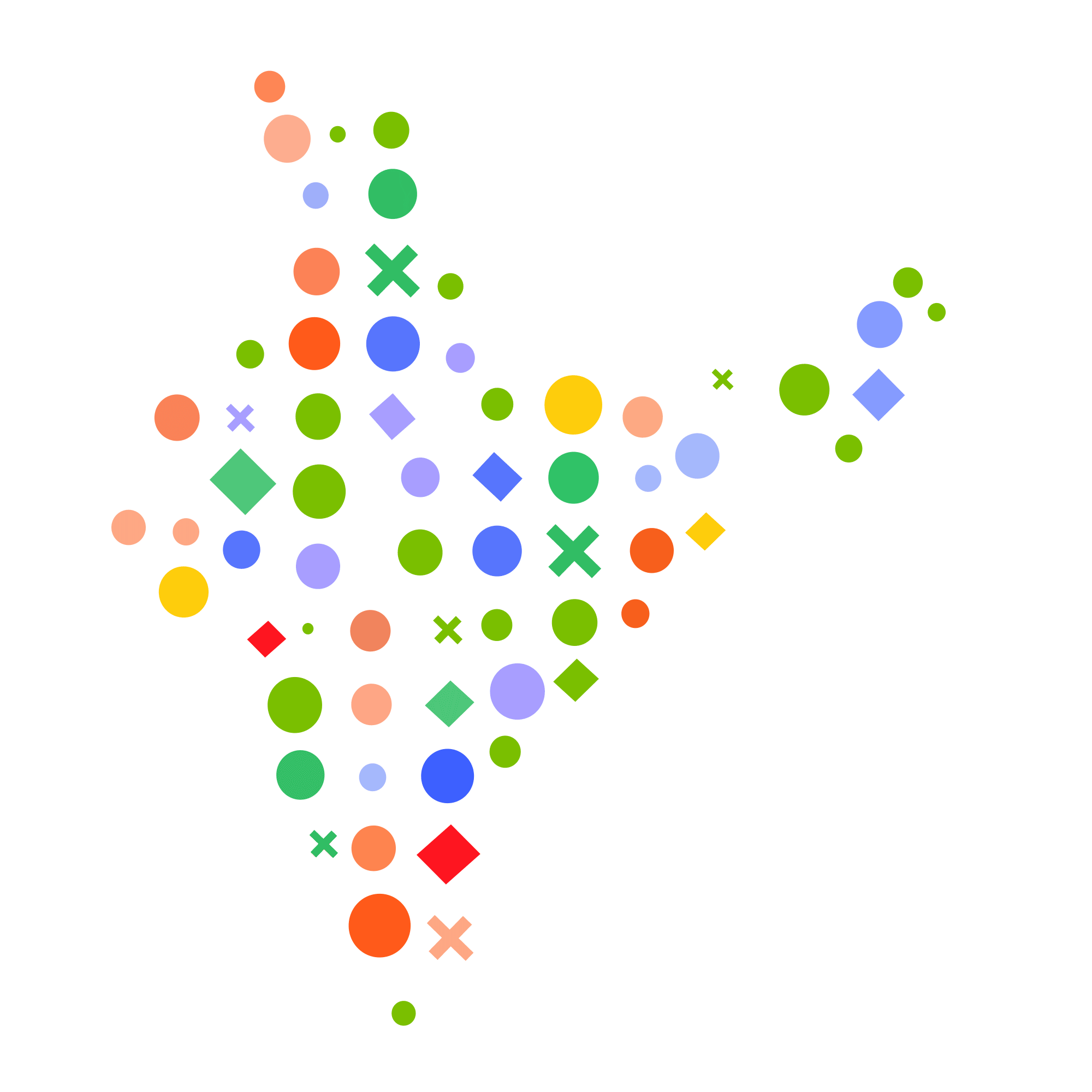 To know more about requirements
Having admission to an Irish university needs you to fulfill some basic requirements. Without meeting the eligibility criteria, no one can start his or her study in Ireland. Look for the basic requirements of starting your study in a master's course in mechanical engineering at the first step. Requirements may change as per different Irish universities.
To know about costing
If you wish to study in Ireland, you must pay serious consideration to the course. There is a reason why some universities are better than others. Everything from system to quality is different. Students must choose the course and university that can meet their goals. If you choose everything as a good fit, from planning to the budget, you will be able to perform well while studying abroad. First thing first, once you decide on the course and university, the second thing is the expenses. From tuition fees to food and from accommodation to your personal expenses, everything needs to be prepared beforehand.
Salary after Masters in Mechanical Engineering in Ireland
Mechanical engineering is a money-spinning field, and it will not be wrong to say that Masters in Mechanical Engineering is most employable degree in Ireland. This is the reason why in 2022, more students have applied for this course. Mechanical engineers are very high in demand, and fresh postgraduates are always the target of industries in Ireland. Once you pass out, you do not have to struggle to find a job in Ireland or anyone on the planet. The expected Salary after studying Mechanical Engineering in Ireland is €35,000 to €90,000. Master's mechanical engineers earn 29% more as compared to students with bachelor's degrees.

To enjoy the perks of working in Ireland, Indian students will need to complete their four-year degree program after which Working in Ireland after Masters (MSc) in Mechanical Engineering is possible without any challenge. There are the top eleven Irish universities offering mechanical engineering programs. Freshers salary after Mechanical Engineering in Ireland is €14,000 to €50,000. There is a shortage of mechanical engineers in Ireland, which is why it can be the best career choice for Indian aspirants. There is a need for mechanical engineers, which means the hassle of job search. Salary Range for Masters in Mechanical Engineering in Ireland is 13 lakh to 44 lakh. This figure is going to increase as you will progress in the field.

The Average salary in Ireland after Masters (MSc) in Mechanical Engineering is going to be satisfactory packages even for the freshers. The average salary package will depend upon the company or industry you will decide to work with. Starting Salary for Mechanical Engineering in Ireland is pretty impressive compared to any other country, including India.
Get all your doubts
clarified now for

Free
I agree to GoIreland terms and privacy policy
or FAQ:
---
Is Ireland a good choice for mechanical engineering?

Yes, if you wish to study master's in mechanical engineering in Ireland, it is a great decision. There are some well-known universities in Ireland that specialize in mechanical engineering.
---
Are masters in mechanical engineering in Ireland worth it?

Yes, mechanical engineering is a trending course. The worth of the degree increases if you study at any recognized Irish university. Once you complete your degree, it is recognized anywhere on the planet.
---
What is the difference between an M.S. and M. Eng.?

The master's in engineering is a full-time one-year professional course available for students who wish to work in the industry. This course is skill based & on the other hand, M.S. is a research-based degree that will need a student to complete his/her thesis. It takes 203 years to complete M.S. and is the first step toward Ph.D.
---
What are the funding options for mechanical engineering students?

Mechanical engineering is a self–funded course. There are scholarship and fellowship programs available for non-EU students. Students can check out the website of the university to explore their funding options.
---
Do I need to meet the English proficiency requirements?

Yes, Irish universities need minimum IELTS, TOEFL, DET, or any other recognized English proficiency test to get admission to an Irish university. Any application that will not contain the required scores will not be considered.
---
What are the job prospects in Ireland after mechanical engineering for non EU students?

There are many companies and industries that are consistently looking for mechanical engineering professionals. Ireland is a hub of all major industries, and they are always looking for fresh graduates. It is not tough to find a job in Ireland, especially if you have a Mechanical engineering degree on your hands.
---
How many points are required for mechanical engineering in Ireland?

Minimum points of 5 O6/H7 grades are required in subjects like English and mathematics.
---
What is the salary package for mechanical engineers?

The prospects for mechanical engineering are very bright in Ireland. Even the fresher can expect around 8 lakh to 10 lakh per annum. Experienced professionals can expect up to 45 lakh packages.
---
Which are the top engineering universities in Ireland?

If you have made up your mind to study in Ireland, you will find some best colleges here. Some of the top universities are

1. Dublin City University

2. University of Limerick

3. Trinity College, Dublin

4. National University of Ireland

5. Maynooth University
---
What are the skills required to be a mechanical engineer?

There is a specific skill set that a mechanical engineer possesses, such as Leadership skills, problem-solving skills, mathematics, clear communication, and creativity.
---
What is the cost of studying Mechanical engineering in Ireland?

Depending upon the college or university, the cost of mechanical engineering is going to depend. The estimated cost of studying for a Master in Mechanical engineering in Ireland is going to be 12. 14 lakh to 45.35 lakh.
---