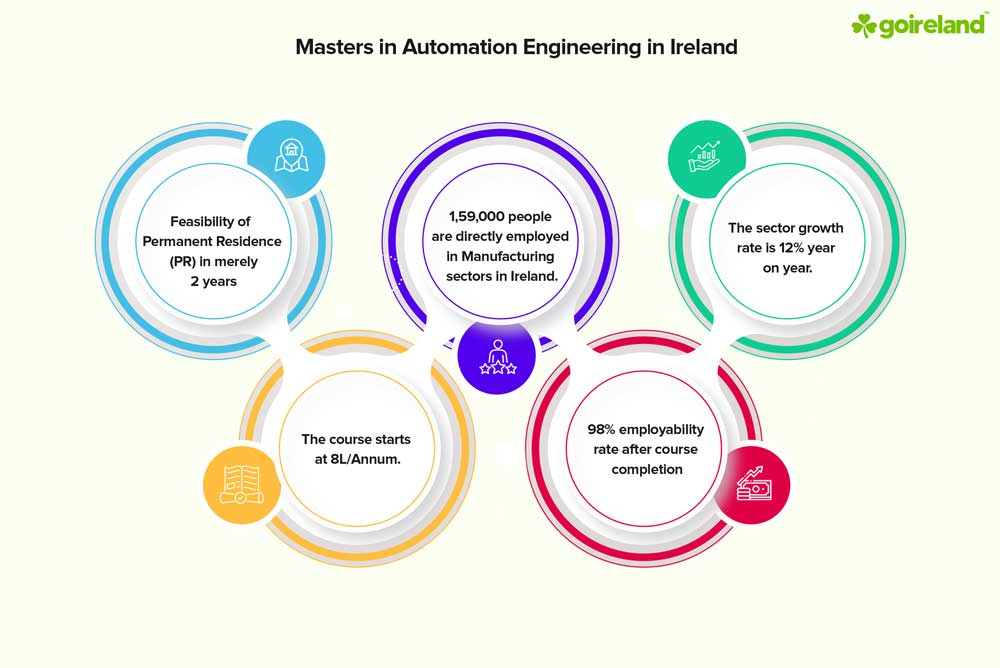 Masters (MSc) in Automation Engineering in Ireland
Opting to study for a Masters in Automation Engineering in Ireland? GoIreland, being a top-level Ireland education consultant, is the best destination for students to get unparalleled assistance whilst looking to study Masters (MSc) in Automation Engineering in Ireland. Automation Engineering deals with the study of introducing robots or automated programming to perform various day-to-day operational activities for businesses in all sectors. Automation Engineering Masters in Ireland for Indian Students is a 1-year to 2 years post-graduation course that students can pursue both full-time and part-time based on their own conveniences. Employed professionals are highly recommended to reach for part-time courses to learn and work as a professional in the automation industry.
Automation Engineering is an integral part of various technology sectors. Due to this, multiple companies have invested millions of Euros into automating business activities through automation engineering. Not just ease and comfort of managing various business operations, but Automation Engineering can significantly enhance business efficacy in diversified ways. With the business world adopting newer technologies and accepting every branch of modernized science, technology has become even faster, more convenient, and more seamless. The introduction of robots was the first and most impressive initiative to automate everything in a scenario where machine automation could take the place of humans. Robots have been prevalent and witnessed immense improvisation in the manufacturing sector. A few other sectors that have seen more productivity by the introduction of robot automation compared to humans are space science, astronomy, and the aero physics industry. This is one of the most important reasons behind the importance of the Automation Engineering course in Ireland, and hence is becoming so beneficial amidst the global educational sector.

Automation Engineering can boost your business in real-time no matter what industry it is being implemented into. With every passing day, the importance of it is greater than ever. It is undoubtedly true that Ireland is considered the most sought-after place with loads of top-rated universities for students to pursue Masters in Automation engineering in Ireland. On top of it, the country of Ireland is situated in Europe's Industrial hub, beside the prominent neighborhood of progressive Great Britain. Hence, studying in Ireland for talented aspirants is like a dream come true. On top of that, while speaking of such an important and marvelous engineering branch, getting a significant country as a neighborhood multiplies the prospects even more. With a projected economy of more than $15 Billion just from the Automation Engineering sector within the year 2026, students can expect a very prospective employment career after completing their automation engineering course. According to Fortunebusinessinsights.com, projected investment towards Automation Engineering in the coming years is at a whopping CAGR rate of 28% worldwide, of which Ireland, being a Datahub recently, is expected to procure a CAGR rate of 12% annually. MSc or Masters in Automation engineering in Irish universities is a relentlessly emerging educational sector; all credit goes to loads of top-rated companies consistently searching for premium automation engineers to completely revolutionize their work in multiple industries.
Most technology-oriented and non-technical business institutions in this era seek proficient, experienced, and skilled automation engineers who can bring automation programming to multiple sectors, thus rapidly boosting business productivity. The rapidly rising demand for skilled robots or automation engineers to bring automation to numerous business verticals to boost business outcomes has led the way for prosperous employment opportunities after completing Automation Engineering in Ireland for International students. Ireland, boasting some of the top-rated THE ranked universities for studying Masters in Automation Engineering, such as University College Cork, Dublin University, Griffith College Dublin, Letterkenny Institute of Technology, etc., is undeniably the most astonishing destination for accomplishing your future objectives. Masters in Automation Engineering in Dublin is an exclusively curated post-graduation course for talented aspirants. It combines specific practical and theoretical modules that can completely reshape your employment career and take it to the next level.
GoIreland's Extensive Footprint in India
Offices across India
250+ Experienced Consultants
Chennai, Coimbatore, Bangalore, Cochin, Hyderabad, Mumbai, Pune and many more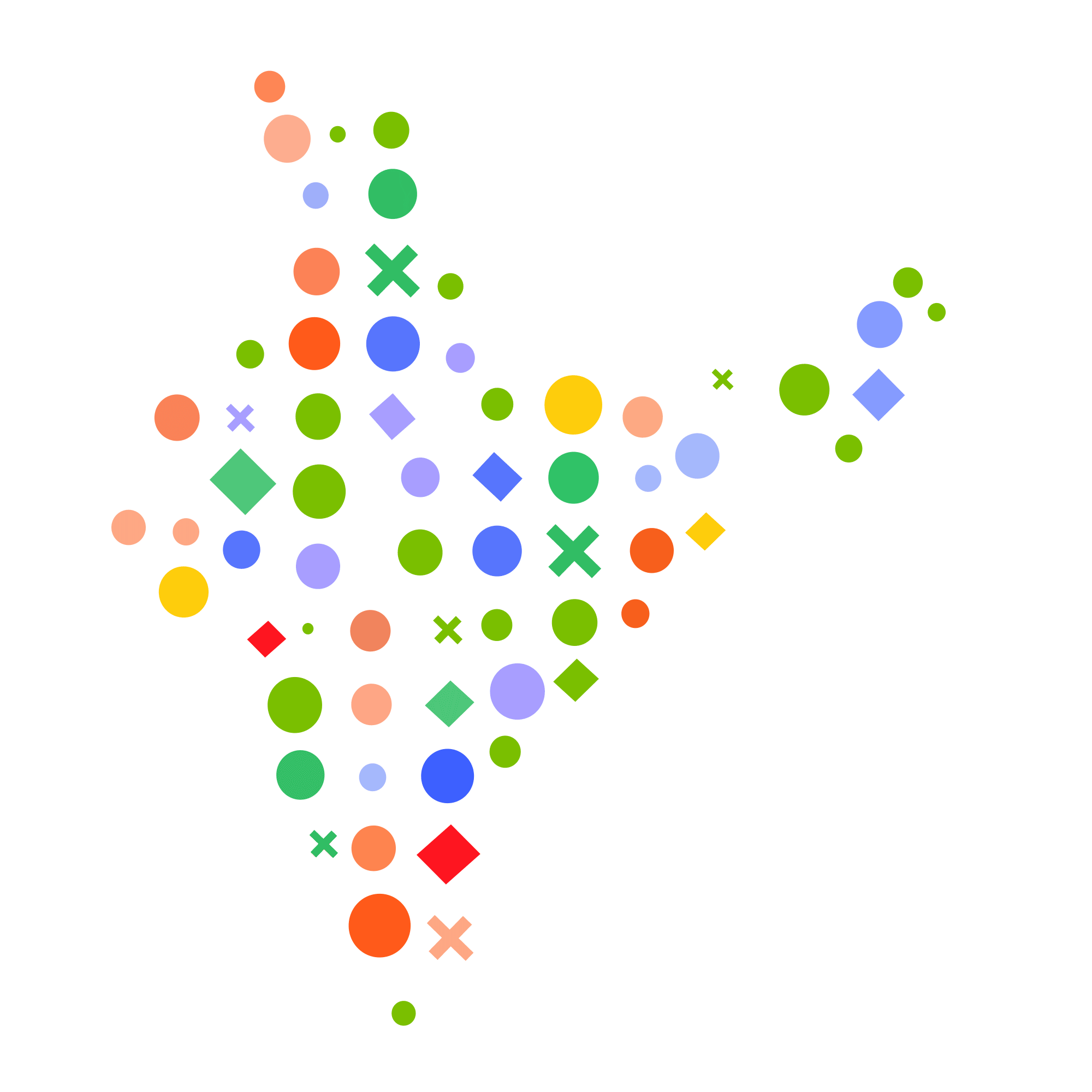 Ireland Automation Engineering Masters (MSc) demands students to procure high-scoring grades in either science, arts, computer science, data analysis, or commerce in graduation before taking admission. The Automation Engineering course masters is a level11 specialized postgraduate program that focuses on adapting students with all the required skills and an analytical approach for a successful automation engineering career in the fast-paced data analytics and technological industry. The elaborate degree course helps candidates understand the concurrent and parallel automation programming systems for enhancing the ability to create concurrent, similar robotic automation programs to solve real-world automation solutions and meet the requirements. Alongside being implemented in the manufacturing sectors, top Irish universities are now delivering the varied options of healthcare, business, Information Technology, as well as other various industries to talented aspirants pursuing the comprehensive program of masters in automation engineering.
To know about the Requirements
Check out the details for a Masters in Automation Engineering in Ireland that is elaborated below for your understanding. Contact our seasoned experts at GoIreland who shall tend to all of your queries with ease!
To know about Costing
For those who would like to find out how much an Automation Engineering course costs in Ireland, the table below will give you estimates of how much each course will cost, including room and board. To discuss your study in Ireland with one of GoIreland's educational consultants, you can always reach out to them.
Salary After Masters (MSc) in Automation Engineering in Ireland
Automation Engineering masters in Ireland is one of the most sought-after and impressive postgraduate courses with loads of opportunities awaiting. Post-completion of the Automation Engineering course in Ireland opens up immense job prospects in major companies such as Health Service Executive- Our Lady's Hospice & Care Services, Harold's Cross, Blackrock & Wicklow, St Vincent's Private Hospital, University College Dublin, Children's Health Ireland (CHI), LauraLynn, Ireland's Children's Hospice, Beacon Hospital, St. Vincent's University Hospital, Temple Street Children's University Hospital, Children's Health Ireland Jobs and many more as proficient data engineers. The average salary in Ireland after Masters (MSc) in Automation Engineering is around €21,000 to €57,487 per annum, depending on the job profile. Working in Ireland after Masters (MSc) in Automation Engineering can offer you impeccable salaries as high as €75,000 per annum in companies like Health Service Executive- Our Lady's Hospice & Care Services, Harold's Cross, Blackrock & Wicklow, St Vincent's Private Hospital, University College Dublin, Children's Health Ireland (CHI), LauraLynn, etc.
Masters in Automation Engineering is most employable degree in Ireland that can pave the way for job opportunities such as automation systems engineer, software QA automation engineer, end-to-end automation engineer, test automation engineer, Cloud automation engineer, customer automation service engineer, many more. The salary range for Masters in Automation Engineering in Ireland is much on the higher side compared to other EU nations. It comes with a 70% hike chance after the first year of service, depending on the performance. The Starting Salary for Automation Engineering in Ireland is usually €25,961 for an automation system engineering professional in a small to a medium organization.

If you are new to this domain, you will be awarded a freshers salary after Automation Engineering in Ireland ranging from €11,000 up to €23,000 per annum, which is a good offer in this industry. The expected salary after studying Automation Engineering in Ireland from top universities isn't below the benchmark of €57,469 per annum in any significant organization in Ireland, according to the report of Employment Bureaus in 2022.
FAQ:
---
Which University is Best for MSc in Automation Engineering in Ireland?

Some of Ireland's top universities for Automation Engineering are Trinity College Dublin, University College Dublin, Maynooth University, Griffith College Dublin, University Cork College, etc.
---
Is Ireland a good choice for an MSc in Automation Engineering?

The Word Rankings in 2020 state that there are at least 8 of the top tier universities in Ireland that offer masters in Automation Engineering that rank amongst the top global universities. You can also earn from 23,444 USD to 57,000 USD per annum against an average tuition fee of 7,000 USD to 22,000 USD per annum.
---
How to Become An Automation Engineer in Ireland?

To excel as an automation engineer in Ireland, you need a graduate degree in data science, robotics, programming, science, business, or analysis. Mathematical and statistical programming skills are essential for aspirants in this field.
---
What Can I Do With an Automation Engineering Degree in Ireland?

Students can get employed as automation systems engineers, software QA automation engineers, end-to-end automation engineers, test automation engineers, Cloud automation engineers, and customer automation service engineers after studying Masters in Automation Engineering in Ireland.
---
Does Automation Engineering in Ireland Require a Lot of Coding?

Automation Engineering does not require you to be a specialist in coding. Still, engineers should have proper coding expertise for automation testing since they comprise statement coverage, coverage of code, cyclomatic complexity, and many more. These need precise programming and solid database knowledge with skills.
---
Which Language Automation Engineering Involves?

Java. Java is the most popular general-purpose automation programming language owned by Oracle Corporation.
---
How Can GoIreland Help With Automation Engineering Masters in Ireland?

After reviewing their profiles, GoIreland interacts with the students personally to help them choose the universities that are the best fit for them, and also assist them in obtaining admissions. We also assist you with the financing, travel & accommodation, and VISA application processes so that you can study in Ireland.
---
Does GoIreland charge anything for consultation?

At GoIreland, we do not charge our students any money for the services that we offer.
---
What is your Visa success rate?

We at GoIreland, through all these years, boast of a staggering 100% visa success rates for our students.
---
Are you authorized representatives for MS in Automation Engineering Ireland Universities?

GoIreland is the official university representative for all the leading universities, institutes of technology and colleges in the Republic of Ireland.
---
Will I be getting job opportunities upon completion of my degree?

Yes, the top Irish universities that we represent will assist you in getting the greatest job opportunities after you successfully complete the programme. Depending on how well you perform, it can offer you attractive internship possibilities. Contact our consultants at GoIreland for more details.
---