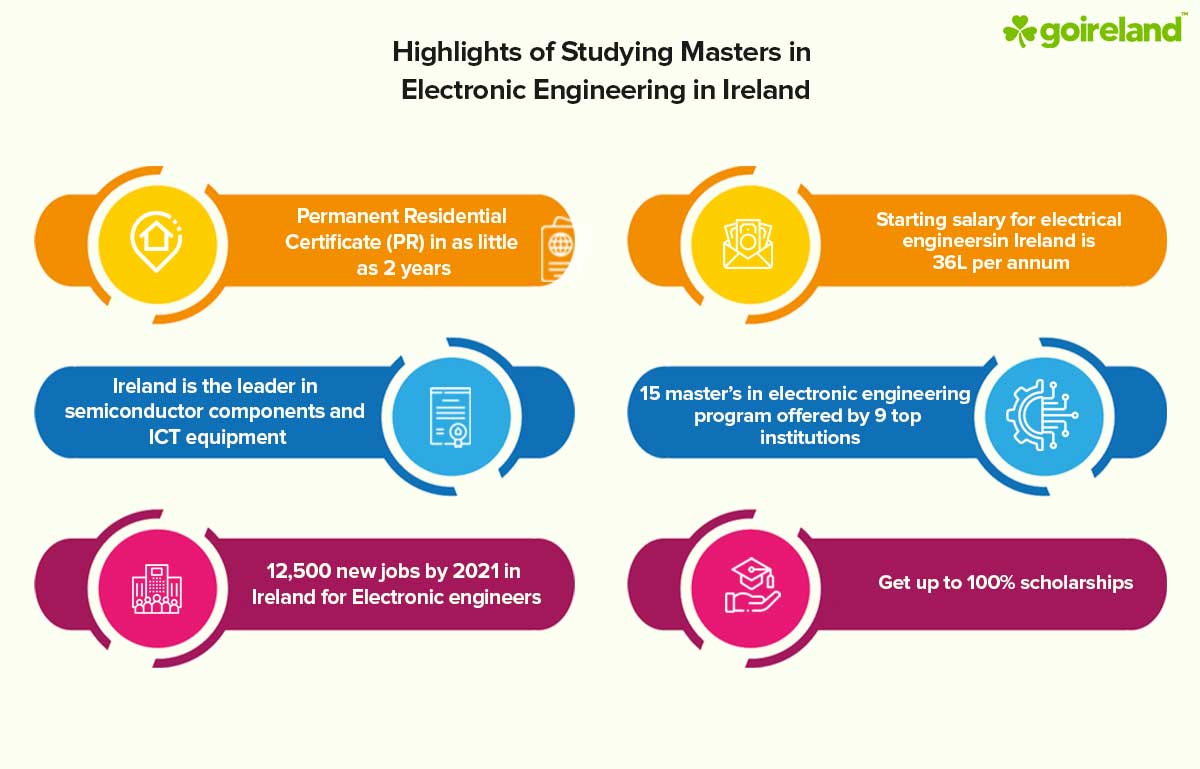 Masters (MSc) in Electronic Engineering in Ireland
Seeking for the most reliable consultancy to handle your demands of opting to study for the Masters in electronic Engineering in Ireland? Seeking the assistance of GoIreland, is one of the best decisions you could ever take, if you are looking to study for a Masters (MSc) in electronic Engineering in Ireland. The study of electronic engineering entails the study of developing equipment for aiding transport and the controlling of automated systems in the electronics industry, comprising robots, navigational control systems as well as radars. The comprehensive electronic engineering masters programme in Ireland for Indian Students is a two-year post-graduate degree open to both students and professionals, and it can be pursued full- or part-time. Working professionals might be wise and choose a part-time course so they can work and learn simultaneously..
The post-graduation program of electronic engineering in Ireland comprises a diverse variety of career prospects and brings forth a spectacular advancement scope for dedicated aspirants and professionals. Electronics are exceptionally prevalent in the modern and advanced world, hence making this industry larger than ever, covering multiple distinct areas, that comprises consumer goods, medical as well as communications equipment. In this field, one can basically find a couple different organizations: component manufacturers involved in making integrated circuits as well as semiconductors; and original manufacturers engaged in making televisions, MP3 players along with mobile phones. One more important area where the electronic engineers work is the control and automation sectors. The study of electronic engineering masters in Ireland is one of the fundamental elements of understanding, developing and applying most advanced technologies that are dominating the modern world of today.
GoIreland's Extensive Footprint in India
Offices across India
250+ Experienced Consultants
Chennai, Coimbatore, Bangalore, Cochin, Hyderabad, Mumbai, Pune and many more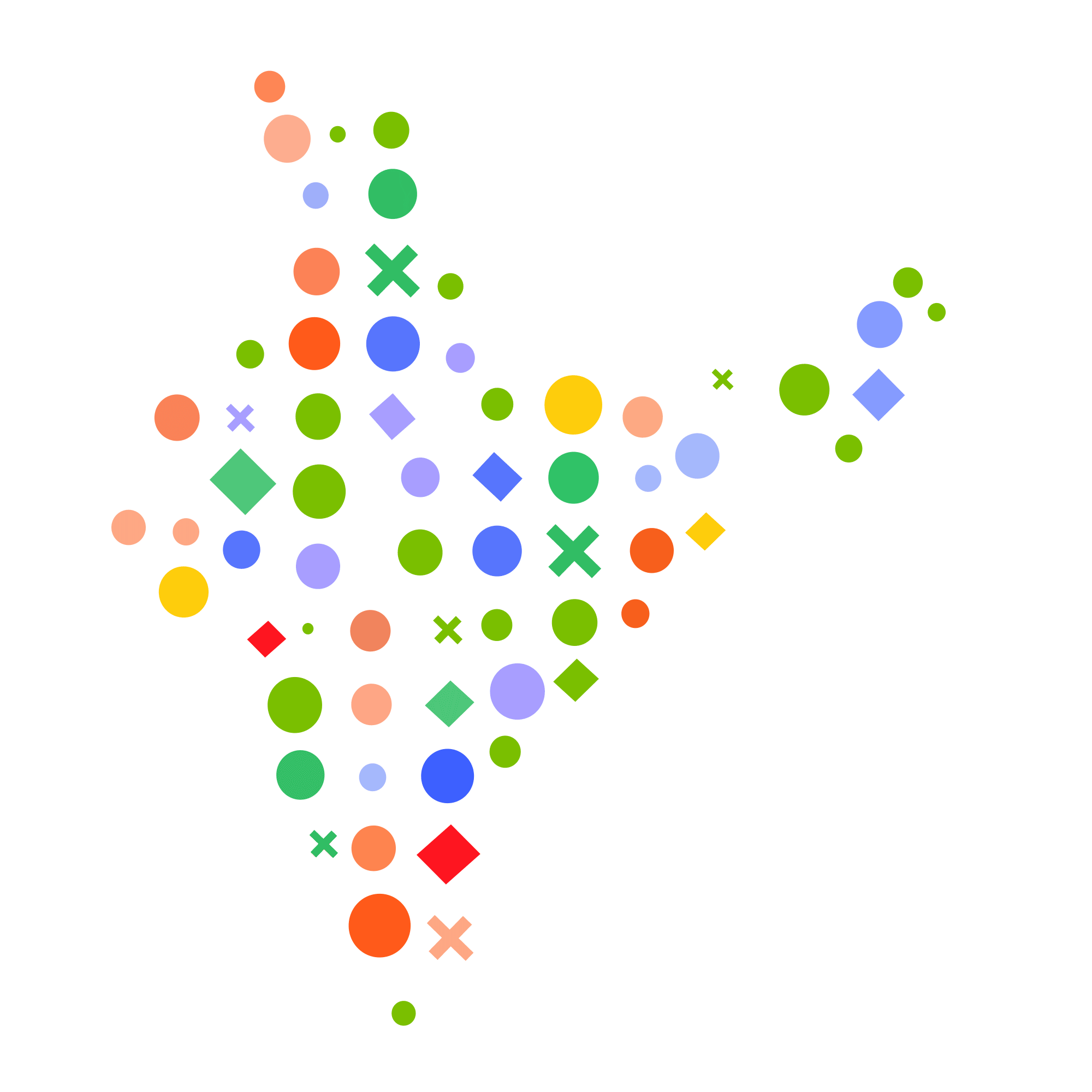 From electronic materials as well as advanced devices, via the designing of hardware of electronic circuits and creating software to varied application areas such as digital media, telecommunications and bioengineering, masters of electronic engineering in Ireland is a study based in major electrical fundamentals, nevertheless, constantly reaching beyond the boundaries of technical functionality, performance and electronic applications. Developed on the basic fundamentals of engineering science, the study of electronic engineering in Ireland integrates critical dimensions of unique designs as advanced systems are improvised to handle real world requirements and their solutions. Developed on the core of engineering science, the study of electronic engineering in Ireland integrates the most crucial dimension of creative electronics designing as new systems are devised as solutions to suffice the real needs of complex electronic problems. Ireland has evolved into one of the world's most important centers for high-tech businesses, thus multiplying prospects a lot more. The ICT sector in Ireland is a consistently thriving and emerging industry with 9 of the leading 10 global ICT companies setting up their hub in Ireland. The whopping economic contribution of the electronic engineering sector is significant with the ICT industry lately liable for an estimated 25% of Ireland's entire turnover, representing one third of Ireland's exports in terms of value. There are prevalent job opportunities available for electronic engineering in Ireland.

With a projected investment of more than a whopping $100 billion in the electronic engineering field in the form of numerous reforms as well as modernized approach towards devising newer electronics strategies, it is a high time for students to take this field as the best path for career approach. Multiple organizations such as Jabil, Eaton, Siemens, Samsung Electronics, Broadcom, Infineon Technologies, the Irish market is expected to host hundreds of new projects over the next years in the sector of electronic engineering. Coming directly under the Critical Occupations Skills List, electronic engineering is not just prospective but is consistently offering the addition of more than 1800 jobs annually.

MS in Electronic Engineering in Ireland is backed by thorough assessment, critical learning, and integrated teaching lessons illustrating the assessment's supremacy or significance. The thorough learning, and coaching procedures used for teaching offers elaborate and adept knowledge on the subject. Multiple procedures such as coursework assignments, tutorials, lectures, seminars, project work, and practical work besides independent research sessions are sufficient enough to make the students have a clear understanding on the technical and non-technical aspects of the electronic engineering sector. The post graduate course helps students in lateral thinking for resolving complex problems with a very logical as well as structured approach. Multiple program courses assist in strengthening the training plan by boosting scholars 'critical thinking for evaluating varied engineering and management solutions and simultaneously adjusting their plans in line with dynamically changing environments.
Get application fee waiver
by applying through us
I agree to GoIreland terms and privacy policy
or The program's training module includes offering expertise in wireless communications electronics, flexible as well as printable electronics, solar cells, particle accelerator RF engineering, millimeter waves, and terahertz technology. Offering skills in these innovations will enable students to build specialized expertise and skills for advanced markets outside conventional industrial practices. As part of the renowned Lancaster general engineering culture, students can be a part of multi-disciplinary technical principles from electronics, mechatronics and technical skills that are high in demand among prospective employers after completing electronic Engineering in Ireland for International students. Ireland is undoubtedly the best option for achieving future career goals because it is home to many of the leading, prestigious and highly regarded universities in the world for the study of Masters course in electronic engineering, including University College Dublin, Cork University College, National University of Ireland, Galway, Griffith College Dublin, Letterkenny Institute of Technology, and others. A broad postgraduate programme for bright candidates, the Masters in Electronic Engineering in Dublin is backed by in-depth practical sessions along with extensive theoretical study lessons that have the potential to fundamentally alter your entire career over time.

Ireland's electronic Engineering Masters (MSc) needs students to attain higher grade scores in graduating degree, especially in the branches of Math and Pure Science owing to the field requiring calculative methodologies. Engineers need to put a strong emphasis on the generation of seamless power supply to a particular device or a product, or solve any complex problems related to modern electronics, their functioning and optimal working condition. Anything that uses electricity in any way can be included in these specialized fields where engineers work. Ireland's Electronic Engineering Masters programme focuses on developing power devices and components, as well as improving existing goods and gadgets. The crucial nature of the electronic engineer's job necessitates expert teamwork for the resolution of challenging electronic issues. These teams frequently include professional electronic engineers who are adept at resolving a variety of electronic engineering peripherals so they can function as a cohesive unit and increase productivity.

The course equips students with the knowledge on various electronic engineering verticals so students are able to acquire a strong advantage over the competition. It does this by encouraging students to develop their technical and professional skills to a complex level and allowing them to use what they learn to handle real-world problems. Electronic engineering is relevant in a wide range of industries, including Aerospace, Energy, Environment, Health, IT and Telecommunications, and Security. Obtaining employment in these fields offers tremendously lucrative compensation. They must be extremely skilled and proficient in working with the team members and coming up with several suggestions. Only after the students have finished their master's degree in electronic engineering in Ireland are all these abilities possible.
To know about requirements
Check out the in-depth details provided below and become familiar with all the necessary facts to learn more about the criteria for a Masters in electronic engineering in Ireland. For your benefit, we have analyzed down all the information. Contact a GoIreland expert at any time with any questions.
To know about costing
Check out the complete information on tuition fees, lodging costs, and other necessary charges provided below to learn more about how much an electronic engineering education will cost you in Ireland. Any GoIreland educational specialist is available at any moment if you have questions about studying in Ireland.
Salary After Masters (MSc) in electronic Engineering in Ireland
Electronic Engineering masters in Ireland is highly sought after and impressive post graduate courses with multiple employment opportunities waiting. Post completion of electronic Engineering course in Ireland opens up flawless career prospects in leading companies namely Jabil, Eaton, Siemens, Samsung Electronics, Broadcom, Infineon Technologies and others as talented electronic engineers. Average salary in Ireland after Masters (MSc) in electronic Engineering is somewhere around €42,000 to €84,000 yearly based on the candidate's job details. Working in Ireland after Masters (MSc) in electronic Engineering can provide an astonishing salary as much as €84,000 yearly in companies like Jabil, Eaton, Siemens, Samsung Electronics, Broadcom, Infineon Technologies, Egis Project Ireland etc

Masters in electronic Engineering is the most employable degree in Ireland that can lead the way for career opportunities such as Avionics engineers, Instrument Design Engineer, R&D Engineer Technical, Automation engineer, Research and Development Engineering Manager and various more. Salary range for Masters in electronic Engineering in Ireland is always better compared to most EU nations and comes with maximum hike chances after the first year of service judging on the job performance. The Starting salary for electronic Engineering in Ireland is usually €42,240 as electronic engineering specialist at a medium business organization. If you happen to join as a fresher, you are able to anticipate freshers salary after electronic Engineering in Ireland between €38,000 upto €64,000 per annum, which certainly is beautiful. Expected salary after studying electronic Engineering in Ireland from top institutions is above €48,951 yearly in any leading company in Ireland as per 2022 Employment Board results.
FAQ:
---
Which University is Best for an MSc in Electronic Engineering in Ireland?

Leading universities for electronic Engineering in Ireland are: Trinity College Dublin, University College Dublin, Maynooth University, Griffith College Dublin, University Cork College, etc.
---
Is Ireland a good choice for an MSc in electronic Engineering?

According to the 2020, THE World Ranking, eight significant Irish universities that offer a master's degree in electronic engineering are among the best in the world. In addition, you can make between 42,000 USD and 68,000 USD annually while paying an average tuition of between 10,500 USD and 38,000 USD annually (average).
---
How to Become An Electronic Engineer in Ireland?

To become an electronic engineer in Ireland, you need to have a graduate degree in science, engineering, electronic engineering, analytics etc. Mathematical as well as statistical problem-solving skills are important for aspirants in this field.
---
What Can I Do With an Electronic Engineering Degree in Ireland?

Students can seek employment as electronic engineers, Instrument Design Engineer, Instrumentation and Design Engineer, telecommunications engineer, radio engineer, smart device process automation engineer, Automation engineer, Process Automation engineer post the study of Masters in electronic Engineering in Ireland.
---
What kind of work or MS in Electronic Engineering in Ireland is done by GoIreland?

Besides providing one-on-one counseling to students, GoIreland also offers other services such as determining the best university for you based on your profile, assisting you with applying to the university of your choice with the necessary paperwork and visa, as well as assisting you with housing and loans in Ireland.
---
Does Electronic Engineering involve a lot of Math?

Yes, you should fetch a profound knowledge of Math when it comes to excelling in the subject of electronic Engineering. Calculus forms the major part of the electronic engineering course.
---
How GoIreland Can Help With Electronic Engineering Masters in Ireland?

After reviewing their profiles, GoIreland consults with the students directly to help them choose the universities that are best suited for them, and it also assists them in obtaining admission to those universities. We also assist you with the application for a VISA, obtaining a loan, and finding housing while studying in Ireland.
---
What are the fees charged by GoIreland?

Your satisfaction and a bright career is what our fees are at GoIreland. No other charges are imposed for any kind of service from us.
---
What is your VISA attainment percentage?

GoIreland holds record VISA approval success rate as we can help all of you to obtain VISA. For more information, contact us.
---
Are you authorized representatives for MS in electronic Engineering Ireland Universities?

Yes, we legally represent top Irish institutions and aim on helping you procure the most authentic information.
---
Will I get employment right after completion?

Yes, top Irish universities that we represent will help you secure the best employment offers upon the successful completion of the course and may extend you lucrative internship opportunities depending on your performance. For more information, contact our consultants at GoIreland.
---