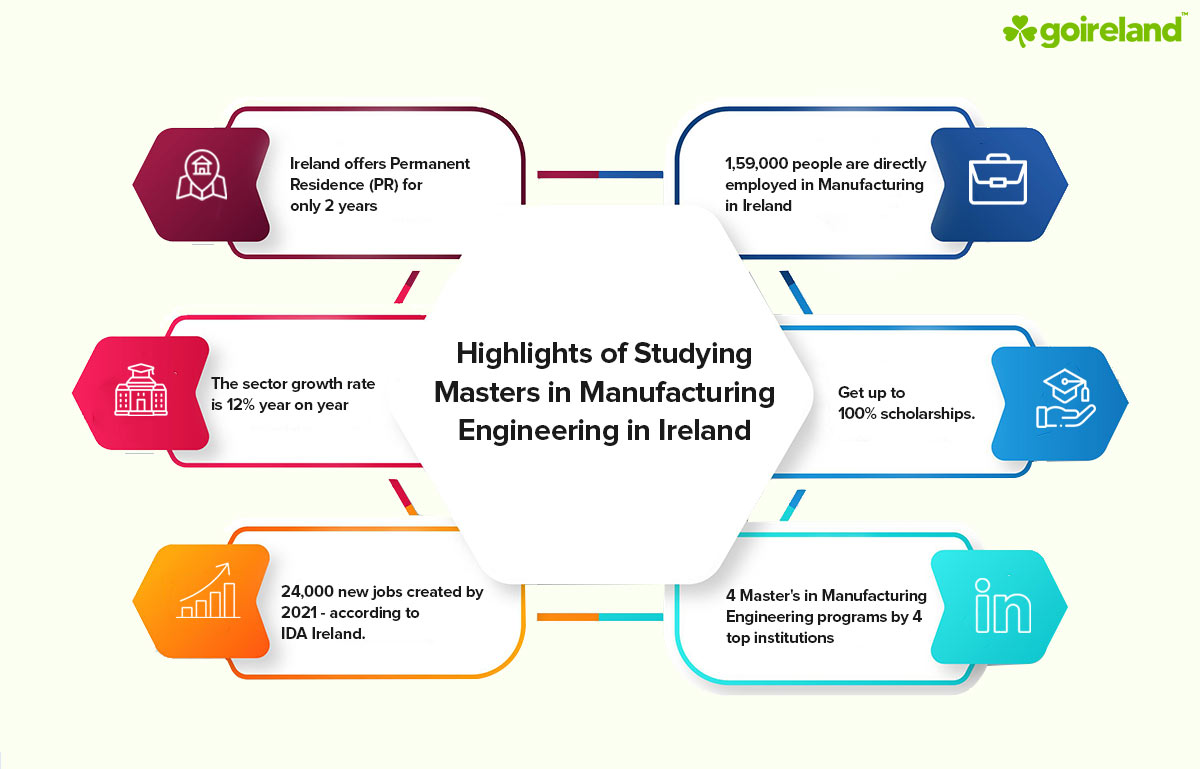 Masters (MSc) in Manufacturing Engineering in Ireland
Choosing to study Masters (MSc) in Manufacturing Engineering in Ireland is undoubtedly a bold step toward your career that will reap profits for a long time to come ahead. Pursuing a masters degree in Ireland is always an imperative decision for a student's career in several aspects. The country's multi-billion EURO economy, which is constantly rising, is brilliant enough to call in for loads of lucrative employment and investment opportunities. In the next five years, Ireland will skyrocket to an exorbitant position in the world, ranking among the best destinations to pursue career goals. In this scenario, where the Irish market is flooded with multiple globally accredited businesses, Manufacturing Engineering Masters in Ireland for Indian students is a mind-blowing opportunity.

Manufacturing Engineering in Ireland for International students is about developing technological advancements, production methods, and physical products. Given that it covers product development and design, it is a very broad field. Mechanical engineering, advanced industrial engineering, engineering in electrical verticals, electronic engineering, enhanced computer science engineering, materials and supply chain management, and business management are all included in Ireland Manufacturing Engineering Masters (MSc) program. Manufacturing engineering continues to be in demand even though the stream was established in the middle to late 20th century, at a time when industrialization was at its height. The need for skilled individuals with a Masters in Manufacturing Engineering in Ireland who can take over the manufacturing section of the industries is increasing as industrialization picks up rapidly.
Manufacturing technology, design for manufacture, and business and enterprise management are the cornerstones of the Manufacturing & Design (M&D) Engineering field. M&D engineers in Ireland take on the responsibility of handling crucial tasks such as resolving societal innovation along with inventive chores. Masters in Manufacturing Engineering in Dublin students, in order to develop high-quality goods and services for society, designers are actively involved in effective resource management and technology. One of their main responsibilities is creating more inventive items, which leads to a manufacturing sector with a high level of added value. They can use their knowledge and talents in a variety of engineering-related fields. This ME postgraduate degree program will develop the ideal combination of technical, managerial, and communication abilities that will prepare you for a variety of positions in a wide range of industries. In addition to the planning and simulation tools required to assist in making cost-effective decisions, you will study the organization and operation of a manufacturing firm.
GoIreland's Global Presence
| | |
| --- | --- |
| 21 | Branches across the Globe |
| 12 | Countries |
| 150+ | Certified Experts |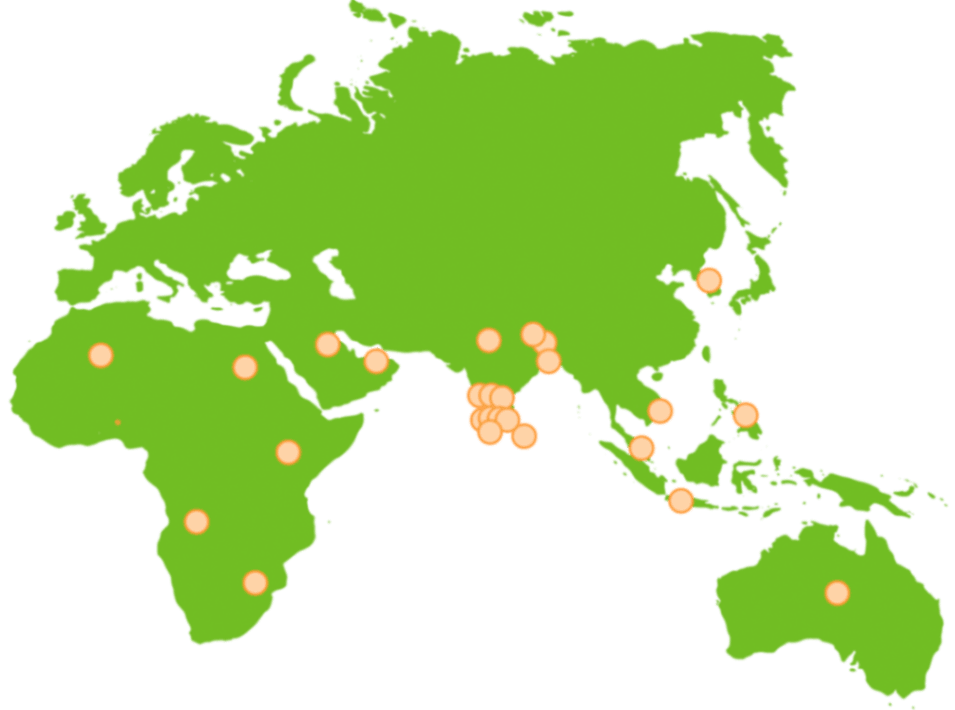 You'll learn how to operate in a team and be innovative and enterprising. The course also seeks to produce environmentally conscious engineers who will conduct manufacturing operations with due consideration for the environment and for statutory and regulatory obligations. Over the course of the two final semesters, you complete a significant project. As part of this endeavor, you get the chance to participate in the student race car design and construction competition against other institutions in Silverstone, UK. After graduating, you can continue on to postgraduate study at universities and research institutes all over the world, where you can earn an MSc, MPhil, or Ph.D. This form of Engineering is centered on manufacturing because it is necessary to manufacture and produce everything in daily life with utter precision.
Our Accelerated Manufacturing Management and Engineering MSc uniquely balance production processes and management. Your career as a technologist or manager will be successful if you are prepared to handle the engineering, business, and societal problems posed by the continuously evolving global manufacturing industries and markets. Our cutting-edge manufacturing research, which would be fueled by close industry partnerships, directly informs the curriculum. Our industry-informed modules will help you offer top-notch research with a practical application, enhancing both your future endeavors and overall standing as a top-tier research university.

You'll get access to cutting-edge labs, top researchers from across the world, computer labs, and some of the most recent industry-standard software. Our curriculum offers a special mix of managerial and manufacturing techniques to get you ready for a rewarding future as either a manager or a technologist. This program has been approved by the Irish Engineering Council and is recognized by the Institute of Engineering Designers (IED), the Faculty of Engineering and Technology (IET), and the Association of Mechanical Engineers (IMechE).
To know more about requirements
Learn more about the Masters in Manufacturing Engineering in Ireland by looking over all the requirements and prerequisites listed for your perusal below. If you have more queries about learning in Ireland, you can always contact GoIreland educational consultants.
To know about costing
Learn more about the various costs associated with a postgraduate degree in Manufacturing Engineering in Ireland, including rent, food, and other expenses, by checking out the alternatives below. You can anytime consult with a GoIreland counselor to have an authentic sense of the costs.
Salary After Masters (MSc) in Manufacturing Engineering in Ireland
The master's degree in Manufacturing Engineering available in Ireland is unquestionably an amazing postgraduate degree that aids pupils in locating the perfect employment prospects at the top global firms. After finishing the postgraduate program, several of the best businesses operating in Ireland, like Abbot, IBM, Accenture, Google, Medtronic, Avaya, Vhi, Paddy Power, Dell, and also countless additional business organizations, provide exceptional employment opportunities as renowned Manufacturing Engineering Experts.

Based on the place, the average salary in Ireland after Masters (MSc) in Manufacturing Engineering counts from €35,000 to €51,890 annually. Working in Ireland after Masters (MSc) in Manufacturing Engineering is able to provide you with a hefty package as well as the possibility for a maximum raise instantly after your service is finished in a couple of seasons. Companies such as Abbot, IBM, Accenture, Google, Medtronic, Apple, IBM, and Bearing Point Consulting are able to offer applicants an ample package really worth as much as €99,875 per year.

The Masters in Manufacturing Engineering is most employable degree in Ireland, providing pupils with awesome employment opportunities in most internationally recognized companies. For job profiles as Automotive Engineering, Project Engineer, Production Engineer, Automation Engineer, Senior Process Engineer, Development Engineer, NPI Engineer, Process Development Engineer, etc. The starting salary for Manufacturing Engineering in Ireland is a minimum of €42,000 per year. The salary range for Masters in Manufacturing Engineering in Ireland is regularly among the largest in much of Europe. In mid-sized businesses or start-ups, the minimum freshers salary after Manufacturing Engineering in Ireland is a good €35,000. After studying at Ireland's best universities, students are able to count on the expected salary after studying Manufacturing Engineering in Ireland between €49,000 and €98,000 annually, which is a fantastic figure.
FAQ:
---
Which University is Ideal for an MSc in Manufacturing Engineering in Ireland?

Shannon, Trinity College Dublin, University College Dublin, University of Galway, and University College Cork are namely the leading universities providing Mechanical Engineering in Ireland
---
Is Ireland good for studying MSc in Manufacturing Engineering?

Ireland holds prestigious universities specializing in multiple verticals of engineering and henceforth, Ireland's engineering industry supports a substantial portion of the nation's as well as the world's leading manufacturing and services-oriented economies, fetching beyond 46,000 jobs.
---
How to Become An Manufacturing Engineering Expert in Ireland?

Manufacturing Engineering bachelor's degrees are required for entry into this competitive field. Some of Ireland's top universities also offer master's degrees in the field, including Galway's National University of Ireland, University College Cork, and Dublin City University
---
What Can I Do With a Manufacturing Engineering Degree in Ireland?

Graduates in mechanical and manufacturing engineering can work in engineering consultancies, utility companies (transport, power generation), and manufacturing companies in the mechanical, electronic, and biomedical sectors both in Ireland and abroad.
---
Does Manufacturing Engineering Involve a Lot of Math Lessons?

As you work with topics like optimization, costing, accounting, industrial engineering, and many other Extensive Testing like production planning and control, six sigma, supply chain, and technology topics like analytics, it goes without saying that you need to be proficient in mathematics.
---
Is Acquiring Masters in ME Hard?

In order to succeed in this highly technical sector, you will need to have a solid understanding of both how machines operate and how to repair them. However, there are many prospects for growth and the pay is competitive.
---
How Many Hours a Week is ME Masters?

A full-time student can finish the MEng program in three to six terms (one to two years), or they can finish the requirements for their master's degree entirely in fifteen terms.
---
Can I do a Masters in MEng and Work At The Same Time?

The majority of part-time education programs offer evening and night study options. If you want the best of both worlds, you can work part-time and study part-time.
---
Can I Get A Job After Masters in MEng in Ireland?

Yes, MEng in Ireland opens up a broad spectrum of opportunities for you in leading companies such as Abbot, Vhi, Apple, Avaya, Megtronic, and many others organizations.
---
Is Masters in MEng in Ireland Better Than Other Countries?

The whopping salary figures of no less than €78,000 in Ireland for experienced Manufacturing engineers and the demands which are on the rise for MEng experts make Ireland one of the best destinations to study the course.
---