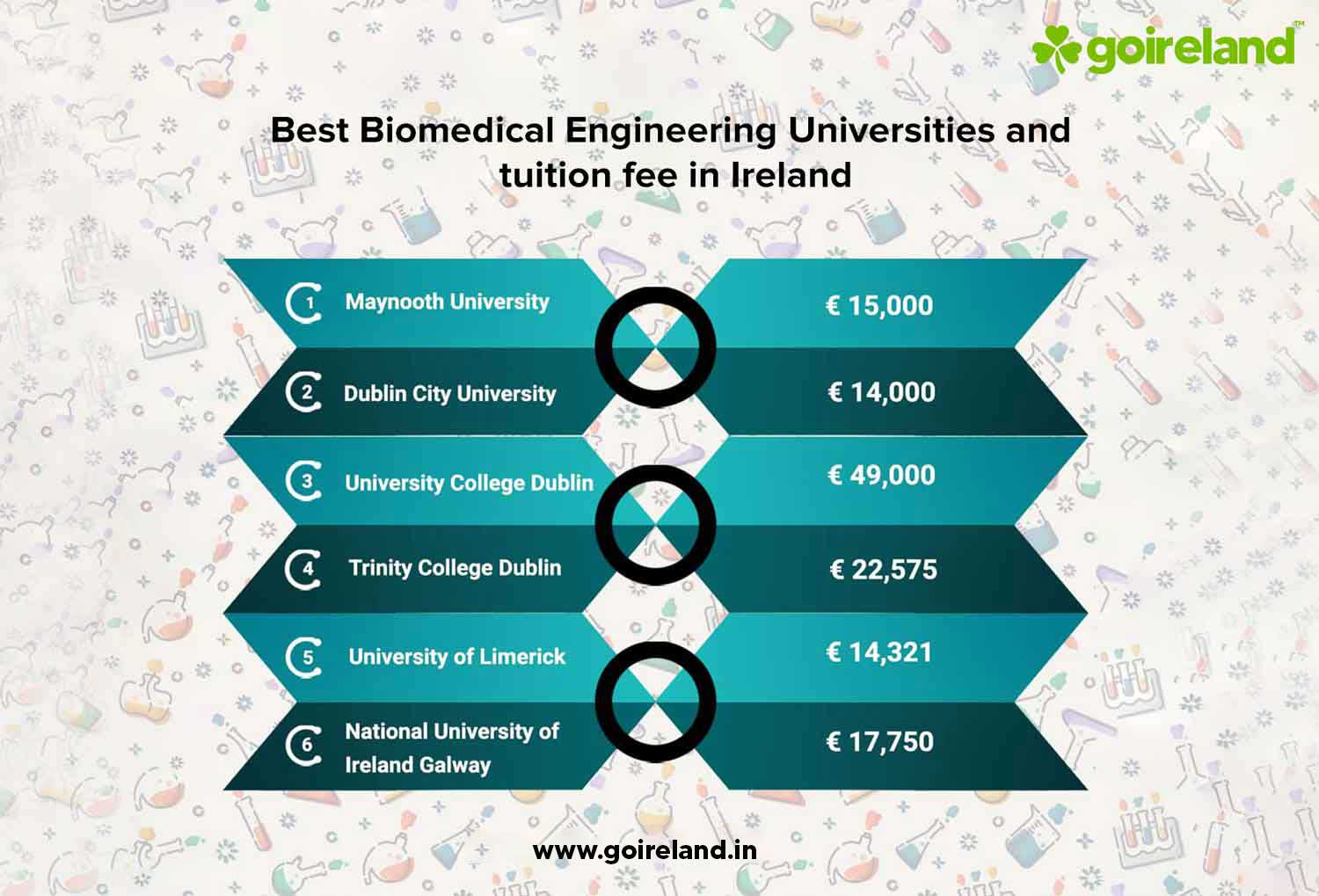 Masters (MSc) in Biomedical Engineering in Ireland
A Masters in Biomedical Engineering in Ireland is the top choice for a large number of international students. Ireland boasts of a rich history and has a few of the best universities in the world. It stands 8th in the world for the number of educational institutions or universities it possesses in the list of Top 500 universities. It is a country where history, traditions, and religion play an important role in regular life and even in the country's self-perception. If you choose to study Masters (MSc) in Biomedical Engineering in Ireland, one of your greatest advantages will be the availability of many universities and colleges.

Ireland's history has a deep respect and appreciation for learning, and at present, the educational attainment rates in the country are the highest in the world. More than 85% of young individuals complete their secondary-level education, and more than 2/3rd of these individuals move on to higher education.

The government in Ireland also invests heavily in providing world-class facilities in the universities that offer Biomedical Engineering Masters in Ireland for Indian students to build on a lengthy tradition of academic excellence. At present, there are more than 7 universities providing world-leading Biomedical Engineering education and research facilities on beautiful campuses. Irish research ranking is within the top 1% globally in 18 fields, and all of the nation's universities are amongst the top 3% worldwide. Higher education enthusiasts from more than 160 countries study in Ireland, making up 12% of the student population of the country.

Ireland has several industries that employ Biomedical Engineers, including hospitals, research, and development services, and medical equipment manufacturing units. Jobs in this field are widely available across Ireland and the UK. Both private and public sector organizations hire Biomedical Engineers while the professionals can even start their careers in healthcare centres and clinics. Part of this growth in the demand for Biomedical Engineers in Ireland is because the demand for ventilators and other important equipment have increased a lot in the last few years.
Masters in Biomedical Engineering in Dublin offers rigorous engineering education in an exclusive environment that is a combination of technological and intellectual resources. At the universities in Ireland Biomedical Engineering Masters (MSc), students get to work with top engineering faculty. Biomedical Engineering in Ireland for international students majorly involves the study of the application of engineering design concepts and rules to biology and medicine for healthcare purposes. This is a medical engineering course that incorporates a mix of life sciences, research, chemical science, physical science, and natural science for the development of new technologies and products for proper diagnosis and treatment.

The program builds on the already successful ME and BE programs in Biomedical Engineering at the universities in Ireland. It blends modern medical technology research with state-of-the-art graduate-level taught modules. It may closely resemble the ME in Biomedical Engineering program but is broader in scope and even includes a substantial 1-year 30 ECTS research thesis. Masters in Biomedical Engineering in Ireland is specifically designed to appeal to Indian and other international students with different educational backgrounds, specifically those with a strong foundation in engineering and mathematics from their undergraduate education.

More than ever before, industries are on the lookout for engineers with a clear understanding of the medical application of diagnostic imaging instrumentation, mechanical engineers well-versed in biomaterials to come up with innovations like artificial joints, and biotechnology professionals with proper training in the field of tissue engineering. This means graduating with a Masters in Biomedical Engineering from any of the universities in Ireland means you will be fully prepared to advance your career in this field.
GoIreland's Global Presence
| | |
| --- | --- |
| 21 | Branches across the Globe |
| 12 | Countries |
| 150+ | Certified Experts |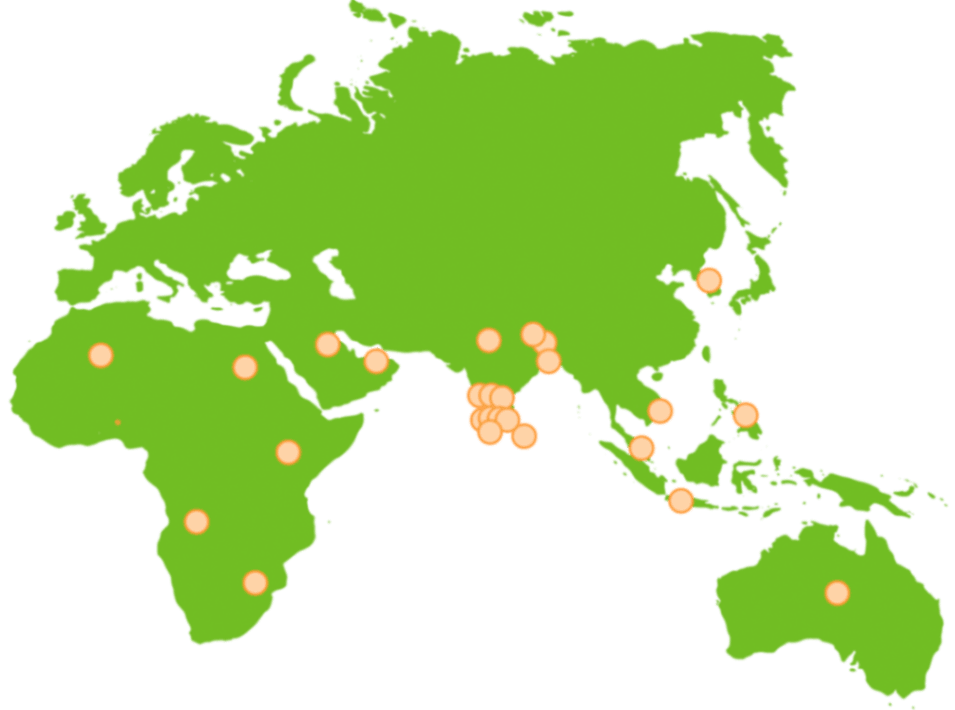 At the universities in Ireland, you will learn everything you require to succeed through an interdisciplinary course of study. You will also get to focus on one of the different biomedically-relevant topics, including biological delivery, the interaction of biomaterials with mammalian tissues, and tissue engineering.
You can earn your Masters in Biomedical Engineering with a focus on any of the following fields of study:
Biomaterials: This is the study of the versatility and benefits of silk-based biopolymers. It majorly constitutes exploring the advantages of silk-based biopolymers in biomaterials engineering, self-assembly, regenerative medicine, and tissue engineering.
Biomedical Imaging: Support the advancement of imaging technology used to scan organs and tissue in the human body and improvise the potential to assess different medical conditions.
Wearable sensing devices: Examine sustainable materials used in high-technology environments, including in the identification of pathogens and pollutants or in improvising athletic performance.
Drug delivery: Provide your services to know about technologies that transport therapeutic materials across the body, with uses in cancer treatments and vaccines.
Biomedical Engineering is a sub-discipline of Engineering & Technology that aims to improvise health care systems and human health through the innovative use of technology. It is the combination of Biology and Engineering that answers all modern medical requirements; develops revolutionary creations, like surgical robots, new drugs, prosthetics, and artificial organs.

This interdisciplinary degree involves the same analytical, mathematical, and conceptual understanding from related fields, like Chemical Engineering, Biology, Mechatronics, Robotics, Computer Science, and Materials Science. Other sub-disciplines covered in Masters in Biomedical Engineering in Ireland include medical imaging, orthopedic implants, biomedical signal processing, and stem cell engineering.

Masters in Biomedical Engineering in Ireland teaches students the right way to use different engineering concepts to solve varied medical problems. This is a course of 1 or 2 years during which students get to enhance their skills in creating artificial chemicals and organs and in developing new drugs and tissues. The qualification gained at the Ireland universities prepares students to serve as specialists in designing, maintaining, and improving medical technology extensively used in the healthcare sector. A fabulous quality of life and lucrative salary awaits students after graduation.
To know about the Requirements
Masters in Biomedical Engineering is one of those uncommon courses that are gaining huge popularity these days. There are many leading companies looking to hire efficient and knowledgeable Biomedical Engineers for different work procedures. So, below you can check out the important requirements for admission to Biomedical Engineering in Ireland and get yourself all prepped up.
To know about Costing
Thinking of pursuing your Masters in Biomedical Engineering in Ireland? But you cannot take the next step because of cost worries? Not to worry when you have complete details of the cost of Masters in Biomedical Engineering in Ireland to help you out. Check them out below:
Salary after Masters (MSc) in Biomedical Engineering in Ireland
You can make a decent income by working in Ireland after a Masters (MSc) in Biomedical Engineering. The average salary in Ireland after Masters (MSc) in Biomedical Engineering is €40,053 per year, which is 2% higher than the National salary range for Masters in Biomedical Engineering in Ireland. Masters in Biomedical Engineering is the most employable degree in Ireland, with the starting salary for Biomedical Engineering in Ireland being €30,620. The highest expected salary after studying Biomedical Engineering in Ireland can exceed €65,000. Freshers salary after Biomedical Engineering in Ireland with less than 3 years of experience is €31,000.
FAQ:
---
What can GoIreland Help me with?

We can help you get answers to questions like when is the right time to apply for your course, what are the admission requirements to enroll for your course, and what tests you need to take abroad.
---
What is your responsibility at GoIreland?

We help students throughout their journey overseas by advising them on the right courses and universities.
---
Can you help me deal with the challenges of studying abroad?

Yes, we can help with everything starting from language barriers and cultural misunderstandings to coping with the work culture and learning environment through proper support networks.
---
Can you suggest to me the skills I will gain while studying in Ireland?

Yes, by far, you will gain skills in adaptability, self-awareness, and empathy when studying in Ireland.
---
Can I expect help with the list of documents needed to study in Ireland?

Yes, with us, you can get every detail of the documents like academic transcripts, passports, and visas required to study in Ireland.
---
How about help with accommodation?

GoIreland is here to help you out with this as well.
---
Do you arrange accommodation in Ireland?

Yes, we have good connections to work with and arrange proper accommodation for you.
---
How can you help me plan my study objective in Ireland?

We can sit with you and have detailed discussions regarding your plans to study in Ireland. We can make everything clear, starting from course availability and total fees to added expenses and scholarships.
---
Do you help with Visa?

Yes, with us, you can also expect good support during the Visa application procedure.
---
What about making the right choice of university?

With us, you do not need to worry at all, as we have experts to help you out with your choice of university.
---