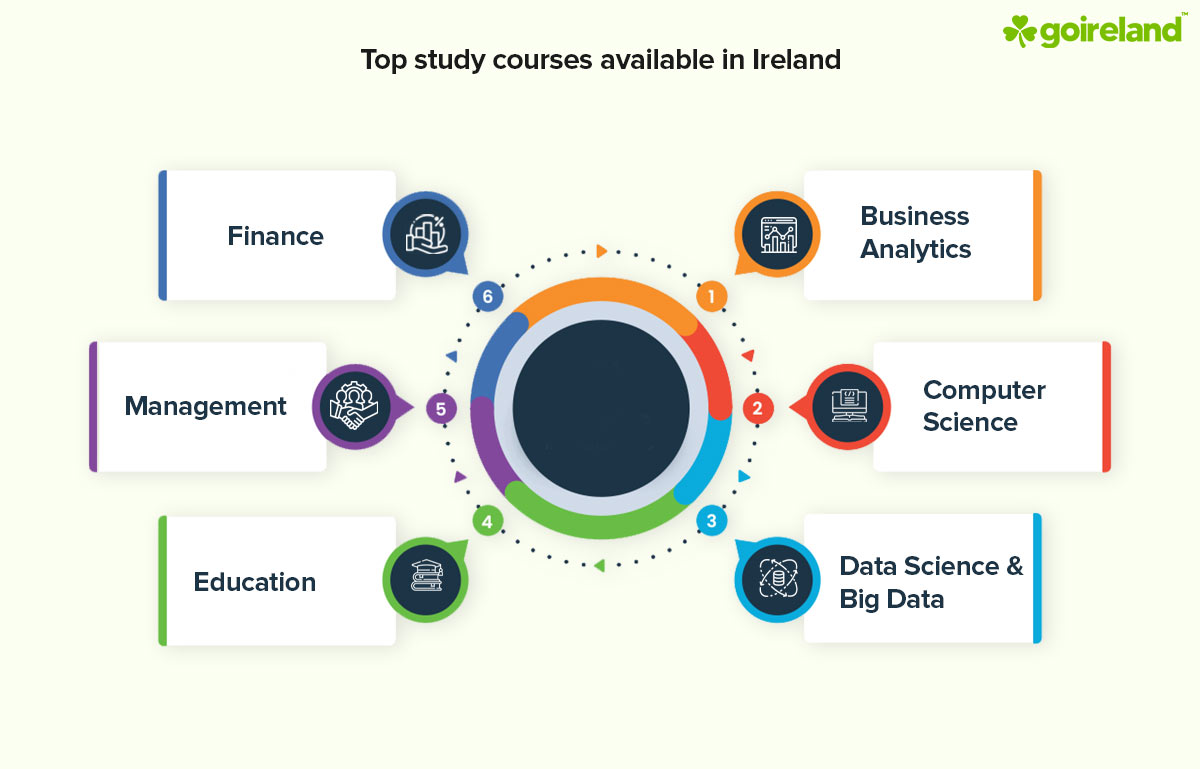 Study in Ireland
The monks and monasteries in Ireland date back to 500 AD and once served as the center of learning in Europe. This has given Ireland the popular Land of Saints and Scholars title. At present, there are a plethora of universities and colleges in Ireland that have received their university status and charter. Some date back to 1795, while others were founded in 1845. The history of Ireland has engendered deep respect and appreciation for learning, and, at present, the educational attainment rate in Ireland is among the highest in the world. More than 85% of young individuals complete secondary-level studies in Ireland, while more than 2/3rds of these individuals pursue higher studies in Ireland. Also, note that Ireland ranks right on top in Europe regarding the number of graduates per 1,000 inhabitants.

The Government of Ireland invests heavily in top-quality facilities in the centers of academic excellence in Ireland. The country currently features 14 Institutes of Technology, 22 Universities, and various other well-known education and research institutes with state-of-the-art infrastructure and facilities and beautiful campuses. Research studies and work in Ireland rank in the top 1% globally in 18 different research fields, while all of the universities in the country are in the top 3% worldwide. Individuals from 160 nations worldwide dream to study Masters (MSc) in Ireland, and they make up around 12% of the entire student population.
If you want to Masters study in Dublin or any other city in Ireland, you need to be an independent thinker with a passion for succeeding in the present world. You may not know, but it takes a creative, agile, and pioneering nation to produce independent thinkers, and that nation is Ireland, without a doubt. It is always excellent to go with Ireland study Masters (MSc) options because Ireland ranks amongst the top nations in the world in terms of development, safety, peace, and way of living. The country represents the most appealing combination of English-speaking environments, landscapes, and a welcoming, rich and strong culture in which the Irish population takes pride. Study in Ireland for international students is truly a great opportunity as the overseas students here enjoy the complete support of the universities that hire and train staff members with the ability to assist with studies, visa details, accommodation, and other challenges. It is also a good idea to study in Ireland for Indian students as they get the scope to expand their horizons with completely dedicated career services and an active network of 4,000 Ireland university alumni worldwide.

Engage in the Ireland study programs, and you get the chance to focus on the skills considered necessary to communicate most effectively while helping you understand yourself in a better way. Studying in Ireland, no matter what course or study program you choose, will help you lead diverse organizations and teams worldwide. The only English-speaking nation in Europe, Ireland is known to offer a top-quality educational experience to students in the most picturesque setting. As per estimates, the country serves as home to more than 35,000 international students who come from different countries. The country's education structure is also among the best in the world. Some important factors that catch the attention of the international students who make up their minds to study in Ireland include the country's top-quality education, convenient and safe student life, and highly-ranked universities. Besides these factors, studying in Ireland for Indian students also offers several professional opportunities because of the availability of some of the topmost companies.
Funding sources available to students who study in Ireland include part-time jobs, grants, and scholarships. Students looking to study in Ireland need to undertake any of the following English preparation tests to prove their English proficiency which is mandatory to study in the country:
GRE
GMAT
IELTS
TOEFL
PTE
Duolingo
Spring and autumn intakes are available for Ireland's most popular study courses. Coming to Visa requirements to study in Ireland, there are two types of visas available for students. The C-Type visa is for students looking to stay and study in Ireland for less than 90 days, while the D-Type visa is for students who want to study and stay in Ireland for more than 90 days. The best cities in Ireland for a comfortable, safe and healthy student life include Galway, Cork, Dublin, Maynooth, and Limerick. Ireland's school system is comprised of various stages, which are primary, secondary, and third-level, moving on to further education. Higher studies or third-level education in Ireland is offered by three different varieties of institutions- Colleges of Education, Universities, and Institutes of Technology. Besides these, Ireland also boasts some of the best independent private institutions and colleges. The Institutes of Technology in Ireland are connected to universities for offering accredited qualifications. They provide business-related courses and vocational training along with post-graduate diplomas. The Colleges of Education in Ireland offer Bachelor's and Honours Bachelor's degrees, Doctoral degrees, Post-Graduate Diploma and Higher Certificates.

Below is a quick summary of the different varieties of educational degrees provided by the colleges and universities in Ireland:
Bachelor's Degree: This is an undergraduate, full-time degree that can either be an ordinary one with 3 years duration or an Honours Bachelor Degree of 3 to 4 years duration. A Bachelor's study program in Ireland may vary with intensity and coursework depending on the type of degree that you opt for.
Master's Degree: This post-graduate degree covers one to two academic years in Irish universities. Ireland is fast attracting students looking to pursue Masters in different subjects. This is because of the expertise of the Irish universities in higher education and the deep reputation and appreciation for learning. Students applying for any of the Masters programs in Ireland should possess a relevant Bachelor's diploma or degree.
Doctorate Degree: It takes 4 to 5 years to complete a doctorate in Ireland. During a Ph.D. or Doctorate in Ireland, you remain under the supervision of an academic supervisor, research institution, and the department or school. You will have to regularly attend formal reviews and meetings conducted with the supervisory panel throughout your doctorate study program in Ireland.
GoIreland's Extensive Footprint in India
Offices across India
250+ Experienced Consultants
Chennai, Coimbatore, Bangalore, Cochin, Hyderabad, Mumbai, Pune and many more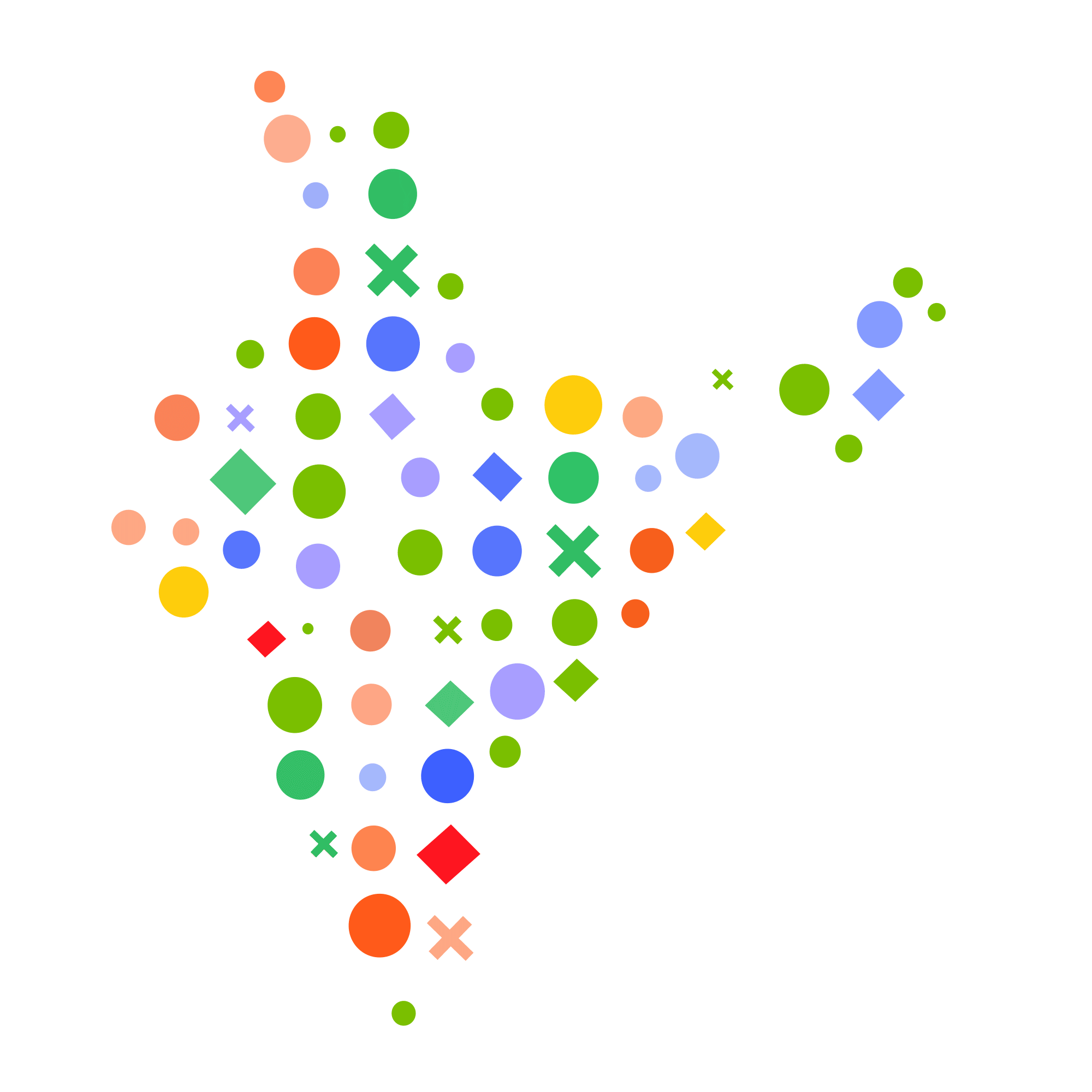 For the ones looking to pursue their studies in Ireland, it is important to have an idea of the NFC or National Framework of Qualifications. All the Irish education centers offer higher education programs, diplomas, and degrees based on NFQ. The NFQ system specifies the standards of education qualifications in Ireland. It allows the comparison and measurement of Irish education qualifications and enables students to move from one study level to another and from one institute to another. Read on to find the way degrees in Ireland are marked according to the NFQ:
NFQ Level 7: Ordinary Bachelor Degree
NFQ Level 8: Honours Bachelor Degree
NFQ Level 8: Higher Diploma
NFQ Level 9: Postgraduate Diploma
NFQ Level 9: Master's Degree
NFQ Level 10: Doctoral Degree
Students looking to study in Ireland get to choose between several courses. Top study courses available in Ireland include
Business Analytics
Computer Science
Data Science & Big Data
Education
Management
Finance
Banking & Finance
Business Analytics
Cloud Computing
Pharmaceutical Sciences
The average tuition fee for BA Honours in Marketing is €10,000; BSc in Medicine is €35,000; MBA is €25,000; Master's in Education is €16,000; MSc in Computing is €20,500; MSc in Management is €17,000, and MSc in Finance is €18,500.
To know about the Requirements
Studying in Ireland is always a great initiative considering that the country has a number of exclusive courses and study programs for students. However, suppose you do not know the eligibility criteria and admission requirements to study in Ireland. In that case, it is time for you to know them because, without their knowledge, it will become difficult for you to seek admission to different study programs in Ireland.
To know about Costing
If you dream of studying in Ireland but your limited budget is hindering you from doing so, go through the total expense details below to know how much you need to spend to avail top quality education in Ireland.
Salary after Study in Ireland
The expected salary after studying in Ireland, especially in the law sector, can range between €30,000 and €40,000. Freshers salary after study in Ireland is around €30,000. Note that the starting salary for study in Ireland may vary from one region to another and from one course to another. Plan beforehand and choose a program you know will offer you the best salary range for study in Ireland. Working in Ireland after study is a good idea considering that there are some of the most employable sectors operating in Ireland, offering work opportunities to a large number of students. All in all, the average salary in Ireland after study ranges between €20,000 and €24,000.
FAQ:
---
Do you offer scholarship application help as an education consultancy?

Yes, the study abroad consultants working for GoIreland can help you develop the most suitable scholarships based on your candidature. The majority of Irish universities and colleges offer some kind of scholarship with their eligibility requirements, and we guide them by offering assistance and information to apply for the scholarships.
---
What about medical examinations to study in Ireland?

Yes, you will need to undertake a medical examination in India to apply for a student visa for Ireland, which is mandatory. We can help you here by suggesting medical test centers approved by the immigration bodies and the high commission of Ireland.
---
What is the Visa fee?

The Visa fee is the fee you pay to the immigration departments or high commissions in Ireland to process your visa application. Our education consultants at GoIreland can also help you with visa fee processing and other important steps you need to take.
---
How do you help in studying in Ireland?

Your choice of Ireland as a study-abroad destination for higher studies will be based on your interest and budget. We will help you in this process by informing you about the study courses available in Ireland and the work opportunities available after completing the different courses.
---
How to know which Irish university is best for studying in Ireland?

The best Irish university to study is one that suits your study requirements and is duly accredited by the local accreditation council. We at GoIreland can help you make the right choice here by informing you about university rankings, the courses on offer, and the student qualification required.
---
When to apply for admission to study in Ireland?

There are two intakes in most Irish universities, mainly in Jan/Feb and September. We will advise you to procure your admission at least three months before to avoid any kind of hassle in the future. Being well-prepared with your choice of Ireland university ensures a smooth procedure and timely and comfortable preparation.
---
What is the exact application processing time?

The exact application processing time is difficult to find. However, it takes approximately 4 to 6 weeks for the filing procedure to be complete. During the application processing time, our educational consultants at GoIreland can assist you with activities like visa interview preparation, a letter of recommendation from your preferred university, arranging the documents for a visa, flight booking, and interview preparation and date.
---
Is TOEFL/IELTS crucial to get admission to an Irish university?

The TOEFL and IELTS examinations are not necessary to get admission to Ireland universities. Still, it is one of the most supportive documents for your study in Ireland application. We will help you gain English proficiency by guiding you in preparing for these examinations..
---
Can a student work while studying in Ireland?

Yes, students can work while studying in Ireland, and we, at GoIreland are there to help you out every step of the way. We will help you understand how you can work in Ireland, for how many hours you can work during a week. If you want, we can even assist you in getting a full-time job in Ireland.
---
Is it crucial to have a bank account to study in Ireland?

Yes, every student must have a bank account in a foreign bank to study in Ireland. That's because, when studying in Ireland, you will be making frequent transactions in and out of your account. We can help you understand the special scheme available from banks to international students.
---