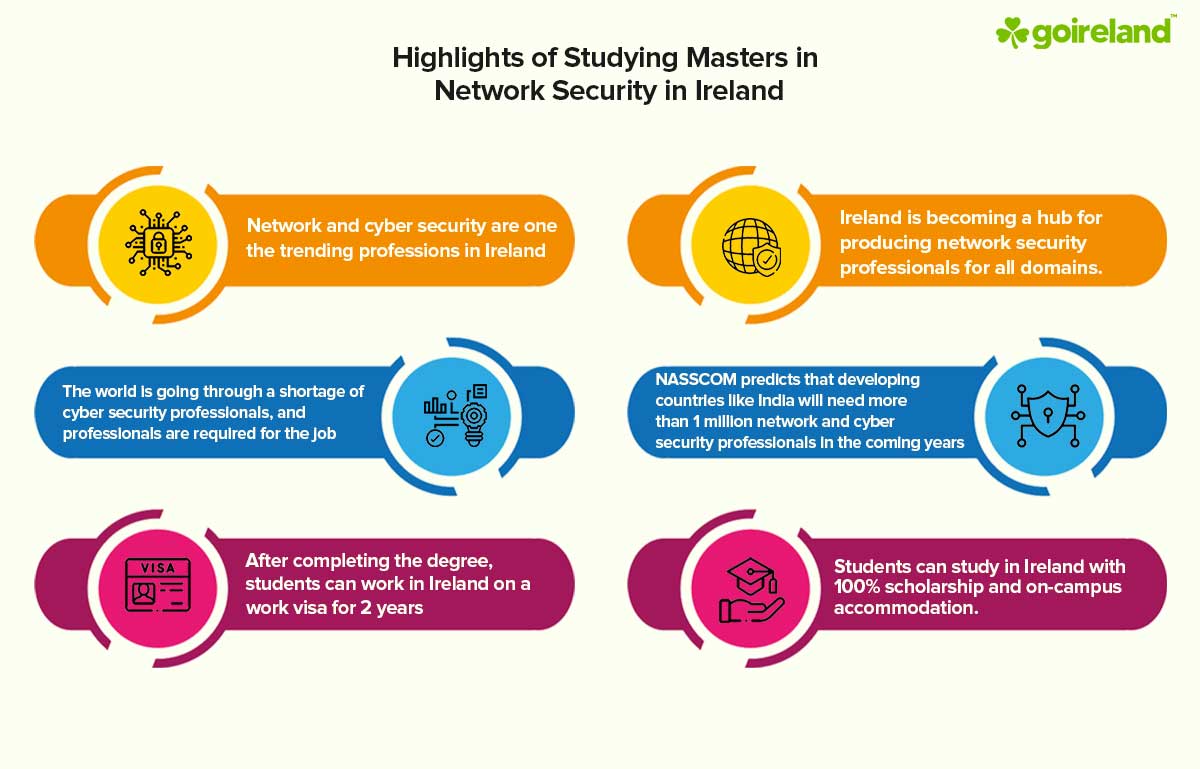 Masters (MSc) in Network Security in Ireland
In today's world, the internet is powering our businesses, interactions, entertainment, and everything else. Huge bits of information and data travel through invisible lines across the globe. We are sharing our finances, personal information, thoughts, work, and much more through the web. All of these systems need the highest level of security, or we risk sharing our data with antisocial elements and risk getting exposed to unwanted activities. This is where network security and network security professionals come in for our assistance. Network security is a subdomain of cyber security designed to protect the usability and integrity of the network and data. Those who study Masters (MSc) in network security in Ireland learn to strategize, implement, and execute the required systems to ensure efficient network security.
Through the course and programs, the students know about a wide array of threats to our network security. They learn to manage these threats and implement effective solutions for the same. Today, ensuring the required network security is mission-critical to safeguard against the misuse of sensitive data. Security experts and prominent leaders fear that the next world war will be fought through the internet, where no one can see the attack coming and how much damage it can do. The masters in network security in Dublin courses and programs will teach a student to employ multiple strategies to implement the required network security solutions. The motive here is to protect the citizens and resources.

Almost every day, we hear one or the other company's server has been hacked. This leads to unauthorized access and data sharing of hundreds of thousands of users as all of their data rests on the company's servers. As a result, these individuals are at grave risk of getting their sensitive information shared across the dark web and other areas. In a network, multiple devices are connected, including computers, servers, and wireless networks of different sorts and strengths. A lot of these devices and systems are susceptible to attacks. The network security masters in Ireland for Indian students and others are built to provide everyone with the required knowledge to tackle these threats.

As the number and depth of these networks grow, we will have better and more integrated security systems that have the potential to stop and prevent all these attacks. As a result, the studies and courses that teach and train students to implement security systems also get better and more detailed. From teaching the modern ways of attacking a network to finding the loopholes in one to ensuring the sanctity of data in every server and system, the right degree in network security will certainly enhance your chances of getting better employment opportunities.
GoIreland's Extensive Footprint in India
Offices across India
250+ Experienced Consultants
Chennai, Coimbatore, Bangalore, Cochin, Hyderabad, Mumbai, Pune and many more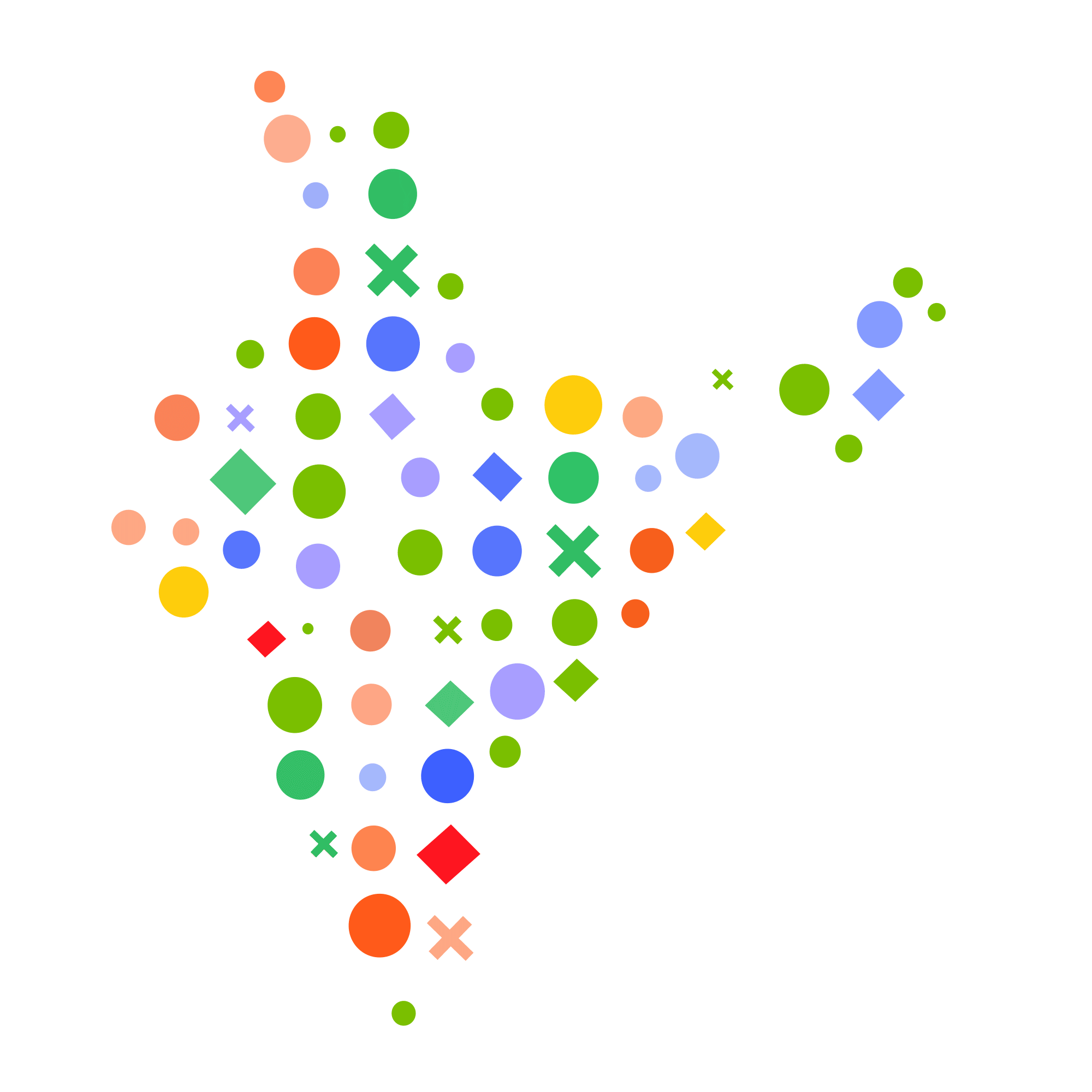 Studying in Ireland is the dream of many students, but only a handful of them are able to achieve their dream. More importantly, getting a master's degree in network security in Ireland for international students is easier said than done. But that is before you get in touch with GoIreland. We offer effective and end-to-end consultation services to the students giving them the opportunity to study in Ireland. Ireland is an amazing country for higher studies and tourism. It houses some of the best universities in the world and has a superb reputation in terms of educational quality and advanced programs. The curriculum of every institution is set to impart up-to-date knowledge and training to the students, which gives them an upper hand in the industry.

Ireland is an English-speaking country, and students coming here from other nations need to fulfill the basic requirements. They must have the required academic record and prove their efficiency in the English language. In addition to this, to gain admission to Ireland network security Masters (MSc) course, the students also need to show proof of financial maturity. They must be able to sponsor their education and living expenses in Ireland. We can help our students with this by helping them take the right loan from a bank or NBFC. As a leading consulting firm in India, we want to build your future and help you take the flight to success. To get into the best network security course in Ireland, you need to make the right choices in terms of choosing the right university and the right course. The Ireland universities offer a wide range of courses relating to network security. As network security is a subdomain of cyber security, the courses here provide a comprehensive education in cyber, network, and information security. You must choose the course according to your preferences.

Network security is a booming industry. Going forward, the number of connected devices and connections will increase. As a result, companies, and governments need the required number of network security professionals to maintain and implement in-depth defense strategies. Hence, as someone wanting to study network security in Ireland, you also need to have basic knowledge of this field. Generally, universities might accept students from all domains and backgrounds. Still, someone with a cyber security background will have a better chance of gaining admission than someone from an arts or commerce background.
Get application fee waiver
by applying through us
I agree to GoIreland terms and privacy policy
or To know about the Requirements
This was all about the network security courses and universities in Ireland. Enrolling in these institutions requires a student to satisfy some predetermined requirements. Follow ahead to know the admission and other requirements for network security in Ireland.
To know about Costing
Now that you know about the admissions requirements and process for Ireland universities, there's one more thing we must discuss, and that is the cost. Studying and living in Ireland needs substantial investment. Let's understand the costs you must bear for your studies in Ireland.
Salary After Masters (MSc) in Network Security in Ireland
The average salary in Ireland after Masters (MSc) in network security is €55,868, and it can increase substantially with more experience and expertise. Network security has become a niche segment in cyber and information security. As our world is moving towards hyperconnectivity and the number of connections in the network increases, we need more professionals to take care of network security. Hence, with time we will be able to say that Masters in network security is the most employable degree in Ireland. With the help of Cyber Ireland, the students taking the courses and completing their studies in this subject can get a better starting salary for network security in Ireland.

You can start working in Ireland after Masters (MSc) in network security right after graduating with the help of the university's placement cell. Every university in Ireland has a placement cell that helps students explore and grab employment opportunities right after they graduate. After completing your studies, you can take the role of;
Network Security Specialist
Network Security Analyst
Network Security Engineer
Network and Security Engineer
In addition to this, there are differences in the job levels that you can avail with a better experience. For instance, a network security engineer can find employment in terms of levels. There is Level 1, Level 2, and Level 3. The salary range for Masters in network security in Ireland also differs according to their level. Network security engineers who are just starting can get a fresher's salary after network security in Ireland, but the ones at the higher levels can evidently get higher salaries.

A student getting employment right after leaving college or university with flying colors will get the expected salary after studying network security in Ireland as high as €80,000 per year.
FAQ:
---
How fast can I get a job in Ireland after completing my studies?

Ireland allows students to stay back in the country for up to 2 years with the help of a work permit. So, it is essential for a student to find the job they need within this time period. The time required to get a job depends on your capability to work towards securing the job. You can find a job as quickly as within one month with the right credentials.
---
How does GoIreland help me in my journey to Ireland?

GoIreland is a full-scale consultation organization helping students in India study in Ireland. We can help you select the right university or course, avail of a loan, and even find the right scholarship according to your requirements.
---
How much does GoIreland charge for their services?

GoIreland provides all its services free of cost. We are the official representatives of several universities and colleges in Ireland. As a result, we can help you ease your journey to Ireland and provide you with the most credible information.
---
How can I get a loan to study in Ireland?

A lot of Indian banks have a special product, education loans, in their services. These banks offer education loans to students based on their requirements, credit profile, and a few other factors. To get a loan, you need to apply for the same in a bank with all the documents. We can advise you to get the right loan for your requirements and also help you get the same at a lower interest rate.
---
Is Ireland the right place to study masters in network security?

Ireland is one of the best places to study for a masters degree in network security. We say this because it has become the IT hub of Europe, and several IT giants have set up shops in Ireland and serve their customers across the globe.
---
Can you guarantee that I will get a visa from GoIreland?

We do our best to help our students get a study visa, and until today, we have a 100% visa success rate.
---
How many scholarships can I avail for studying in Ireland?

At the time, a student could only avail of one scholarship in Ireland. Although there is no limitation on applying, you can apply for any number of scholarships.
---
How to choose the best university for my studies?

We follow a formula to help students choose the best university in Ireland. First and foremost, check the university's rankings; we trust the QS World Rankings. Then, you must check the courses and curriculum along with the classroom facilities, experiential learning facilities, and faculty. Lastly, make sure to glance at the fee structure as well.
---
Can I take further studies in network security after completing my Masters?

Yes, you can go ahead and enroll in a Ph.D. in Cyber Security. The Ph.D. course will make you an expert in this field and allow you to research the sector.
---
How much time will it take to complete the Masters degree in network security?

A typical Master's course lasts for 2 years. However, some universities in Ireland have a one-year Master's level course and others have the 2-year Course. So, you can expect to spend one to two years completing your Master's degree in network security.
---