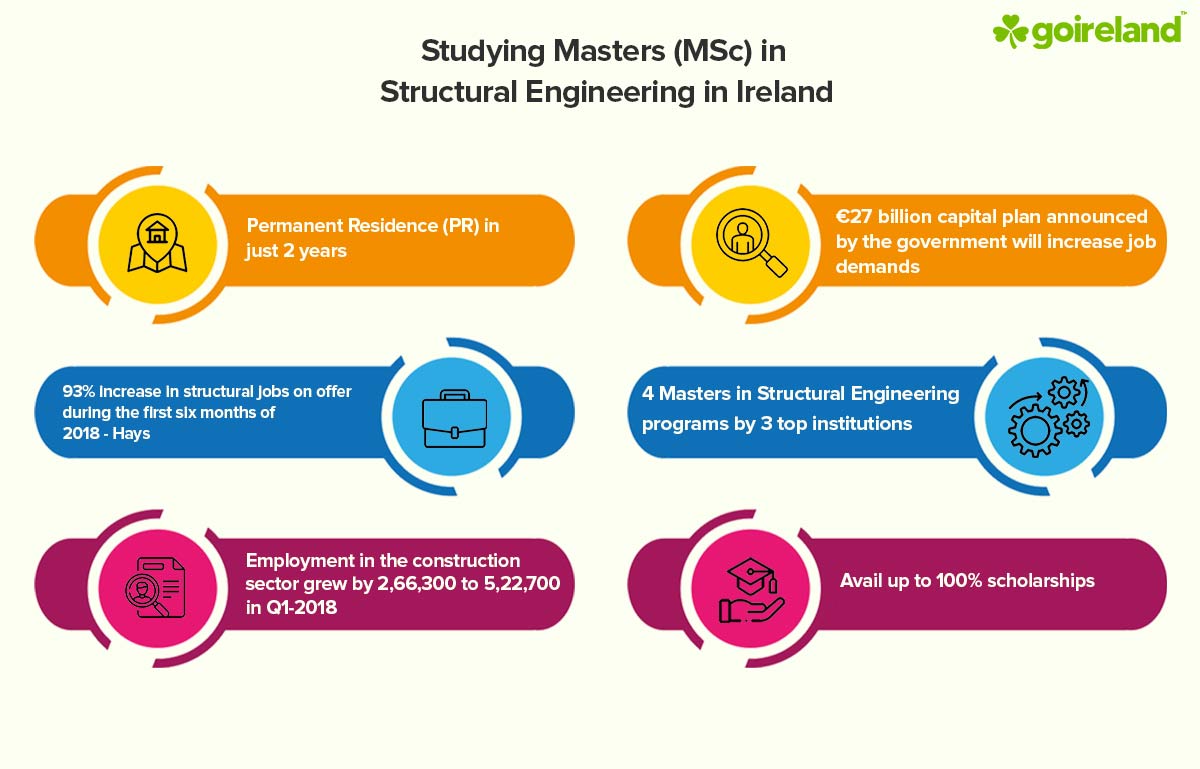 Masters (MSc) in Structural Engineering in Ireland
So, have you decided to Study Masters (MSc) in Structural Engineering in Ireland? That's definitely one of the coolest decisions you have taken for your career. High-rise buildings, distinct roads, bridges, energy and water systems, sewage networks, and many other types of infrastructure are all part of the field of civil engineering and Structural Engineering Masters in Ireland for Indian Students. People in the civil engineering and construction industries must modify designs and constructions as well as come up with solutions for difficult issues like the increasing human population or natural catastrophes. You must have a thorough understanding of the characteristics of building materials, such as steel or concrete, as well as how construction equipment operates in order to practice as a civil engineer. Engineers can create structures that meet demands for cost, safety, dependability, longevity, and energy efficiency thanks to their comprehensive expertise.
You will be involved in every step of the construction process, from choosing the building site to creating specifications for methods and materials to hiring subcontractors, assuring safety compliance by following building codes and managing all stages of construction. Systems for computer-aided design (CAD) are used by civil engineers. For building projects, CAD technologies make it simple to revise plans and produce blueprints. Transportation engineering, geotechnical sciences, and geotechnical engineering are a few of the specializations covered by civil engineering. You will study how to adhere to building codes and construction safety standards while pursuing a degree in civil engineering. You will gain knowledge in managing construction projects, performing all calculations, and making revisions as needed.

You also need to consider durability, the impact on the environment, and selecting the appropriate building materials for the tasks you'll be working on. Courses offered by Structural Engineering in Ireland for International Students will test your capacity for problem-solving. You'll have to deal with issues like finishing your construction job with few resources. Additionally, you'll need ingenuity and the capacity to adjust to unforeseen changes in your plans if you want to succeed as a civil engineer. There will be two broad career routes available to you. Either you'll work in an office managing request, design projects, and client meetings, or you'll be more hands-on and participate in actual construction projects.
If working on a building site seems appealing to you, you'll have the opportunity to contribute significantly to a team that turns a design on paper into reality. Graduates in civil engineering and construction may find employment in either the public or the private sector. Construction engineers, structural engineers, water resource engineers, and building control surveyors are some of the most sought-after professions. Ireland's educational system is routinely ranked among the top 10 worldwide. The higher education system in Ireland is designed to meet the demands of the dynamic economy. Ireland continually produces highly educated graduates who are employed by creative and forward-thinking multinational corporations with European headquarters there. These include, among many others, Sisk Group, Graham, Grafton Group PLC, Mercury, DHEL. There is always a demand for UCD graduates. Following six months of graduation from UCD, 93% of students find professional jobs or continue their education. There are around 300,000 UCD graduates working in prestigious organizations worldwide. Due to Ireland's economy being one of the quickest expanding in the Eurozone, many graduates choose to stay in Ireland after graduation and pursue professions there.
GoIreland's Extensive Footprint in India
Offices across India
250+ Experienced Consultants
Chennai, Coimbatore, Bangalore, Cochin, Hyderabad, Mumbai, Pune and many more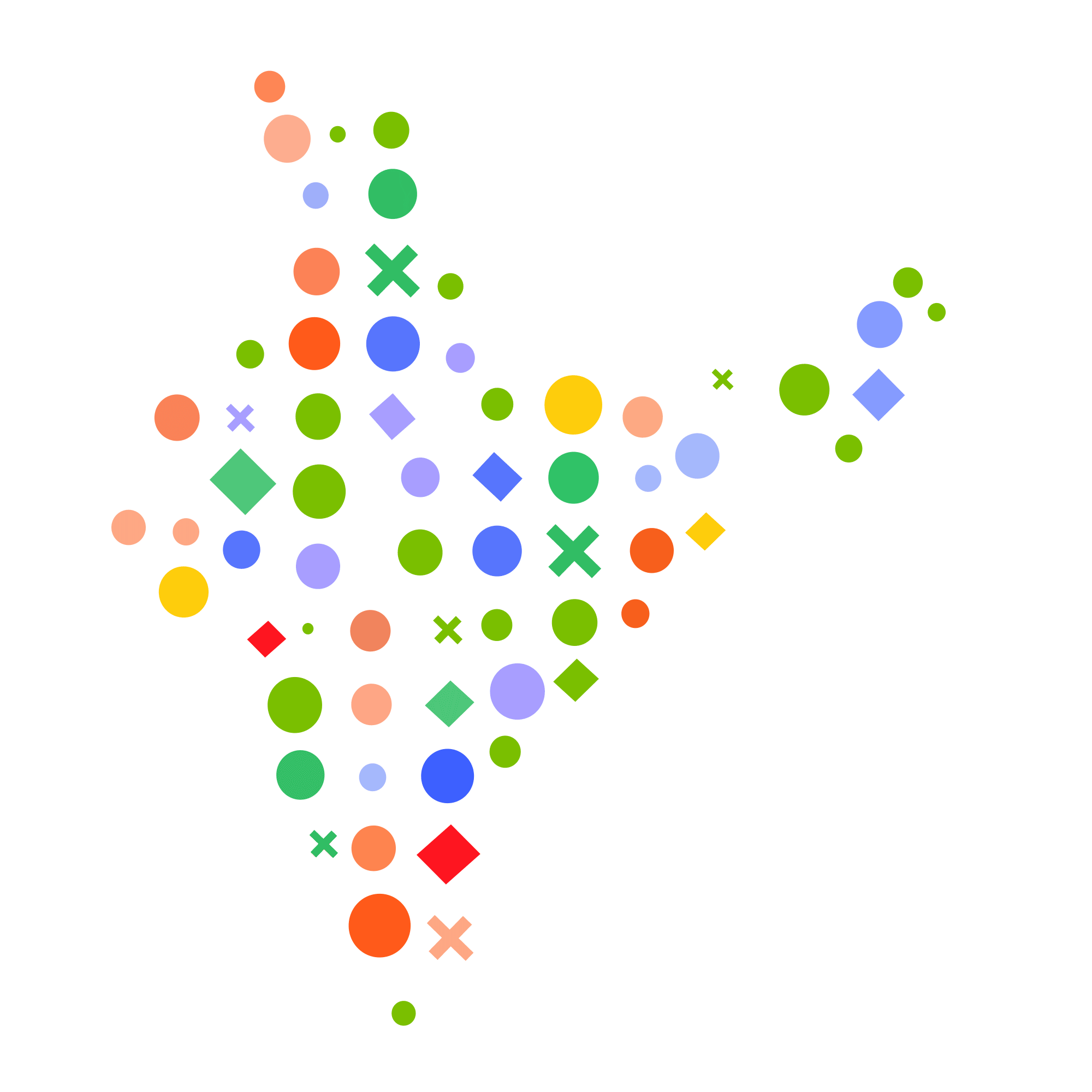 Students who want to conduct their research thesis in Masters in Structural Engineering in Dublin should pursue the MEng in Structural Engineering with Geotechnical Engineering, and students who want to conduct their research thesis in geotechnical engineering should pursue the MEng in Geotechnical Engineering with Structural Engineering. Both programs use the same taught modules. Graduates of this degree are ready to enter the wide field of infrastructure design, construction, and management as professional engineers. The academic qualifications for the title of Chartered Engineer will be met by graduates. The range of module choices is wide because you can choose a specialization in civil, structural, or environmental engineering.

The curriculum is provided by a multicultural group of highly esteemed academic staff members as a part of a school with a strong emphasis on research that continuously adapts to meet the critical issues of the twenty-first century. The administration of construction projects is covered in Irish master's programs in construction project management. Construction project management differs significantly from other types of project management in that it is goal or object-oriented, with the build serving as the project's culmination. Because there are so many moving pieces in construction projects, coordination is significantly more necessary. The phases of an Irish Masters in Construction Project Management include designing, planning, scheduling, and construction. Each phase of the Ireland Structural Engineering Masters (MSc) is quite complicated in and of itself, necessitating proper project management for their coordination.
To know about the Requirements
For more details on the various admission requirements to study Masters in structural engineering in Ireland, you can check out the detailed information below. The admission processes are fairly simple, and GoIreland consultants are always at your service to make everything flawless for you. They are able to offer the best advice on your career prospects in Ireland.
To know about Costing
Check out the details provided below to learn more about the costs involved in pursuing a master's degree in structural engineering in Ireland. The expenses include tuition, living expenses, other expenses, and many more. You can speak with GoIreland's qualified advisors to get a clearer idea of the costs.
Salary After Masters (MSc) in Structural Engineering in Ireland
There is no average salary in Ireland after Masters (MSc) in Structural Engineering restrictions for applicants who truly have potential and who are constantly updating their knowledge and abilities in line with changes in technological standards for the MSc in Structural Engineering in Ireland. After receiving an MSc in Structural Engineering, a candidate's typical salary range for Masters in Structural Engineering in Ireland ultimately depends on the position or title they are given. Working in Ireland after Masters (MSc) in Structural Engineering might lead to attractive offers from leading firms due to the great demand for qualified professionals in the area. Masters in Structural Engineering is the most employable degree in Ireland, which offers excellent job chances at reputable firms like Sisk Group, Graham, Grafton Group PLC, Mercury, DHEL, and many more, as well as a high-income range.

Structural Engineering in Ireland has a starting salary for Structural Engineering in Ireland of EUR 28,509, and graduates may expect to make EUR 26,000 in their first year of employment. After earning your Structural Engineering degree in Ireland, your expected salary after studying Structural Engineering in Ireland could range from EUR 55,000 to EUR 85,000, depending on your level of experience. At a mid-level company in Ireland, a fresher's salary after Structural Engineering in Ireland is at least EUR 30,000. This is unquestionably a solid pay range.
FAQ:
---
Why Choose Ireland for Your MSc in Structural Engineering?

Six Irish universities that offer master's degrees in civil engineering are listed among the top universities worldwide in the QS World University Rankings of 2020. More than 145,000 people were employed by the construction business in Ireland in 2018. Between 2009 and 2018, it is predicted that the number of persons employed in this sector will grow at a rate of 8% yearly.
---
What universities in Ireland offer programs in Structural Engineering?

A few of the most renowned institutions in Ireland are Letterkenny, Maynooth, University College Dublin, Limerick universities, Dundalk Technology Institute, Cork, Trinity College Dublin, and many more.
---
What are the fees for the course?

Ireland's finest universities charge between EUR 22,5750 and EUR 24,800 for a master's degree in structural engineering. Ireland's Institutes of Technology charge EUR 10,000 in tuition for a master's degree in structural engineering.
---
What is the scope of Structural Engineering in Ireland?

If a graduate pursues a master's degree in civil engineering after receiving a bachelor's, their salary may increase by 43%.
---
What subjects are required for Structural Engineering in Ireland?

Reinforced Concrete Design IV, Foundation Engineering IV, Structural Analysis IV, Theory of Structures IV, and Structural Steel Design IV are the minimal number of core subjects that students must complete. The remaining subjects must be from other fields of specialization.
---
Is it worth doing Masters in Structural Engineering?

After completing their MS in Ireland, international students are assured employment. In Ireland, the ROI is the most important masters-related factor. Getting a job in Ireland will help you launch your career and give you a chance to learn things you'll need for the future.
---
Is it easy to get jobs in Ireland after MSc in Structural Engineering?

So many students eagerly agree when the chance to find employment in Ireland after receiving a master's degree arises. With an unemployment rate of less than 5% and the present Third Level Graduate Scheme in existence, Ireland's job environment is generally advantageous for international students.
---
Is IELTS needed for Structural Engineering?

Applicants should have an average IELTS score of 6.0 without a band lower than 5.5 in order to enroll in undergraduate programs in Ireland. No bands lower than 6.5 are acceptable for postgraduate students' cumulative scores.
---
How long is MSc in Structural Engineering?

12 months full-time, 24-36 months part-time for a master's degree or MSc 10 months full-time, 24-36 months part-time for a postgraduate degree.
---
What subjects are taught in Structural Engineering Masters?

The advanced study of the course's components, such as Reinforced and Pre-Stressed Concrete, Finite Element Analysis, Structural Dynamics, and Structural Reliability and Optimization, is a requirement for the M.E. in Structural Engineering.
---