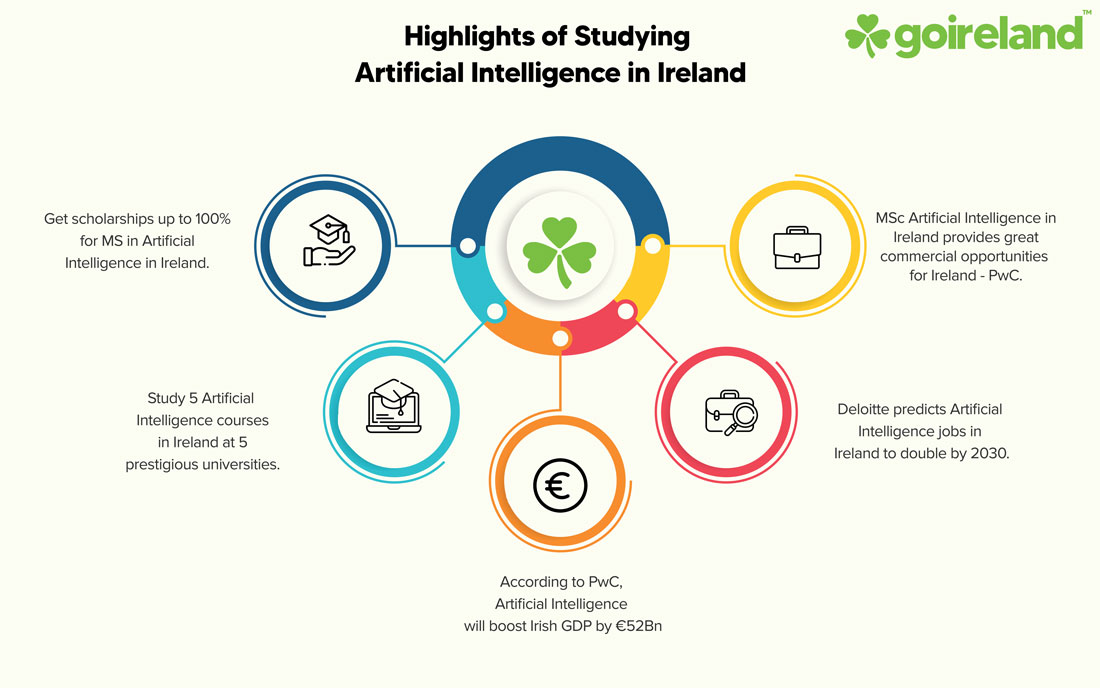 Masters (MSc) in Artificial Intelligence in Ireland
Have you adopted the decision to opt for a Masters in Artificial Intelligence in Ireland? Then, GoIreland is your best bet and the penultimate destination to receive unparalleled assistance when you are looking to study for Masters (MSc) in Artificial Intelligence in Ireland. Artificial intelligence is undoubtedly one of the most ensconced and superior technology courses these days due to increasing market demands. Artificial Intelligence deals with processing information that cannot be processed using conventional databases or require human perseverance.

The artificial intelligence (AI) Masters course in Ireland is a detailed quantum of computer science that deals with the study of allowing machines and computers to perform specific activities that would normally be feasible by applying human intelligence. Artificial Intelligence Masters in Ireland for Indian Students is a complete 2 years of post-graduation degree course that candidates can study either in a full-time program or part-time based on their feasibility. Working professionals are always advised to opt for part-time degree courses that can enable them to learn and earn simultaneously.

Artificial Intelligence is the biggest concept in technology now. Due to that, numerous technology-oriented companies have involved them in putting loads of dollars into processing information and AI-operated activities through machine learning via specific computational algorithms. Not just allowing simplicity and precision in the performance of multiple humanly-possible activities, but Artificial Intelligence can significantly bring up the efficacy of numerous businesses in diversified ways. From increasing your business reach to profits and customer retention, feedback, prediction, analysis, operations, etc., artificial intelligence can help you with all kinds of day-to-day business activities that otherwise require the assistance of human brains. As a result, the costs are reduced significantly for companies operating in multiple sectors in terms of unnecessary employment.
Catering from managing operations, risk detections, analysis, and ease of conducting business to customer retention, cost optimization, and managing complex supplier networks, Artificial Intelligence can perform immaculately for your organization in real-time. By 2030, Masters in Artificial intelligence in Ireland is predicted to boost the Irish economy by a whopping 22%. Recent observations from the recognized OECD's skills database reveal that Ireland is already behind in meeting the demands of the sophisticated skills required to benefit from the development prospects of AI while at the same time preserving jobs.

With a predicted economy of more than €52 Billion just from Artificial Intelligence, you can look forward to having very prospective prospectives post the completion of this technology core subject. According to global business data, contribution towards Artificial Intelligence is a massive €136 Billion across the world, of which the Irish nation, considered a prime Datahub lately, is predicted to amass €52 Billion annually. The analysis of data sets processed via Artificial Intelligence are sourced from diversified online sources as well as processed with precision to address multiple organizational aspects.
GoIreland's Extensive Footprint in India
Offices across India
250+ Experienced Consultants
Chennai, Coimbatore, Bangalore, Cochin, Hyderabad, Mumbai, Pune and many more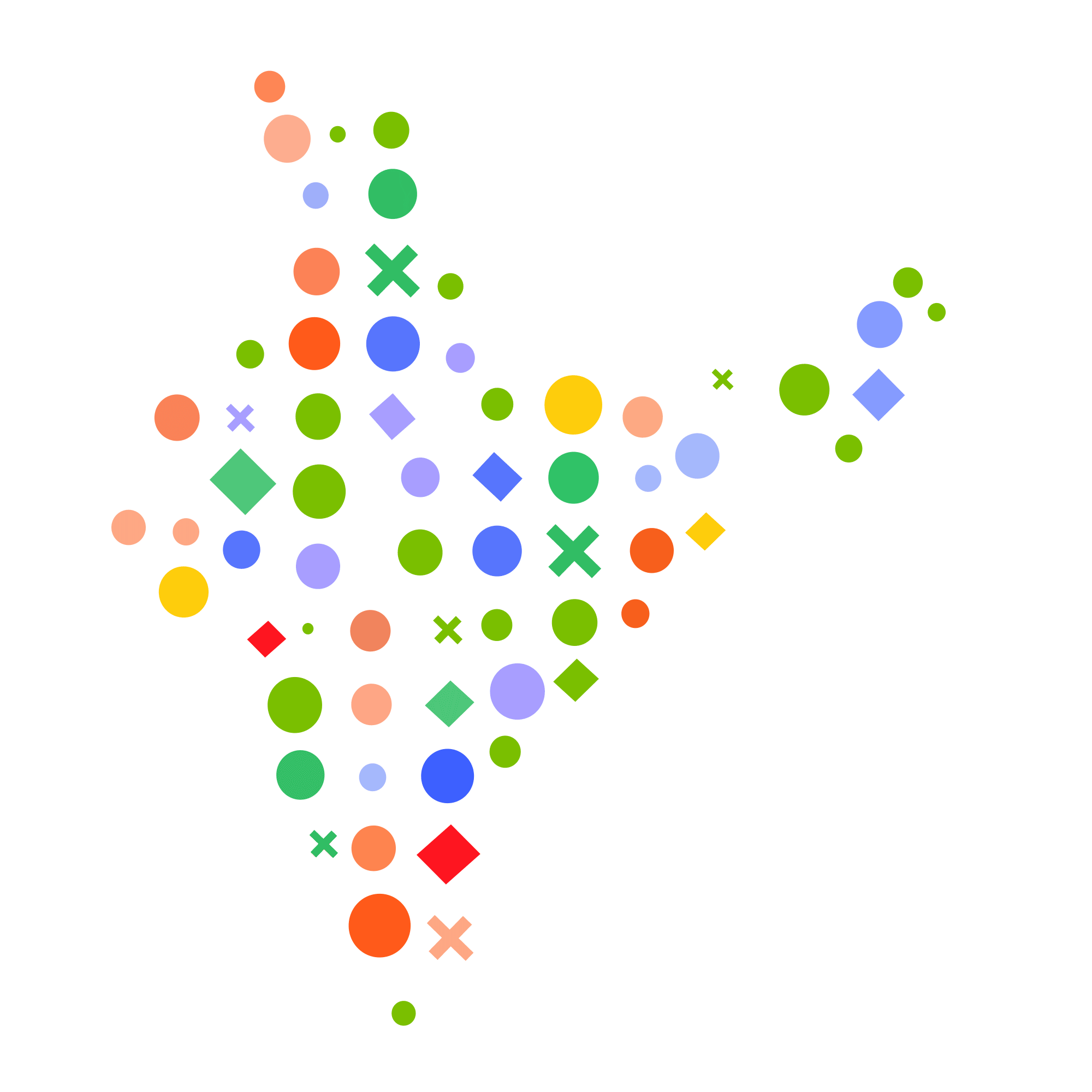 Most cutting-edge technical and non-technical enterprises nowadays are seeking expert as well as seasoned Artificial Intelligence professionals who can reshape businesses from an entirely new angle using advanced AI-driven technologies. The rapidly increasing urge for skilled Artificial Intelligence experts to enhance business outcomes has driven the way for the jubilant employment prospectives post the completion of masters in Artificial Intelligence in Ireland for International students. Ireland, featuring the most recognized

The ranked academies to complete a Masters degree in Artificial Intelligence, Dublin University, Munster Technological University Cork, Cork College Technological University of the Shannon: Midlands Midwest, etc., is apparently an ideal destination to address all your future goals. Masters in Artificial Intelligence in Dublin is a creatively designed program for talented students combining intensive theoretical and practical sessions that can eventually pump up your career in the tech industry and secure brilliant employment offers for you.
Get application fee waiver
by applying through us
I agree to GoIreland terms and privacy policy
or Ireland Artificial Intelligence Masters (MSc) needs students to bring immaculate graduation scores or marks in subjects such as pure science, business, engineering, economics, arts, commerce, etc., or any AI-associated vertical before taking admission to any university. To address the increasing demand for AI experts across multiple businesses, the AI masters postgraduate program in Ireland focuses on training apprentices in the verticals of advanced technology, complex programming, artificial intelligence, as well as advanced information processing. AI Masters course in Ireland focuses on the interdisciplinary AI nature, integrated with complex analytics and large chunks of data, by creating an environment for AI to emerge as the prime technology for years to come.

The Artificial Intelligence course degree is considered a unique 11-specialized course that comes with the objective of training students with all the required skills and a critically analytical mindset for a jubilant analytics prospect in the staggeringly enhancing AI-manipulated world. MSc in Artificial Intelligence (AI) in Ireland always has a substantial impact on the dynamic corporate world and will continue to enhance the impact in the near future. AI is regarded as the redesigning of human intelligence activities through computational programming, especially via computer systems. With the demands of processing enormous volumes of data, AI and its significance in processing those data can't be emphasized enough. This information processing technology can deal with anything easy such as credit card/debit card transactions, or something even trickier such as automated customer service.
To know more about requirements
By reading the relevant material provided below in-depth, you can learn more about the requirements for a Masters in AI in Ireland. To ensure that you fully comprehend everything, we have split down all the material. Please do not hesitate to speak with a GoIreland consultant if you have any further inquiries.
To know about costing
Check out the complete information on tuition fees, lodging costs, and other necessary charges provided below to learn more about how much an artificial intelligence course will cost you in Ireland. Any GoIreland educational specialist is available at any moment if you have questions about studying in Ireland.
Salary After Masters (MSc) in Artificial Intelligence in Ireland
Artificial Intelligence masters in Ireland is considered the most compelling and popular postgraduate studies with a rigorous amount of opportunities awaiting pupils. After finishing an Artificial Intelligence Ph.D. or postgraduate course in Ireland talented minds are able to attain a number of marvelous employment prospects in huge companies like Deloitte, Apple, Zalando, Hubspot, SAP, Logo Grab, PwC, Huawei as well as many more as seasoned AI specialists. The average salary in Ireland after Masters (MSc) in Artificial Intelligence falls between €36,000 to €43,000 per annum subject to the job description. Working in Ireland after Masters (MSc) in Artificial Intelligence can procure a massive salary figure of as high as €95,000 per annum in organizations such as Deloitte, Apple, Zalando, Hubspot, SAP, Logo Grab, PwC, Huawei, etc.

Masters in Artificial Intelligence is most employable degree in Ireland allowing talented students to attain employment in an assortment of AI areas, namely machine learning experts, computer vision engineers, senior artificial intelligence researchers, data scientists, machine learning engineers, information science managers, senior data scientists, AI algorithm engineers, and so on. The salary range for Masters in Artificial Intelligence in Ireland is substantially higher than multiple EU nations and brings an enormous possibility of promotion or hike only after the initial service year provided the candidate is able to outperform their counterparts.

The Starting salary for Artificial Intelligence in Ireland is usually €35,000 as a data analytics specialist(AI) at a mid-level tech enterprise. If perhaps you're a fresh graduate with no experience, you can procure freshers salary after Artificial Intelligence in Ireland ranging from €35,000 up to €51,000 per year, acknowledged as the very best in Europe. The expected salary after studying Artificial Intelligence in Irelandfrom the best colleges is not beneath the benchmark of €55,625 every annum and €35 an hour in any significant business in Ireland based on the 2022 record of Employment Bureaus in Ireland.
FAQ:
---
Which University is Best for MSc in Artificial Intelligence in Ireland?

The high-ranking universities for Artificial Intelligence in Ireland are: University Cork College, Trinity College in Dublin, Maynooth University, South East Technological University Carlow, University College of Dublin, Griffith College in Dublin, etc.
---
Is Ireland a good choice for an MSc in Artificial Intelligence?

Eight prestigious Irish colleges offering Masters in Artificial Intelligence are ranked among the finest universities in the world, according to THE World Ranking 2020 statistics. By paying an average tuition fee of €12,000–€21,000 per year, you can also earn an additional €43,000–€95,000 per year.
---
How to Become An Artificial Intelligence expert in Ireland?

To become an Artificial Intelligence expert in Ireland, you should avail a graduation degree in either math, data science, analytics, computational programming, information technology, engineering, or associated analysis fields. Mathematical along with statistical analysis skills are important traits for all aspirants in this vertical.
---
What can I do with an Artificial Intelligence degree in Ireland?

Students can seek jobs as Machine learning experts, Computer vision engineers, Senior AI researchers, Data Scientists, Machine Learning Engineers, Data Science Managers, Senior Data scientists, and AI Algorithms engineers after the completion of their study of Masters in Artificial Intelligence in Ireland.
---
Does Artificial Intelligence in Ireland require a lot of coding?

Artificial Intelligence does not need you to be a Pro in coding but you definitely need to have sound knowledge of analytics tools, data visualization software, as well as other data management systems. You should have a zeal for mathematics.
---
Does Artificial Intelligence require you to know Mathematics?

Linear algebra, probability, and statistics are the core part of Artificial Intelligence.
---
How can GoIreland help with Artificial Intelligence Masters in Ireland?

After reviewing their profiles, GoIreland meets with the students personally to help them choose the universities that are best suitable for them. They also assist with being accepted to the universities of their choice. In addition, we assist you with the VISA application, loan application, and housing process for your studies in Ireland.
---
What are the fees charged by GoIreland?

Your satisfaction along with a glorious career is what we charge at GoIreland. We have no other charges for the services offered to students.
---
What is your VISA attainment percentage?

GoIreland has a 100% VISA approval success rate and we take care of all the formalities. For more information, contact us.
---
Are you authorized representatives for MS in Artificial Intelligence Ireland Universities?

Yes, we are legally authorized to represent top Irish universities and our motive lies in helping you procure the most genuine information.
---
Will I get employment right after completion?

Yes, the high-ranking Irish universities we represent are outstanding in securing the best career for you and can land multiple awesome internship opportunities. For more details, you can reach our advisors at GoIreland.
---