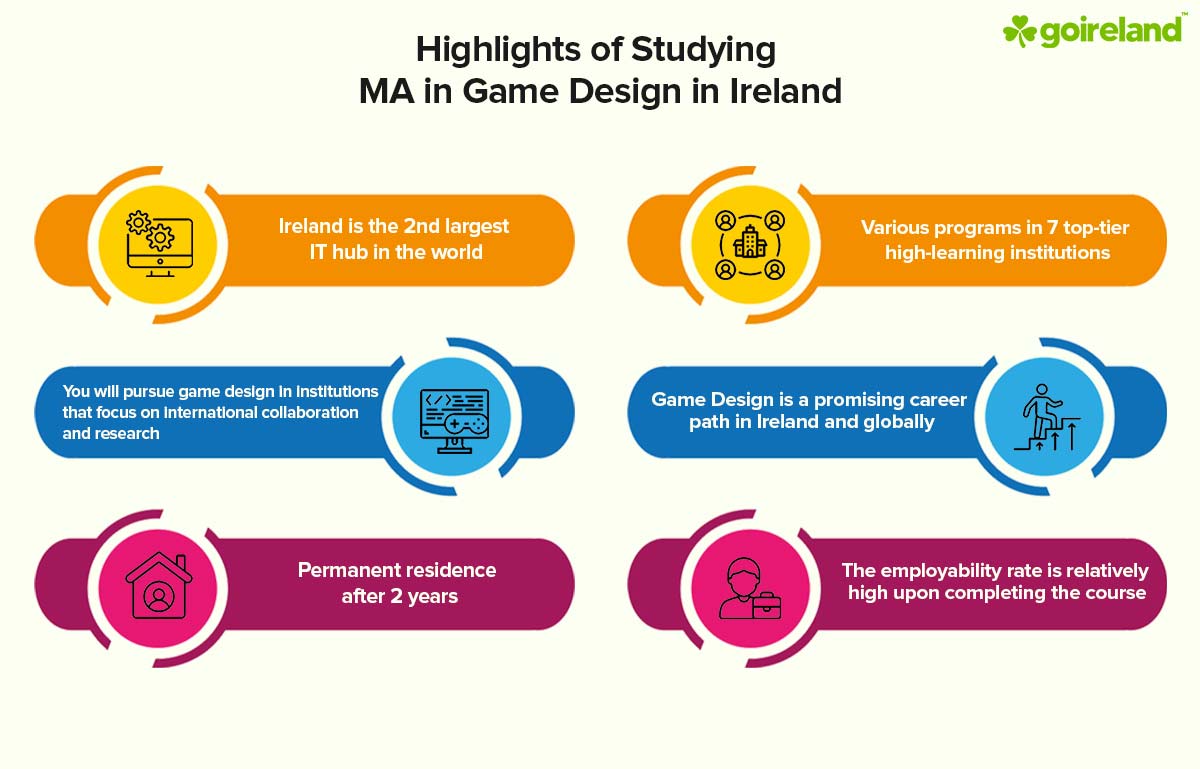 Masters (MSc) in Game Design in Ireland
It is no secret that gaming has become a common hobby among many people. You are most likely to be one of them and wish to make one or more games similar to one of those that captivate you for hours. You need the right skills, and to do so, you must study Masters in Game Design in Ireland to guarantee this skill set. It is a course that focuses on the skills required to create an interactive game that gives players an immersive gaming experience. It also adds the skills you need to be creative enough to create an original game.
Get all your doubts
clarified now for

Free
I agree to GoIreland terms and privacy policy
or The creative industry is undoubtedly competitive, and only the highly experienced stand a chance of excelling under such circumstances. Ireland is an incredible education hub ready to offer you such skills so that you can fit perfectly in the game design industry. By the end of that course, you will be able to work on various projects, including Game Design, Computer programming, 3D Animation, and Game development. A Master in Game Design combines various disciplines, such as Graphic design, Computer science, and Animation. Due to this diversity, there are various careers that you can engage in upon graduating with a Masters in Game Design in Ireland. Some are computer-related and technical. Others focus on design and have an artistic nature.

Besides peace and breathtaking scenery, Ireland is also a place to consider for higher studies. For instance, you can study for a Masters (MSc) in Game Design in Ireland if that's the career path that you have chosen. Why not when it has three significant universities offering this Master's course? Other universities and colleges are ready to open their doors to people considering to Study Master's (MSc) in Game Design in Ireland. However, the institutions have different minimum requirements, which means you cannot be admitted to every university by following a single university's eligibility criteria. Besides requirements, the tuition fees of various institutions are different. The same applies to the cost of living, which explains why Masters in Game Design in Dublin is relatively more expensive than in other cities. Regardless of all the differences. Pursuing Game Design in Ireland for international students is always advisable. The universities have existed for a long time and, hence, are well equipped to facilitate students pursuing masters. As much as Game Design isn't one of the oldest courses taught in these universities, it requires a lot of resources. Only established universities can afford them, and every institution offering the course fits that description perfectly.
GoIreland's Extensive Footprint in India
Offices across India
250+ Experienced Consultants
Chennai, Coimbatore, Bangalore, Cochin, Hyderabad, Mumbai, Pune and many more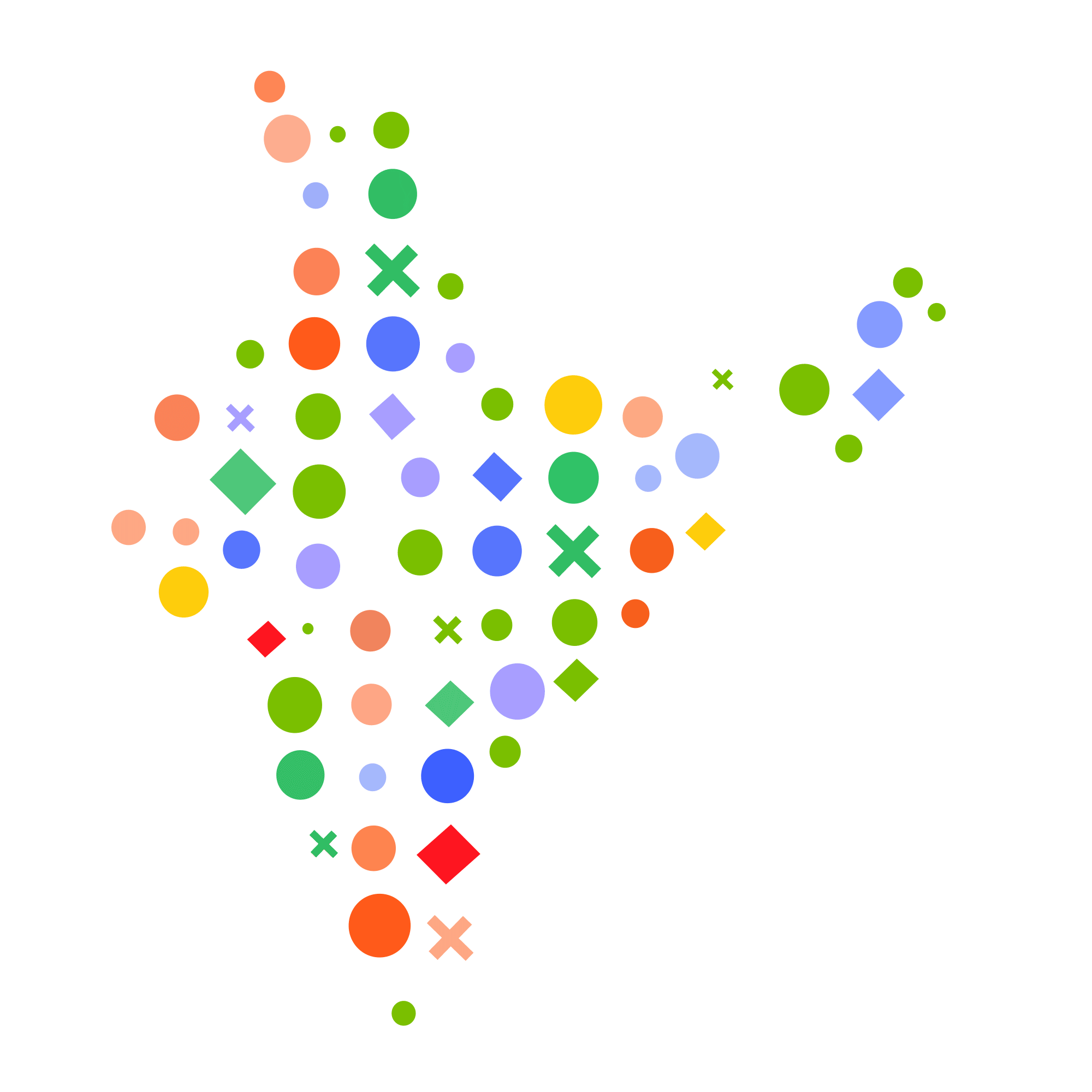 Many great and successful companies are based in Ireland. Their operations require many employees, which means many job opportunities in this country. So, there are high chances of landing one once you complete your Ireland Game Design Masters (MSc). Some people secure jobs while still studying. Besides gaining experience, you can also afford to live comfortably in Ireland until you complete your education. Game Design Masters in Ireland for Indian Students and other international scholars is also easy. They make the students feel at home even when they are miles away from their homeland. As obvious as this fact is, it is worth mentioning that the educational standards of Ireland are exemplary. They meet international standards in all ways one may think of. They are also welcoming, thus allowing students from all over the world to study in their institutions.
Get application fee waiver
by applying through us
I agree to GoIreland terms and privacy policy
or To know about the Requirements
Once you have decided upon the career choice in Game Designing by pursuing Masters in Ireland, multiple things are to be considered. You have to ensure to meet the requirements which the country and the university set to pursue your studies. The following details about every requirement that is needed for your Masters in Game Design Ireland.
To know about Costing
What are the tuition fees for a Master's (MSc) in Game Design in Ireland? What is the cost of living for a Master's (MSc) in Game Design in Ireland? Besides, how can a scholarship for a Master's (MSc) in Game Design in Ireland help lessen the burden? You would have questions of all sorts related to the amount that would go from your pocket. However, the following would help you address all these queries with a better solution from GoIreland.
Salary after Masters (MSc) in Game Design in Ireland
There is a high chance you will work in Ireland after your Master's (MSc) in Game Design. It is only fair that you know what to expect as your salary. Various companies pay their employee's different salaries, and people working in different game design sectors also get various pay. Other factors determining the money to pocket hourly, monthly, or annually include your skill set and experience. However, there is a salary that fair organizations ought to give game designers to appreciate their great job. No wonder you need to know what to expect to ensure that no one takes advantage of you because it would be unfair to work hard only to earn an unjust salary. Equally important, it is advisable to know the figure before investing time and money in acquiring these new skills.

Irish reputation is a boost to the beginning of your career. There are high chances of an employer choosing you over someone else just because you studied in Ireland. Its reputation for offering high-quality education has seen many people who have studied there earn a job quickly. Additionally, they often gain promotions due to the skills acquired during their studies. Game Design is a promising career path in Ireland and globally. So, if you study for your Masters in Ireland, it will be easy to find a job there that comes with a good salary package. Even if you choose to work elsewhere, the demand for these skills acquired is also high. The bottom line is that the employability rate is relatively high upon completing the course. Game design is also a well-paying job in Ireland. Again, you don't just get a job but also enjoy a reasonable salary. What's the need to work only to receive peanuts in the name of a salary? That's not the case after studying for a Master's in Game Design in Ireland.

Freshers salary after Game Design in Ireland isn't that high but also not bad, and it gets better with time. For instance, a starting salary for Game Design in Ireland is around €54,472. The average salary in Ireland after Masters (MSc) in Game Design can go as high as €92,833. If the expected salary after studying Game Design in Ireland is this high, the course is worth pursuing. However, if that's not the figure you are looking for, it would be advisable to reconsider this course. Remember that salaries often increase as the level and years of experience increase. Moreover, the different designations have a different salary range for masters in Game Design in Ireland. As you can see, working in Ireland after a Masters (MSc) in Game Design is smart since it means acquiring jobs that pay quite well. The broad range of careers and high pay is a reward everyone wants, and you should stop wishing and start acting. Enroll for a Masters in Game Design in Ireland because it is the right step if you want to get such lucrative jobs.
Get all your doubts
clarified now for

Free
I agree to GoIreland terms and privacy policy
or FAQ:
---
Can you get a master's in Game Design in Ireland?

Pursuing your Master's degree in Game Design in Ireland is possible. Various institutions, universities, and colleges offer this course to interested and willing students. They also welcome international students.
---
Is it easy to get a job after finishing your Master's (MSc) in Game Design in Ireland?

Thanks to the many international companies in Ireland, getting a job after finishing your Masters in Game Design won't be hard. Some people even get jobs when pursuing their Master's. Its reputation in education is also good for starting your professional journey.
---
What's the admission requirement for a Master's (MSc) in Game Design in Ireland?

Since the course falls under science and computing, the required CGPA score is relatively low. It ranges between 6.0 and 6.5 in the major universities.
---
What is the English requirement for a Master's (MSc) in Game Design in Ireland?

You are at liberty to do IELTS, TOEFL, or PTE. If your score meets the minimum requirement of your preferred university, you can get a spot.
---
What's the expected salary after finishing your Master's (MSc) Im Game Design in Ireland?

A new educational level often comes with a salary increase, and that's due to the new skills you acquire. The salary can be between €50,000 and €90,000 and above.
---
What's the cost of living when pursuing your Master's (MSc) in Game Design in Ireland?

Again, the cost of living differs based on the institution, area of residence, and lifestyle choices. It ranges between €5,000 and €10,000.
---
What's the tuition fee for studying for a Master's (MSc) in Game Design in Ireland?

Expect to pay an average tuition fee of €15,000 to €25,000 to master Game Design since it differs from one institution to another.
---
Are there scholarships for people pursuing a Master's (MSc) in Game Design in Ireland?

Yes, some scholarships can help lessen the burden of pursuing this course. Some are full, whereas others are partial. Additionally, some scholarships are general, but others are merit-based.
---
What's the PTE requirement for a Master's (MSc) in Game Design in Ireland?

In most universities that offer a Master's in Game Design, the minimum score usually ranges from 60 to 65
---
What's the IELTS requirement for a Master's (MSc) in Game Design in Ireland?

The minimum score in most universities offering a Master's in Game Design is 6.0.
---