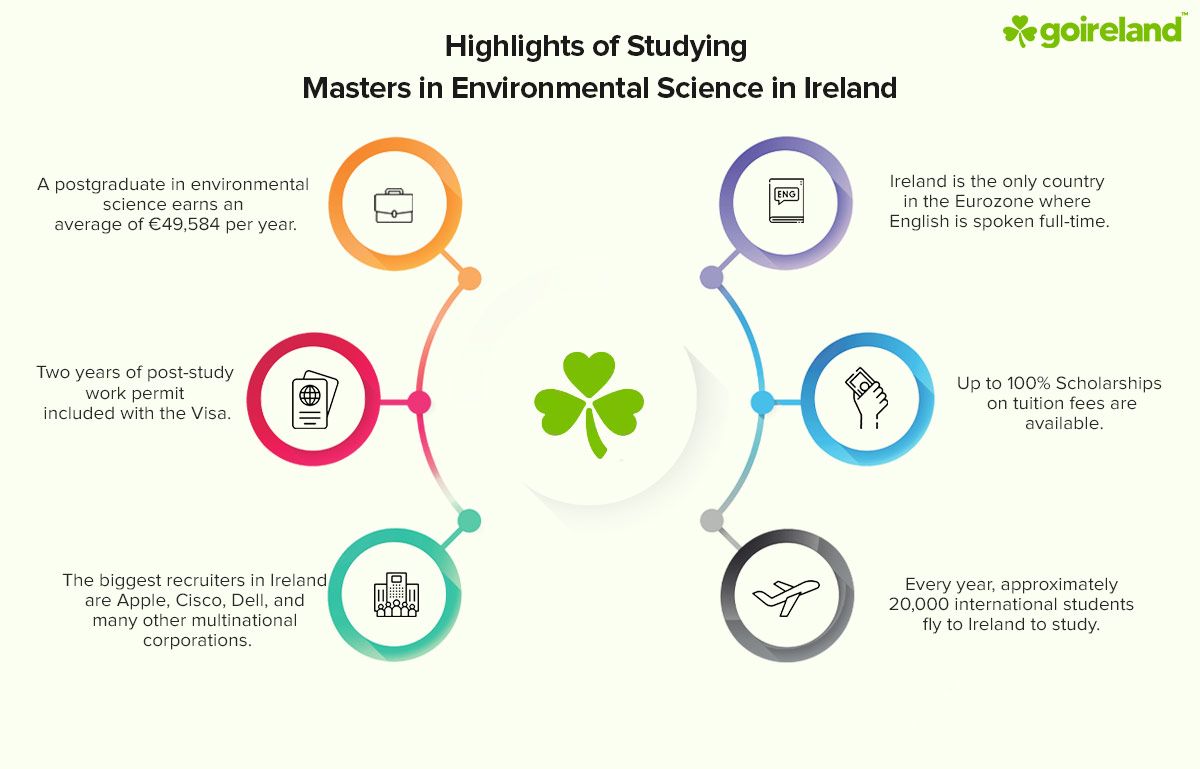 Masters (MSc) in Environmental Science in Ireland
The environment belongs to every living creature on this earth. Hence, it is one of the most vital things for every one of us. Unfortunately, today, our environment is struggling with various environmental issues, such as global warming, dwindling forests, depletion of the ozone layer and energy resources, loss of global biodiversity, and much more. Therefore, studying and becoming aware of different aspects of the environment is immense. Environmental Sciences is the study of the environment in which students are taught about various natural processes and how they affect our living.
Get all your doubts
clarified now for

Free
I agree to GoIreland terms and privacy policy
or The study deals with the analysis of various processes of water, air, land, soil, and organisms living on the earth and how polluting them leads to the degradation of the environment. Apart from that, the course also emphasises the need for safe and clean drinking water, fresh air, land fertility, healthy food, and hygienic living conditions. The course offers students a firm scientific understanding of current environmental issues and how to find useful solutions to those problems. The Ireland Environmental Science Masters (MSc) provide accumulated knowledge of the environment through theory and practical sessions to develop analytical, presentation, communication, and various other skills of students that help them compete in international markets.

Students who study Masters (MSc) in environmental science in Ireland get an opportunity to build their interest in specific areas of Environmental Science through seminars, tutorials, and extended desk study options. In all, Environmental Science Masters in Ireland for Indian students prepares them to take the necessary actions to save the planet Earth. The most popular courses in Environmental Science Masters (MSc) are Environment and Society, Environmental Hazards and Management, Environmental Geography, Green Chemistry, Environmental Nematology, Meteorology and Policy, and more. The most significant part of Environmental Science Masters in Ireland for Indian Students is that the course provides fundamental knowledge on all aspects of the environment, making the students well-versed and competent for the international job market.

With the completion of this course, the students will gain knowledge that will further help them establish policies in environmental assessment. Other than that, the students will learn to evaluate changes in environmental quality and the development of management and conservation strategies. Environmental Science in Ireland for International Students is a great course that includes information sourcing, data analysis, laboratory analyses, planning, reporting, communication, and ​​practical training in fieldwork. Students who are in a dilemma of whether to go for this course or not must not abstain from this course as it guarantees quality education with exceptional return on investment.
GoIreland's Extensive Footprint in India
Offices across India
250+ Experienced Consultants
Chennai, Coimbatore, Bangalore, Cochin, Hyderabad, Mumbai, Pune and many more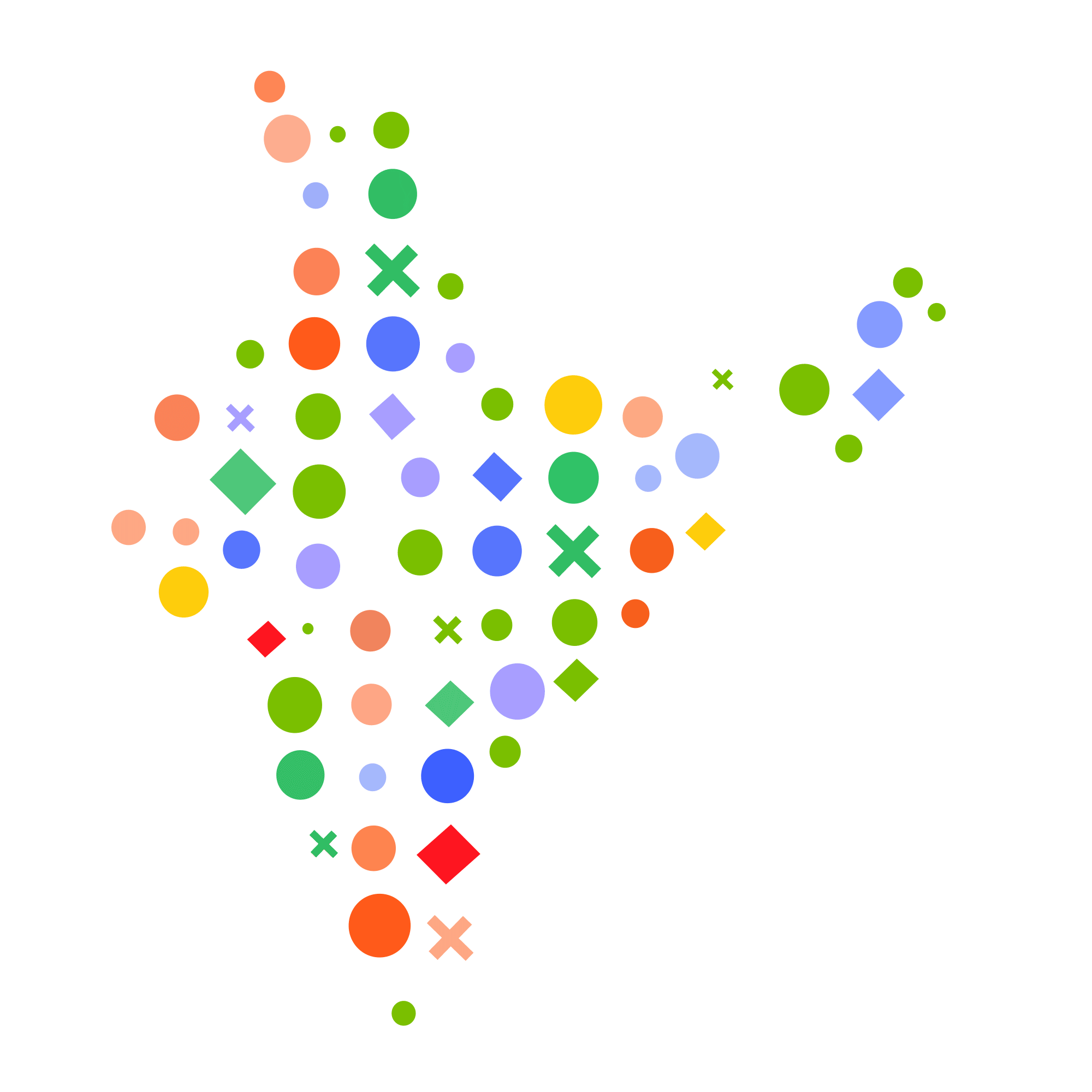 Some of the top universities to pursue Environmental Science Masters in Ireland for Indian Students are the National University of Ireland, Trinity College Dublin, University College Dublin, Maynooth University of Ireland, University College Cork, and the University of Limerick. All these institutes are highly renowned, and some of them are considered the best colleges throughout Europe. Not only the educational institutes but also Ireland has some great environmental companies working relentlessly to formulate and modify policies to save the environment. Besides that, they indulge in various ecological projects where students can gain working experience and expand their knowledge of the environment. Some of the most renowned environmental organisations in Ireland are Fusion Fuel, Exergyn, Simply Blue Group, AMCS Group, Silform Technologies, Airsynergy, DARE Technology, OxyMem, Galetech Group, Nicholas O'Dwyer, Minerex Environmental, VivaGreen Group, Biome Ireland, Trinity Green Energies Ltd, Met Eireann, SparroWatch, etc. Each of these companies offers various levels of jobs to candidates each year.

Other than these, there are several other options, such as working for the government or opening a startup, in which the candidate can make a profitable career after they study Masters (MSc) in Environmental Science in Ireland. The course duration for Masters in Environmental Science in Dublin or other Ireland universities is set for a period of 12-24 months, depending upon the university the student enrols in. Once the candidate successfully completes their course, they will be eligible to work full-time with a work visa permit of 2 years. These two years are a grace period for the students in which they can find a job for themselves. Once the job is secured, you need to reside in Ireland for a stipulated period of five years. After completing these five years, you can apply for permanent residency in Ireland. It is surely one of the easiest ways for Indian students to earn a lucrative salary and establish themselves in Ireland.
Get application fee waiver
by applying through us
I agree to GoIreland terms and privacy policy
or To know about the Requirements
Studying Environmental Science in Ireland can turn out to be a life-changing experience for any student. Once you understand the course and its structure, the next step is knowing about the requirements and eligibility criteria to get admission.
To know about Costing
After knowing the requirements, the next part talks about the tuition fees and living expenses a student must sponsor to study in Ireland. While understanding the cost, we will also share different scholarships a student can obtain and the expected salary structure.
Salary After Masters (MSc) in Environmental Science in Ireland
Masters in Environmental Science is most employable degree in Ireland. The job and salary prospects hugely widen on completion of your Masters in Environmental Science in Ireland. As discussed in the above sections, the average salary in Ireland after Masters (MSc) in Environmental Science is around €40,000-€50,000. Let us get into the details of it and find out more specific salaries one can get after pursuing this course. Before jumping to the salary, let us first take a look at various job profiles that you can get after your course's completion. Here is freshers salary after Environmental Science in Ireland. The starting salary after studying environmental science in Ireland is around €25k - €36k per year. An environmental scientist makes around €27k - €46k annually. The estimated salary after studying Environmental Science in Ireland is around €28k - €43k per year.

The above-given salaries are not absolute and differ with different organizations and companies. However, we can say that working in Ireland after Masters (MSc) in Environmental Science can be a great opportunity that provides a decent status of living. Expect your Salary Range for Masters in Environmental Science in Ireland to grow after completion of the course. Also, it is suggested to take any offered training and internships. Firstly, they offer you immense knowledge, and secondly, they can pay you off really well. So never miss an opportunity to work and live the life of your dreams by pursuing Masters in Environmental Science in Ireland.
Get all your doubts
clarified now for

Free
I agree to GoIreland terms and privacy policy
or FAQ:
---
Is Ireland a good place to pursue your higher education?

Ireland is considered to be one of the best countries for higher education in the world. It has some of the most prestigious and highly renowned institutions, like Trinity College Dublin, University College Dublin, University College Cork, etc., which offer innovative and contemporary courses in multiple fields for students from around the globe. Pursuing higher education in Ireland will surely have a positive impact on your career growth.
---
How does GoIreland help students to study in Ireland?

GoIreland is a prominent organization that has been working for years and sending students from across the world to Ireland universities. We offer our registered members personalized services by guiding them on courses for higher education, laying out paperwork, and helping them with all queries related to studying abroad.
---
What is the minimum pass percentage for MSc in Environmental Science in Ireland?

You need to achieve a minimum of 40% to pass your MSc in Environmental Science in Ireland.
---
Does a Masters's degree in Ireland have a higher value of degree than that in India?

It all depends upon the institute where you study, whether in Ireland or India. Though a degree from Ireland may be considered more valuable in some countries, it can not be said that Indian degrees lack value. However, you should aim to study at the best Ireland university to gain fully from the course.
---
Can I work part-time while pursuing my degree in Ireland?

Yes. You can work for a limited hour time every day on your student visa. However, once your course is finished, you will get a grace period of two years to search for a full-time job.
---
Can you prepare SOP (Standard Operating Procedure) and LOR (Letter of Recommendation) for us?

Yes, definitely. We will assist you in filling out all the forms related to your VISA application. We have a team of experts that can guide you step-by-step in your VISA application process. Apart from that, we will also provide SOPs and LOR for you.
---
What is the total expenditure cost to pursue a Master in Environmental Science in Ireland?

Without a scholarship, it will cost you approximately 20-25 Lakhs to complete your entire degree in Ireland.
---
What is the time duration for Masters in Environmental Science in Ireland?

There is no fixed time duration for your Masters in Environmental Science in Ireland. Depending upon the institute you are applying for and the course you wish to avail of will decide the duration of your course. In general, MSc in environmental science has a time period of 1-2 years.
---
Do you charge for your services?

No, our services are completely free, and our sole motto is to help students build secure careers for themselves.
---
Is it necessary to clear any of the English-Proficiency tests?

Yes. Most Irish universities require a certification that states that you are well-versed in the English language. It shows that you can speak, write, and understand the language and will be able to communicate with teachers and other students in the university.
---