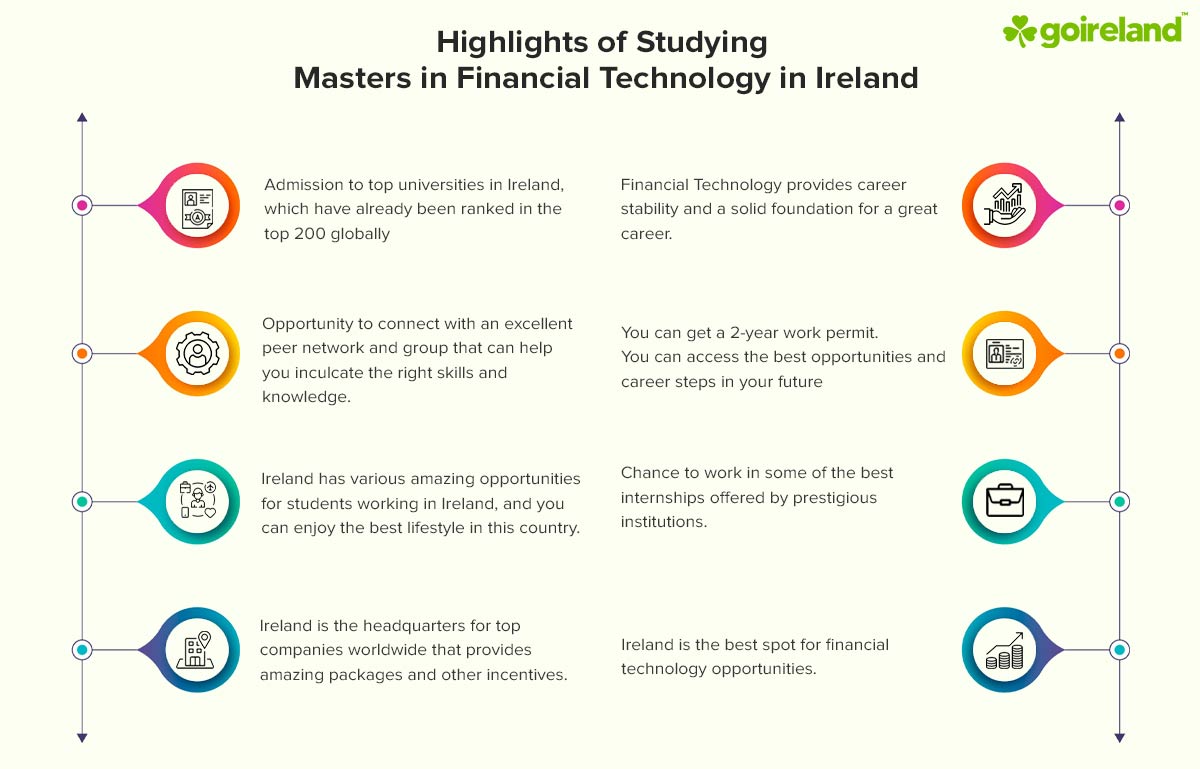 Masters (MSc) in Financial Technology in Ireland
You can study masters (MSc) in Financial Technology in Ireland by taking guidance from GoIreland, as it provides financial assistance and other bonuses that will enhance or smoothen your process for application and entrance to a prestigious college. 2 years of full time employment after your Financial Technology Masters in Ireland for Indian students and Financial Technology in Ireland for international students can make you eligible to apply for a PR.. Ireland Financial Technology Masters (MSc) will help you build a great financial technology career by providing you with the required knowledge and skills. This will give you both valuable experience and sharpened skills, making your resume more appealing. You will also be able to learn from your experience, which will make you more prepared for the industry. With gradual experience and practice, you will become an expert and attain a Masters in Financial Technology in Dublin.
Get all your doubts
clarified now for

Free
I agree to GoIreland terms and privacy policy
or With the help of GoIreland, you can smoothly pursue a better career in Ireland. There is a high probability that you will be placed in the world's best companies due to the growing demand in the finance sector. GoIreland serves students with high expectations for the future, and as a result, we have gained valuable expertise that helps provide excellent services and constant guidance. The GoIreland family has over 35,000 international students who have vouched for its excellence in providing support with high standards.
GoIreland's Extensive Footprint in India
Offices across India
250+ Experienced Consultants
Chennai, Coimbatore, Bangalore, Cochin, Hyderabad, Mumbai, Pune and many more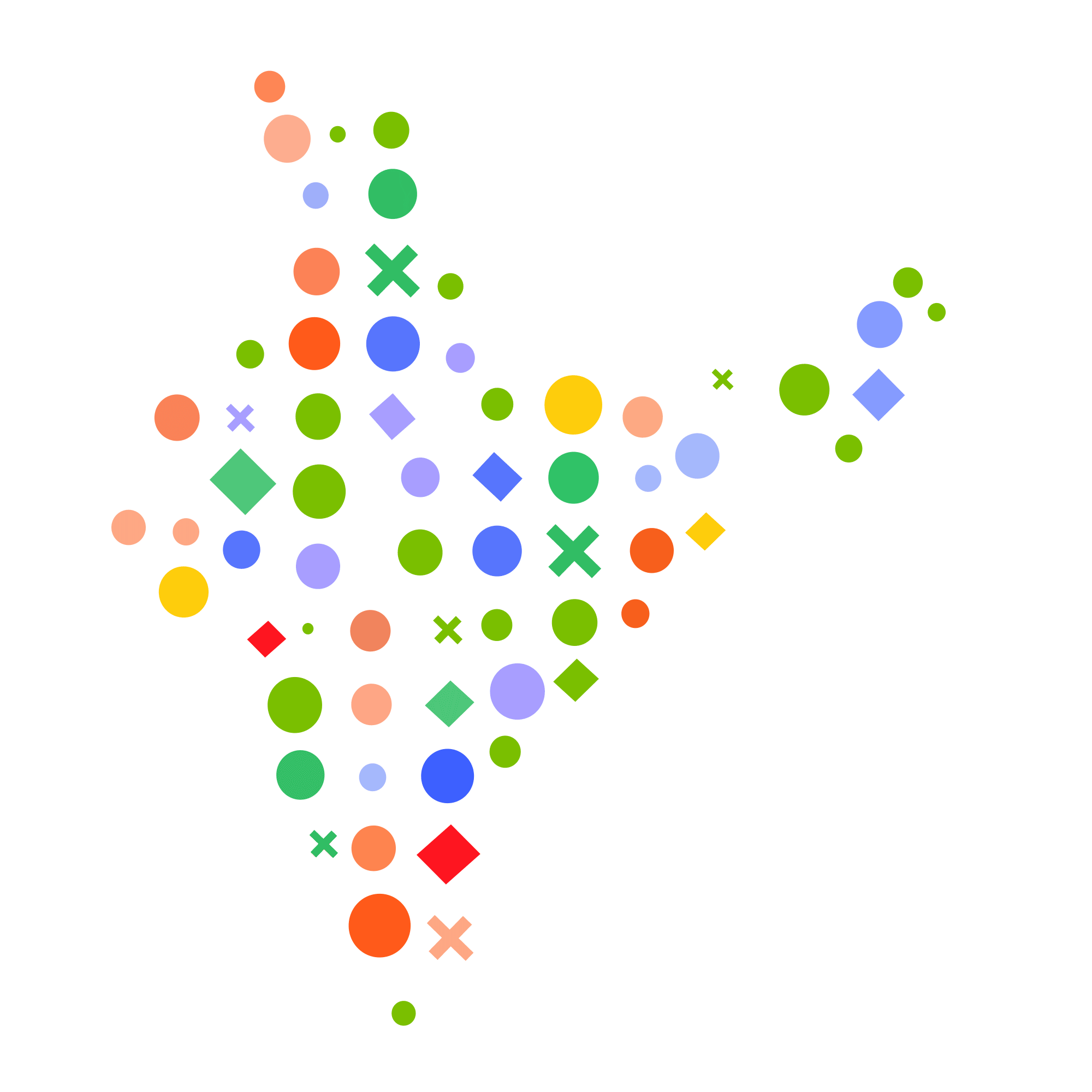 To resolve the students' concerns, GoIreland aids you to choose courses which are part of the critical skills that provide high employment opportunities and career growth. Students are usually concerned about the poor job-creation rate at high-profile schools. As we are facing a constant issue of the skill gap in the market, GoIreland ensures that you are completely prepared for the industry after completing your post-graduation by ensuring you choose the best courses and universities to cater to the needs. All the institutions recommended by us are the best, which have excellent placement records and quality education.
Get application fee waiver
by applying through us
I agree to GoIreland terms and privacy policy
or If you want to get an advanced degree in finance, then the CV will support you in getting employment in the top companies in your field that pay heavily for your expertise. GoIreland is a guiding light to build a concrete foundation for your future. Financial Technology. In addition to providing you with the most career opportunities and the finest assistance in choosing universities, we recognize that the cost of education abroad is substantial. We provide you with professional assistance on SOPs, LORs, and Resumes to reduce your burden and assist you in focusing on your education and career. GoIreland provides personalized assistance on the admission procedure and scholarship in collaboration with various certified Irish education specialists. Studying in Ireland involves many complicated procedures, and you can avoid them with the assistance of GoIreland in your quest for Masters in Financial Technology in Ireland. You will also receive education loan assistance through customer service and complete guidance on other subjects.
To know about Requirements
Before applying for a masters in Financial Technology in Ireland, there are various requirements that one must meet to get admission to the best university in Ireland. These requirements remain constant among all the institutions, but certain unique requirements might vary from one institution to the other. Hence it is also important that you contact your particular institution to know about the exact requirements of the documents. Read ahead to learn more about the general eligibility criteria to enter a university in Ireland.
To know about costing
Although the lifestyle you choose when moving to Ireland is based on many variables, including cost, it is crucial to make an educated decision about your monthly expenses. We have provided an estimate of how much you may have to pay as an example to make an informed decision about your move.
Salary After Masters (MSc) in Financial Technology in Ireland
It is true that the average salary in Ireland after masters (MSc) in Financial Technology after completing an MSc in Ireland is quite high, but it is also worth noting that the cost of living here is also relatively high. Nevertheless, the average salary for someone with an MSc in Financial Technology in Ireland is still quite high, making it a good choice for someone looking to make a good salary. When you have invested heavily in your studies, then it is essential that you start working in Ireland after Masters (MSc) in Financial Technology in top 500 Fortune companies like Primark, Dunnes store, Marks & Spencer, IKEA, H&M, Brown Thomas, Lifestyle Sports, Aldi Ireland, Musgrave, and many others. You have a great probability of working in the best companies because a Masters in Financial Technology is most employable degree in Ireland due to the high demand for finance students.

Based on our research, recent graduates in Ireland with a degree in financial technology earn an average starting salary of €33,000. This is lower than the average starting salary in Ireland for graduates with a business-related degree, which is €40,000. However, it is higher than the national average starting salary of €26,000. Your starting salary for Financial Technology in Ireland will also depend on the specific financial technology field you enter, your level of experience, and the company you work for. The salary range for Masters in Financial Technology in Ireland starts from € 35,000 to over € 100,000. The average salary for a masters in financial technology in Ireland is around € 65,000. Salaries for Ph.D. holders in financial technology in Ireland are typically around 80,000 euros.

Many people who have completed a Masters in Financial Technology (MFiT) will find themselves in a good place financially. Although many different options are available when it comes to finding a job, many people will find that the salary after completing an MFiT is quite high. The freshers salary after Financial Technology in Ireland is approximately € 36,000 annually, and gradually the expected salary after studying Financial Technology in Ireland is approximately € 49,000. Salaries for financial technology (FT) professionals in Ireland can vary significantly depending on the company and role. Some FT roles may have starting salaries of €50,000, while others may pay up to €250,000. In general, salaries for FT professionals in Ireland are higher than those in other European countries, but they are not as high as those in the United States.
Get all your doubts
clarified now for

Free
I agree to GoIreland terms and privacy policy
or FAQ:
---
Is Ireland a nice place with growing opportunities for financial technology?

Ireland has 270 Irish and 120 International companies. It has the top 10 global finance Fortune companies, which is a dream for various passouts of finance. You have immense opportunities to grow your career in Ireland and create a stable income.
---
Is financial technology in demand in Ireland?

Financial technology is on a constant rise. The requirements for fintech are also increasing. Mobile banking, UPI, crypto, and many other technologies have made the life of people easier than before.
---
Is Ireland the best country for pursuing a postgraduate degree in fintech?

Ireland offers the best Financial Technology degree from prestigious institutions. Apart from Ireland, some other countries which offer the best financial technology degrees are Australia, the UK, USA. Canada and France.
---
Is Post-graduate courses in fintech worth the hype?

The placement records from the universities that offer courses in finance speak volumes about the course and the demand for finance students.
---
Is Financial Technology an in-demand career in Ireland?

Ireland is one of the best countries to build a career in Financial Technology as it has many organizations that require experts to come on board. Ireland is the common choice of students from all over the world for further studies and development.
---
How to register for Financial Technology in Ireland?

You can fill out an online application form for your college or university directly. The applicant fees depend on the grading level of the college or university. In general, the amount will differ by school or college.
---
Is Financial Technology in demand in Ireland?

The world runs on money and technology. Therefore, financial technology is critical for the industry, organizations, and businesses.
---
Which country pays the most luxurious package in Financial Technology?

Switzerland pays luxurious income to financial technology students
---
What is the average package of Financial Technology students in Ireland?

The average package for financial technology students in Ireland is €45,000 per year. The salary ranges between €30,000 to €70,000 per year.
---
Is Masters in Financial Technology difficult?

If you have a mathematical background, a financial technology course will be a cakewalk for you. Still, if you have a non-mathematical background then it will be a bit difficult. But with daily practice, you can achieve proficiency.
---