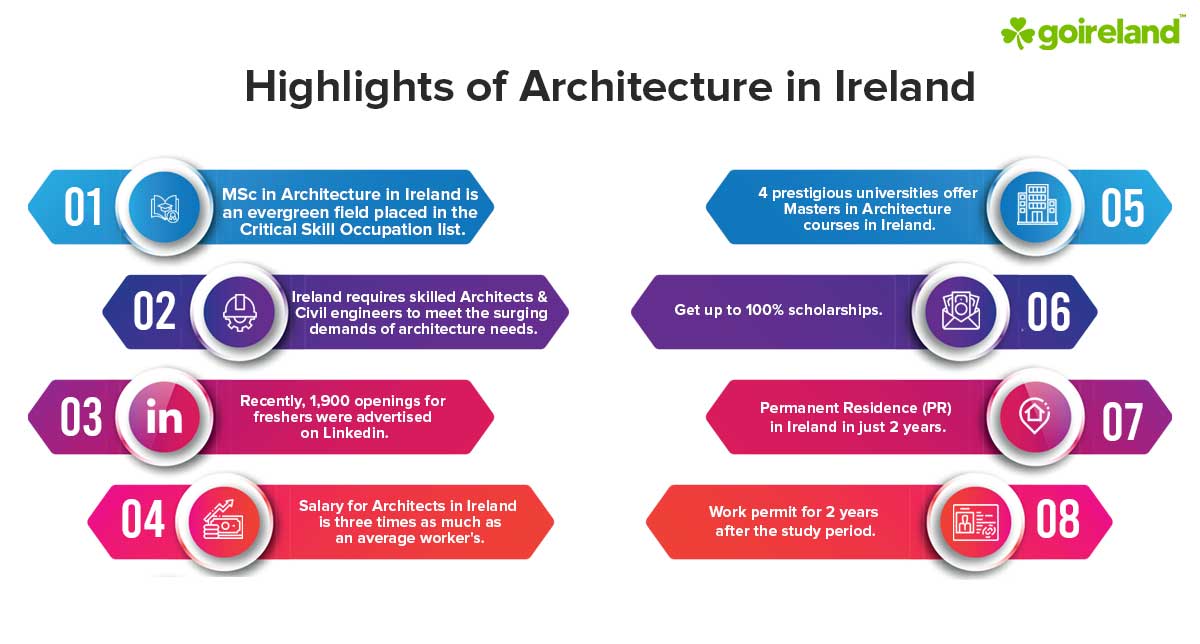 Masters (MSc) in Architecture in Ireland
Intending to study for higher education in Architecture in Ireland? GoIreland is the best place to get unparalleled help when you are looking to study Masters (MSc) in Architecture in Ireland. Architecture deals with the study of planning, designing, and construction of various architecture involving residential, commercial, and historical monuments. Education involves new construction and renovating old buildings to restore their lost glory. Architecture Masters in Ireland for Indian Students comprises a post-graduation course that can be completed within a year or extended up to a couple of years with the feasibility of completing both a full-time degree course and also part-time for candidates pursuing this specific educational program. Full-time course programs are designed for students who have completed their graduation and went to study abroad, while part-time programs are for working professionals who want to learn and earn simultaneously.
Masters in Architecture in Ireland is a study that integrates planning, designing, and construction of buildings with other physical structures. Architecture Masters in Ireland brings opportunities for international students to study the intricate, complex design and structure of a specific building along with other physical entities. Masters in Architecture in Ireland equips students with highly visual, creative, technical, and design-based architectural skill sets. From the construction of a new commercial or residential building, the construction of high-tech towers or commercial properties, to the renovation of massive historical buildings, monuments, etc., this study entails it all in one single post-graduate program.

Applications from students for construction, surveying, and other architecture courses in Ireland went down by 55% between 2008 and 2012. Still, with the rising demands for new homes and commercial properties and the need for renovation, remodeling has again spiked up student application rates. The Society of Chartered Surveyors consistently marked a massive shortage of properly qualified, skilled, and expert graduates in this construction sector, including property surveying, quantity surveying, and building surveying. There has been an exceptional response to this clarion call, with CAO points for Architecture Masters. With an expected economy & investment of more than EUR 50 Billion just from construction and Architecture, students have well-assured successful employment prospect post the completion of this program. According to Globaldata, investment towards Architecture is predicted to surpass EUR 500 Billion globally, of which Ireland, considered a construction hub recently, is foreseen to amass EUR 50 Billion annually. Construction has since long been a very cyclical and dynamic business. Hence, folks interested in working in this sector must be flexible and ready to settle abroad or change their career without prior notice.
Most globally renowned construction companies are set up in Ireland, which has increased the demand for talented fresh minds in this business. With several renowned architectural societies more eager than ever to preserve historical monuments, architecture masters in Ireland are highly demanding in terms of employment. The high demand for skilled architecture experts to design, plan, construct, maintain and renovate important buildings have shown the way for a profitable employment career after the completion of Architecture in Ireland for International students. Ireland has been housing a few prestigious universities for taking Masters in Architecture, such as the famous Dublin University, ensconced University College Cork, Letterkenny Institute of Technology, Griffith College Dublin, etc., which is perhaps the best career destination for your future goals. Masters in Architecture in Dublin is a carefully designed course for deserving students with extensive practical training and detailed theoretical classes intended to make them adept in planning & designing using numerical formulas for precision. For the upcoming generation of architectural engineers, it really is regarded as a postgraduate degree that will shape their careers.
GoIreland's Extensive Footprint in India
Offices across India
250+ Experienced Consultants
Chennai, Coimbatore, Bangalore, Cochin, Hyderabad, Mumbai, Pune and many more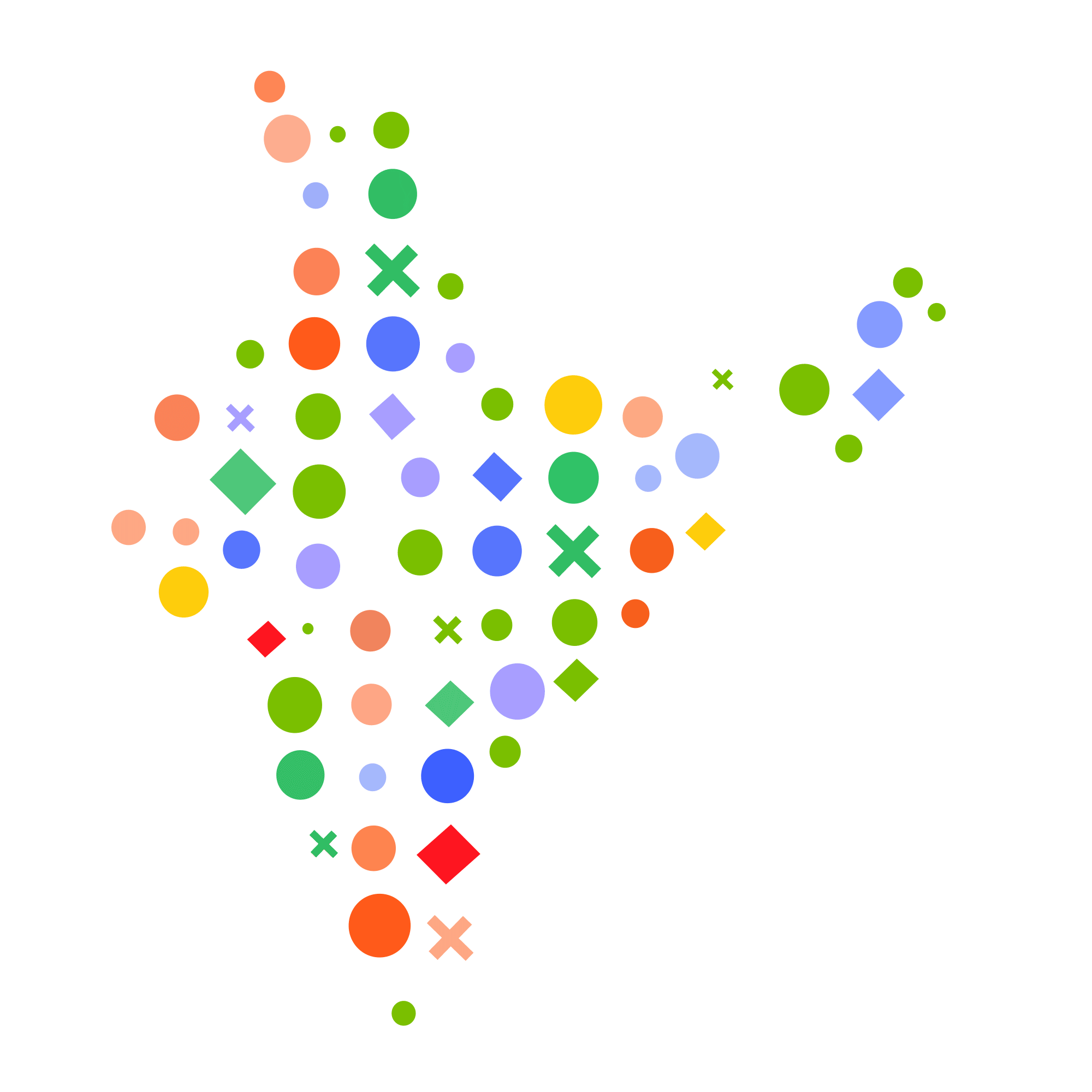 Ireland Architecture Masters (MSc) demands students to procure high-scoring degree marks in fields such as math, science, arts, engineering, or commerce before admission to Irish universities. The Architecture course masters can be considered a specialized degree course of level 9 that aims to equip students with all the necessary skills, analytical approach, and mind for a prominent architecture future in the rapidly evolving architecture industry. The study assists pupils in understanding the core of designing and architecture so that they can build and design flawless monuments, buildings, etc., with superior precision. Construction is undoubtedly the best rewarding career option because it is worthwhile for talented aspirants keenly interested in architecture or who might have already excelled in numerous technical drawing or other woodworking projects.
To know about the Requirements
Find out all the information related to education in Ireland which is given below. Moreover, you can know and understand the requirements. We have laid out everything in detail so that you can have a clear understanding. You can reach out to a GoIreland advisor for all the queries that are piled up after your research and reading.
To know about Costing
Take a look at the below-detailed info on tuition costs, accommodation costs along with other essential expenses for your education in Ireland. To discuss your study in Ireland with one of GoIreland's educational consultants, you can always reach out to them.
Salary After Masters (MSc) in Architecture in Ireland
Architecture masters in Ireland is amongst the most demanding courses and an amazing postgraduate program with diversified options awaiting candidates. Post-completion of the Architecture course in Ireland, there are enormous employment leads in huge companies, for instance, National Building Agency, RKD Architects, COADY Architects, Henry J Lyons Architects, and Urban Agency, along with many more proficient architectural engineers. The average salary in Ireland after Masters (MSc) in Architecture is somewhere around EUR 37,348 to EUR 58,186 per annum based on the employment profile. Working in Ireland after Masters (MSc) in Architecture can provide students with an outstanding salary of as much as EUR 91,000 per annum or maybe EUR 33 per hour in organizations like National Building Agency, RKD Architects, COADY Architects, Henry J Lyons Architects, Urban Agency, etc.
Masters in Architecture is most employable degree in Ireland, leading to employment chances such as site manager, landscape architect, Civil engineer, Planning engineer, Structural engineer, Building Services Engineer, material Scientist, and a lot more prospects. The salary range for Masters in Architecture in Ireland is always considered significantly better than other EU nations. It comes with the possibility of a 90% hike during the initial years of service, depending on their job performance. The Starting salary for Architecture in Ireland is usually EUR 37,348 for site managers at a start-up or mid-level organization.

If you happen to be a fresher, then the freshers salary after Architecture in Ireland ranges from EUR 35,000 up to EUR 58,000 per annum can be anticipated, which is more awesome than many other countries. The expected salary after studying Architecture in Ireland from top Irish universities does not come below the set benchmark of EUR 45,000 every year in leading companies in Ireland as per the report submitted by global data in 2021.
FAQ:
---
Which University is Best for MSc in Architecture in Ireland?

Some of the most prolific universities for Architecture in Ireland are Trinity College Dublin, Maynooth University, Griffith College Dublin, University College Dublin, Technological University Ireland, University Cork College, etc.
---
Is Ireland a good choice for an MSc in Architecture?

According to the 2020 THE World Ranking, 8 major Irish universities teaching Masters in Data Science come under the paramount global universities. You can earn from EUR 38,000 to EUR 92,000 every year against the average course fee of EUR 12,000 - EUR 26,000 per annum.
---
How to Become A Data Scientist in Ireland?

To surpass expectations as an architecture engineer in Ireland, students should have a high-scoring graduation degree in science, commerce, arts, graphics, design, or any other relevant niches. Mathematical as well as creativity, and designing skills are important criteria for various aspirants in the architecture sector.
---
What Can I Do With an Architecture Degree in Ireland?

Students can procure employment as site managers, landscape architects, Civil engineers, Planning engineers, Structural engineers, Building Services engineers, and material Scientists after their study for a Master's in Architecture in Ireland.
---
Is Ireland Good for Employment Prospects in Architecture Masters?

Architecture in Ireland is directly under the Critical Occupations Skills list and is a comprehensive course. As a result, the Architecture masters courses available in Ireland are of excellent quality and bring brilliant employment prospects.
---
Does Architecture Involve a Lot of Math?

Architects should possess a strong knowledge of various mathematical principles for effectively planning and designing buildings and other physical structures. Students must go through several math classes in college when they want to obtain a degree in architecture.
---
How GoIreland Assist With Architecture Masters in Ireland?

After reviewing the student profiles, GoIreland meets with them personally to help them choose the institutions that are the greatest fit, and it also assists them in obtaining admission to those universities. We also assist students with the application for a VISA, obtaining a loan, and finding housing while studying in Ireland.
---
What are the fees to engage with GoIreland?

Our charges at GoIreland are customer pleasure and a successful career. Regarding any of the services we provide to students, there are no fees associated with them..
---
What is the percentage of the VISA attainment?

By working tirelessly, GoIreland has achieved a record-breaking success rate of 100% for VISA approvals. Get in touch with us for further details regarding the visa process.
---
Are you authorized representatives for MS in Architecture Ireland Universities?

Yes, GoIreland is licensed to represent prestigious Irish colleges and is committed to assisting you in finding the most reliable information.
---
Will I receive job opportunities right after graduation?

Yes, the best Irish colleges we represent would assist you in getting the greatest job opportunities when you complete the program. Based on your success, you can be given attractive internship possibilities. Contact GoIreland's experts for further details.
---