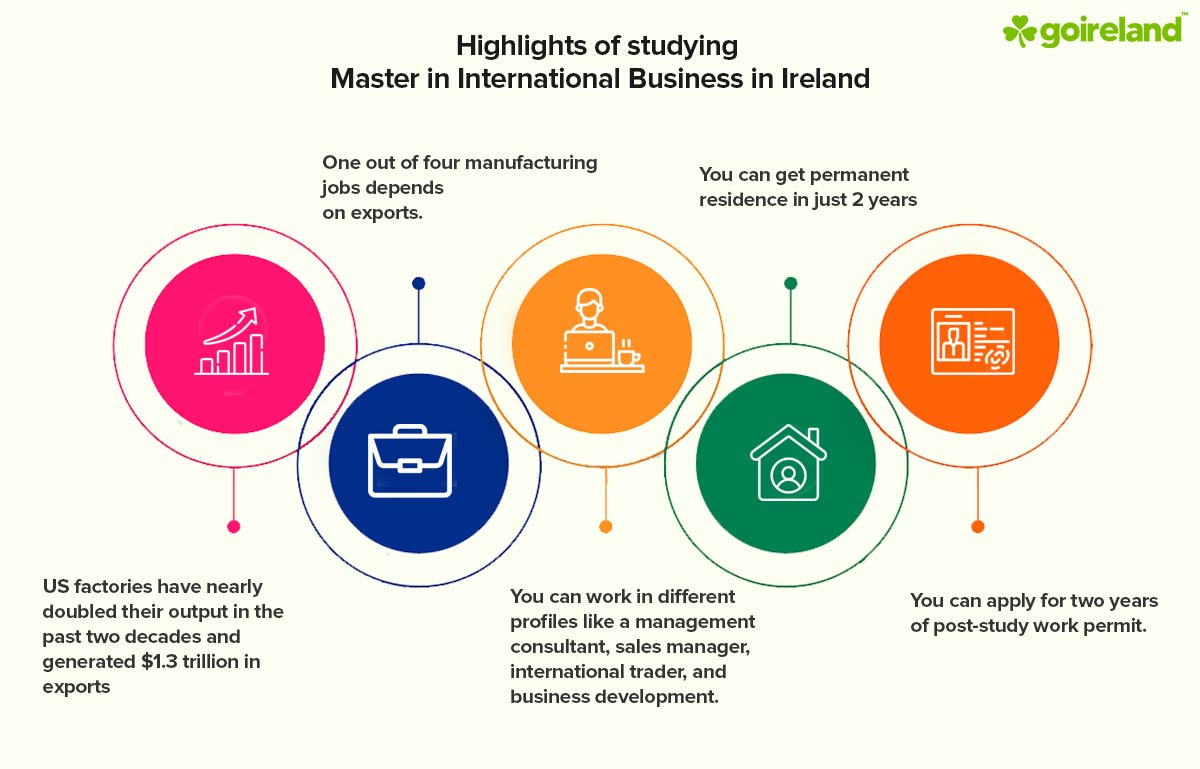 Masters (MSc) in International Business in Ireland
Are you looking to start a new career or expand your current role? Do you want to work in a booming sector that's prioritizing employee development and client service over antiquated processes and outdated revenue models? If so, then Ireland International Business Masters (MSc) may be for you. The Master of International Business program is one of the most sought-after business programs in the world. When you study masters (MSc) in International Business in Ireland then, it helps you to gain knowledge about the curriculum which covers a broad scope of international business topics, including market analysis, competitive strategy, and leadership skills. Students can choose to focus on individual industries or specific countries within those industries. The school offers several different modes of study, including evening and online courses.

The Master of Science in International Business is a highly selective program that only accepts students who are highly motivated and interested in working in international business. The program requires students to study with a heavy emphasis on research and analytical skills. The program also emphasizes critical thinking and problem-solving techniques. The program is intended for students who want to embark on a career in international business. Successful candidates for International Business Masters in Ireland for Indian students and International Business in Ireland for international students will know how to analyze complex systems and turn their attention to the individual factors that make up those systems. A Master's in International Business degree allows students to learn about a variety of industries and countries, including the healthcare and financial service sectors, through a lens that emphasizes the interconnectedness of systems. The degree further allows students to study abroad during their final year, working in several different countries.
GoIreland's Global Presence
| | |
| --- | --- |
| 21 | Branches across the Globe |
| 12 | Countries |
| 150+ | Certified Experts |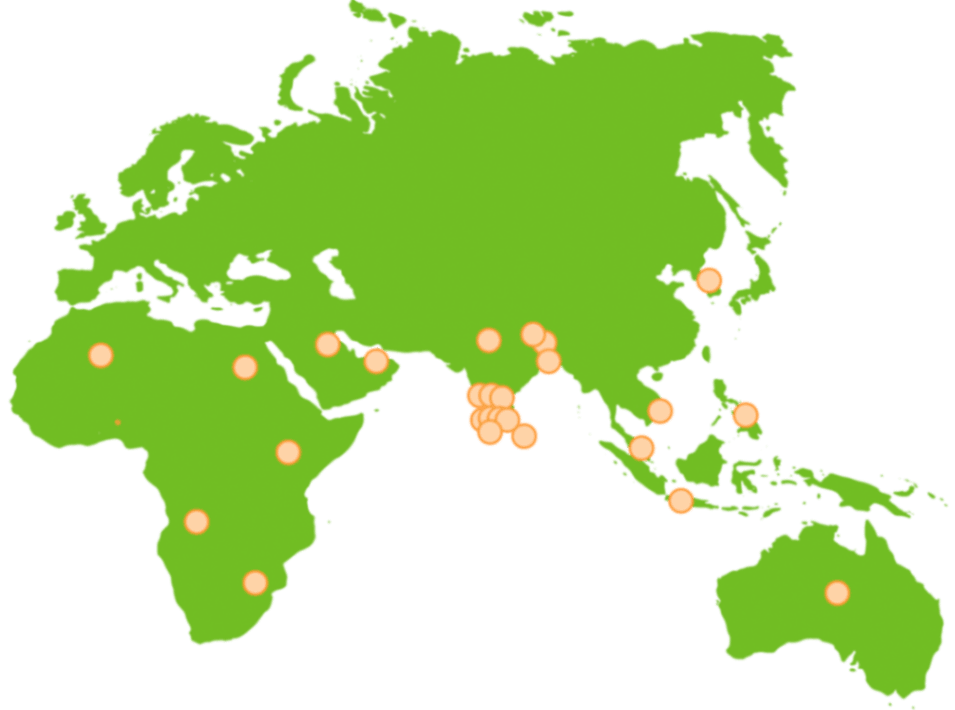 Get ready to think differently. The study of Masters in International Business in Dublin is different from other business programs in that it requires students to approach problems and issues from a different perspective. This perspective might be unconventional in that it looks at systems and companies from a different perspective, looking at them from the inside out. What this means is that rather than focusing on the products and services being sold, students will instead focus on what's happening inside the company. This could be a high-level look at how a company is organized or how a company's culture affects its outcomes.

The Master of international business is a broad-based yet sophisticated degree. It blends theory with application and requires students to think analytically as they examine business practices from all angles. The program emphasizes critical thinking, problem-solving, and decision-making. Masters in international business degree programs are ideal for students who want to intern or teach abroad or who want a change of pace from their day job. Some of the best programs are the ones that combine an intense study of one field with hands-on work experience in another. Regardless of where you choose to study, make sure that the program aligns with your interests, time availability, and budget. The best masters programs are those with the best balance between coursework and internship/work experience. If you're hoping to go into business for yourself, consider the best Masters in International Business programs available. The list of programs is comprehensive, and each one is sure to satisfy your needs.

Students can apply for an MSc in international business in Ireland if they want to expand on their prior knowledge and aspire to become senior managers in an international company. The management of international markets, international marketing, international operations, international management, enterprise management, managing subsidiaries, cross-cultural product management, cross-cultural management, international finance, brand management, and economics roles are likely to be attractive to graduates of master's programs in international business in Ireland. Additionally, there are numerous chances in the government, business/industrial organizations, and education. The graduate's background and the selected dissertation topic will define the participant's career path. Future generations of international business leaders may have an advantage in the bilingual, multicultural corporate environment thanks to the MSc in international business management offered in Ireland.
To know more about requirements
When applying for Masters programs in Ireland, there are requirements from the Universities you must meet in order to secure your place in a respected organization. There is a price associated with submitting an online application to Irish universities. Therefore, you should be informed of these terms before continuing. Continue reading to find out all the requirements for enrollment at a renowned university.
To know about costing
Before and after your departure from your home nation, migrating to Ireland entails a number of fees. Depending on the lifestyle you select, these prices will often change. To make an informed decision, you still need to create a rough estimation of your monthly expenses. To get an idea of the roughly linked expenditures for traveling to Ireland to pursue further studies, keep reading.
Salary After Masters (MSc) in International Business in Ireland
Salary is always a difficult subject when it comes to negotiations. The average salary in Ireland after masters (MSc) in International Business for a graduate in International Business in Ireland is around €45,500 per year. However, this can vary greatly depending on the company, your experience, and the type of work you are doing. For example, if you are working in a large multinational company, you can expect to earn a much higher salary than if you were working for a small local company. Students aspire to start their career working in Ireland after Masters (MSc) in International Business in various top 500 global organizations like Microsoft, Google, Facebook, Accenture, and Intel. Masters in International Business is most employable degree in Ireland, and management skills are in huge demand. Therefore, you have a high probability of getting placed.

Upon completion of their MSc in International Business, our graduates go on to work in a variety of roles and locations. Recent graduates have been employed in management consulting, financial analysis, and marketing roles in companies such as IBM, Deloitte, EY, KPMG, PwC, and Google. Salaries for these roles vary depending on the company, the role, and the location, but our graduates can expect to earn a competitive salary that is in line with their peers. In the current economy, individuals are searching for higher-paying careers in order to maintain their lifestyles. A Master's degree in International Business could lead to a career with a high salary. Although the cost of living in Ireland is high, the average salary is still livable.

After completing a Master's degree in International Business, graduates in Ireland can expect to earn a decent salary range for Masters in International Business in Ireland. Masters in International Business students have a starting salary for International Business in Ireland at €23,000, and the expected salary after studying International Business in Ireland goes to €56,000. Although these are some of the highest salaries found in Dublin, freshers salary after International Business in Ireland is slightly lower. With experience, salaries increase to €45,000 per year.
FAQ:
---
Is Ireland an appropriate location for an international Business master's degree?

Consider Ireland for your future education if you wish to gain the skills, knowledge, and talents required for a successful position in International Business. Ireland provides a welcoming environment for the advancement of your career.
---
Does Ireland have a need for International Business?

The top 500 global companies place a high emphasis on international business abilities in today's job market and generously compensate those who possess them. The industry is growing in Ireland at a pace of 11% a year.
---
Which country provides the best master's degrees in International Business?

The greatest countries to begin a successful career in International business are the United Kingdom and Ireland.
---
Is a master's degree in international business valuable?

The higher pay scale that international business delivers when compared to other businesses makes it desirable to earn a degree in it.
---
Is working in international business a good career choice in Ireland?

Yes, Ireland provides a wealth of opportunities for people with knowledge in this field, making International Business a great career choice. International Business is becoming extremely relevant not only in Ireland but also globally.
---
How can I submit my application for the International Business course in Ireland?

By filling out an online application on the university's website, you can apply right away. Depending on the university you choose, there are different application fees.
---
Is having a working grasp of international business a requirement in Ireland?

A skill that is in high demand is an international business, and as a general rule, the higher the demand, the higher the pay range. This market can give you a consistent source of income because there are more and more online startups and businesses every year.
---
Which country has the finest benefits packages for international business?

In the UK, those who work in international business are compensated the highest.
---
What is the average package after completing a Master's in International Business?

The average package is approximately Euro 45,000.
---
Is obtaining a master's in international business difficult?

No, gaining a master's degree in international business is not difficult, but it does need the individual to put forth the average effort.
---