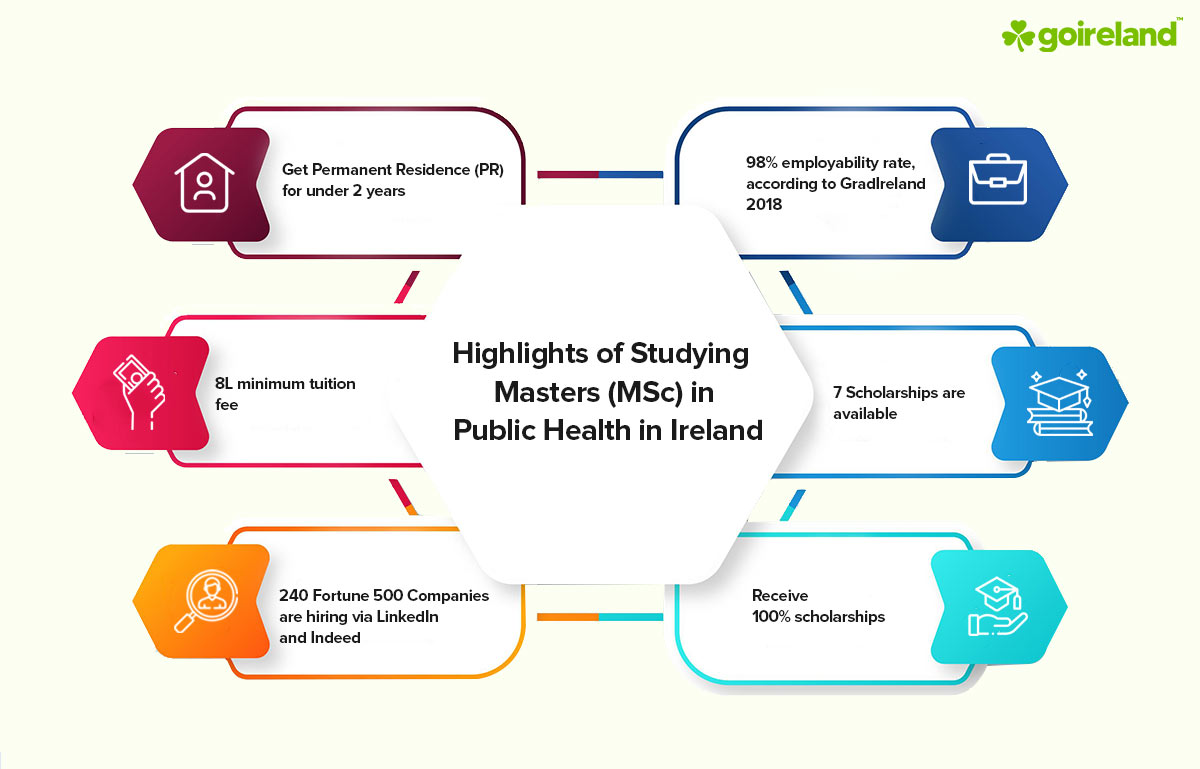 Masters (MSc) in Public Health in Ireland
Nothing could take your career to more esteemed heights than selecting to study Masters (MSc) in Public Health in Ireland, considering the damned situations everywhere due to the massive impact of Covid-19. Ireland has always been so fascinating to students when it comes to their career choices owing to the spectacular employment chances in the nation. More so, the healthcare industry in Ireland is super-massive and is highly after skilled and talented experts for the general well-being and prevention of numerous unwanted diseases. In such a crucial situation, only comprehensive courses such as Ireland Public Health Masters (MSc) can take your career to a completely new level, opening up numerous verticals for you to pick from. In Ireland, a master's degree in public health takes about two years to complete and emphasizes the population's health and welfare.

You can enroll in it full-time, part-time, or online. Leading Irish colleges offer the program as an MPH (Masters of Public Health). It is offered under a number of specializations, including nursing, immunology, and global health. In hospitals, government-funded organizations, etc., students from this discipline are recruited as public health authorities, nurses, and dentists. After graduating, international students can work for two years by requesting a post-study visa. The Public Health Masters in Ireland for Indian students is beneficial in teaching students the fundamentals of public health. It can be taught in a variety of ways, including coursework, research-based instruction, or a mix of the two.
This Public health in Ireland for International Students program has specializations in epidemiology, biostatistics, and health promotion and protection. A discipline called public health focuses on enhancing overall health. Public health professionals use the most recent research, education, and governmental legislation to ensure that we all remain safe and healthy from epidemics, food or water contamination, or other health dangers. The prevention and management of infectious diseases are just one of the many outstanding accomplishments in the field of public health. In addition, public health promotes access to healthier diets, safer workplaces, and healthier expectant moms and newborns. Public health also involves teaching individuals about reducing health hazards. Additionally, public health trains specialists who can impart self-care lessons to the general public and vulnerable communities. It encourages healthier lifestyle choices like frequent exercise, a balanced diet, and regular doctor visits. To help people recognize and respond to a health emergency, public health professionals may also start programs that encourage healthy habits and practices within families.

Students who pursue Masters in Public health in Dublin degrees in public health learn how to conduct research on public health concerns, create and promote health policies, and carry out educational initiatives to encourage healthy living. Students learn how to assess the general welfare of communities while taking into account the medicinal, social, and economic issues that have an impact on well-being. Therefore, public health can involve both politics as well as lobbying, well as ensuring that everyone in society has access to quality healthcare or even developing and putting into practice novel treatments for unanticipated health risks. In order to satisfy the rising demand for highly qualified public health specialists in Ireland and worldwide, this Master of Public Health (MPH) program has been created.
Regardless of your professional background, this well-recognized curriculum will equip you to research, assess, and address public health concerns. You will graduate with the fundamental understanding and specialized skills required to impact public health significantly. This is a 12-month, full-time programme that is structured and delivered. The Master of Science in Public Health Program will help students develop marketable and transferable skills and competencies that will further their careers both domestically and abroad in public health or other fields closely related to healthcare. These abilities are transferable to a wide range of employment in the public, private, and nonprofit sectors of healthcare.
GoIreland's Extensive Footprint in India
Offices across India
250+ Experienced Consultants
Chennai, Coimbatore, Bangalore, Cochin, Hyderabad, Mumbai, Pune and many more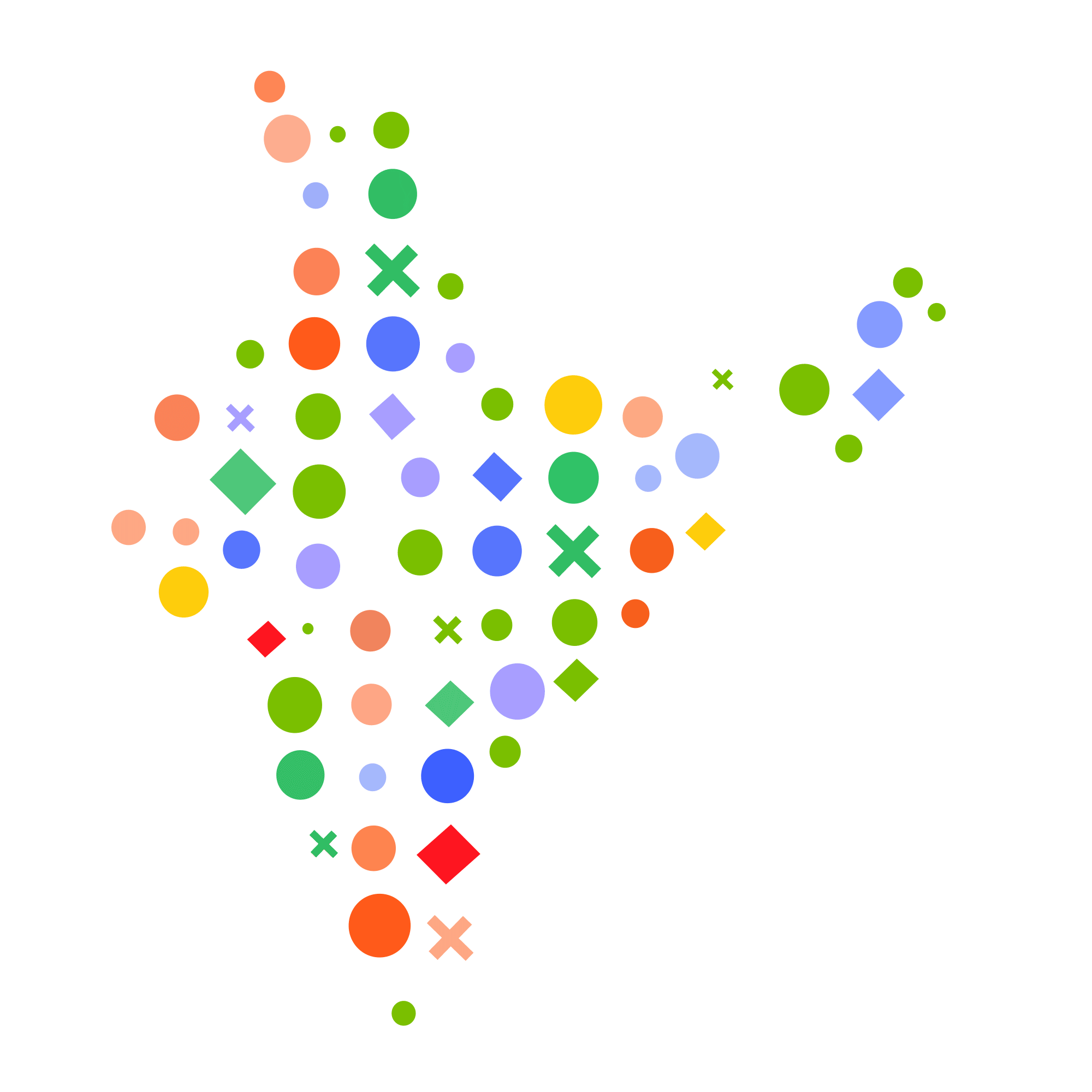 The curriculum for the MSc in Public Health is adaptable and uses a competency-based, blended learning approach with case method approaches and real-world scenarios. With a teaching assistantship and a research project, it is also useful. Several of the five core modules last for six weeks and include a five-day skills-building training course on campus as well as required in-person tutorial workshops that happen on a Weekend all through weeks 1-3 of each module. The MSc in Public Health program's main goal is to replace conventional public health education with a competency-based, practical approach to learning. The curriculum stands out for the caliber of its modules on psychosocial factors of health and healthcare systems, public health and sustainability, public biomedical research and analysis of data, and the planning, implementation, and assessment of public health programs. Any graduate of this MSc, regardless of professional background, will be able to research, create, assess, and deal with public health issues. Additionally, the MSc in Public Health offers a distinctive potential for multidisciplinary research and employment. Students will also critically reflect according to their own as well as others' practices and learning styles.
To know about the Requirements
Review all the important details provided below for more information on the standards and requirements for admission to the best Irish universities offering degree programs in public health. You can always depend on the GoIreland professionals for the best career advice in addition to additional help with admittance to these universities.
To know about Costing
For detailed information on the actual costs of studying public health in Ireland, you can check out the information offered below. Although the costs may vary depending on the candidate's lifestyle and the institution they are enrolling, the below information will give you an estimated picture. You can also consult with GoIreland experts for availing of more information.
Salary After Masters (MSc) in Public Health in Ireland
For applicants who truly possess potential and who frequently update their knowledge and abilities in line with changes in technological standards, there are no wage restrictions for MSc in Healthcare in Ireland. The most important factor determining a candidate's average salary in Ireland after Masters (MSc) in public health range is the position or designation where they are hired. Working in Ireland after Masters (MSc) in public health can bring lucrative packages from leading companies owing to the extensive demands for skilled talents in the public healthcare industry. Masters in public health is the most employable degree in Ireland that offers wonderful employment aspects in reputed organizations such as Brothers of Charity Services in Ireland, Mental Health Ireland, Pfizer, Rehab Group, and many others, offering a premium salary Range for Masters in public health in Ireland. The starting Salary for public health in Ireland is € 24,909, while the freshers' salary after public health in Ireland is €23,000. The expected salary after studying public health in Ireland is between the figures of €40,000 to €82,000, depending on the amount of experience you have.
FAQ:
---
Do I need a public health bachelor's degree to apply for an MPH degree?

Most employers require applicants to have a bachelor's degree from an institution with regional accreditation, though it need not be in public health. Some colleges could have prerequisites that students must have completed. Those without a bachelor's degree in public health may benefit from appropriate employment and volunteer experience.
---
Do I need job experience to apply for an MPH degree?

Most schools do not include this need in their admissions requirements. However, a few institutions may require a minimum of one year of full-time work experience in a public health-related field. However, it's advised that candidates have at least a few volunteer or internship experiences before submitting their MPH applications. These encounters might help individuals clarify their professional objectives in their applications and gain a deeper grasp of public health.
---
Does an MPH make sense?

Students can pick out useful tips on how to influence a community by preventing illness from spreading and raising public awareness of it. Graduates might be qualified for employment in a variety of professions, some of which might call for a master's degree in public health.
---
Is obtaining an MPH degree challenging?

The MPH workload should be manageable as a whole. The majority of MPH programs have 42 to 45 units and may be finished in two years. However, if they wish to engage in rigorous and in-depth research as well as put their knowledge into practice through their capstone or practicum, students in MPH programs must be committed and focused.
---
Is MPH a doctor?

A doctor is not an MPH, no. A public health care professional may be thought of as a practitioner who informs people about their health and offers them a limited number of health services even though they hold a master's degree in the field.
---
What can I do with a Masters in Public Health Degree in Ireland?

An MPH graduate is employable in the public and private sectors. One of the jobs held by a master's student in public health is public health nurse along with Community health coordinator, social worker, and environmental health officer.
---
Is a Public Health degree in demand in Ireland?

The demand for public health employees is rising along with the number of individuals over 85. For those who work in this field, there are additional job openings.
---
What is the highest-paying job in Public health in Ireland?

Ireland's public health specialists earn the highest salaries in the field. Public health specialists in Ireland earn an average salary of €67,200, according to salary explorer.
---
What are the best colleges for Public health degrees in Ireland?

The best college in Ireland for a master's degree in public health, according to the 2023 QS World Rankings, is Trinity College Dublin, followed by University College Dublin.
---
How much can be refunded through the MSc in Healthcare scholarships in Ireland?

A student availing of the scholarship can expect from €300 - €3,000 waived off from the tuition fees for the MSc in Public Health.
---