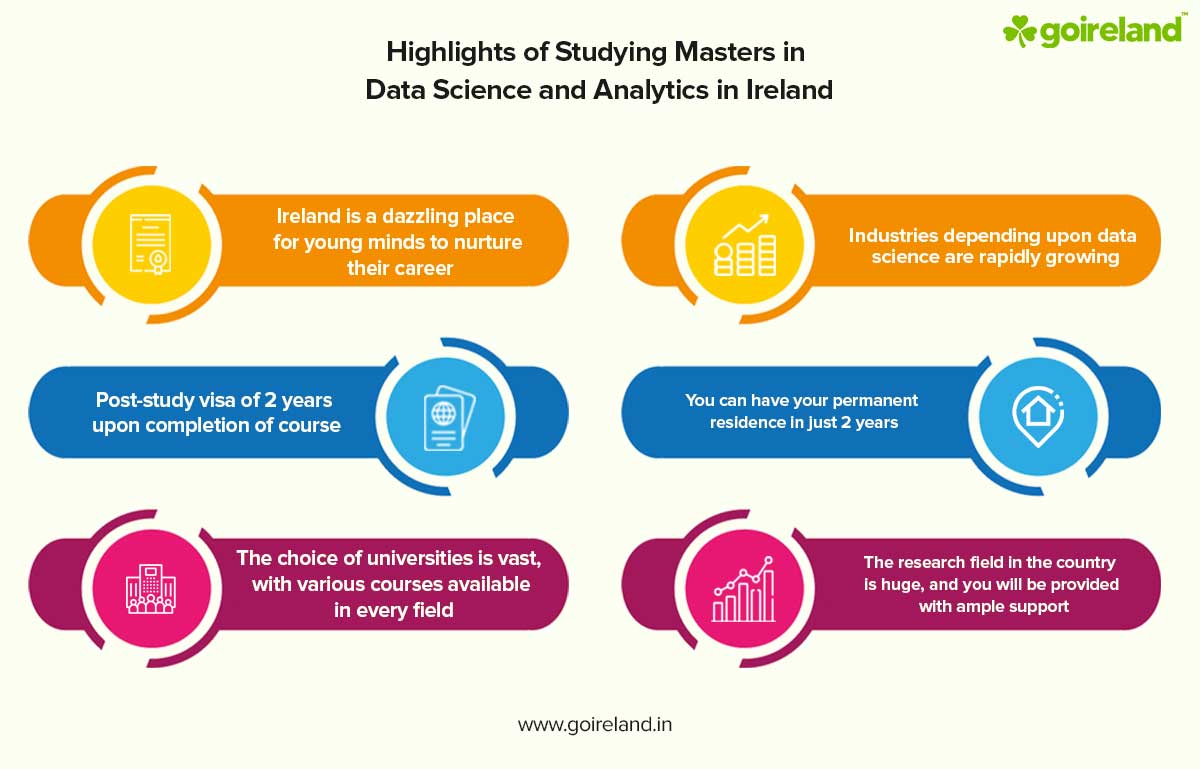 Masters in Data Science and Analytics in Ireland
Study Masters (MSc) in Data Analytics in Ireland, and you will gain substantial prospects. We would like to tell you about the massive 231% growth stipulation for a data scientist in the Ireland alone. Ireland is a European base of all global corporate giants like Twitter, Apple, Facebook, Google, Pfizer, and others on the list. To run companies of such enormity, they always need data scientists. Today getting a post-study work visa is no longer a challenge for international students. After completing your degree, you can, without hesitation, apply for a work visa that would be admissible for up to 2 years. If you choose another country, you might have to wait for a work visa, but your two-year work visa is guaranteed if you apply to Ireland University. This is one of the major reasons why Indian students choose Ireland universities for their studies abroad. Data Science Masters in Ireland for Indian Students who like to settle abroad. With a work visa, you can jump straight into a career right after you become a graduate.
Ireland is a place that has a specialty for science, and this is the reason for all students to learn by indulging in data science courses. Why? The beauty of getting a data analytics degree is that you will not waste time finding jobs. A work visa will set things up. Data-dependent industries are growing every day, and they need qualified people to run the industries and businesses. Another advantage of getting a job in this field is that you are critical in the company. One of the major causes of employee dissatisfaction is that they feel left out. Not all posts have that power, but data science and every other job of this niche are roped into the corporate wheel. You are going to be an integral part of the team. This way, you hold an important purpose in the company and have an important role that can support your company.

This industry also has the highest-paid jobs, so a degree is an investment. Irish universities have world-class infrastructure, industry-oriented curricula, current technology, brilliant teaching faculties, and much more. Data Analytics in Ireland for International Students is a way to hone their skills. Students from any analytical stream can indulge in this course and get prepared for their bright future. These courses equip students with the progressive ability to enhance their employability. This course is also best for math professionals. It will make mathematics more interesting by mixing it with data science. Techies will love data analytics first by grabbing their knowledge and then applying it in the industries. If you find ease in the complex world of data, this is your future. The employment rate for data analytics professionals is very high in Ireland and other big countries.
For today's students, data analytics is a safe decision. It is a win-win situation for students as it has many positives. First, they acquire serious knowledge that will help them build their own business in the future. Professionals in this industry live a lavish lifestyle. There is a big room to grow in the data analytics field. Masters in Data Science in Dublin will let you enjoy the beauty of Dublin city. You can also have a job there with a handsome salary. People with modeling, data patterns, data visualization, and assessment skills are in high demand in Ireland. Because of excellent prospects in data analytics not only in Ireland, this degree has a huge value in other countries.
GoIreland's Extensive Footprint in India
Offices across India
250+ Experienced Consultants
Chennai, Coimbatore, Bangalore, Cochin, Hyderabad, Mumbai, Pune and many more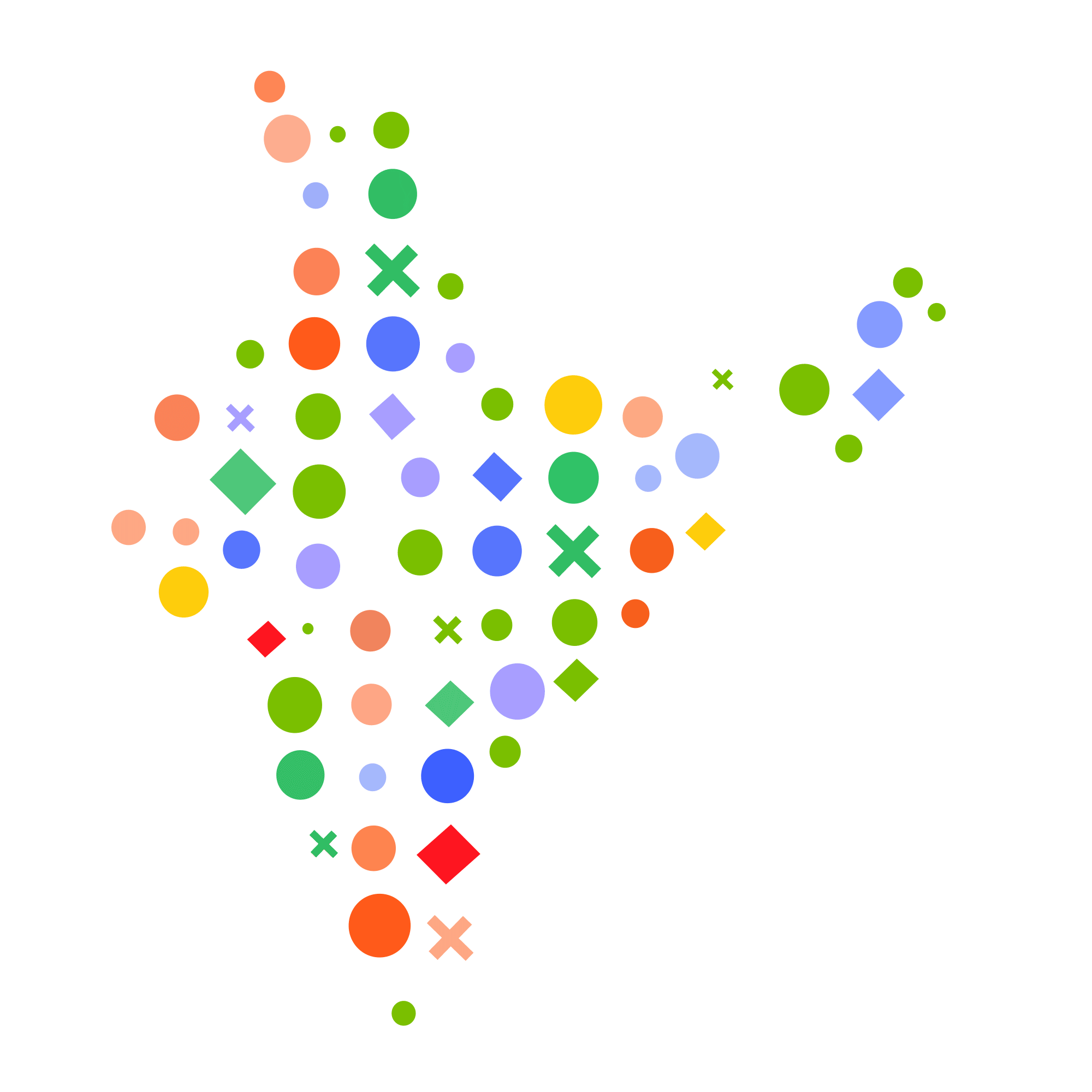 Once you get the degree, you can earn roughly 66.53 Lakh per annum in Indian currency. This figure can increase depending on your skills, University, and specialty. Some of the data science posts that are highly paid are data scientists, business intelligence analysts, big data architects, technical product managers, etc. The scope of a data analyst degree in Ireland is pretty immense. Aspirants easily get to work with the Bank of Ireland, leading IT companies, and Enterprise Ireland. Top universities recruit their best students from the best companies. Ireland Data Analytics Masters (MSc) is a great decision for Indian students who wish to be big.
To know about the Requirements
Masters in data analytics is a full-time program for 1-1.5 years. The requirements for international students are different from the domestic ones. The basic application requirements can be fulfilled online. It is essential to check the university's official website before anything else. Below is the detailed information defining admission requirements.
To know about Costing
Ireland is a dream destination for higher studies. The overall cost of studying for a Master's degree in Data Analytics includes tuition fees, accommodation fees, travel fees, etc. This country offers cheaper studies than other countries abroad. Check out the details of the cost of completing a master's in Ireland.
Salary After Masters (MSc) in Data Science and Analytics in Ireland
Masters in Data Analytics is most employable degree in Ireland because it will let you enjoy a wide range of perks even after employment in the country. There are many big, multinational companies in Ireland where you can think of Working in Ireland after Masters (MSc) in Data Science. It means there is no limitation on employment opportunities in Ireland after this degree.
The most exciting thing is that Ireland has become a leading European country regarding big data and analytics. This is why there are more than 21k new employment prospects in the country alone. The Salary Range for Masters in Data Science in Ireland can be from EUR 33,000 to EUR 72,000. Apart from the Average salary in Ireland after Masters (MSc) in Data Analytics, employees will receive other perks like the coverage of accommodation fees, profits, bonuses, or other expenses. If you graduate from a reputed university, you will receive more than the Expected Salary after studying Data Analytics in Ireland.

A data analytics course will instruct you on extracting meaning from raw data to amend operational strategies successfully. This is how you can secure the best position in your dream company in Ireland. The Freshers salary after Data Science in Ireland can be rewarding for graduates, who can be employed as database administrators, business intelligence consultants, data warehouse consultants, etc. A graduate will obtain the best Starting Salary for Data Analytics in Ireland and other countries.
FAQ:
---
Is Ireland good for a Master's degree in Data Analytics?

Yes! Ireland is known for high-quality research and has top-rated universities offering affordable tuition fees. This overseas country can fulfill the dreams of both average and brighter students by providing the best course in Data Analytics. Moreover, there is a lot of competition in the data analytics sector. This is why candidates need to prepare well if they want a secure and bright future in Ireland.
---
Which university is ideal for a Master's degree in Data Science in Ireland?

You can choose from Trinity College Dublin, Maynooth University, National University of Ireland, Institute of Technology Carlow, Cork Institute of Technology, University Cork College, University College Dublin, etc. Such universities offer high-quality education and better curriculum. They emphasize both practical and theoretical aspects of data science. Ensure to pick up the right university based on your academic profile.
---
Can I apply to the course as a non-Irish student?

Yes, you just need to meet the eligibility criteria for international students. The eligibility criteria for overseas students may be the same except for the English language requirements; you must prove your English proficiency. For more details, contact a GoIreland educational consultancy as we provide you with detailed research on your desirable university in Ireland
---
Is the fee the same for overseas students?

The tuition fee may be the same except for the cost of living and other expenses. But in Ireland, one can study masters in data analytics at affordable prices compared to other nations worldwide.
---
Is coding knowledge required?

Not necessarily; make sure you know how to use analytics tools, data management systems, and data visualization software. Data analysts do not need to be efficient and skillful in coding as a mandatory thing. Rather than emphasizing coding, data analysts should have strong mathematical abilities.
---
Which city in Ireland offers the highest pay for data scientists?

Cork is the highest-paying city, where you can expect 7.1% more than the average salary. In Ireland, there is a huge demand for data scientists. But Cork has more paying employment opportunities to offer.
---
Which city is the best for employment for data scientists?

Dublin gives rewarding pay to data scientists and offers 2% more salary. There are thousands of IT multinational companies in Ireland where most of the companies are located in Dublin, and in every company, data scientists are employed yearly. This is why a data scientist will get more satisfying job options in Ireland.
---
Does MS in Data Analytics include math?

Yes! Probability, linear algebra, and statistics are the base of math, which you will use as a data analyst. Statistics and probability are the foundations of analyzing data. When you know them, they will allow you to meet more than 70 percent of a data analyst's every requirement, according to the position and industry..
---
What can I do after the Masters in data analytics in Ireland?

In Ireland, there is no scarcity of employment opportunities for those who have completed their masters in data analytics from a well-known university or college in Ireland. You can have a wide range of job options to choose from. Some of the best options are data scientists, business intelligence analysts, and data scientists.
---
How can GoIreland help me in fulfilling my dream of a Data Analyst?

A GoIreland educational consultant will be your guide in every step of your career path in Ireland. Apart from that, GoIreland also offers services pertaining to VISA consultation, documentation, and much more so that you can stay relaxed about the process.
---