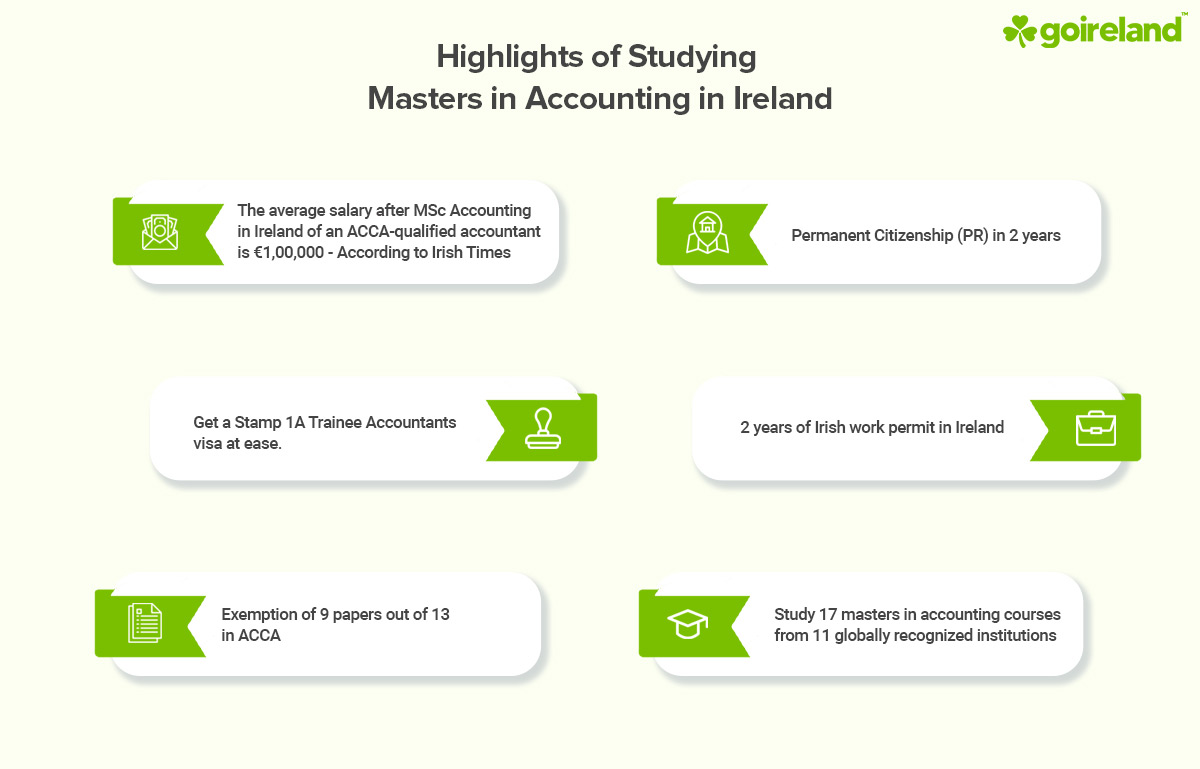 Masters (MSc) in Accountancy in Ireland
Intending to research and pursuing Accounting in Ireland? Then, GoIreland should be where you need to be in regards to your dream career for a study for Masters (MSc) in Accounting in Ireland. Accounting masters teach fundamentals and functional practices of accounting, business management, auditing, taxation, and many more related to the branch of business accountancy. Accounting Masters in Ireland for Indian Students is 12 to 18 months after the completion of your graduation course; you have the convenience of completing a full-time course along with part-time both as per your needs. Working professionals can always opt for part-time degree studies, making it possible for them to study and work simultaneously without any nuisance.

Accounting is among the most important aspects of every business. As such, companies are always eager to pour in loads of money just to ensure that business finances' calculations, predictions, and management are up to par. Accounting not just maintains your simple spreadsheet or finances precisely but is mainly responsible for multiple aspects such as profits upon calculation, smart management, and precise maintenance of your flowcharts, data, etc. Ranging from increasing your business reach to profits and inventory management, quarterly predictions, etc. Accounting can help you with all kinds of business calculation purposes, which is why it is considered the backbone of any business.
Ranging from distinct business finance patterns, taxation to save your money, and auditing to check for all profits & losses, accounting in business can do spectacles for all types of organizations without a doubt. When your business calculations are made super precise, and up to par, your profits, losses, and future predictions are made super easy, so your business can get going forward without any concerns. With a predicted cost of more than €120 Billion just for accounting professionals, the trend indicates a prospective career opportunity post your course completion as this industry costs trillions of dollars; hence it assists in bringing those trillions to business. According to Forbes, investment in the accounting industry is a massive $697.5 Billion worldwide. Ireland, regarded as a core business-oriented nation recently, is expected to bring in €120 Billion per annum. Accounting in business deals with hardcore financial information that entails foreseeing losses and profits, assets of the company, liabilities, and equities, to mention a few. The role of accounting professionals is to ensure that your business financials are not at stake and are in a seamless situation.
GoIreland's Global Presence
| | |
| --- | --- |
| 21 | Branches across the Globe |
| 12 | Countries |
| 150+ | Certified Experts |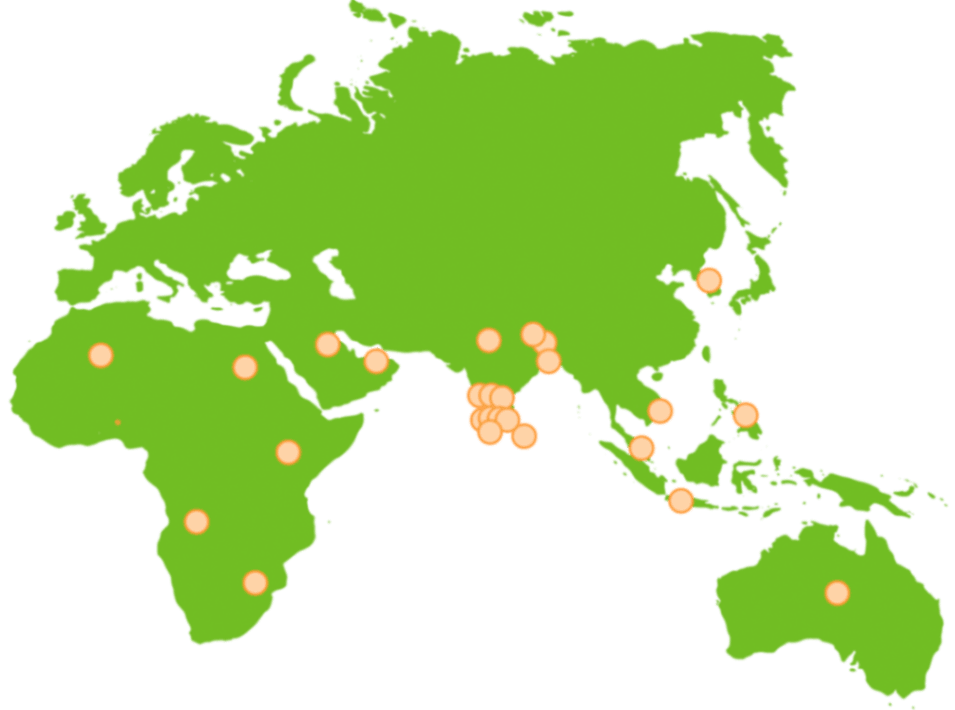 Most established businesses, regardless of their industries, these days are always on the hunt for experienced and upskilled accounting professionals who have the ability to figure out all kinds of massive calculations for deciding the outcomes of any business. The utter-upwards demands of skilled financial specialists or accountants for deciphering larger financial data and calculations for business outcomes have created numerous lucrative employment opportunities after the successful completion of Accounting in Ireland for International students.

Ireland, presenting a diverse amount of prolific Irish universities for studying Masters in accounting, such as Carlow University, Dublin University, Letterkenny Technology Institute, Cork College, etc., is perhaps an ideal destination for accomplishing your career objectives with respect to your financial studies, especially accounting. Masters in Accounting in Dublin is an exclusively designed course for talented aspirants aided with complex practical and theoretical study sessions, which counts for numerous dynamic career choices after the course is over.
Ireland Accounting Masters (MSc) demands candidates fetch better graduation scores in the field of science (MATH) or other commerce, business, and economics-related fields prior to taking admission. The accounting masters degree course is the category 9 curated postgraduate course that focuses on equipping students with all kinds of necessary mathematical skills and strategic approaches for an ensconced accounting career in this highly demanding business accounting business. The degree course helps candidates in developing a practical, thorough and concrete knowledge of financials in business accounting so they have the ability to calculate and predict real-world scenarios pertaining to business financials, auditing, taxation, and profit & loss. It helps you implement proper and precise strategies to ensure that all your business financials are up to par and that you are able to manage all the outcomes an organization is going to entail over the coming quarter, year, or sometimes even years.
To know more about requirements
For a better understanding of the prerequisites for a Masters in Accounting in Ireland, read the following details. We have meticulously broken down every type of information so that you may understand it better. Please get in touch with a GoIreland consultant for any additional information or suggestions.
To know about costing
The following information is provided to give you an idea of how much an Accounting degree costs in Ireland, including fees for tuition and accommodation. If you want to discuss candidates' studies in Ireland with a GoIreland educational consultant, you can get in touch with them anytime.
Salary After Masters (MSc) in Accounting in Ireland
Accounting masters in Ireland is amongst the best brilliant postgraduate degrees having an abundance of impressive opportunities in the leading organizations waiting only for talents like yours. Post the completion of the Accounting course in Ireland opens up extensive employment prospects in top organizations like Samsung, Apple, Cisco, Bank of America, IBM, BT, Ericsson, Jigsaw, Kasvatuksen JA koulutuksen toimiala, and many more as leading accounting experts. The average salary in Ireland after Masters (MSc) in Accounting is somewhere around €37,500 to €71,802 per annum, depending on the job profile. Working in Ireland after Masters (MSc) in Accounting can offer you a lucrative salary as high as €93,000 per annum in companies like Ring Forth Web Studio, Meta, Apple, Google, IBM, Bank of America Merrill Lynch, etc.

Masters in Accounting is most employable degree in Ireland, which is able to land employment chances like accountants in International business and finance, financial analyst, financial controller, financial consultants, auditing experts, corporate banking experts, investment bankers, and many other jobs. The salary range for Masters in Accounting in Ireland is always on a higher note than in other nations, with a serious possibility of a hike just within the initial years of employment provided you perform significantly well. The Starting salary for Accounting in Ireland is usually €37,500 for a financial analyst at a mid-level enterprise. In the case of freshers, one can anticipate freshers salary after Accounting in Ireland, ranging from €25,000 up to €39,000 per annum, regarded as way better than many other nations. The expected salary after studying Accounting in Ireland from top universities isn't under the set figure of €63,481 per annum in leading Irish and abroad organizations.
FAQ:
---
Which university is best for an MSc in Accounting in Ireland?

The leading universities for Accounting in Ireland are the Trinity College of Dublin, University College Dublin, Maynooth University, University Cork College, etc.
---
Is Ireland a good choice for an MSc in Accounting?

Eight significant Irish universities that offer a Master's in Accounting are among the top global educational institutions, according to 2022 THE rankings. By paying an annual course price of between 10,000 and 33,000 dollars for economics, students can earn between 39,000 and 94,000 dollars.
---
How to become an accounting expert in Ireland?

As an Accounting expert in Ireland, you should procure a graduation degree in business, finance, science, computer science, or any associated or relevant verticals. Accounting, auditing, banking as well as financial problem-solving skills are always essential for talented aspirants in this field.
---
What can I do with an accounting degree in Ireland?

Students can seek jobs as accountants in International business and finance, financial analyst, financial controller, financial consultants, auditing experts, corporate banking experts, and investment bankers post they study for a Master's in Accounting in Ireland.
---
Is it a need to be well-versed in Mathematics to pursue Accounting in Ireland?

Accounting certainly requires you to be proficient in math, but you must have prior knowledge of analytics tools, data visualization software, as well as data accounting management systems. You must have a zeal for mathematics.
---
Do you help MS in Accounting in Ireland students with LORs and SOP preparation?

Yes, our team of experts helps you in presenting your best in the statement of purpose (SOP) and also in drafting a letter of recommendation (LOR).
---
How can GoIreland help with an accounting masters in Ireland?

After examining students' profiles, GoIreland helps them select the best-suited universities for them based on their profiles and helps them get admitted to their dream universities. We also help you with the VISA documentation, loan, and accommodation process for study in Ireland.
---
What are the fees charged by GoIreland?

It is our fee at GoIreland to ensure that you are satisfied and that you have a bright career. We do not charge any kind of fee for any of the services we offer to students.
---
What is your VISA attainment percentage?

GoIreland holds the record of a 100% VISA approval success rate through our relentless hard work. For more information, contact us.
---
Are you authorized representatives for MS in Accounting Ireland Universities?

Yes, we are licensed to represent prestigious Irish universities and are committed to assisting you in finding the most reliable information.
---
Will I get employment right after completion?

Yes, the top Irish institutions that we represent will assist you in getting the greatest job offers after you successfully complete the program, and depending on how well you do, they may also give you a paid internship. Contact our consultants at GoIreland for more details.
---