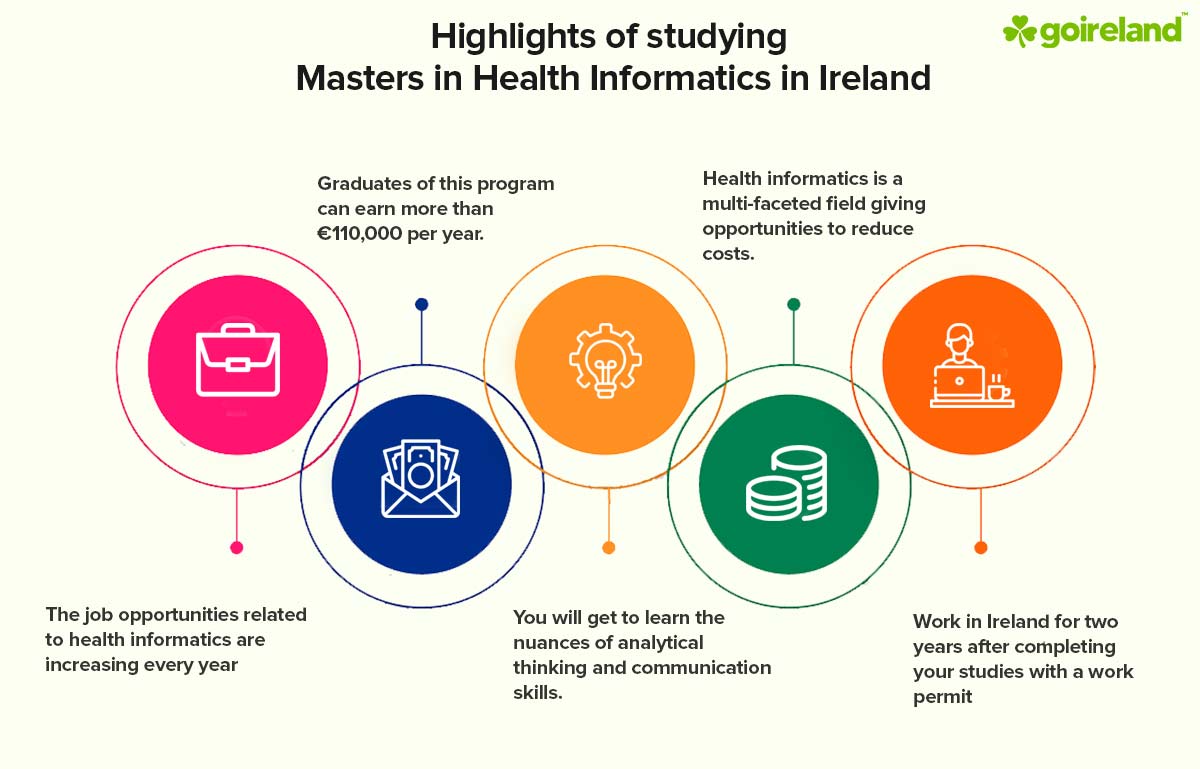 Masters in Health Informatics in Ireland
Health informatics, as a discipline, lies at the intersection of informational science, computer science, and healthcare. It includes studying and working with devices, systems, and methods that are meant to optimize the usage of information in the healthcare and biomedical fields. The patrons of this industry work on professional designing and development of information systems meant to satisfy the management's needs and requirements. It helps the users and stakeholders generate insightful outcomes from information analysis and implement the strategies to generate the intended outcomes. As you study masters (MSc) in health informatics in Ireland, you will learn more about professional designing and development of information systems. Within your study program, you will learn more about real-time high-tech systems management and build real-time communication systems. You will learn how to leverage health informatics to ensure adequate diagnosis and create relevant systems for the same. Your studies will teach you to harness advanced technologies for building audio, video, and web-based technologies. While developing these systems, health informatics professionals must adhere to the policies and procedures underlined, including all the security requirements.
Get all your doubts
clarified now for

Free
I agree to GoIreland terms and privacy policy
or The Ireland health informatics Masters (MSc) course will help a student learn all theories and techniques required for the development of all the systems. The courses teach to integrate all the requirements to create enterprise-level health informatics solutions. In this field, not all the work exposes the professionals to technical work. In this industry, other theories and consultation-based activities are also included. As a result, after completing your Masters in health informatics in Dublin, you can also work as an IT health advisor, healthcare manager, etc. Note that your studies and job profile will always include information technology systems and theoretical knowledge of the healthcare industry. As technology penetrates deep into our lives and professions, we need the requisite health management systems and practices. When you decide to pursue health informatics in Ireland for international students, you have a lot of options in terms of colleges and universities. Ireland is a happening country and bustling with international students coming here for higher studies.

You have the option to pursue your masters courses from some of the best institutions in Ireland, which also rank high on the global level. The courses here include different fields in health informatics, including;
Science and health communication
Digital health transformation
Bioinformatics and computational biology
Design for health and well-being
International digital health transformation
Healthcare informatics
Dental Public Health
Health Professions Education
GoIreland's Extensive Footprint in India
Offices across India
250+ Experienced Consultants
Chennai, Coimbatore, Bangalore, Cochin, Hyderabad, Mumbai, Pune and many more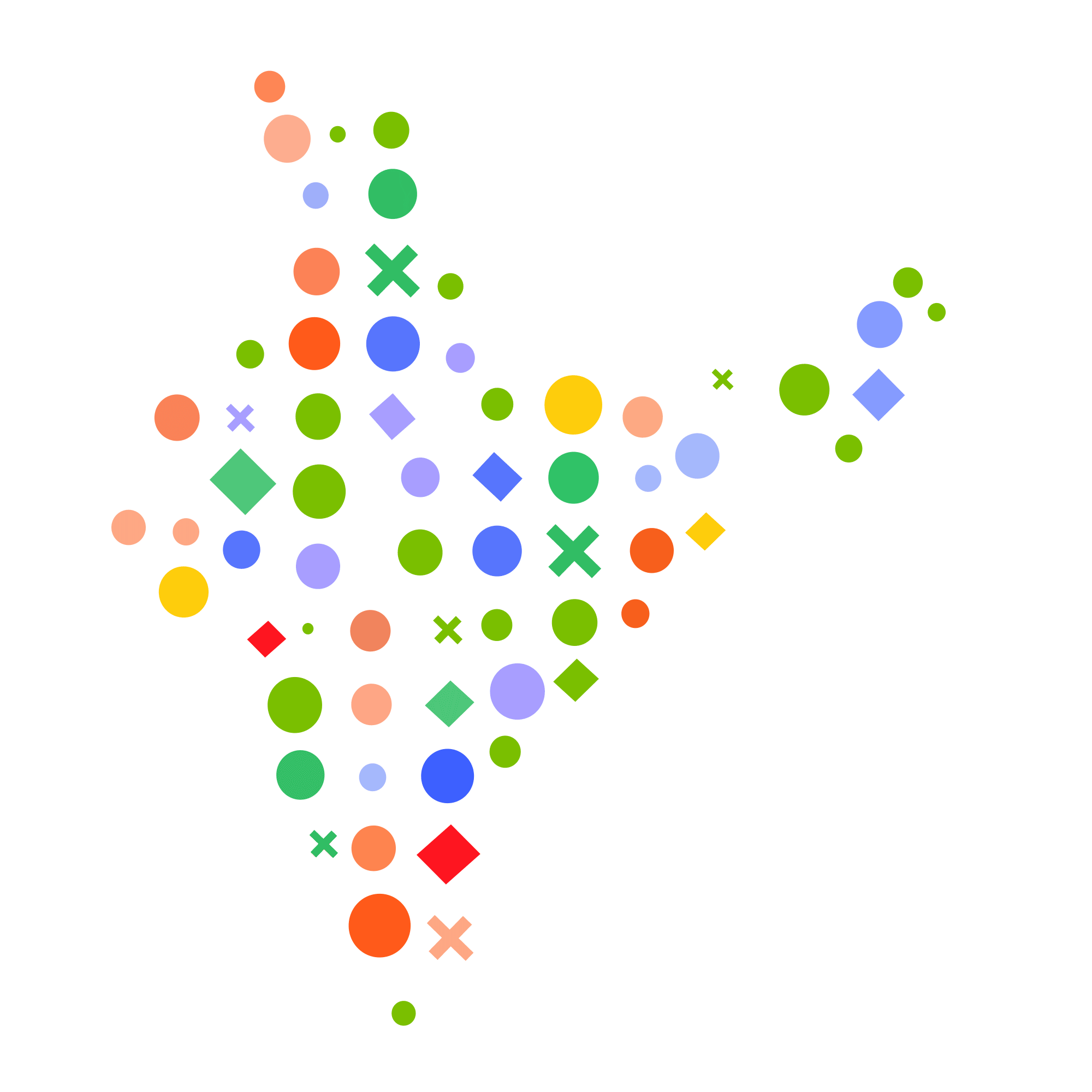 You can study these subjects and disciplines in the University of Limerick, University College Dublin, University College Cork, among others. All these universities and colleges have different schools and departments dedicated to imparting quality education in the field of health informatics. To complete the health informatics Masters in Ireland for Indian students, you need to get admission to the desired institution ahead of time. Every institution in Ireland has a deadline for applying. Every year, the colleges intake students two times, in autumn and spring. As you pursue the course in these institutions, the curriculum is set to help you gain the necessary knowledge and skills. This includes;
Identifying new opportunities in the healthcare technology field and measuring its impact while discovering strategies to improve the existing system's efficiency.
Building the required programming skills to develop solutions for the healthcare industry.
Bring innovative techniques and systems into healthcare organizations and keep the existing systems up-to-date, aligning them with the latest innovations.
Identify, share, and analyze the requirements of an organization for healthcare information systems implementation.
Create strategic plans and management strategies to optimize access to the latest technologies in the healthcare industry.
Make sure that the healthcare institution fulfills all the compliances and regulations.
The health informatics masters in Ireland for Indian students is a great opportunity to propel your career to the next level. Studying in Ireland gives you access to several new opportunities in the European healthcare system. Moreover, getting good grades in the master's course is further beneficial for your career as you can then get work in high-paying and globally recognized organizations. To get admission into an Ireland-based university, the student must complete the admission process and fulfill the requirements. They need to get a minimum score in their bachelor's degree, pass the English proficiency test, and get visa approval. These are the eligibility criteria that every student must satisfy to be considered for admission. The final decision of taking a student depends on the admissions committee. In addition to these requirements, the admissions committee will also ask the students to submit SOPs and LORs, which have a great impact on admission.
Get application fee waiver
by applying through us
I agree to GoIreland terms and privacy policy
or To know about the Requirements
Now that you know about the health informatics course and universities, let's move on to discuss the requirements for joining the course. Every university in Ireland has a set of conditions or eligibility criteria that a student must meet to gain admission.
To know about Costing
That was about the requirements for studying health informatics in Ireland. With this section complete, we can move to know about the tuition and living costs you need to arrange to live and study in Ireland.
Salary After Masters (MSc) in Health Informatics in Ireland
Completing an MSc degree in health informatics will propel your career to the next level giving you access to different opportunities. Students completing their courses from Ireland's prestigious universities can work in high-paying roles associated with their degrees. The salary range for Masters in health informatics in Ireland is between €50,000 to €110,000. The exact salary will depend on the role, experience, and responsibilities. For instance, the average salary in Ireland after Masters (MSc) in health informatics in an executive role at a large healthcare institution is €72,000. As the person gains more experience and expertise on the job, they can get a higher salary than this.

When you start working in Ireland after Masters (MSc) in health informatics, you can explore a wide range of job opportunities. This includes;
Health Informatics Director
IT Consultant (Health Informatics)
Health Information Resource Manager
Clinical Data Analyst
Health Informatics Specialist
Clinical Analyst
For all these jobs, you can attract a salary higher than €60,000, given that you have the required experience and expertise. Your job will include working in clinical and non-clinical settings. Hence, the more you learn on the job, the better you can become at completing the work. As a masters in health informatics is the most employable degree in Ireland, you can find work not only in healthcare institutions but also in educational institutions. Here you can take the role of teacher, professor, or researcher, and the starting salary for health informatics in Ireland in this segment is €68,000. To further see an increase in the expected salary after studying health informatics in Ireland, you can gain expertise by working in diverse settings. You can move from hospitals, clinics, and colleges to work with government agencies and consultant/research firms. The right degree and experience will take you from a fresher's salary after health informatics in Ireland to a handsome amount in a span of a few years. All you need to do is begin your journey at a great university and put in all the effort to become successful.
Get all your doubts
clarified now for

Free
I agree to GoIreland terms and privacy policy
or FAQ:
---
How can a health informatics professional work in a hospital and an IT firm?

The job description of a health informatics professional is unique and interesting at the same time. These professionals work with healthcare institutions and help them implement IT systems and technologies to improve the outcome of their services. Whether enhancing a patient's experience or improving the accuracy of a test, health informatics professionals can help. As a result, they become a bridge between both these industries.
---
How long will it take to complete my degree in healthcare informatics?

The bachelor's course goes for three years, and the masters course has a time span of 1 or 2 years, depending on the university or college you choose for your studies. In total, you are looking at a duration of 4 to 5 years to become a master in health informatics.
---
What's the education loan interest rate in India?

Banks in India follow a floating interest rate for education loans. The interest rate banks charge starts from 7.30% and can go as high as 16%, depending on your credit profile, requirements, and application.
---
How can GoIreland help me with studying in Ireland?

GoIreland is a full-service organization working to help students fulfill their dream of studying in Ireland. From choosing the right university in Ireland to getting a bank loan, getting a visa, and applying for scholarships, we are here to help.
---
Will I get a visa through GoIreland?

Yes, our visa approval and accomplishment rate is 100%. A lot of students have taken our help to not only get a study visa to Ireland, but also we have helped them obtain scholarships.
---
Is GoIreland authorized to work with Ireland universities and colleges?

You can say that because GoIreland is a licensed representative of Irish universities. We have strong ties with the universities and colleges here. We are always aware of the changes in the education and immigration system here. As a result, we are well-qualified to help a student obtain their visa and secure admission to Ireland universities.
---
Is there a fee structure for the services Go Ireland provides?

No, we do not charge any fees from the students for counseling and visa services.
---
How can I pay the loan back while studying in Ireland?

Education loans are built differently. You won't have to pay the loan back one month after getting it. But, an education loan repayment starts after the course is complete. Even after the course is completed, the bank gives you six months to get a job and start with the repayment.
---
Are there legitimate scholarships available in Irish country for Health informatics masters programs?

Yes, you may browse an exhaustive list of scholarship programs for you to obtain a master's degree in health informatics in Ireland.
---
What is the cost-effective approach to pursuing a health informatics master's degree in Ireland?

Contacting the leading higher education advisor in India, such as GoIreland, is the most cost-effective approach to pursuing a Masters in health informatics in Ireland.
---