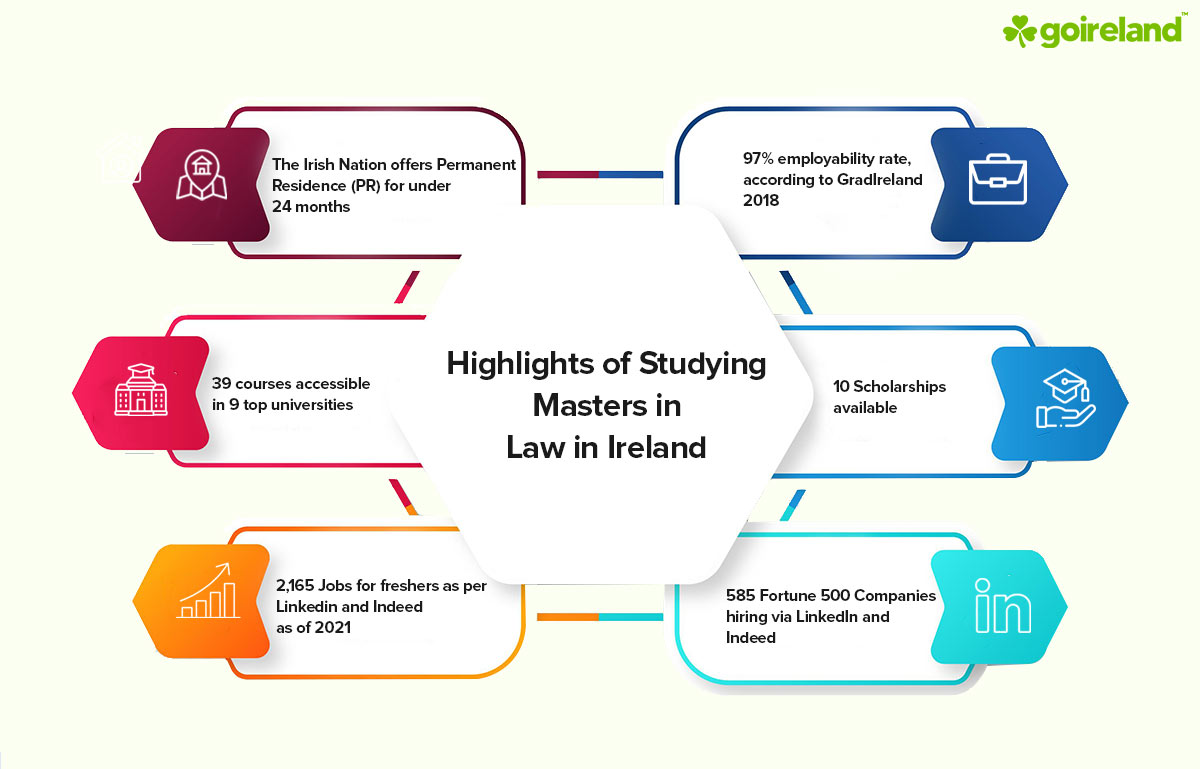 Masters (MSc) in Law in Ireland
For students planning to build their career in the profession of law, there can be no better place than Ireland to pursue their career prospects. Ireland is a land of opportunities, and recently, the country has been headed towards absolute growth as companies are exponentially building their bases in Ireland. This makes it a vital and the best time to pursue your career goals and study Masters (MSc) in Law in Ireland. For a profession such as Law, Ireland offers incredible opportunities, considering the country's vast employment prospects for students. Law enforcement and the judiciary will always be active in a nation as far as there is a crime. Despite the recovery in the economy, finding graduates for the law and legal assistance business in Ireland continues to be difficult. Only 20% of businesses anticipate increasing their graduate enrolment in 2015, which highlights the current cautious character of the industry.

The Graduate Recruitment and Employability Survey (2013–2014) that AHECS performed included the findings of this research. The degree programs that employers in the sector look for graduates from are incredibly diverse. The most popular courses were law, commerce, and business studies, as one might assume. Students who already have a legal degree from a college or have worked as attorneys for some time can pursue a Masters in law in Dublin to get a specialized understanding of the law and a thorough understanding of how the law operates in theory and in reality, both in Ireland and abroad. The degree improves students' chances of getting hired or promoted in legal firms both domestically and abroad while also giving them knowledge, skills, and experience that they can use in a wide range of careers.
Get all your doubts
clarified now for

Free
I agree to GoIreland terms and privacy policy
or Ireland offers full-time and part-time LLM programs that run for one to two years. Depending on the institution, the tuition for a Law Masters in Ireland for Indian students might cost anywhere from €11,500 and €21,000. Ireland should have the cost of living for students between €8,000 and €10,000. You can anticipate paying up to 26.96 lakhs INR to attend a law school in Ireland. Candidates must hold a bachelor's degree in law or a related field with a minimum 60 percent score to be eligible for an Ireland Law Masters (MSc). Depending on the chosen university, additional entrance requirements for international students vary. Typically, the application period for Irish universities runs from March to September. Ireland is home to the headquarters of many significant multinational corporations, particularly IT companies like Apple, Google, Accenture, and Facebook. This suggests that graduates of the Law in Ireland for International students Masters program who choose to remain in Ireland will have several employment opportunities. In Ireland, law graduates may make up to €46,400 per year.

A graduate degree associated with the field of Law Sciences is the Master of Laws or LL.M. The Latin phrase "Legum Magister" is the acronym LL.M. Law schools worldwide offer the LL.M. degree, typically the following step after completing a Bachelor of Law Sciences program (Bachelor of Laws, LL.B.). However, some law schools permit applicants for an LL.M. degree who have earned an undergraduate degree in a field other than law. The length of time needed to earn an LL.M. varies depending on the country and legal institutions. The Master of Laws provides students with specialized legal education in a particular field since the LL.B. degree is already sufficient in nations like the UK to practice law. With a JD degree, one can specialize even further ("Juris Doctor"). Despite having an LL.M. degree, many nations still require a separate state certification in order to be qualified to practice law because regulations vary depending on where you are.
GoIreland's Extensive Footprint in India
Offices across India
250+ Experienced Consultants
Chennai, Coimbatore, Bangalore, Cochin, Hyderabad, Mumbai, Pune and many more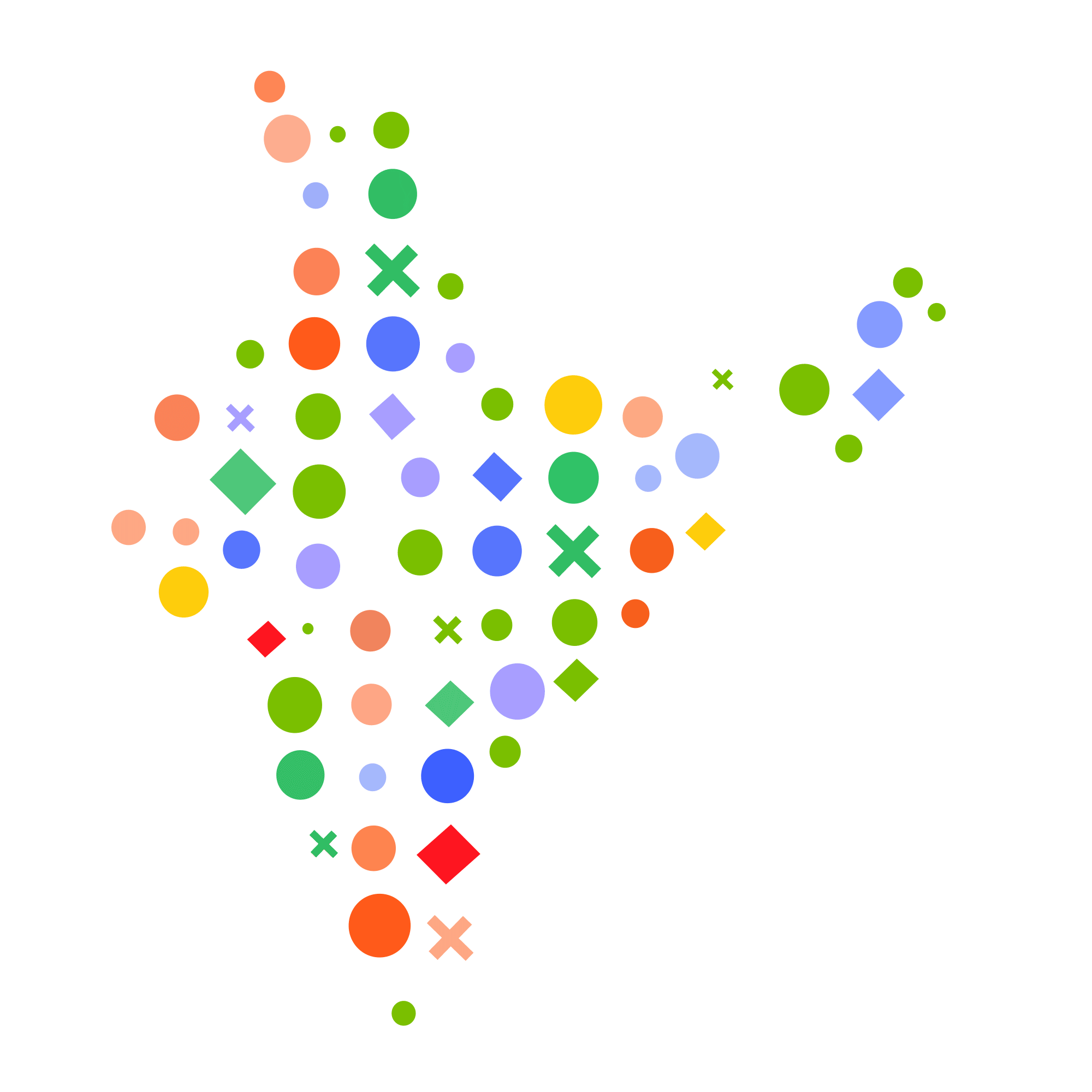 An internationally recognized postgraduate degree, the Master of Laws (LL.M. ), is typically earned following one year of full-time legal studies. An LL.M. is often pursued by legal professionals and students in order to expand their legal knowledge and advance their professional prospects. Most colleges require a professional degree in law to be considered for an LL.M degree, although others recognize first degrees in related fields. The Graduate Diploma in Law is a substitute for the Master of Law and provides more adaptable learning goals.
Get application fee waiver
by applying through us
I agree to GoIreland terms and privacy policy
or To know about the Requirements
Learn more about the Masters in Law in Ireland by looking over all the requirements and prerequisites listed for your perusal below. If you have any more queries about learning in Ireland, you can always get in touch with GoIreland educational consultants.
To know about Costing
Check out the alternatives below to learn more about the many expenditures connected with the post graduation course degree in law in Ireland, such as rent costs, fooding costs, and associated expenses fees. To get a true idea of the charges, you can speak with a GoIreland counselor anytime.
Salary After Masters (MSc) in Law in Ireland
One cannot establish the particular wage that a candidate is able to get after the conclusion of masters in Law as their income relies on the capabilities of their experience, skills, and expertise. After taking a look at the data, we've believed that the typical monthly income in Ireland for individuals with a masters in Law Salary in Ireland is ranging from €40,000 to €60,000. Depending on the organization, the average salary in Ireland after Masters (MSc) in law counts from €35,450 to €51,000 annually. All those that hold a bachelor's degree in this particular arena have a great chance to create a bright career; the Law graduate salary in Ireland ranges between €30,000 and also €40,000. Working in Ireland after Masters (MSc) in Law can offer you along with a mind-blowing package and maximum chances of hike owing to the massive demands.

The starting salary for Law in Ireland is a minimum of €36,000 per year. The salary range for Masters in Law in Ireland is regularly on a hike among the largest countries in Europe. At a middle level organization or even start-ups, the least freshers salary after Law in Ireland is a good €39,000 with a little bit of experience. Post the study at Ireland's top universities, candidates can count on the expected salary after studying Law in Ireland, in the range of €48,000 and €97,000 per year, which happens to be a good margin. Moreover, there are hefty commissions and consultancy fees as well in this vertical of law. Masters in Law is most employable degree in Ireland that not only helps you get a good job, but you can start your own venture as well and start earning from consultation fees.
Get all your doubts
clarified now for

Free
I agree to GoIreland terms and privacy policy
or FAQ:
---
Which University is Ideal for an MSc in law in Ireland?

Trinity College Dublin, University College Dublin, Limerick, University of Galway, and University College Cork are the leading universities providing law courses in Ireland.
---
Is Ireland good for studying MSc in law?

A postgraduate law degree can be earned at a number of excellent academic programs offered in Ireland. An LLM in Ireland offers the chance to see this fascinating country with a rich history and culture in addition to the possibilities for academic and professional progress.
---
How to Become A Law Expert in Ireland?

To become a solicitor, you must pass tests administered by the Law Society at Blackhall Place in Dublin and undergo an apprenticeship lasting at least two years.
---
What Can I Do With a Law Degree in Ireland?

Graduates in law can work in multiple industry segments and career choices such as media, politics and affairs, journalism, banking, research and academics, and much more.
---
Does law Involve a Lot of Math Lessons?

The most important thing is to have a good sense of logical structure.
---
Is Acquiring Masters in Law Hard?

In order to succeed in this highly comprehensive sector, students should possess a hardcore understanding of how psychology works and how you can bring solutions to chaos and unexpected problems. Nevertheless, there happens to be several prospects for career growth, and the average pay is pretty competitive
---
How Many Hours a Week is Law Masters?

The LLM program requires students to complete 60 credits of taught master's courses. In 9 months of full-time study or 18 months of part-time study, you can get your postgraduate diploma.
---
Can I Get A Job After Masters in Law in Ireland?

Yes, the law in Ireland opens up a broad spectrum of opportunities for you in leading industries, or you could set up your own venture as well.
---