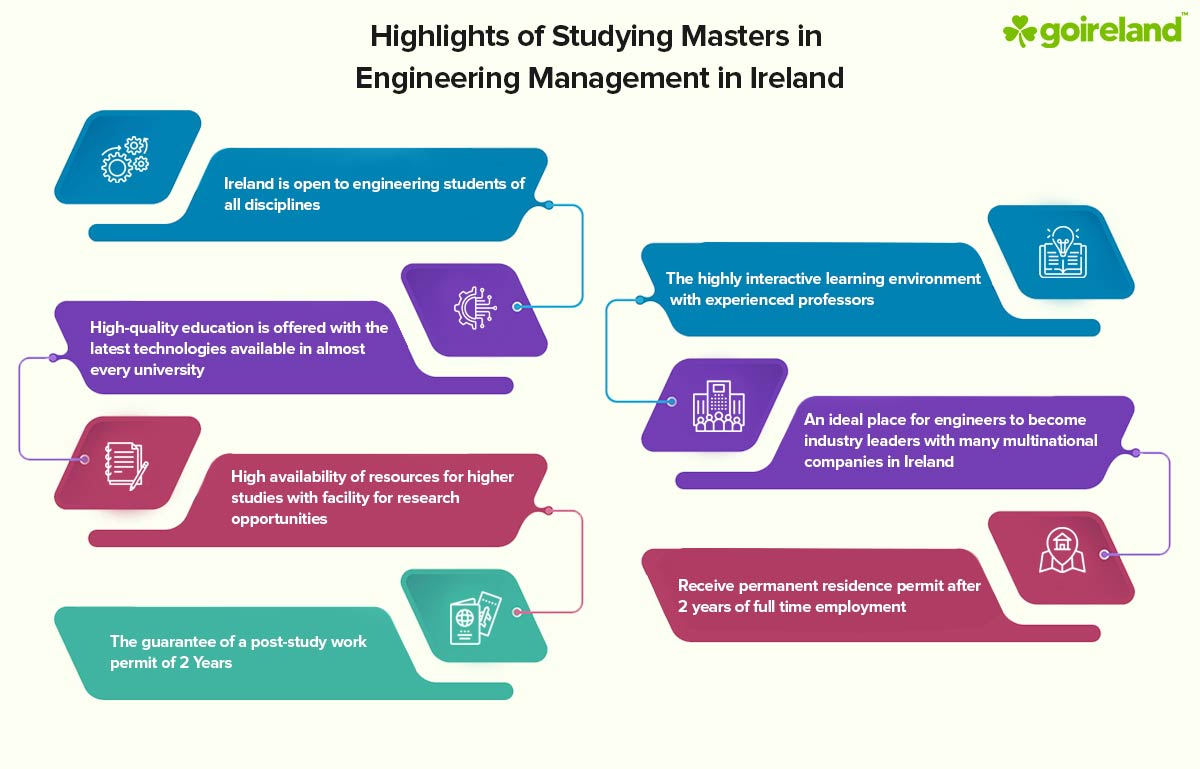 Masters (MSc) in Engineering Management in Ireland
It would be good if you understood the reasons for pursuing an engineering management course in Ireland. Engineering employs a complex blend of specialized knowledge, math, science, design, experimentation, and construction to build worthy products or services for people and society. Engineering has a huge role in constructing a machine, a system, a piece of software, or a structure. As we all know, engineering projects are often complex in Ireland, which is why the number of specialized staff members is increasing greatly. This is the main reason why engineering management is vital. The demand for engineers has increased significantly in different parts of the world. Even though engineers have a crucial role in business success and products, it is not easy to understand the language of engineering. Of course, it can be a huge challenge because engineering projects most often need the assistance of functions and management in a business to get off the sketch board. Once you understand the role and importance of an advanced degree in engineering management, you can easily enjoy the perks of Engineering Management in Ireland for International Students.
Get all your doubts
clarified now for

Free
I agree to GoIreland terms and privacy policy
or Are you ready to Study Masters (MSc) in Engineering Management in Ireland? This degree in Ireland will make you capable of working in reputed multinational companies and organizations where managerial skills are needed. This degree is designed for engineers to advance their management skills. After the Masters in Engineering Management in Dublin, engineers will become capable of using a broader perspective to solve issues linked to more complex and dynamic systems. This degree offers in-depth managerial and technical skills while giving the necessary training to work with people from various cultures and backgrounds. Even when you study for this master's degree in Ireland, it will help you understand the perspectives of students from different nations, boosting your standpoint.
GoIreland's Extensive Footprint in India
Offices across India
250+ Experienced Consultants
Chennai, Coimbatore, Bangalore, Cochin, Hyderabad, Mumbai, Pune and many more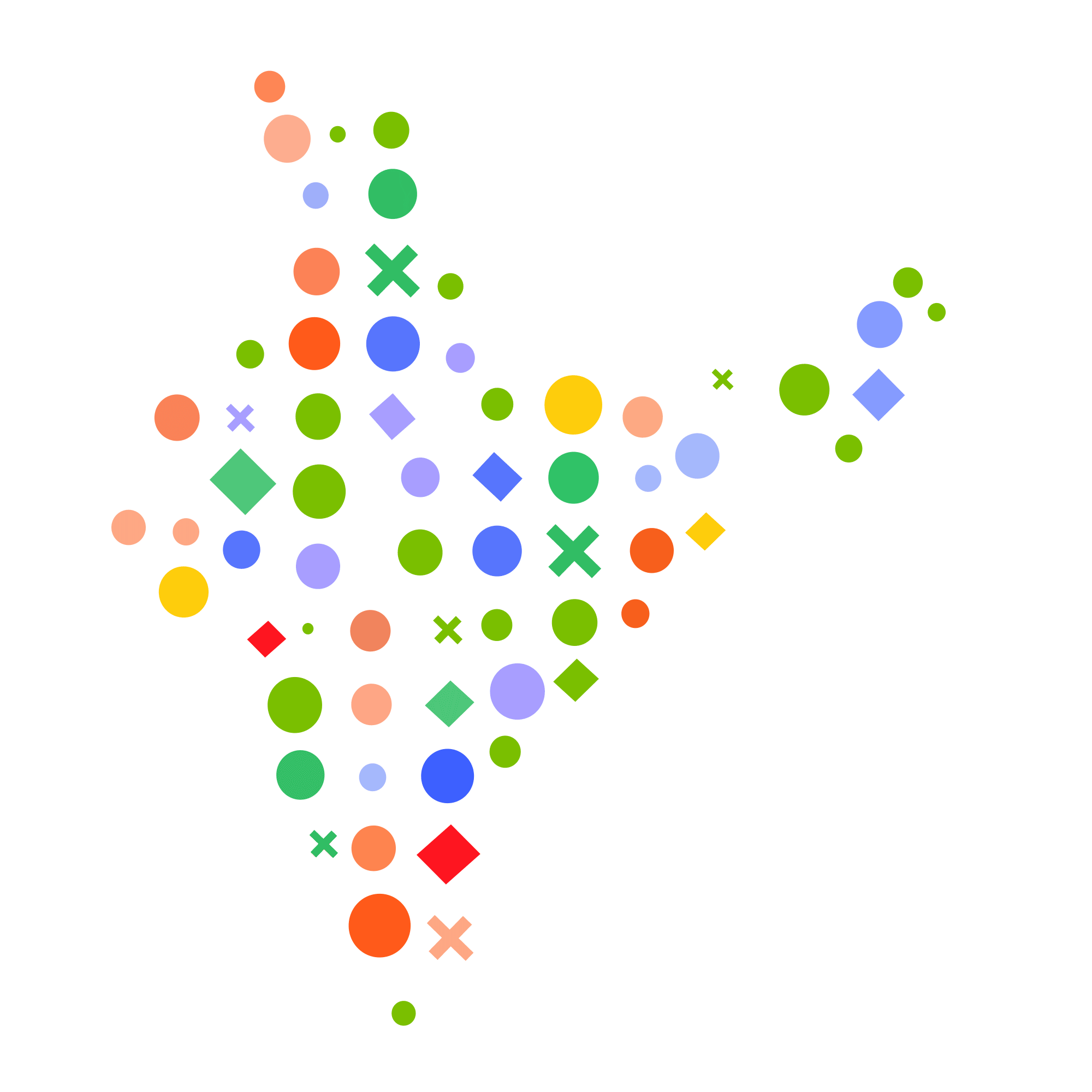 Engineering Management Masters in Ireland for Indian Students can let them be more aware of problems related to ethics, culture, society, environment, etc. This masters degree will enhance your outlook, unlike a traditional engineering degree. After this degree in Ireland, graduates not only get advanced knowledge of engineering, design, finance, processes, etc., but at the same time, they also become skilled in leading and motivating people. Consequently, graduates with this highly advanced degree are highly sought after by companies and organizations in Ireland and other international countries. Nowadays, companies rely on hiring graduates who can work on issues from various perspectives. This degree can open the doors for many graduates, who become efficient at providing solutions by optimizing business tools and technology.
Get application fee waiver
by applying through us
I agree to GoIreland terms and privacy policy
or If you are an engineering graduate and want to work in the corporate field, then it is the right time to apply for an Ireland Engineering Management Masters (MSc). Any engineering graduate can go for this degree in Ireland. If you have some particular interest in research and development management, quality control, technology entrepreneurship, intellectual management, industrial management, and data analytics, then this masters course in Engineering Management can be the right fit for you. Universities and institutes in Ireland tend to offer higher study programs for all students coming from international borders. So, don't delay any more; just enroll for this masters course and advance your engineering career in the management sector.
To know about Requirements
It would be good to understand if you know the basic requirements to be fulfilled when you are going on the track to meet your dream of studying for a masters in Engineering Management in Ireland. Every Irish university has its official website, where you can look for all eligibility requirements for engineering management courses. Requirements may alter based on your academic profile.
To know about costing
Ireland is not only perfect for studying but living as well. It is a beautiful country with lots of adventure to offer. Being a student, you can learn and grow in Ireland. If you fret that this country will cost you a fortune, you might be wrong. Here is the costing detail of your Ireland study.
Salary after Masters in Engineering Management in Ireland
Masters in Engineering Management is most employable degree in Ireland, and why not? Which country does not require proficient engineers? You just have to obtain your license, and you are all set for lucrative earnings. You can earn pretty well and have a comfortable living place and a great lifestyle once you have an engineering management degree in your hands. The expected Salary after studying Engineering Management in Ireland is in lakhs. As you grow, your income increases. You can also start your own business with an Irish university engineering degree. The top Irish organizations are ready to hire fresh postgraduates. Working in Ireland after Masters (MSc) in Engineering Management will be a great experience. You will easily get a job with top organizations and companies.

Freshers salary after Engineering Management in Ireland can be 20,000 Euros which is going to be enough to live a comfortable life in Ireland. Ireland has many opportunities for freshers with nil experience. Salary Range for Masters in Engineering Management in Ireland is going to depend upon your specialization. The Average salary in Ireland after Masters (MSc) in Engineering Management will be 20,000 Euros to 40,000 Euros. Starting Salary for Engineering Management in Ireland is far better than in India and other countries. Getting the best job and lucrative salary packages is not a daunting process. Students get a two years working visa once they get out of their university. They can easily look for a job in this time period and also get settled in Ireland.
Get all your doubts
clarified now for

Free
I agree to GoIreland terms and privacy policy
or FAQ:
---
Is Ireland a good choice to study for a masters in engineering?

Some of the top universities are present in Ireland. Here students get the brightest chance to pursue their careers in the best curriculum. Studying in Ireland is a wise decision for Indian students. There are universities like Trinity College, Dublin University, and many others which can enrich your knowledge in your field.
---
Does Ireland have engineering jobs?

Ireland is a well-established country with huge industries which are always in demand for qualified engineers. The median salary of an average engineer in Ireland is $92,000, which will grow in the future. Not only is engineering a good idea, but choosing an Irish university is a win-win for Indian students.
---
Is it worth it to obtain a Masters from Ireland?

Irish universities are the best and unparalleled. Their facilities, training, scholarships, everything tempts Indian students. Irish universities are globally recognized. If you wish to come back to your home country, your masters from Ireland University is worth lakh of earnings in your future. If you wish to study in Ireland, GoIreland offers significant guidance for you.
---
When and where to apply for a study visa in Ireland?

Students have 3 months before they apply for a student visa. There is the documentation required online, biometric data, etc. It is best to delay buying tickets before you hear from the university. GoIreland is going to help you with each step, from applying for a visa to managing finances for your study abroad. We have it all.
---
What is the basic information regarding Ireland Student Visa?

To enter the country and enroll in an Irish university, you will need a student visa. Any program that lasts for 3 months requires a C-type study visa for ninety days. Any study visa that will last more than three months will need a D-type student visa.
---
What does a Engineering Management Manager make on average in Ireland?

If you love building things, then a masters in engineering management is the right curriculum for you. There are various career opportunities for engineering tridents in Ireland. There is a high level of engineering employment available, and they earn pretty good salary packages. For instance, project engineers in Ireland earn a minimum of INR 6,175,800; Technical managers earn INR 80, 69,761 operation managers INR 75, 75,694. The better your designation the more figures in your salary.
---
What is the cost of studying in Ireland?

A masters degree is a one-year program, and it can range from 12,000 to 30,900 Euros. The cost of your education will depend upon the course you will choose and the university as well. For instance, MSc in Architecture tuition fee is approximately 23,050 Euros, and the Masters in engineering management will cost you approximately 26,400 Euros every year. This is just the tuition cost.
---
Is the admission process to an Irish university difficult?

No, getting admission to your favorite university is no longer a challenge. You just have to approach GoIreland and tell us where you wish to study. Students just need to pass the minimum academic scores required by the university. Rest assured, as GoIreland will carry forward the entire process for you.
---
What are the services offered by GoIreland?

GoIreland offers personalized care for students applying to study in Ireland. The consultants guide the students on the necessary steps right from choosing the universities to the available courses related to their stream. GoIreland also takes care of the VISA process, place of residence, and also loan.
---
How much does GoIreland charge for its services?

There are no charges for the entire consultation process. We aim to meet the dreams of the students to study abroad, so we do not charge for our services.
---