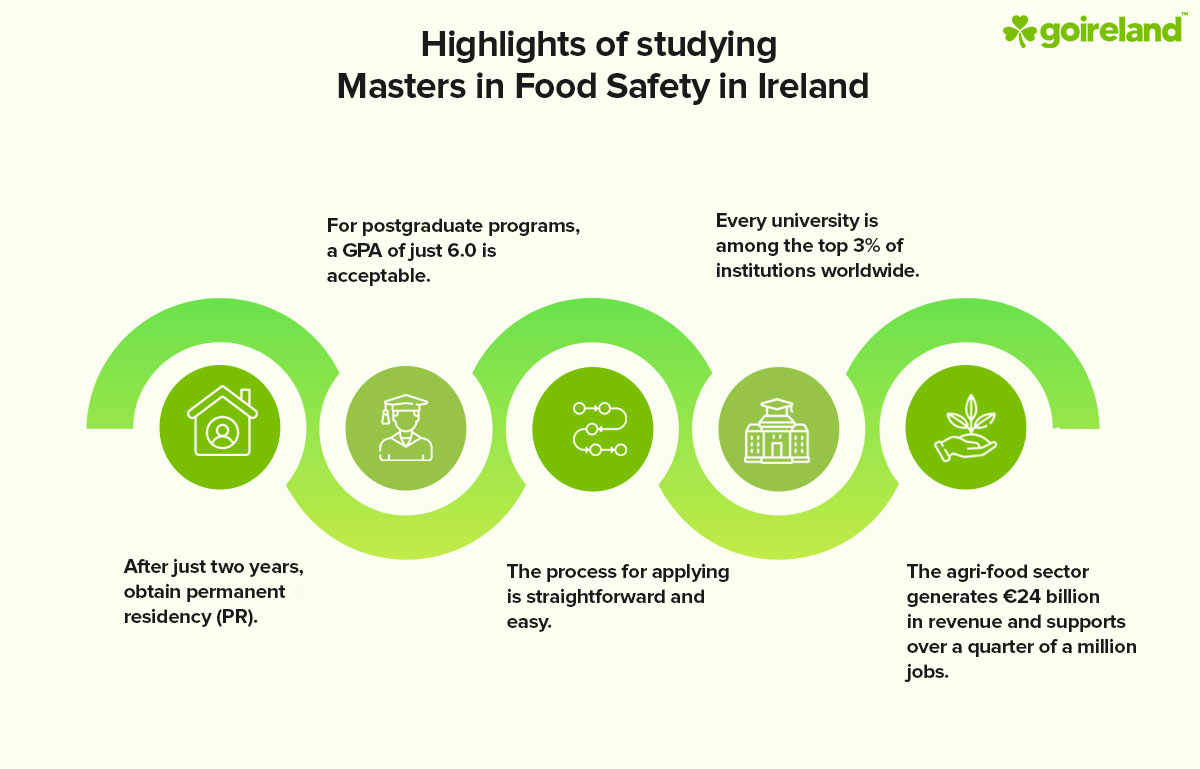 Masters (MSc) in Food Safety in Ireland
The Masters in Food Safety in Ireland is designed for students who want to pursue careers in agri-food and related industries. It provides the chance to earn a distinctive, globally recognized degree from an expert in the fields of food safety and food security. The world's food production and supply chains are under increased pressure due to the ever-growing global population, climate change issues, and shifting geopolitical dynamics. One of Ireland's four global research institutes, Food Safety in Ireland for International Students, is addressing one of these issues' most pressing dangers by setting the global standard for how to guarantee the security and safety of our food sources. Ireland is renowned for its cutting-edge Masters in Food Safety in Ireland, in addition to its varied green landscapes, hospitable people, natural treasures, electrifying culture, picturesque locations, and sporting activities. The MSc Advanced Food Safety program is taught by researchers and it concentrates on using recent advancements in analytical approaches to monitor and regulate food integrity, authenticity, and security. It also focuses on new and emerging issues threatening food safety and security.
Get all your doubts
clarified now for

Free
I agree to GoIreland terms and privacy policy
or Additional free course materials will be made available to international students to help students increase their level of correctness, structure, and criticality of their written work. Throughout the academic year, trained teachers offer Study Masters (MSc) in Food Safety in Ireland courses targeted particularly for international students. Students can schedule 1:1 sessions at any time for assistance with their academic professors.

Due to the popularity of this program, students are encouraged to submit their applications as early as possible. The University retains the right to close the application portal if Food Safety Masters in Ireland for Indian Students receives applications in large numbers. On the Direct Application Portal, notifications will be shown next to the program application page. Please be aware that a deposit may be necessary to secure a spot on the course. Applications may not be considered due to strong demand if the course's maximum class size has been achieved; instead, they will be added to a waiting list.
GoIreland's Extensive Footprint in India
Offices across India
250+ Experienced Consultants
Chennai, Coimbatore, Bangalore, Cochin, Hyderabad, Mumbai, Pune and many more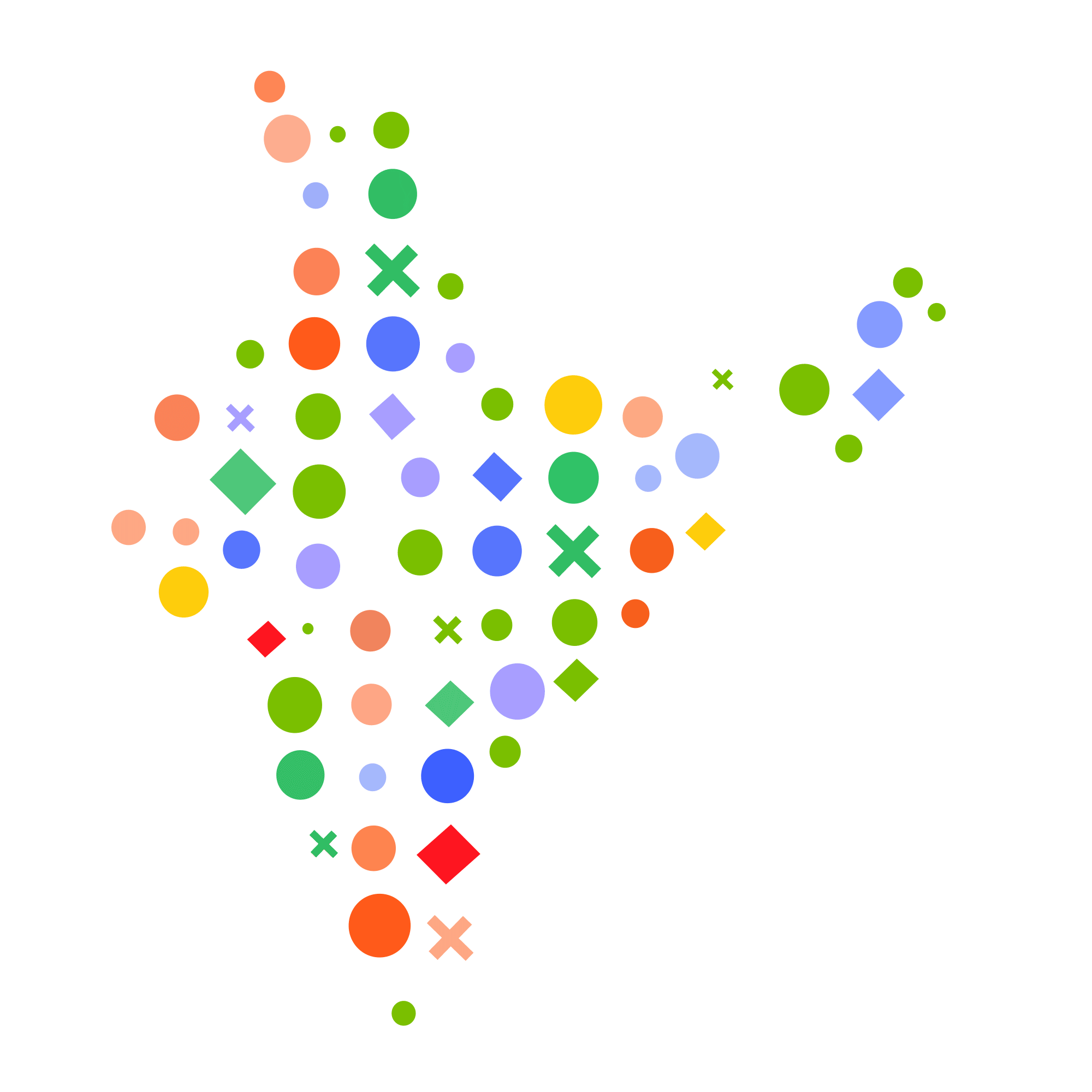 In Ireland, there are over 139,900 family farms, each holding averaging 32.7 hectares. Ireland has a total land area of 6.9 million hectares, 4.6 million of which are dedicated to agriculture. 10% of the agricultural land is used for grazing, hay, and grass silage production, while 8% is used for crop cultivation (DAFM, Factsheet March 2013). The agri-food industry supported over a quarter of a million people and generated €24 billion in revenue in 2012, with exports to 120 countries totaling over €9 billion. Ireland has a high level of self-sufficiency, with the Irish agri-food sector providing the vast bulk of the products supplied to Ireland's €14 billion domestic grocery market. Moreover, the creation of food and drink goods is the most significant indigenous industry, according to the Food and Drink Industry Ireland (FDII) (FDII, 2013). Ireland Food Safety Masters (MSc) ensures to cover all these aspects with highlights on the food crises that has crept in the recent times which has fostered the requirement for a degree course that could address all the issues pertaining to food safety. Masters in Food Safety in Dublin has courses that pertain to food safety tagged along with the consumer's protection.
Get application fee waiver
by applying through us
I agree to GoIreland terms and privacy policy
or To know about the Requirements
Once you have decided on studying masters in Ireland, you are bound by certain norms and requirements that are to be followed and fulfilled. The following showcases the requirements for your masters in food safety in Ireland.
To know about Costing
The first thing that seems alarming for a career abroad is the cost that is associated with it. You would be wondering about the amount of money that would be spent on your education. GoIreland has streamlined the cost for every requirement during your stay in Ireland.
Salary After Masters (MSc) in Food Safety in Ireland
Candidates need a university degree in biology, public health, or a similar discipline for Working in Ireland after Masters (MSc) in Food Safety. In order to get real-world experience in the food industry, the Masters in Food Safety is the most employable degree in Ireland to work as an entry-level employee for their local health departments or other inspections of a similar nature. The Average salary in Ireland after Masters (MSc) in Food Safety would range between EUR 28,000 to EUR 78,000. Salary Range for Masters in Food Safety in Ireland is based on the years of experience and the skill set you have acquired during your Masters in Food Safety in Ireland. The Starting Salary for Food Safety in Ireland officer in India is 4.1 lakhs, with salaries ranging from 1.2 lakhs to 12.0 lakhs. With such a reasonable fresher's salary after Food Safety in Ireland, you can not only earn good bucks but also create a change in the food industry. The expected Salary after studying Food Safety in Ireland will a maximum annual wage for a food inspector of 10.4 lakhs or 86.7 thousand rupees per month in the Indian currency.
Get all your doubts
clarified now for

Free
I agree to GoIreland terms and privacy policy
or FAQ:
---
Should employees receive training on food safety and hygiene?

Staff members working in a food environment must get training and/or supervision according to their job duties as required by law. The owner of the food establishment is in charge of supervising and training the workers. Employees who are in charge of creating and maintaining the HACCP-based processes used by the food company must have acquired the necessary training to apply the HACCP principles.
---
Does the FSAI offer training in food safety and hygiene?

Although the FSAI does not offer comprehensive training in food safety or hygiene, it does offer one particular course: A staff member can teach the FSAI's 3-hour induction session on food safety after completing the "Train the Trainer" workshop.
---
Are there any training consultants or training programs that the FSAI registers, approves, or supports?

A. No training consultants or their training programs are registered with, approved by, or endorsed by the FSAI.
---
Are there any resources for teaching food safety that is available in other languages?

The FSAI offers information training resources that are available in a number of different languages. This document does not promote or suggest any of the training resources provided; it is only meant to provide information. View the food safety training resources document in a foreign language.
---
I want to work as a trainer, but do I need to take a certain course or have a certain degree?

A. Although there are no formal educational requirements for food safety trainers, the FSAI advises that they have the following qualifications: Masters in Food Safety in Ireland background in food safety. Information on the degree of expertise needed for a food safety trainer is available in the FSAI Level 3 Training Guide (Food Safety Skills for Managers).
---
Why choose the master's in food safety?

Microbiology and toxicity are a rare mix of law, economics, management, and communication. The WUR's MSc in Food Safety was the first of its kind in the entire world. A very comprehensive strategy in the area of food safety. Put your attention on the legal and scientific facets of food safety.
---
What does food safety entail?

Food safety is the art of handling, preparing, and storing food in a way that lowers the possibility of contracting a sickness or injury by ingesting it. As food products travel through the supply chain from farm to factory to fork, they may come into touch with a number of health concerns.
---
What are the three duties of a manager of food safety?

Masters in Food Safety in Ireland to oversee and organize all food safety and also the investigations of the food emergency. With the help of the local field workers, they confirm and recollect actions. They make sure that storage temperature requirements are met as well as cleanliness standards.
---
What qualification makes the best food safety officer?

Masters in Food Safety in Ireland is the right choice to pursue a career as a food safety officer, a candidate must hold a Bachelor's degree, such as a B.Sc. or B. Tech. in food technology, dairy technology, biotechnology, agriculture science, biochemistry, or a Master's degree in a relevant field.
---
What is the annual salary of a food safety officer?

In Ireland, the average yearly wage for a food safety officer is $43,705. To view Food Safety Officer salaries near you, refine your search by location. Masters in Food Safety in Ireland is generally based on 4,720 anonymous salary submissions made by Food Safety Officer employees to Glassdoor, we can estimate compensation for the position.
---