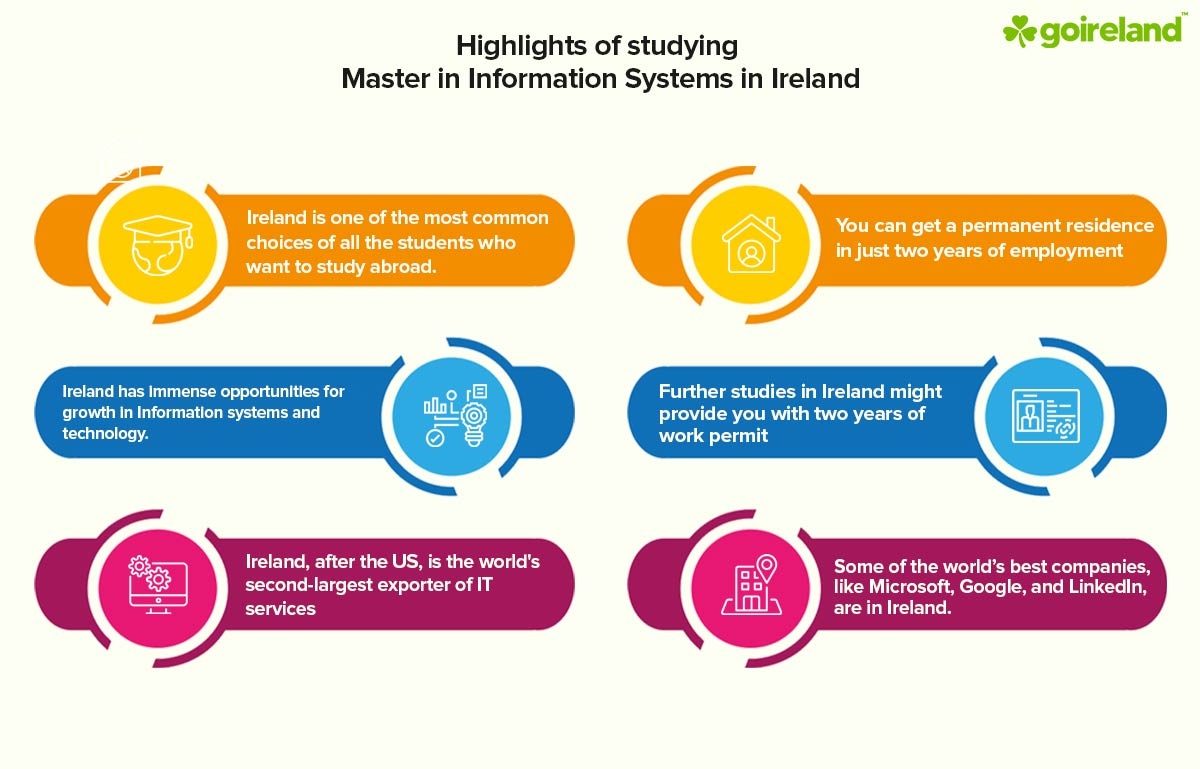 Master (MSc) in Information Systems in Ireland
There are numerous options for career progression in the Information System, regardless of where or how you begin. Some of the best career opportunities in Information Systems are for those looking to advance professionally. The secret to taking advantage of the growth opportunities that professions in information systems provide is deciding to dedicate yourself to learning new things, achieving your professional objectives, and helping your business succeed. The more adaptable you are, the more valuable your employer will perceive you as being in an information system job. You might be interested in learning what you can do to position yourself for information system job growth and promotions once you're hired if you're transferring from another field to a career in information systems.
A fundamental computer system is referred to as an information system, although it can also apply to a phone switching or environmental control system. The IS includes personnel who oversee the system as well as resources for processed or shared information. People are seen as a component of the system since systems cannot function properly without people. Depending on the requirements they are created to meet, information systems come in a variety of shapes and sizes. The most popular ones include the following:
Systems that support operations, such as transaction processing systems, transform business information (financial transactions) into useful data.
In order to provide reports and assist users and organizations in making decisions, management information systems leverage database information.
Data is gathered from numerous sources and examined by managers, who subsequently decide, based on the accumulated data, in decision support systems.
Executive information systems analyze commercial trends and enable users to access summarized strategic information tailored to their needs quickly.
GoIreland's Extensive Footprint in India
Offices across India
250+ Experienced Consultants
Chennai, Coimbatore, Bangalore, Cochin, Hyderabad, Mumbai, Pune and many more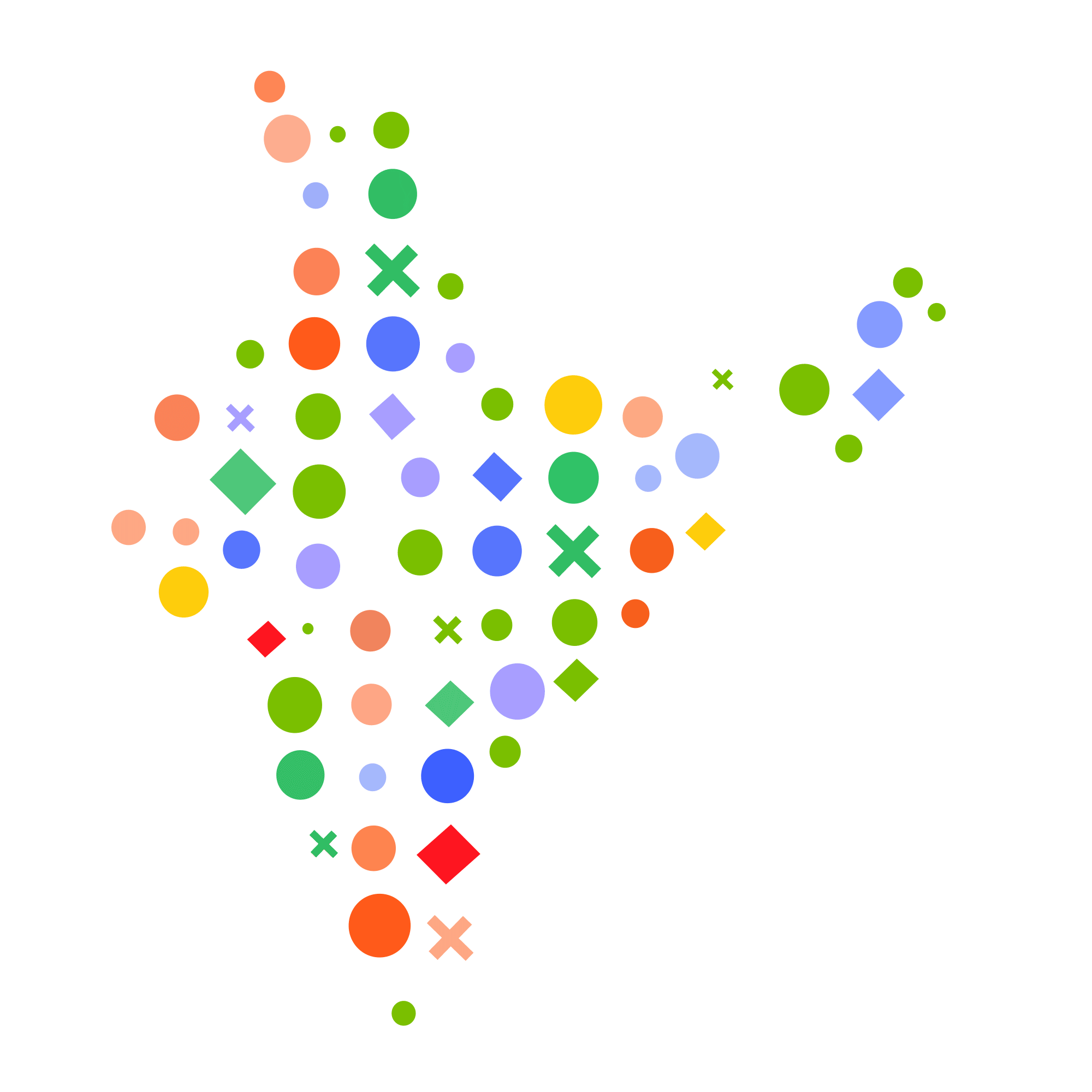 Larger firms' information technology departments frequently significantly impact how information technology is developed, applied, and used. A variety of approaches and procedures can be used to create and use an information system. For the systematic, staged creation of an information system, many developers employ a systems engineering technique like the system development life cycle (SDLC). The planning, system analysis, requirements, system design, development, integration, and testing, as well as the stages of implementation, operations, and maintenance, make up the system development life cycle. Recent studies aim to facilitate and assess the continuous, collective creation of such systems within an organization by all human players. The development of an information system might be done internally (inside the organization) or outside. Outsourcing the system as a whole or a certain part will accomplish this. The geographical spread of the development team is one example (offshoring, global information system).

The goal of an Information System Masters in Ireland for Indian students and an Information System in Ireland for international students is to collect, organize, safeguard, archive, and effectively disseminate information essential to a business's success. Students enrolled in Ireland Information System Masters (MSc) are introduced to the fundamental fields crucial to thoroughly examining the theoretical and practical problems involved in the conception and implementation of human-centered information systems. Students who pursue an MS in Information Systems in Ireland develop their critical thinking skills through the strong integration of theory and practice-based perspectives. Systems developers and designers create interfaces and systems that impact people, organizations, and society as a whole.
Get application fee waiver
by applying through us
I agree to GoIreland terms and privacy policy
or When you study masters (MSc) in Information Systems in Ireland, it helps you gain knowledge of the techniques used to manage and provide information within a curriculum that consolidates in-depth agreement with practical skills, technologies, procedures, and research tools. Students in Ireland who pursue an MS in Information Systems are prepared to advance their careers in the rapidly developing fields of data science and big data. These can be completed in one year by full-time students. The Irish Masters in Information Systems program integrates academic knowledge with operational abilities, processes, technologies, and analytical tools.

GoIreland is the greatest education consultant that aids you to study Masters in Information System in Dublin and build a bright career in Ireland, enabling you to alter your career. Since we work with students with great expectations for their near future, we have accumulated expertise that helps us provide them with high-quality services. About 35,000 foreign students who were previously a part of the GoIreland community attest to its unrivaled ability to offer support of the highest caliber. The job rate from various famous colleges is typically the biggest worry for students. The courses that colleges offer are in-demand key skills that give good employment possibilities and professional progression to address such difficulties.
To know about Requirements
There are prerequisites from the Universities you must meet when you apply for Masters programs in Ireland in order to guarantee a confirmed admission to a reputable institution. Before continuing, you should be aware of these conditions because of a fee associated with applying online to Irish universities. To learn about all the qualifications for admission to a famous university, continue reading.
To know about costing
There are numerous costs associated with moving to Ireland from your native country, both before and after your arrival. These costs will typically vary depending on the lifestyle you choose. Making a preliminary estimate of your monthly expenses is still necessary to make a well-informed choice. Continue reading to obtain an idea of the approximate costs associated with traveling to Ireland to pursue higher studies.
Salary After Masters (MSc) in Information System In Ireland
The average salary in Ireland after masters (MSc) in Information System after earning a masters (MSc) in information systems is something that needs to be thoroughly investigated because you have committed time, money, and effort to your studies there. Many students have aspirations of Working in Ireland after Masters (MSc) in Information System in the top 500 global organizations like Microsoft, Google, Pfizer, Medtronics, and Intel. Because a Masters in Information system is most employable degree in Ireland and Information Systems skills are in such great demand, there is a very strong likelihood that you will be hired by the company where you are pursuing a program.

The salary range for Masters in Information system in Ireland equates to between €25,000 and €55,000. As you are aware, the freshers salary after Information System in Ireland is always lower than an experienced person's salary. The starting salary for Information system in Ireland is currently €38k per year, but after some years of practice, the expected salary after studying Information system in Ireland will be close to €45,900 per year.
FAQ:
---
Is Ireland a good country for a Master's in Information System?

If you want to acquire the expertise and abilities necessary for a successful job in the Information System, you should consider Ireland for your further education. Ireland offers a supportive atmosphere for your career development.
---
Is there a demand for Information System in Ireland?

The top 500 global firms strongly value Information System skills in the current industry and highly reward pupils who possess them. In Ireland, the industry is expanding at an 11% rate per year.
---
Which nation offers the greatest Master's programs in the Information System?

Ireland is the best places to start a successful career in Information Systems
---
Is earning a Masters in Information System worthwhile?

Information Systems is a worthwhile degree because of the greater pay scale it offers compared to other industries.
---
Is a profession in the Information System a good one in Ireland?

Yes, Ireland offers many prospects for those who have acquired knowledge in this subject, making the information system an excellent career choice. Not only is there a growing need for Information System in Ireland, but also around the world.
---
How can I apply for the Information System in Ireland?

You can apply immediately by completing an online form on the website of the university you want to attend. The application fees vary depending on which university you select.
---
Is knowledge of the Information System a necessary skill in Ireland?

Information Systems is a skill that is in great demand, and it is a general rule that the more in demand a skill is, the higher the pay scale. Because there are more and more online startups and enterprises every year, which also indirectly raises the rate of cybercrime, this industry can provide you with a constant source of revenue.
---
Which nation offers the best packages in Information System benefits?

Information System professionals are paid the most in Luxembourg in the world.
---
Is coding a must for learning Information Systems?

Learning to code is not necessary to become proficient in Information Systems. You can easily apply for a master's program in Information Systems and receive basic instruction from your professors.
---
Is a postgraduate degree in Information Systems challenging?

No, earning a master's degree in Information Systems is not challenging, but it makes an average demand effort on the part of the student.
---