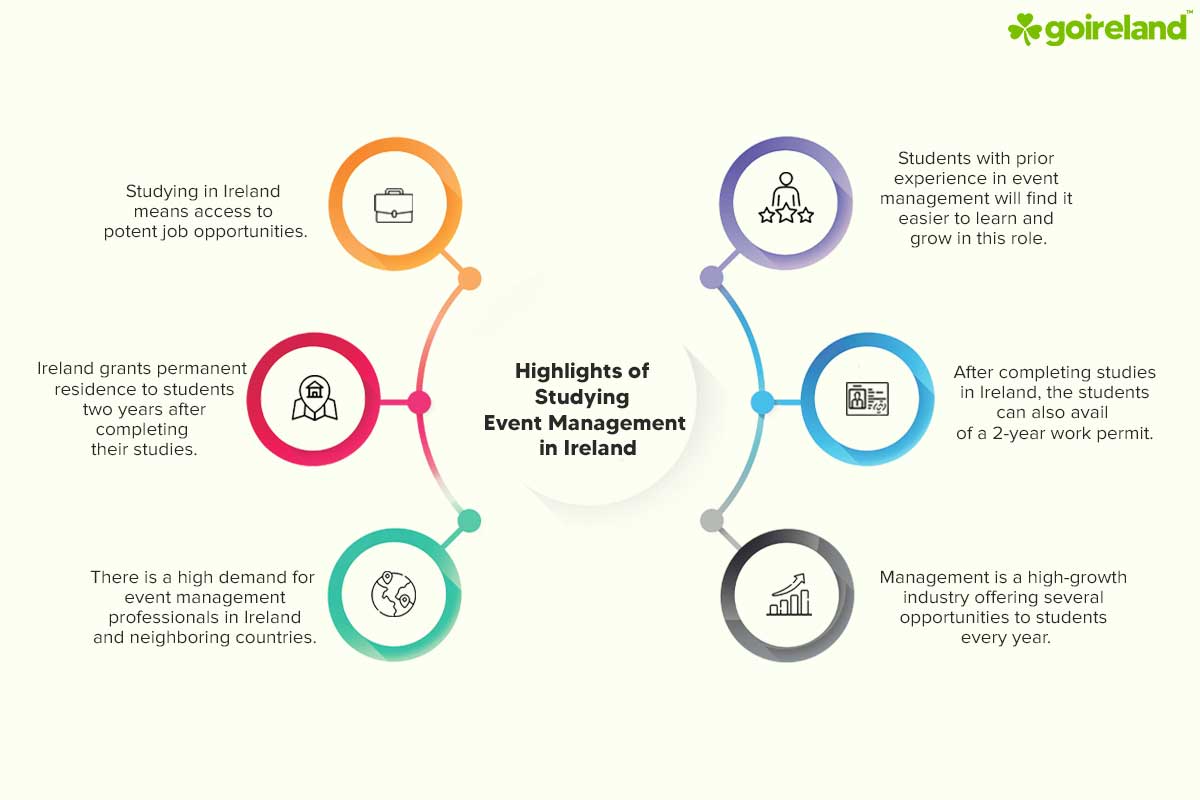 Masters (MSc) in Event Management in Ireland
A Masters in Event Management degree course will train the students to host, manage, and supervise small to large-scale events professionally. Event managers need specific training and knowledge to handle events and their aspects. From handling challenging situations to delegating work to manage day-to-day affairs, event management is a great career option. To succeed in this industry, you need the right credentials and expertise. To study Masters (MSc) in Event Management in Ireland means getting access to world-class education in a European nation. Studying in Ireland is beneficial for an Indian student in several aspects. They will get access to higher education abroad, which adds immense value to their professional career. Moreover, with Ireland's welcoming environment and the capability to support skill and talent, students can find several work opportunities here.

Moreover, Masters in Event Management in Dublin means the student can also explore work opportunities in Ireland's neighboring countries. A few decades back, event management was limited to organizing small festivals, conferences, and parties. But with time, large-scale events like St. Patrick's Day, Independence Day Celebrations, city-wide marathons, and music festivals like Tomorrowland have become the scope of event management. As a result, professionals who understand the nuances of effective event management are required across the globe.
Get all your doubts
clarified now for

Free
I agree to GoIreland terms and privacy policy
or An Ireland Event Management Masters (MSc) will train the students to become great managers and problem solvers. A degree from the right university or college will give students a platform to learn and showcase their skills. Universities in Ireland have immersive programs and curricula to help students gain a 360-degree understanding of the concepts and subjects related to event management. Students completing their degree in Ireland can join big event management companies. Plus, with the right mindset and guidance, they can establish their own companies in this field. The courses are formed to provide the student with management, communication, strategy-making, collaboration, and financial management skills. Overall, the impact of a degree course from Ireland is that the students will receive end-to-end training for this profession. When deciding to study event Management, you need to understand a few things. First, going to Ireland means preparing well for the migration process. You need to understand and satisfy the admission requirements set by the institutions. In addition to this, there are legal requirements, financial evidence, visa requirements, and other aspects.
GoIreland's Extensive Footprint in India
Offices across India
250+ Experienced Consultants
Chennai, Coimbatore, Bangalore, Cochin, Hyderabad, Mumbai, Pune and many more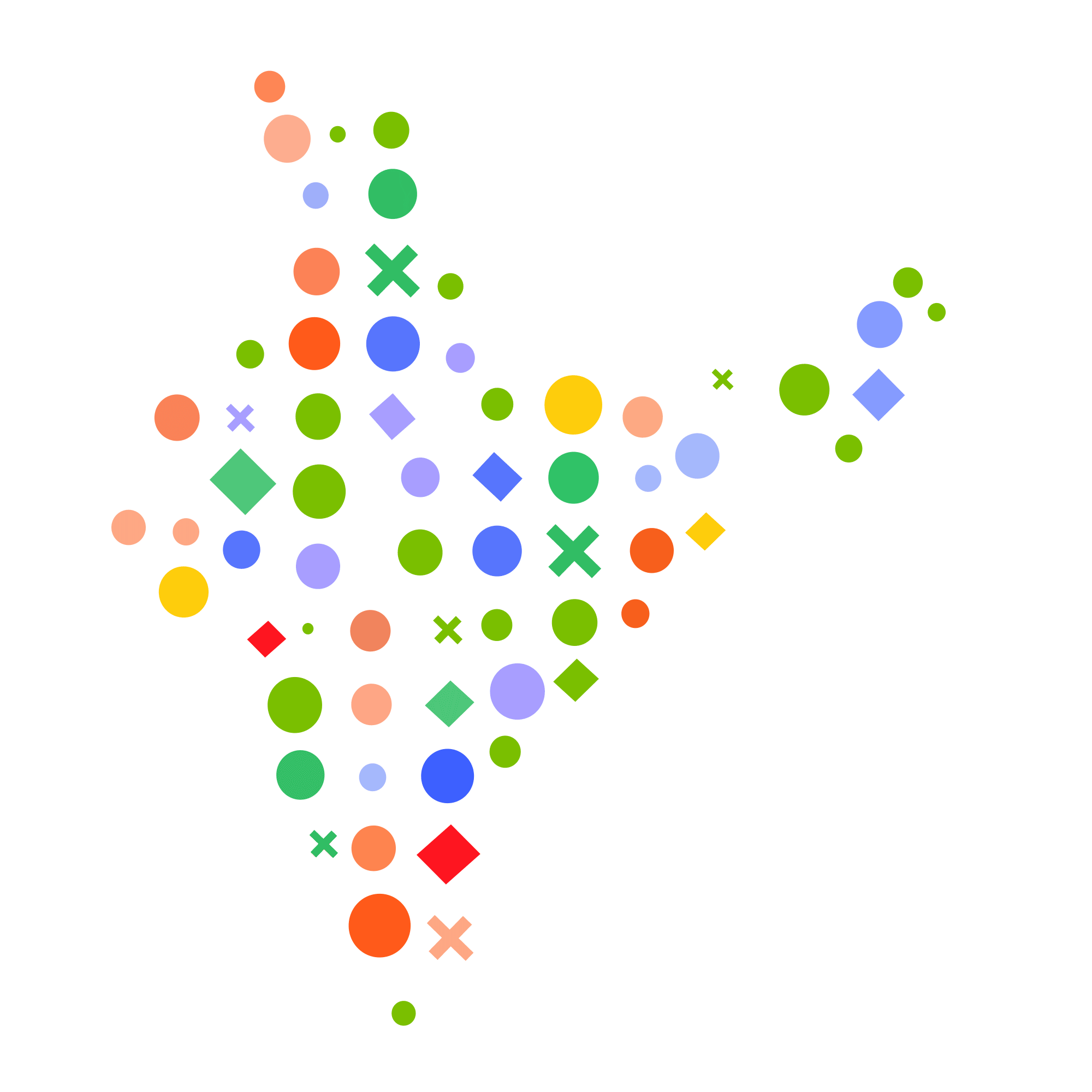 At GoIreland, we have in-house experts closely tied to Ireland's educational system. We can assist you in deciding which university or college is best for your career goals and help you handpick the right course for your future. An Event Management Masters in Ireland for Indian students can also include cross-disciplinary subjects like public relations, internet marketing, sales, advertising, and digital media. As a student, you must make the right choice to advance your career. For the admission requirements, it is essential to have a bachelor's degree in event management or a related field. In the bachelor's degree, you need to score at least 60% or 6.0 CGPA to be eligible for admission in the Masters course. In addition to this, international students also need to have proficiency in the English language to get admission. These are the two most important requirements for Event Management in Ireland for international students. The scope of event management in Ireland does not limit the student to managing marriage events and conferences. It enhances their potential to manage concerts, reality shows, films, or music award shows. The courses and programs in Ireland will train the students to gain technical and non-technical skills. The courses are carefully designed with assignments, practical work, lectures, seminars, workshops, and experiential learning systems leading to effective learning.
Get application fee waiver
by applying through us
I agree to GoIreland terms and privacy policy
or Good management is not only about taking care of the tasks and ensuring the timely delivery of everything. It also includes bringing new ideas to the table for better management. It includes creating an effective structure to take care of the tasks and jobs and increase productivity. To complete your master's degree in event management, you can take a loan from banks and NBFCs in India. These institutions offer you tuition fees, additional university expenses, and living expenses. Moreover, the repayment schedule for the loan begins after the degree is complete. Studying in Ireland can cost between INR 25 lakhs to INR 50 lakhs. And this includes the study and living expenses. Instead of taking a loan, you can also get a scholarship related to your degree and stream.

Dublin Business School and Dublin Institute of Technology list under as the few best universities or colleges in Ireland to pursue a degree in event management. You can also check out the Institute of Technology Carlow, Limerick Institute of Technology, and Technological University Dublin. Within these institutions, you can pursue MSc in Event Management and Business Management. In addition, there are Diploma and Certificate courses available in these institutions. You will also find distance learning courses offered by Ireland-based universities and colleges. By pursuing these courses, the students can get high-paying jobs in globally recognized event management companies or even start their ventures.
To know more about the requirements
To gain admission to an event management course in Ireland, the students must fulfill a few conditions. These requirements are set to select eligible candidates with accurate and satisfactory attributes. Follow ahead to understand the requirements for admission to Ireland educational institutions clearly.
To know about costing
The students aiming to study abroad in countries like Ireland must also know about the costs involved in the process. All the universities have set different fee structures. In addition to the tuition fees, the students also need to understand the living expenses and additional costs of studying in Ireland.
Salary After Masters (MSc) in Event Management in Ireland
Event management is an upcoming profession gaining popularity as the trend spreads across the globe. Today, people are hiring specialized professionals who understand event management deeply to ensure that their functions and festivals are held professionally without any issues. As a result, the field of event management is rapidly growing, and so are the salaries of professionals providing services in this field. The average salary in Ireland after Masters (MSc) in event management is €35,000. This is the entry-level salary of an associate or executive in an event management company. Working in Ireland after Masters (MSc) in event management means working in companies that handle events for many clients. This can include music production companies celebrities to a single client wanting to arrange a marriage event. In these companies, the salary range for Masters in event management in Ireland can also depend on the size and scale of services.

Midsize and large-scale companies can have a higher starting salary for event management in Ireland than a start-up company or a small-scale organization. However, the freshers salary after event management in Ireland will be more after completing the Master (MSc) degree than after a Bachelor's degree. So, taking a Masters degree course will undoubtedly help you get higher salaries.

Event management is a relatively less popular degree. Its popularity is growing, but when you compare it to computer science or engineering, event management still has a lot of ground to cover. As a result, many event management professionals may not receive the expected salary after studying event management in Ireland. The standard norms for event management salaries and benefits are gaining momentum, but it will take time for the entire industry to reach better heights.

Those expecting Masters in event management is most employable degree in Ireland; they can further explore the industry and gain the relevant skills. For the right person with adequate knowledge and credentials, event management can become a game changer for professional and personal growth.
Get all your doubts
clarified now for

Free
I agree to GoIreland terms and privacy policy
or FAQ:
---
What are the key responsibilities of an event manager?

An event manager is tasked with making and supervising the arrangements of an event, festival, occasion, etc. The general tasks include managing finances, planning, and organizing the functions while coordinating with other departments. Event managers should also communicate with the clients, understand their requirements and realize them perfectly.
---
Do I need to complete my bachelor's in a particular degree to join the Masters in event management course?

There is no such rule. Students from any stream can enroll in a Masters (MSc) course in event management. However, to become eligible for admission, the students must obtain the minimum grade or score in their bachelor's degree.
---
What are the key traits of an event management professional?

People in the event management industry need excellent communication, management, and creative skills. They need to communicate with many people daily, including their clients, team members, vendors, stakeholders, etc. They also need impressive management skills to take care of the tasks and execute them flawlessly.
---
How can I grow in the event management industry?

Event management is largely a self-employed industry. After completing their degree, graduates find work in organizations providing these services and gain experience plus expertise. At the right time, they move ahead to start their own event management company. While this is the general trend, professionals can also find better opportunities in other types of companies, including hospitality, public relations, sports, etc.
---
What are the most popular industries where event management is required?

Almost every industry and its companies need to hold events for various purposes. But the most important industries connected to event management are sports, music, weddings, marketing, and public relations.
---
Can I work in Ireland after completing my degree?

Yes, students in Ireland can get a work permit visa for 2 years after completing their Masters course.
---
Are there Ph.D. courses available in event management?

Ph.D. courses in event management are also available if you wish to study ahead. These courses take the student's understanding of the subject to the next level, where they conduct research and experiments to find new trends and build a new understanding of the subject.
---
What are some unique skills of an event manager?

Besides having good control over their communication, event managers are also quick decision-makers. They are leaders and can supervise a team of people to deliver the intended results. Most of all, event managers are great at time management.
---
What is the role of GoIreland in assisting me in getting admittance to Ireland?

Several Irish institutions of higher education are officially connected to GoIreland. We can assist you with getting ready for anything, including picking the best schools, completing the documentation, requesting a visa, obtaining a scholarship, and sometimes even securing a loan.
---
Are there any additional costs that tag along with the tuition fee?

Yes, there are additional costs, where you would have to pay for healthcare costs, recoverable deposits, library fees, lab fees, and other expenses, along with your tuition fee.
---