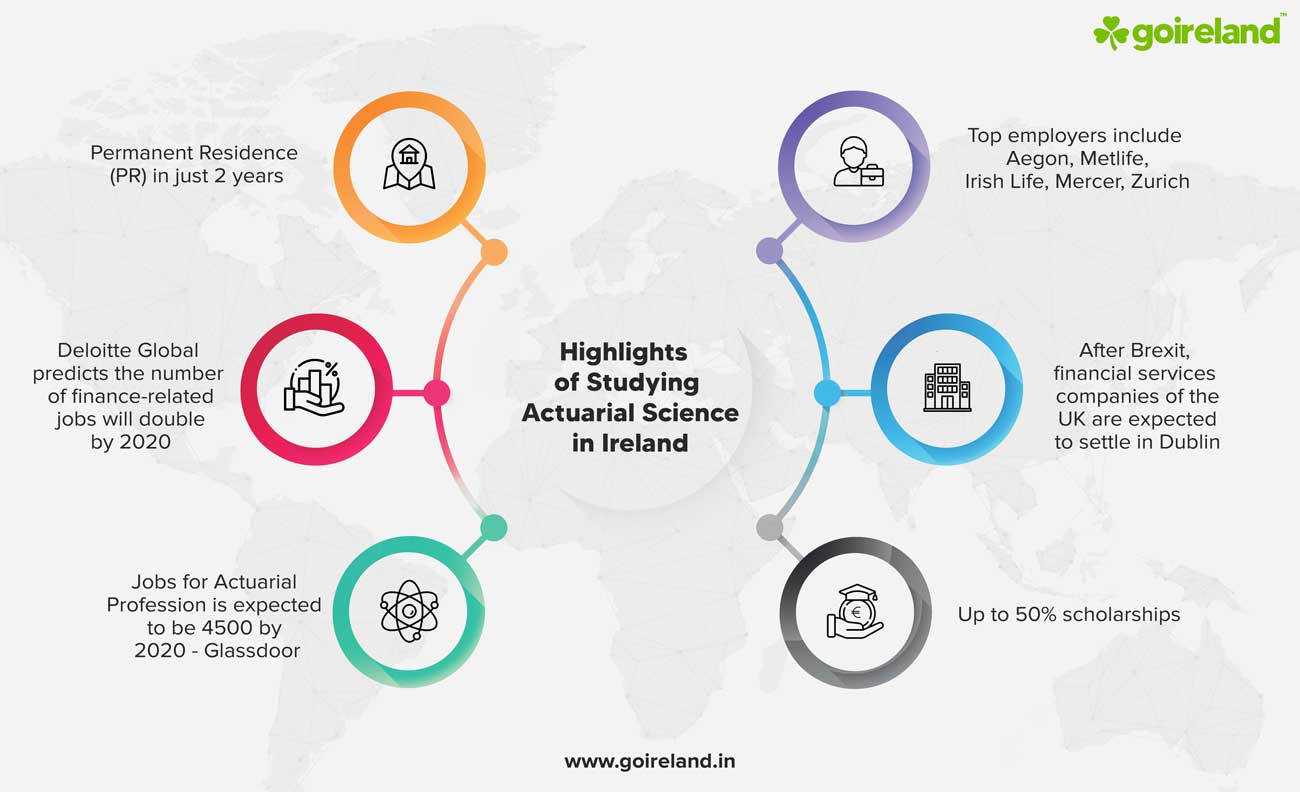 Masters (MSc) in Actuarial Science in Ireland
Are you looking forward to studying for a Masters in Actuarial Science in Ireland? Well, nothing could be better than approaching GoIreland consultants for assistance regarding your study Masters (MSc) in Actuarial Science in Ireland. Actuarial Science deals with analyzing, predicting, and preventing any risks associated with investments, finance, pension, insurance, etc. Actuarial Science Masters in Ireland for Indian Students is a 1 to 2 years post-graduation program for students to pursue both full-time and part-time at their convenience. Working professionals always have the convenience of opting for part-time courses to work and study simultaneously.

Actuarial Science comes with unparalleled benefits for all sorts of industries, and owing to this, companies have already begun investing millions of dollars into the Actuarial science industry for the prevention of risk in the foreseeable future. Not just convenience and precise prediction of risks, but Actuarial Science can drastically enhance the efficiency of handling risks and conduct risk management in comprehensive ways. Starting from predicting and analyzing all sorts of potential risks for any business and taking the right initiatives to prevent them is where the importance of Actuarial science lies.
Get all your doubts
clarified now for

Free
I agree to GoIreland terms and privacy policy
or From potential risk identification to analyzing data, employing statistics, and improvising mathematical skills to assess or predict an event's probability and its financial consequences, Actuarial Science can do wonders for your business in real-time. Students are assisted through the preliminary academic examination of the Institute and Faculty of Actuaries (UK), hence, offering talented graduates of Masters in Actuarial Science in Ireland fast track route to a career in qualified actuary, which is why studying masters in Actuarial Science in Ireland is always an imperative choice towards your career. Professional and experienced staff in actuarial science masters in Ireland will develop mathematical and statistical capabilities along with problem-solving analytical skills for assisting businesses and organizations in assessing the long-term financial improvisations of the decisions made.

Alongside fundamental actuarial subjects, which primarily constitute the MSc in Actuarial Science in Ireland postgraduate course, students will be given access to associated topics from the broader statistics discipline and actuarial science, thereby widening their educational periphery for meeting the demands of actuarial science over the coming years. The data processed through Actuarial Science are collected from multiple online resources and precisely processed to identify financial risks and prevention.
GoIreland's Extensive Footprint in India
Offices across India
250+ Experienced Consultants
Chennai, Coimbatore, Bangalore, Cochin, Hyderabad, Mumbai, Pune and many more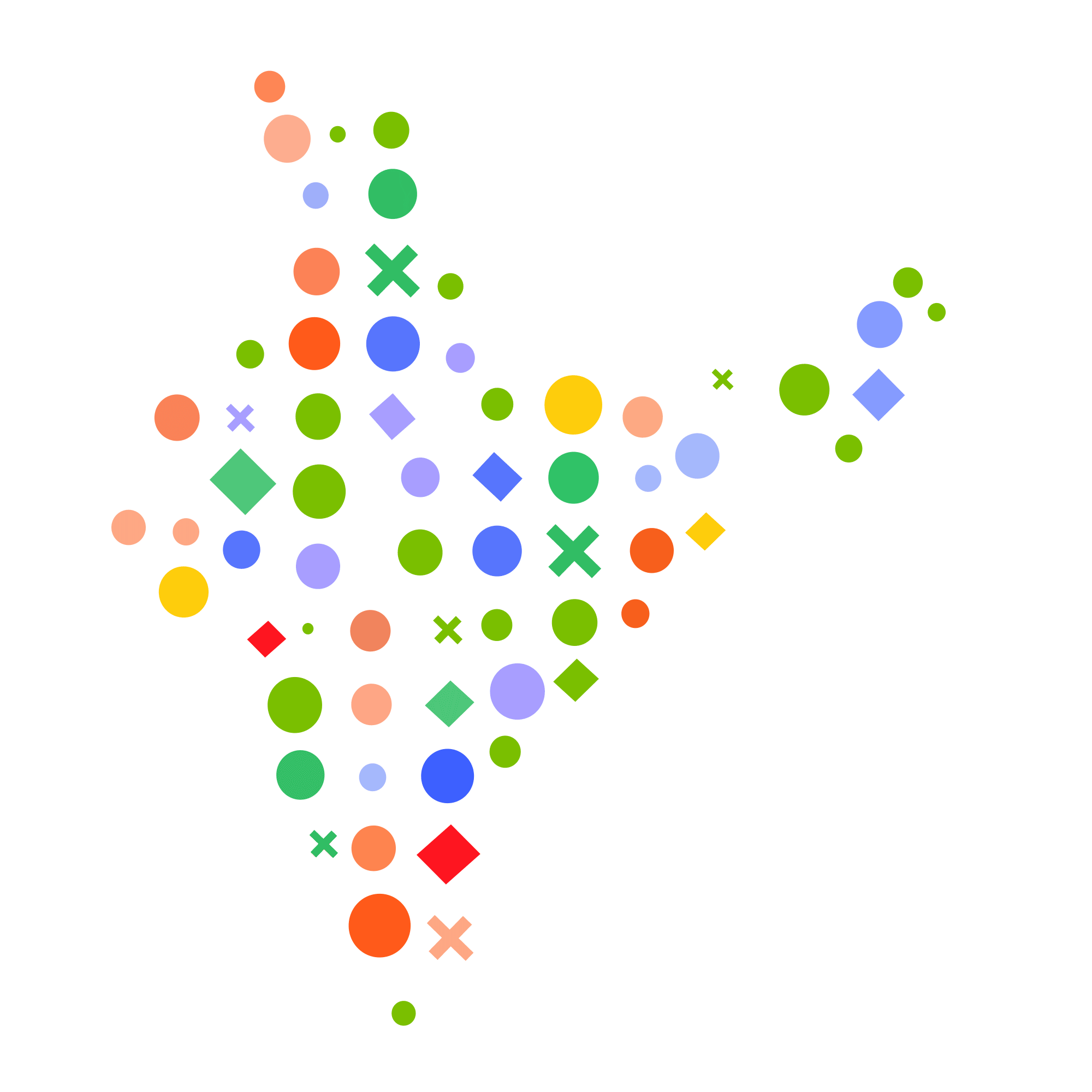 Most reputed organizations from multiple sectors are after proficient and skilled actuarial science experts who can identify and prevent upcoming risks to eliminate any chances of financial mishaps. The ever-increasing demands of qualified actuaries to help businesses and finances eliminate risks have paved the foundation for a prosperous career after the persuasion of Actuarial Science in Ireland for International students. The best destination for your future goals is Ireland, hosting some of the most esteemed universities for studying Masters in Actuarial Science, such as Dublin University, University College Cork, Mary Immaculate College, etc. Masters in Actuarial Science in Dublin is a specially curated course for meritorious aspirants backed by thorough practical and theoretical classes, which is considered a career-shaping postgraduate degree for the next generation.

Ireland Actuarial Science Masters (MSc) requires you to have high-scoring graduation marks in any science, data analysis, statistics, computer science, or commerce-related field before university admission. The Actuarial Science course masters is a level 9 specialized study program aiming towards gearing students with essential skills and analytical mindset for a successful actuaries career in the ever-growing financial risk management industry. The course assists students in understanding concurrent and parallel programming systems so they can write concurrent and parallel programs for solving real-world data management problems. MS Actuarial Science in Ireland will also enable them to maximize their skill display, different sets of knowledge and skills in the areas of Actuarial Science like Statistical Mathematics, Risk management and Statistical Reporting, Probability and Mathematical Statistics, General Insurance, Life and Health Contingencies, Statistical Methods and lot more.
Get application fee waiver
by applying through us
I agree to GoIreland terms and privacy policy
or To know about the Requirements
Actuarial Science in Ireland, check out the detailed information below and familiarize yourself with all the necessary information. We have dissected every piece of information for your better understanding. Feel free to contact a GoIreland consultant for any additional queries.
To know about Costing
To know more details on the cost of an Actuarial Science course in Ireland, check out the below-detailed information on tuition fees, accommodation costs, and other necessary expenses. You can contact any GoIreland educational consultants anytime for a consultation about your study in Ireland.
Salary After Masters (MSc) in Actuarial Science in Ireland
Actuarial Science masters in Ireland is one of the most designated and impressive postgraduate programs with loads of opportunities awaiting exclusively for you. After completing the Actuarial Science course in Ireland, students face immense job prospects in major companies such as Bank of America Merrill Lynch, Apple, Cisco, Enterprise Ireland, KPMG, Allianz Ireland, Citco, Metlife, and many more as proficient actuaries. The average salary in Ireland after Masters (MSc) in Actuarial Science is around €40,000 to €64,000 per annum, depending on the candidate's job profile. Working in Ireland after Masters (MSc) in Actuarial Science can offer you impeccable salaries as high as €95,680 per annum in companies like Metlife, Citco, Allianz Ireland, Bank of Ireland, KPMG, Deloitte, PwC, Bank of America Merrill Lynch, etc.

Masters in Actuarial Science is the most employable degree in Ireland that can open up employment opportunities for students such as financial modeling analysts, risk analysts, Members of the Society of Actuaries Ireland, Legislative roles, insurance experts, data analysts, risk management experts, pension consultants, Auditors, banking analysts and many more. The salary range for Masters in Actuarial Science in Ireland is always much higher than in other EU nations, with a 90% increase in chances post the first service year depending vastly on the job performance. The Starting Salary for Actuarial Science in Ireland is usually €40,000 for a risk analytics specialist at a middle-sized organization. If you are a fresher, you can expect freshers salary after Actuarial Science in Ireland ranging from €38,000 up to €52,000 per annum, which sounds more impressive than most countries. The expected salary after studying Actuarial Science in Ireland from top universities isn't below the benchmark of €66,475 per annum in any reputed organization in Ireland as per the survey of Employment Bureaus in 2022.
Get all your doubts
clarified now for

Free
I agree to GoIreland terms and privacy policy
or FAQ:
---
Which University is best for an MSc in Actuarial Science in Ireland?

Some of Ireland's top universities for Actuarial Science are Trinity College Dublin, University College Dublin, Limerick University, Mary Immaculate Institute, Maynooth University, University Cork College, etc.
---
Is Ireland a good choice for an MSc in Actuarial Science?

As per the 2020 THE World Ranking, 8 major Irish universities offering Masters in Actuarial Science rank amongst the top global universities. You can also earn from 52,000 USD- 95,680 USD per annum against an average tuition fee of 14,000 USD- 25,000 USD per annum.
---
How to Become an Actuary in Ireland?

To excel as actuaries in Ireland, students must have a graduate degree in data science or analysis, mathematics, statistics, finance, business, or computer science. Mathematical and statistical predictive and problem-solving skills are essential for aspirants in this field.
---
What Can I Do With an Actuarial Science Degree in Ireland?

Students can get employed as financial modeling analysts, risk analysts, members of the Society of Actuaries Ireland, Legislative roles, insurance experts, data analysts, risk management experts, pension consultants, Auditors, and banking analysts after completing their Masters in Actuarial Science in Ireland.
---
Does Actuarial Science in Ireland Require a Lot of Coding?

Actuarial Science does not require you to be proficient in coding, but you must have prior knowledge of analytics tools, data visualization software, and data management systems. You must have a zeal for mathematics.
---
Why Choose Actuarial Science Masters?

Actuarial Science is a thrilling new program helping you kick-start your dream career in Actuarial Science. The course possesses similar core principle coverage to UCC's most successful undergraduate program, Financial Mathematics and Actuarial Science, which attained close to 100% employment over the past few years. Students of this MSc course have an equivalent success rate.
---
How Can GoIreland Help With Actuarial Science Masters in Ireland?

GoIreland consults with the students directly to select the best-suited universities after examining their profiles and helps them get admission to their desired universities. We also help you with the VISA documentation, loan, and accommodation process for study in Ireland.
---
What are the fees charged by GoIreland?

Your satisfaction and a bright career are our fees at GoIreland. We do not charge any kind of fee for any of the services we offer students.
---
What is your VISA attainment percentage?

GoIreland holds the record of a 100% VISA approval success rate through our relentless hard work. For more information, contact us.
---
Are you authorized representatives for MS in Actuarial Science Ireland Universities?

Yes, we are authorized to represent leading Irish universities and focus on helping you acquire the most authentic information.
---
Will I get employment right after completion?

Yes, the top Irish universities we represent will help you secure the best employment offers upon the successful completion of the course. It may extend you lucrative internship opportunities depending on your performance. For more information, contact our consultants at GoIreland.
---