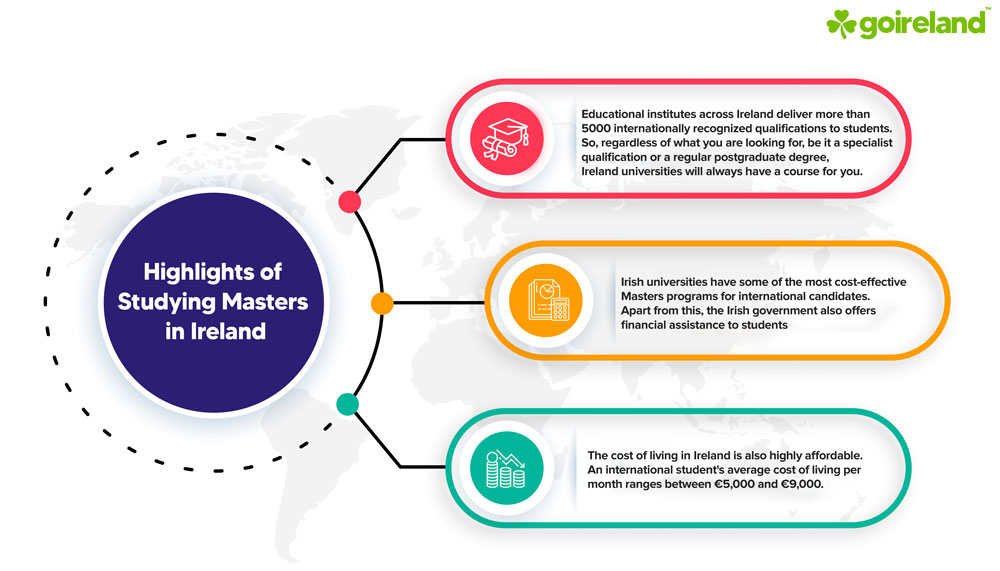 Masters in Ireland
If you want an overseas high-study destination with the perfect blend of cutting-edge technology and a rich cultural legacy, go no further than Ireland. Ireland is one of the most difficult study abroad options to overlook, majorly because of its attractive surroundings, historic universities, and royal architecture. It is always beneficial to study Masters (MSc) in Ireland because the universities here create an environment that nurtures students' strengths and motivates them to go behind their passions. Masters in Ireland for Indian students is one of the most popular options, with the Irish universities receiving several applications every year. Even Masters in Ireland for international students is popular because of the low cost of living and studying there. In Ireland, it is also possible for students to receive free accommodation, education, and even monthly travel passes.
Speaking of Ireland Masters (MSc), the country is one of the most prestigious destinations for this purpose. Acquiring your Masters degree in Ireland will allow you to blend centuries of academic tradition and culture with modern and high-quality degree programs. Most of the full-time taught Masters programs in Ireland are of 1-year duration. Still, you will also find several two-year professional programs if you study full-time. Some universities in Ireland provide work placements as an integral part of their Masters programs. However, the work placement option can extend your Masters program in Ireland.
You can also pursue a Masters in Dublin because this study destination in Ireland has some of the best colleges and universities offering several postgraduate courses. Also, the quality of education at the Dublin universities and the cost of living in this location are far more affordable than in any other location in Ireland and some other countries. Tuition fees for postgraduate courses in Dublin are highly affordable, and international students even get the scope to work while they are studying. Above everything else, there are several post-study work opportunities also available to students in Ireland. And these are some of the strongest reasons behind more and more international students choosing to study for their Masters in Ireland. Although Ireland is a tiny nation, the top universities here boast of formidable infrastructure and world-class education, which is right on par with a few best universities in the world. It is also worth noting that the Irish Masters programs are very well integrated into the innovative degree system of the country. You can pursue your Masters in Ireland at several internationally-recognized and renowned research universities or specialized Institutes of Technology in Ireland, providing professional and technical training.
GoIreland's Extensive Footprint in India
Offices across India
250+ Experienced Consultants
Chennai, Coimbatore, Bangalore, Cochin, Hyderabad, Mumbai, Pune and many more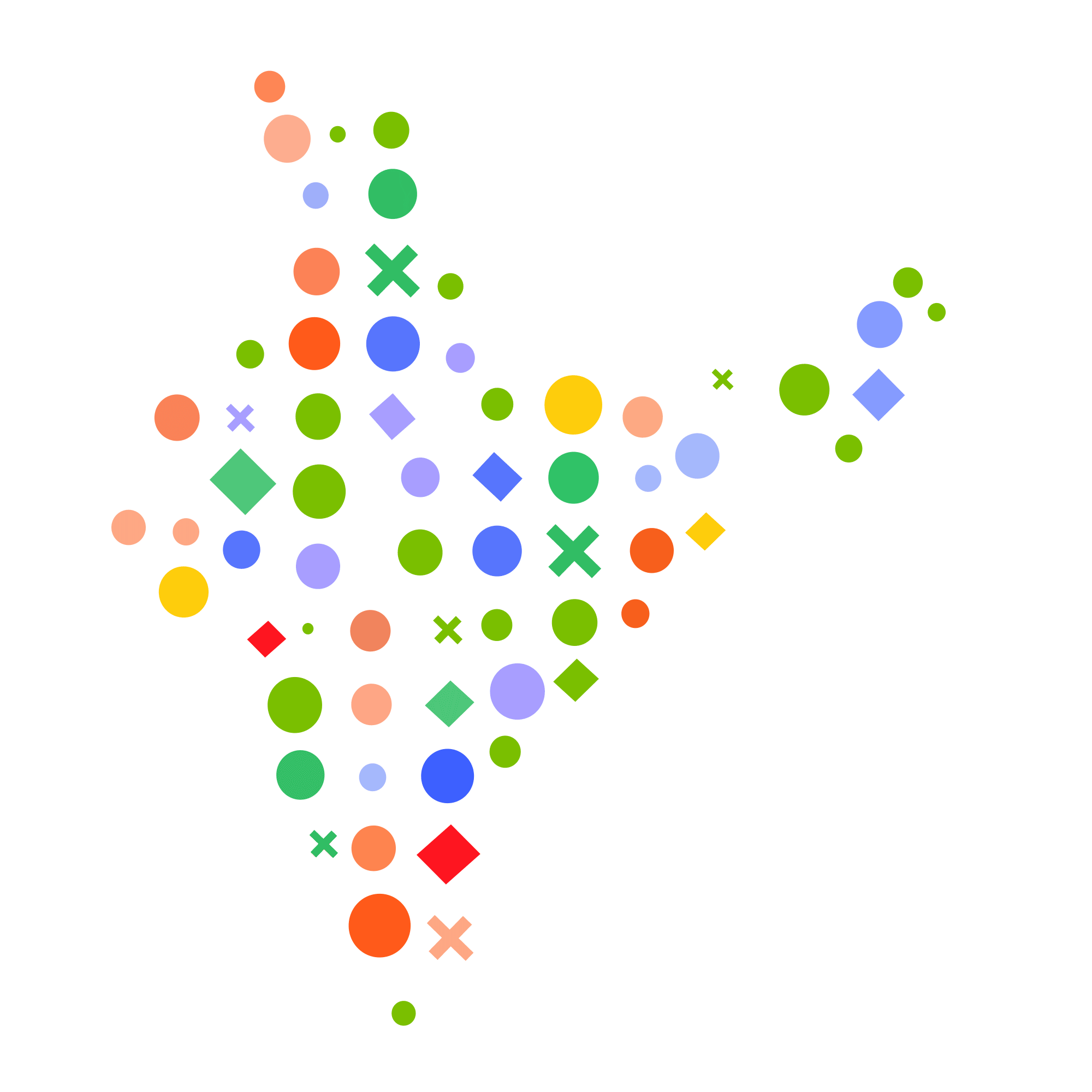 Whatever and wherever you study in Ireland, one thing you can remain assured of is you will have a good time in their popularly friendly nation with traditions and culture celebrated worldwide. Here, you also get the scope to explore some of the most historic cities and visit the most stunning places that have helped Ireland grab the title of "The Emerald Isle." The country attracts more than 15,000 international students who like to enroll in Masters programs and other similar postgraduate degrees. So, Masters in Ireland is one of the top choices for most international students. It boasts a rich history and can provide some excellent universities worldwide. It is a nation where history, traditions, and religion play an important role in regular life and the nation's self-perception. If you spend your time getting Masters in Ireland in some of the most exciting cities, you can remain assured of finding some of the best universities and colleges. The Irish universities provide a huge selection of Masters in Ireland programs, including MBAs and other Business-related master studies, technology programs, Arts and Humanitarian master programs, and many more.
To know about the Requirements
Ireland is home to many best universities specializing in Masters programs in different subjects. Completing your Masters successfully from any of the top universities in Ireland can provide you with the best work placement. But even before joining work, you must clearly understand the admission procedure and requirements for pursuing a Masters in Ireland. You can find the details below.
To know about Costing
So, you are already aware that Ireland is one of the best destinations for completing your postgraduate or Masters degree. You may also know that most Irish universities have achieved world-class rankings. All in all, Ireland is one of the best study-abroad, higher education destinations for international students. But do you know anything about the cost of studying and living in Ireland? If not, then go through the section below carefully.
Salary After Masters in Ireland
Ireland is a country that is always open to the idea of offering the best scopes of employment to international graduates after they complete their Masters. The third-level guarantee scheme in Ireland is specifically designed for this purpose. By way of this scheme, both EU and Non-EU students can work in Ireland for two years in full-time jobs of up to 40 hours per week after completing their Masters. Students working in Ireland after Masters (MSc) do not require any special permit; however, they will have to renew their residence permit to use this option. Students will also need a letter from their respective universities confirming the successful completion of their postgraduate course. Your graduate permit is initially renewed for a year, and you can renew it for another year, provided you can prove that you have been looking for proper employment. You even have the option to apply for an Irish Green card which is a permanent work permit in Ireland, when you successfully end up finding a good job in the country.
Speaking of the salary range for Masters in Ireland, first of all, you must note that Masters is most employable degree in Ireland, with the average salary in Ireland after Masters (MSc) ranging between €67,250 per annum to €34.49 per hour. Freshers salary after Masters in Ireland is €55,000 per year, while the expected salary after studying Masters in Ireland for experienced professionals may go up to €84,750 per year. The starting salary for Masters in Ireland per month for a Senior Project Manager is €6,875 while that for an IT Manager is €6,042. IT Project Managers make €5,833 as salary in Ireland, while the income of a Programme Manager in Ireland is €5,625.
FAQ:
---
What documents do the students need to study abroad?

When you get in touch with our counselors at GoIreland, you will get an idea of the documents you need to apply for Masters at a chosen university in Ireland. Having all the documents ready to speed up your admission procedure and even preventing last-minute hassles is important. Documents needed for admission in Masters courses in Ireland include financial documents, visa application forms, transcripts, essays, and recommendation letters.
---
Which is the best intake to study for a Masters in Ireland?

There is no uniform time across all the universities in Ireland. Also, intakes at the Ireland universities take place twice during the year. Before submitting your admission application, know about the intake periods so that your education consultant knows about your preferences.
---
How can education consultants help in the best intake?

Some universities in Ireland have more Masters courses available for the Fall intake, while others have an equal number of courses available for Spring and Fall intakes. Note that there is no "best" intake, but you can always have a word with our education counselors and explain your likes and priorities.
---
What about knowing the reputation of the Ireland universities?

You always have the option to ask as many questions as you want to our counselors regarding the reputation and universal ranking of the Ireland universities. By doing so, we will help you choose between different universities.
---
What are the different tests I need to undertake to study in Ireland?

Basically, you need to undertake two types of tests to study in Ireland. These are standardized tests and language tests. Universities in Ireland may also ask for IELTS and TOEFL scores for students who have not opted for English as a first language.
---
What is the significance of SOP or Statement of Purpose for admission to Masters in Ireland?

An SOP or Statement of Purpose reflects your purpose of getting a degree in Ireland and your chance to explain why you are looking to study in Ireland. Irish universities study the SOP carefully; therefore, writing the SOP in the best way possible is necessary. You can always take the help of our counselors for this purpose.
---
What is a LOR or Letter of Recommendation for admission to Masters in Ireland?

A LOR or Letter of Recommendation is important when applying for admission to study in Ireland because several Irish universities require someone else to validate the candidates' professional skills and academic merits. Our consultants at GoIreland can also help you with this.
---
What kind of accommodations can you help with within Ireland?

We have a complete team of consultants to support your higher education endeavors in Ireland. You can contact us to check for the most suitable accommodation options on or off campus. We can also help you find Ireland's best apartment and housing options. You can also choose to stay at dorms and residence halls to complete your Masters in Ireland..
---
Can you help me contact some students you have already counseled and sent for Masters in Ireland?

Yes, our counselors will help you get in touch with students who have already been counseled and are studying for their Masters in Ireland. By doing so, they help you get a better perspective on pursuing Masters in Ireland.
---
Is it expensive to study in Ireland?

Studying in Ireland can be highly affordable, provided you plan everything well and perfectly. Applying for education loans and scholarships at the right time can help you save yourself from the financial burden of studying in Ireland.
---