Cost of Studying in Ireland
Highlights for Studying Cost in Ireland
Top Global Universities offering affordable tuition

Tuition fee for Masters in Ireland Starting at 9,000 EUR

Scholarships ranging from 1,000 EUR upto 100% Tuition fee waiver

Salary for Part time jobs at 9 - 12 EUR/hour

Attractive starting salary of 40,000 EUR

MBA degree tuition fee at 12,750 EUR
Recognitions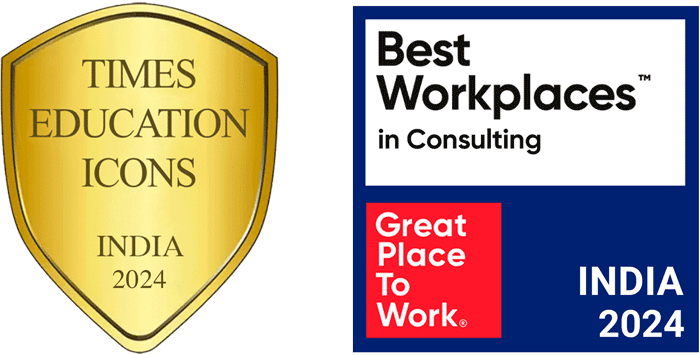 Cost of Studying in Ireland for International Students
Ireland, in recent years, is allowing more and more international students to study in Ireland. The Irish government is welcoming and supporting foreign students. Cost of studying in Ireland is way cheaper than in most countries and since the universities welcome students, it is estimated that there will be approximately a few million of students by 2025. The Irish Government has started investing more than 11 billion Euro in education from 2020 and also has plans for Free education in Ireland under certain conditions. In order to attract more and more international students, the Irish government also started offering umpteen scholarships and funding programs to bring down the average cost to study in Ireland.

All these reasons make Ireland the ideal destination for students who are planning for higher studies. So if you are looking to spend a minimum cost to study in Ireland, then there are many advantages when applying to top universities in Ireland. First, the high employment rate, and the two-year post-study stay back after Masters and a 1 year stay back after Bachelors in Ireland. Thirdly, the opportunity to work part-time which can reduce the average cost to study in Ireland.

To make things easier for you to get into good universities, we have done the research for you. If you are determined to do your education in Ireland, give us a call right away. Read this article to know about tuition fees and living costs for international students in Ireland.
We are the Official Representative for Top Ireland Universities
Why are we the Student-Preferred Ireland Education Consultancy?
With a significant record of admits & scholarships, GoIreland is Ireland's Exclusive Official University Representative. As an Exclusive Ireland Education consultancy with a well-trained team, GoIreland has assisted 10,000+ students every year. A strong team of 200+ certified Irish education consultants placed globally are on our feet to help you out with any query. Some of the many reasons to study in Ireland are, cheap tuition fees, post-study work permit, scholarships as tuition fee deductions. Ireland is an IT hub with 30+ higher education institutions presenting 5000 programs. Among Ireland's top Education Institutions, most of them are listed in World's top 500 QS World University Rankings.

We are Ireland's Exclusive University Representatives and are committed to providing you with the most errant information the universities provide regarding the courses and requirements. The trained consultants of GoIreland - Exclusive Ireland Education Consultants remain in constant communication with the Ireland Embassy and are updated with the current requirements for Visa, making every Visa application a conquest.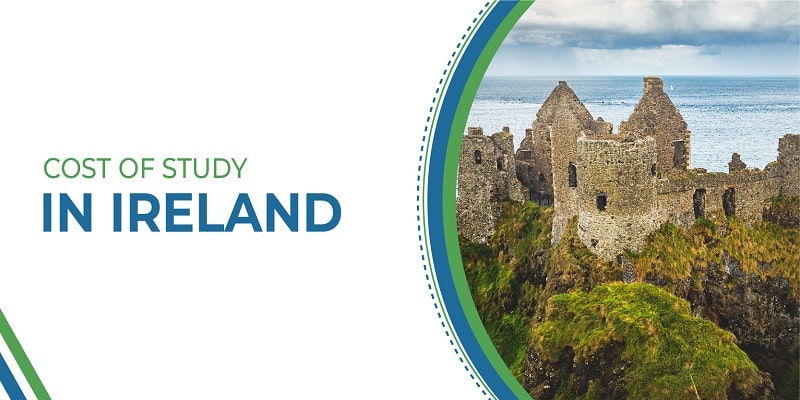 Study Expenses in Ireland for Bachelors
The cost of studying Bachelors in Ireland starts approximately around €7,000 and can go upto €22,000 per year for certain courses. On average, the tuition fee in Ireland for international students will cost around €12,000 per annum. The Universities, Institutes of Technology and Colleges most of the time will have different fee structures. So it is better to take a look at this first before applying to a particular university or institution. Also, the tuition fees vary depending on the course that you would opt to study too.

Below are the minimum tuition fee for Bachelors in Ireland in some of the popular universities:
| Top Universities for Bachelors in Ireland | Tuition Fees for Bachelors in Ireland |
| --- | --- |
| University College Dublin | €16,000 - €25,600 |
| Trinity College Dublin | €13,758 - €29,548 |
| NUI Galway | €16,750 - €23,000 |
| University College Cork | €14,750 - €22,000 |
| University of Limerick | €5,000 - €34,000 |
| Dublin City University | €10,800 - €16,600 |
| Maynooth University | €12,000 - €13,500 |
GoIreland's Extensive Footprint in India
Offices across India
250+ Experienced Consultants
Chennai, Coimbatore, Bangalore, Cochin, Hyderabad, Mumbai, Pune and many more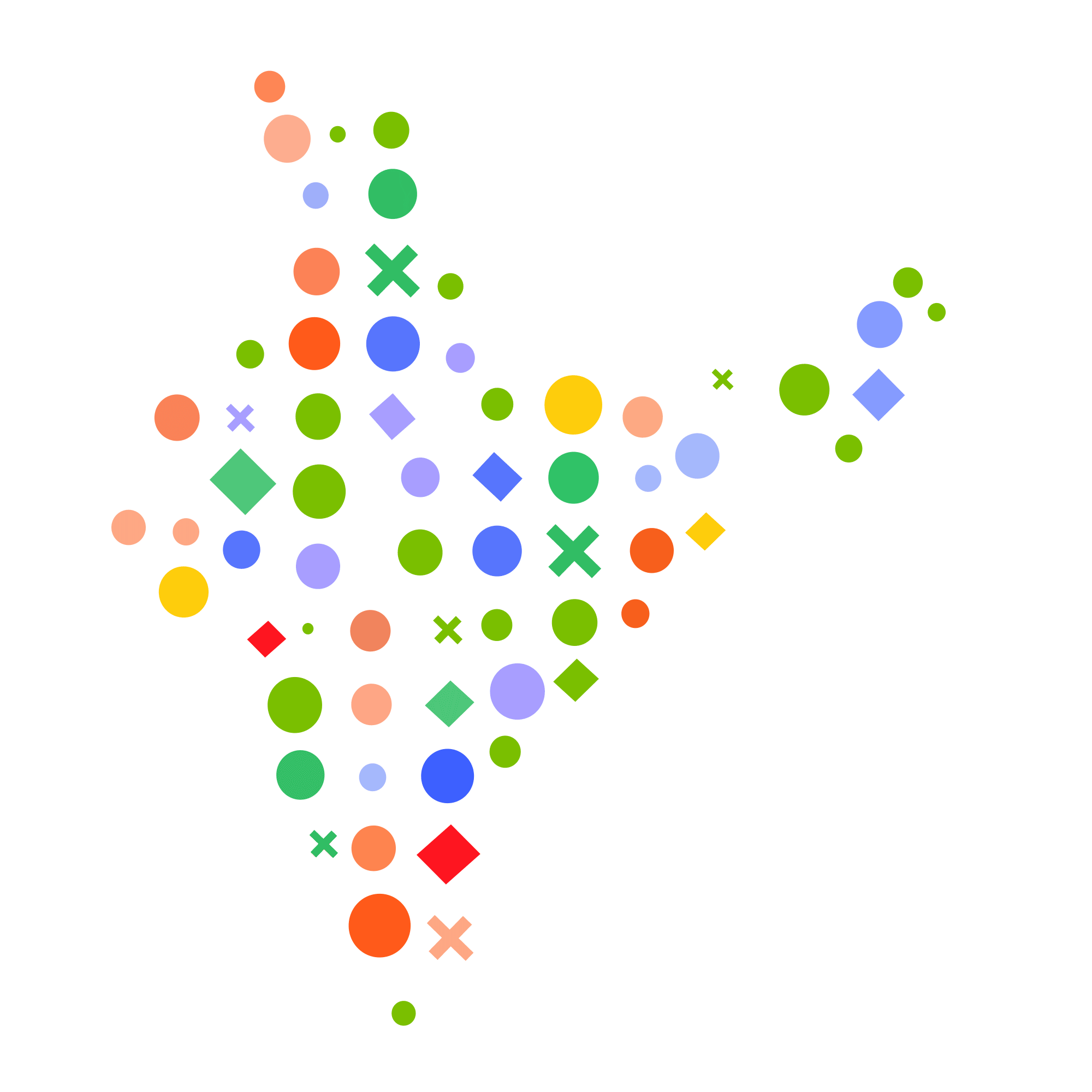 Study Expenses in Ireland for Masters
Ireland is an excellent option for Masters in all subject areas due to its expertise in higher education, the deep appreciation and respect for learning. The cost of studying Masters in Ireland ranges from 9,000 EUR to 25,000 EUR based on the tuition fee in Ireland for international students. Ireland universities are in the top 3 percent worldwide and Irish research ranks within the top one percent globally in 18 research fields. The cost of studying Masters in Ireland includes exam fees in Ireland but the study materials for MS in Ireland depend on the student. Some Universities may have fixed prices for study materials while others expect students to do so. Student expenses in Ireland for Masters includes tuition fee as well as living expenses.
| Universities for Masters in Ireland | Tuition fee for Masters in Ireland |
| --- | --- |
| Trinity College Dublin | €18,375 |
| Technological University of the Shannon | €12,000 |
| University College Cork | €16,000 |
| University College Dublin | €19,200 |
| Munster Technological University | €12,000 |
| Maynooth University | €14,000 |
| National University of Ireland Galway | €15,500 |
| Dublin City University | €14,000 |
| University of Limerick | €14,616 |
| Technological University Dublin (Blanchardstown) | €12,500 |
---
Show 10+ Universities

Including tuition fee, other expenses you need to cover during your study includes
Books and other study materials: 75 EUR/month
Social activities/entertainment: 60 - 100 EUR/month
Study expense for MBA in Ireland
The tuition fee for MBA in Ireland is less compared to other universities around the world. Cost of Studying MBA in Ireland depends on where you stay and which college you will be studying in. The minimum tuition fee for MBA in Ireland is €12,750 and it can go up to €34,500. The core courses in an MBA program cover various areas of business such as accounting, applied statistics, business analytics, business communication, business law, finance, health care, business ethics, human resource, managerial economics, management or project management, entrepreneurship, marketing, public administration, supply chain, and sales.

Most programs also include elective courses and concentrations for further study in specific fields such as accounting, finance, and marketing. Exam fees for MBA in Ireland vary with each university and are mostly covered in the tuition fee or the Levy that is collected along with the tuition fee during admission and acceptance of the offer. Study materials for MBA in Ireland are purely based on the student and includes books, reference materials.
| Top Universities for MBA in Ireland | Tuition fee for MBA in Ireland |
| --- | --- |
| University College Dublin | €35,000 |
| Trinity College Dublin | €36,500 |
| Griffith College Dublin | €14,000 |
| Dublin Business School | €12,750 |
Study Expenses in Ireland for PhD
Cost of Studying PhD in Ireland will vary between individual Ph.D. programs and Universities, but will usually be between €4000 - 6,000 per year as a minimum. Costs in fields such as business or medicine can be substantially higher with varied tuition fees in Ireland for international students ranging between €20,000 and €30,000 per year. Even though tuition fees may be high, there are immense opportunities for stipends, fully-funded PhD.

Non-EU students will usually pay fees at a higher international rate. Again, the exact costs vary between programmes and institutions, but you can expect to be charged at least €9,000 with some courses at over €30,000 per year as the cost of Ph.D. in Ireland. To know the tuition fee for a Doctorate in Ireland, you can visit institutional websites that you wish to apply to or talk to our admissions team.
Our Process + How Can We Help
At GoIreland, our main objective lies in helping students dedicatedly to win their ultimate aim of pursuing their career. Our trained, experienced and professional Exclusive Ireland Education consultants with their years of proficiency can help you select the best destination for studies in no time. Starting from the initiation process of admission to the successful completion of the course, we are here to walk always alongside you. Every step you take and every decision you make are scrutinized by us to ensure your talents actually get what it deserves. Once you contact us for pursuing higher studies, our consultants will counsel you to ensure you are selecting the right career path and leave no stones unturned in making your dreams come true.

We let you know in detail about all the processes beforehand and make sure all the documentation is exactly in the right bucket. Whether you are interested in Banking or any other majors, we can help you with all our resources and connect the dots to help you pursue your dream career. The best part is, we also have a dedicated team of professionals who can help you with your Visa process and all other complexities involved in getting admission. Remember, our happiness and success rely on yours summiting the career goals.
Our Team : We at GoIreland are a budding & industrious team of 150+ members across 25+ branches across 16 countries, operating with the sole purpose to turn your dreams of pursuing higher education in the top universities worldwide into reality. Unlike regular consultants, we believe in a personalized approach where we work with you, beside you, and not in the traditional way of having an across-the-table consultation.
Better Understanding of the process : Students willing to study overseas must understand that in each country with different cultures and lifestyles, several universities in various countries have varying visa and course applications requirements. So it is apt to get in touch with Exclusive Irish University Representatives from GoIreland for assistance in applications, preparing all your documents for application and ensuring you get a student visa.
Direct University Representation : We take absolute pleasure in saying that we represent over 600+ universities, having placed over 20,000+ students across the globe. We are striving harder to be the right bridge between international students and globally recognized universities.
Clear cut knowledge about eligibility through experience : Slow and tiring unplanned research is exhausting while determining the right place to study. Also, misinformation is sadly not a problem that can be solved; instead, it is a social crime we can observe and adapt to. Utilize the comprehensive and updated knowledge database overseen by an experienced global team of over 150+ professionals providing 1-on-1 unbiased consultation at GoIreland, the Exclusive Irish University Consultancy to ensure that you get what you genuinely deserve.
Nuances for a successful study visa: Students need to get a study visa after admission. The plenty of online information about the requisites for a study visa application does more bad than good. We at GoIreland boast of a 100% visa success rate over 13+ years of our services. Therefore, it is a great idea to leave it to the experts well-versed with visa assistance at GoIreland to assure zero compromises on quality and proficiency.
End to end assistance :We at GoIreland work with the prime goal of supporting students right from deciding universities, supervision on the documentation like SOP, LORs and Resume, Application Filing till their visa is done and also elongating support to procure an Education Loan, Accommodation, Forex & Fee Payment across 25+ branches worldwide and so on. So if you are looking for a one-stop solution, we are indeed what you need!
Scholarship Assistance : To study overseas is a desire, but to study abroad on scholarship is a miracle. It is essential to showcase your profile in the best possible way to secure admission to the top universities worldwide. Furthermore, securing a scholarship is extensively based on the overall projection of your academic & your professional profile through a well informative SOP and resume.
Support system : The employment unit of GoIreland, the Ireland's Exclusive Official University Representatives resides in regular touch with the universities to help you clarify doubts, get admitted into the university on time, and ensure that your documents are processed error-free. Additionally, you have specialists to ensure that all your documents are in place for any doubts related to the visa. Our method devised to provide personalization & detailed information ensures ease of the process.
Student Health Insurance in Ireland
All international students are required to have medical insurance that covers accidents and/or illness for any period of hospitalization as their medical expenses are not covered by the Irish Health Authorities. The cost of student health insurance in Ireland ranges between 150 EUR - 300 EUR. The duration of student health insurance in Ireland is usually one year and should be renewed every year. Universities suggest or list out, in some cases the insurance providers which are accepted. Taking student health insurance in Ireland is also a requirement for visa approval so make sure you have medical insurance before traveling to study in Ireland.
Get application fee waiver
by applying through us
I agree to GoIreland terms and privacy policy
or Types of Student Health Insurance to Study in Ireland
There are a number of insurance providers locally in your country and you may have a few in which you are already enrolled in. But when it comes to finding the eligibility to apply for a study visa, the health insurance may not hold well. While looking for the types of student health insurance to study in Ireland, we can help out in choosing the most preferred one.
Private Medical Insurance: A student who is not part of a Group Insurance Scheme operated by their college is required to have individual private medical insurance coverage. For newly arrived first-year students in Ireland, Travel insurance may meet your requirements where;

The insurance should cover the student for one full year or the student should be covered for the entirety of stay if the length of stay is less than one year.
The minimum insurance coverage should be €25,000 for accidents and €25,000 for diseases.
The insurance coverage covers the student for any period of hospitalization.

Group Insurance Scheme: A student is required to have proof of private insurance through the Group Insurance Scheme operated by their college. The enrolment letter from the college will be regarded as proof of private medical insurance. The medical insurance should mention that:

The student is part of the college group scheme
The student has paid fees associated with the group scheme
Brief outline of the insurance coverage
You need not bother about the details, we at GoIreland can book the insurance required as per the University requirements.
FAQ:
How much is the total cost to study in Ireland?
Tuition fee will range between 12,000 - 22,000 EUR and for living expenses 7000 - 15,000 EUR will be added. So the total cost to study in Ireland can be 19,000 - 27,000 EUR.
When Should I pay the fees to study in Ireland?
This varies with each University. Some of them require you to pay full tuition fee before applying for Visa. Some of them ask you to pay 6000 EURO or 50% tuition fee whichever is higher.
How to pay the tuition fee for education in Ireland?
To pay tuition fee, the guidelines are given in the offer letter. It can be either a bank transfer or through intermediary portals like Tranfermate. There will be additional charges for the transfer.
What if my visa gets rejected and I have paid the full tuition fee?
There are very less chances for a visa reject when the tuition fee paid is full. If visa is rejected, the tuition fee will be refunded in full apart from the administrative fee.
Can I get full scholarship to study in Ireland?
Yes you can. It depends on your profile and the University that offers it.
People also search for,
Cost of Studying in Ireland
Cost of studying in Ireland for international students
Cost of studying in Ireland for indian students
Study Expenses in Ireland for Bachelors
Study Expenses in Ireland for Masters
Study Expenses in Ireland for MBA
Study Expenses in Ireland for PhD
Student Life Insurance in Ireland
Expense in Ireland
Study in Ireland consultants
Best Ireland Consultancy
Student Living Expense in Ireland
Tuition fee for MS in Ireland
Exam fees in Ireland