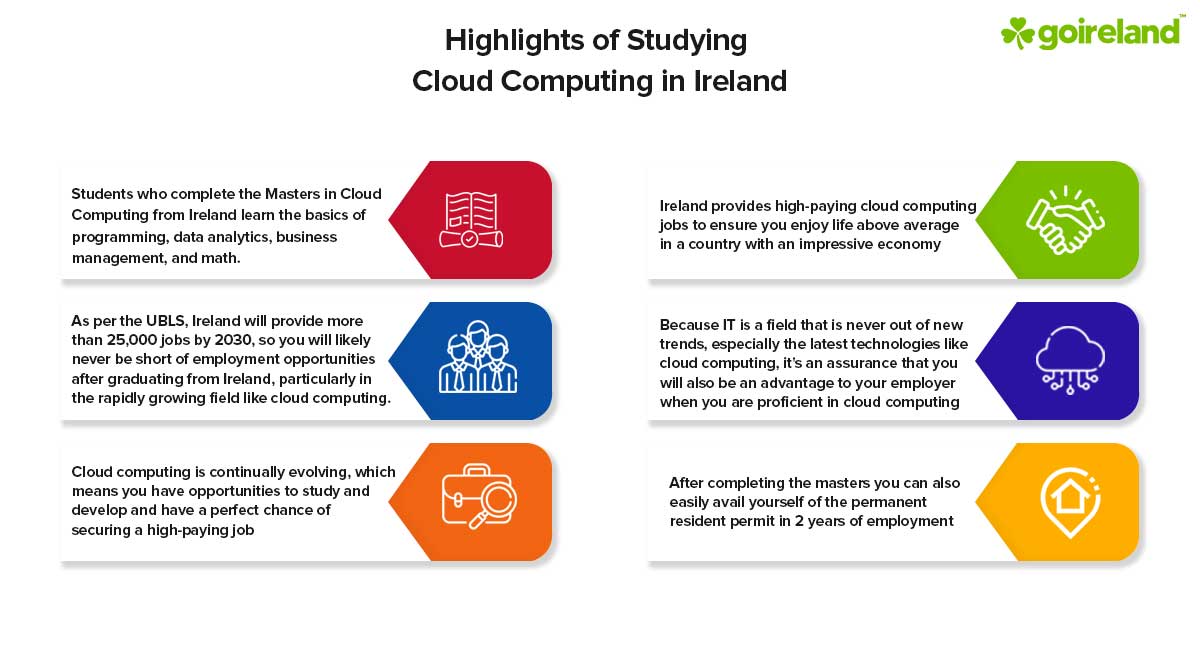 Masters (MSc) in Cloud Computing in Ireland
If you are deciding to pursue a Masters in Cloud computing in Ireland, then it is a perfect choice, as the country is the home of some of the top universities and colleges. The education system in Ireland is world-class and offers high standards and quality education. There are a number of educational institutions ranking in the top 500 in the world. Moreover, the country is rich in cultural diversity and holds importance to religion and tradition. With so many best universities and rich culture, it would be ideal to study masters (MSc) in Cloud Computing in Ireland.
Get all your doubts
clarified now for

Free
I agree to GoIreland terms and privacy policy
or Ireland is one of the IT destinations that has garnered so much attention in recent years. This attention has been redirected to the vast new opportunities for students to explore in their Masters. There are several courses related to the field of Information and technology, each helping students to understand the area in a better way. Among the number of courses relating to computers and technology, Ireland Cloud computing Masters (MSc) is one of the most sought-after postgraduate courses, as it teaches about every intricacies of cloud technologies. The cloud computing masters have courses that are framed to give hands-on experience on the ways to develop and implement software systems. Besides, the courses are structured to showcase cloud technologies and related services. Moreover, you have the opportunity to learn more about the services like analytics, databases, networking, servers, and much more.

Students enrolling for the Masters in Cloud Computing in Dublin can get exposure to various industry-related projects that can help them understand theoretical concepts in a simplified way. Besides, the country is a research center that has embraced the latest technology and practices, allowing students to explore their field to the fullest. Cloud computing Masters in Ireland for Indian students is a great opportunity with excellent research facilities. Moreover, many multinational companies are looking out for experts in cloud computing. So, the students can enhance their skills through the research and curriculum available in the cloud computing courses. The training and knowledge imparted to the students help them meet the challenges in the real technology world.
GoIreland's Extensive Footprint in India
Offices across India
250+ Experienced Consultants
Chennai, Coimbatore, Bangalore, Cochin, Hyderabad, Mumbai, Pune and many more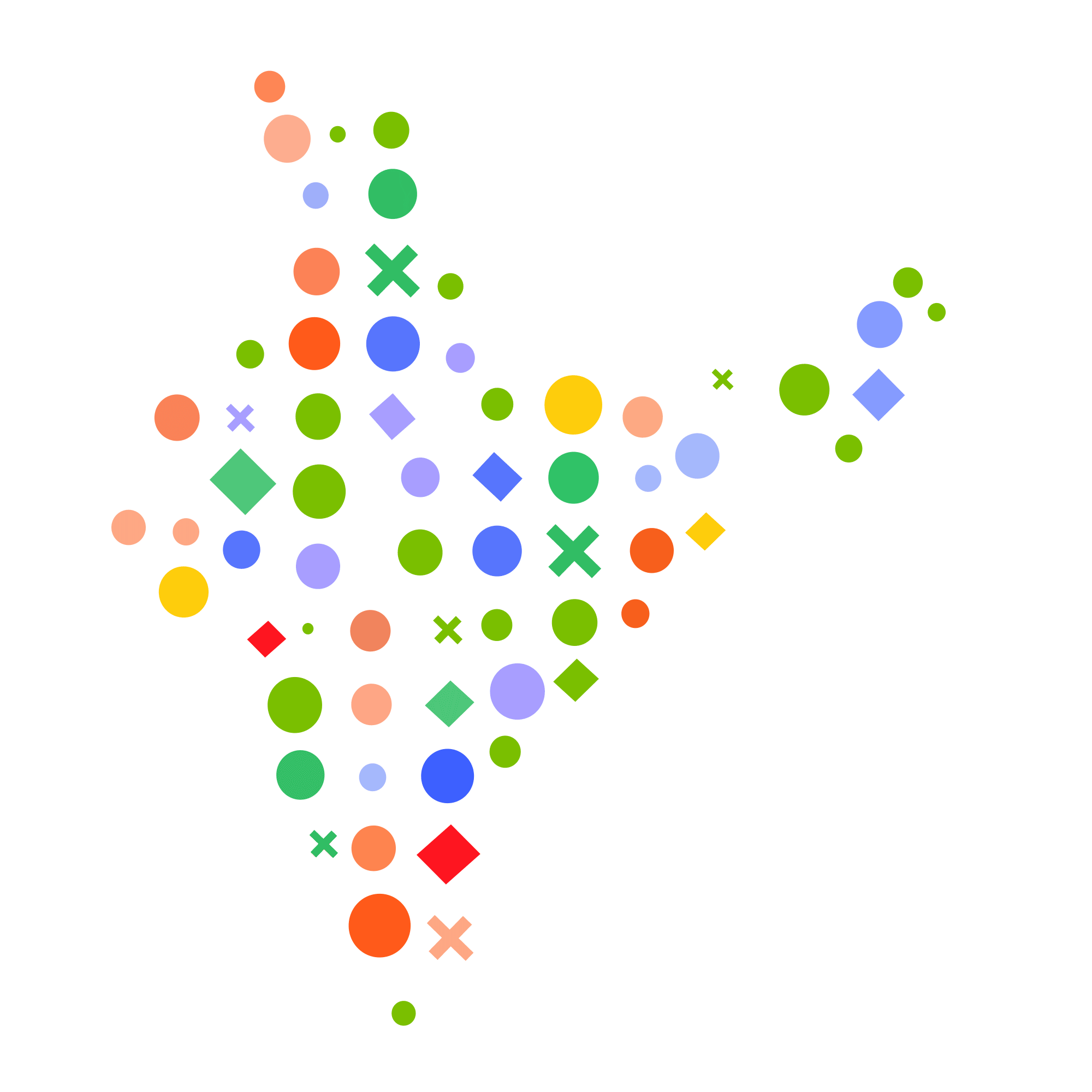 The Masters in Cloud Computing teaches the students about the different benefits of cloud technology that can be incorporated into the corporate world. This learning from cloud computing in Ireland for International students can be a guiding tool to get placed in IT companies around the world. Cloud computing is a steadily growing field that can be considered the next big thing in the field of information technology. Moreover, if you have prior knowledge of Windows Azure and Amazon web services, then Masters in cloud computing would supplement your knowledge and help you further gain programming experience.
Get application fee waiver
by applying through us
I agree to GoIreland terms and privacy policy
or To know about the Requirements
The prerequisites for studying masters in cloud computing in Ireland are pretty simple. However, the students should know that all the requirements must be met to study in Ireland. To help you comprehend, we have streamlined all the facts. If you have any questions, you can always approach a GoIreland consultant.
To know about Costing
The cost of studying in Ireland might be quite affordable compared to other countries. Check out the adequate details on tuition fees, lodging costs, and other required charges provided below. A GoIreland specialist is available if you have questions about your education in Ireland.
Salary After Masters In Cloud Computing in Ireland
According to the most recent report from The Irish Times, Cloud Computing is among the fastest-growing industries within Ireland, with a projected increase of 33% over 5 years. This has resulted in an increase in the Average salary in Ireland after Masters (MSc) in Cloud computing and employment opportunities in the field, which averages EUR 65,000 annually. To be employed in this field, it is necessary to have qualifications related to computer science and similar disciplines. But there are many businesses seeking candidates who have a variety of abilities such as marketing, business administration, and project administration. Working in Ireland after Masters (MSc) in Cloud computing with the potential for growth in this field, it is a high chance you'll have a fulfilling job within cloud computing.

The average Salary Range for Masters in cloud computing in Ireland for a Cloud Engineer is EUR 54,657 annually in Dublin. The Starting Salary for cloud computing in Ireland ranges between EUR 30,000 to EUR 42,000. A masters degree in cloud computing will assist you in acquiring advanced knowledge in this specific area of IT and computers. A masters degree will help you make a mark in the job market and could become a candidate for leadership or senior jobs.

Completing a Masters in cloud computing is most employable degree in Ireland at NCI and guarantees employment. Those who have previous experiences in various fields have landed jobs in their respective fields. The amount you earn is contingent upon the previous experience you have had and your abilities. Soft Skills are essential for finding employment. Freshers salary after cloud computing in Ireland can earn around EUR 35,000 a year. At the same time, someone with 3-4 years of working experience can have an Expected Salary after studying cloud computing in Ireland of around EUR 50,000 - EUR 70,000 annually. Acquiring certifications like AWS can provide you with the advantage. It would be ideal to study in Ireland with at least 2-4 years of working experience as it can offer many opportunities to help you build a successful career.
Get all your doubts
clarified now for

Free
I agree to GoIreland terms and privacy policy
or FAQ:
---
What do I get from the Cloud computing course?

The Cloud Computing program and DevOps provide a well-structured training program developed by experts from the industry to ensure that you will be a Cloud and DevOps specialist.
---
What is the median pay for a cloud architect?

According to Glassdoor, the average annual salary for cloud architects certified is €84,822 in Ireland. However, this depends entirely on your skills and experience. The salary can vary accordingly if you have a strong foundation in the field of cloud computing.
---
What are the many job opportunities in cloud computing?

More than 56,000 job opportunities for cloud architects within Ireland are available. Moreover, the country is the IT hub that hosts many top international companies. This opens the way for a number of job opportunities at top multinational companies. The internet era has increased the opportunities for cloud operators as almost all companies work in cloud-based environments.
---
Do you provide financing options?

GoIreland can be your complete provider and guide to help you manage your finances for your study in Ireland. We have authorized top financial partners who can help you out with this. You can easily avail of a student loan with the help of GoIreland
---
Is Ireland a good choice for an MSc in Cloud Computing?

Top-tier Irish universities that offer master's degrees in cloud computing are among the best in the world, according to 2020 QS World Rankings. Additionally, you can make between EUR 23,444 and EUR 57,000 annually while paying an average tuition charge of between EUR 7,000 and EUR 22,000.
---
What's the maximum salary I could earn after the course?

The market for cloud computing is expected to expand by 35% between 2022 and 2023 and will create many opportunities for professionals working in cloud computing.
---
Does GoIreland help in the university selection process?

GoIreland consultants would help you in analyzing the best universities. We screen your profile thoroughly and give you the best-suited programs to cater to your needs. We ensure that your career goals are met without any compromise.
---
Does GoIreland charge you for your services?

No, we officially represent all the universities in Ireland, so our services are free.
---
What is your VISA Success Rate?

We boast of a record 100% visa success rate for our students. We ensure to be prepared with all the necessary documents and also be ready with a statement of purpose for Visa verification.
---
Will I get employment right after completion?

Yes, the top Irish universities that we represent will assist you in getting the greatest job opportunities after you successfully complete the program. Depending on how well you perform, it can offer you attractive internship possibilities. Contact our consultants at GoIreland for more details.
---