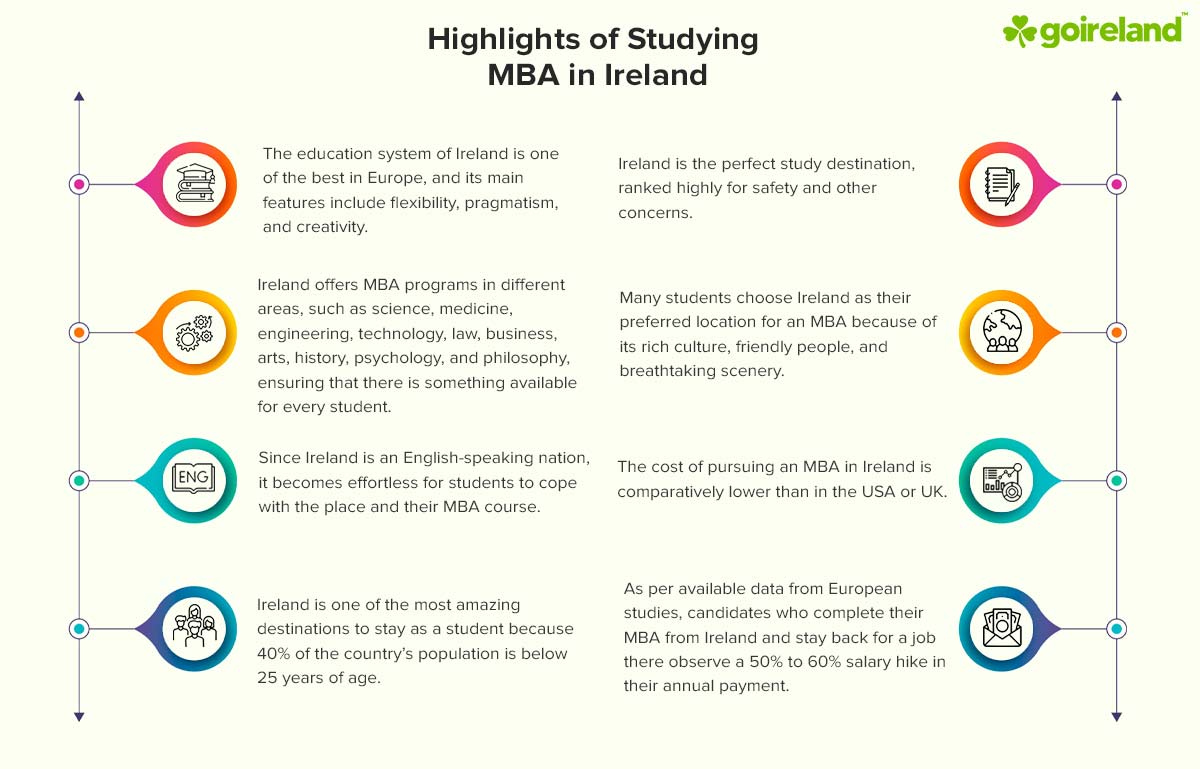 MBA in Ireland
Ireland, a nation located off the coast of Great Britain, is a member nation of the European Union. Ireland's proximity to Britain, along with its associations with Greater Europe, offers MBA students in Ireland easy access to several networking resources. MBA in Ireland for Indian students study MBA in Ireland is offered through an assortment of universities and business schools in the country, in cities such as Limerick, Cork, and Dublin. Some of these study centers possess international accreditation, like AMBA, EQUIS, or AACSB, while others are featured in one or more international MBA-ranking publications. Not only this, students who choose to study MBA in Ireland can stay back and find some of the best job opportunities in the strong industries of the country, specifically finance or energy.
Popularly called the "Land of Saints and Scholars," Ireland is one of the best destinations for individuals seeking a Masters degree in Business Administration. This highly developed and well-established European nation that boasts of a modern economy has become one of the best destinations for top universities worldwide, providing Ireland MBA programs with universal recognition. MBA in Ireland for international students is a program specifically designed to help candidates understand different forms of business. Nevertheless, it is not restricted to just the business field. MBA in Dublin and other cities in Ireland also covers different fields like accounting, finance, human resources, marketing, and statistics.
An MBA in Ireland is an international degree you can pursue even within a limited budget. Owing to the post-study work opportunities available in Ireland, the MBA universities here receive many applications for admission to MBA from foreign students, especially those from India. Ireland is one of those few European nations that offer a 2-year work visa to MBA students, making them eligible to apply for Ireland's work permit or green card scheme. Once you complete your MBA from a popular Irish university, you can take advantage of Ireland's graduate employment scheme to extend your visa for 1 year. You even have the option to apply for a non-renewable extension of your visa for two years. However, the extension time will depend on your education level. There is a 6-month visa extension available to students pursuing their Bachelor's degree and an 8-month visa extension for students pursuing their Masters.
GoIreland's Global Presence
| | |
| --- | --- |
| 21 | Branches across the Globe |
| 12 | Countries |
| 150+ | Certified Experts |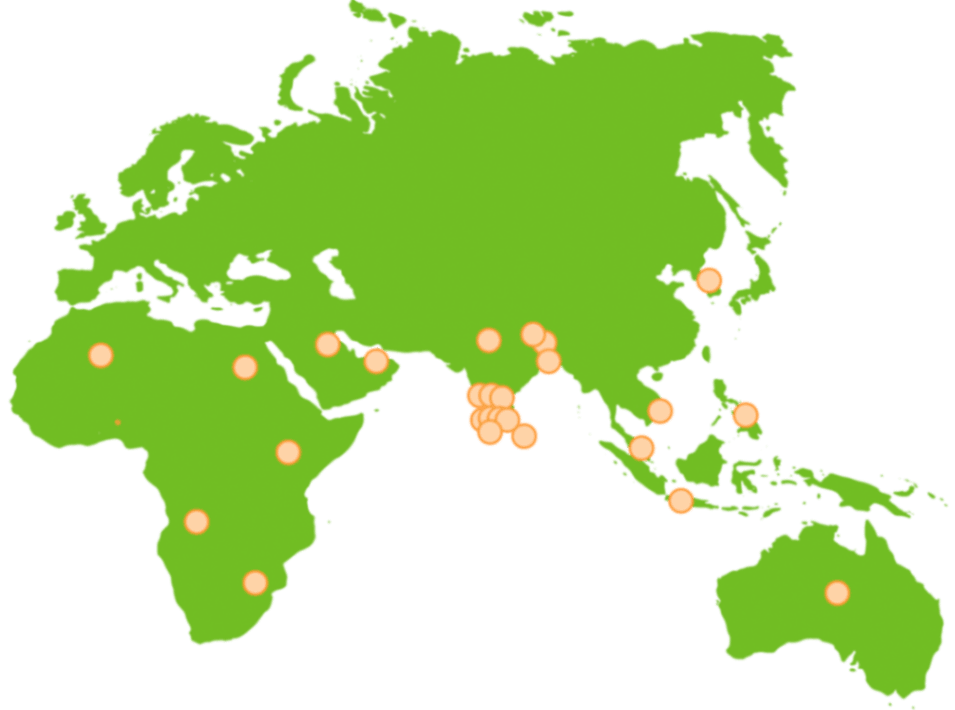 One thing that sets an MBA in Ireland apart from the regular Masters programs in other countries is peer-to-peer education involving proper interaction between students from diverse backgrounds and highly successful business individuals. Taking up an MBA in Ireland is also one of the best scopes to network and develop brand-new business opportunities. The MBA programs provided by the top international universities in Ireland will help you become one of the best, most well-rounded business graduates and an expert in your field of work. Studying MBA in Ireland is productive and combines established management and business skills with a clear understanding of management work in the chosen field. If you choose to pursue an MBA program in Ireland, you will be able to learn the practice and theory of management and business systems, which will further prepare you to face the industry as an expert.
To know about the Requirements
Pursuing an MBA in Ireland can help you advance your career in any high-demand field. The time you spend in the country is well worth it because of the lifestyle, exposure, and other important benefits. If you do not know about the admission requirements for MBA in Ireland, go through the details below.
To know about Costing
Are you looking to pursue an MBA in Ireland? Why aren't you taking the next crucial steps? Is your limited budget hindering you from doing so? Not a problem when you can find details of the cost of studying MBA while living in Ireland. Below, you will find all the details that can benefit you.
Salary after MBA in Ireland
It is pretty likely for international students from India and other countries looking to pursue admission to an MBA in Ireland to expect the best returns on investment. Freshers salary after MBA in Ireland may reach up to €43,000. The expected salary after studying MBA in Ireland for experienced individuals may range from €87,000 per annum. Therefore, the average salary in Ireland after MBA in Ireland is €61,914 per year and €32 per hour.
Production capacity and cultural flexibility have made working in Ireland after MBA easy for candidates, mainly because the economy is proliferating, bringing in job opportunities for graduates. This is also among the main reasons international candidates with dreams of higher education and the chance to advance their careers in a growing economy are moving to Ireland as among the best alternatives to an MBA in the UK. This has made Ireland the 7th most well-known foreign location for US students. The country's ever-increasing dedication to serving as a business center in Western Europe has made it one of the most attractive MBA study destinations for students. Almost 90% of the students in Ireland manage to get competitive positions within just three months of completing their MBA. These candidates also show more than 50% growth in their salary range for MBA in Ireland within the first three years.

To start with, there are several varieties of MBA programs available in Ireland. Therefore, the starting salary for MBA in Ireland may vary according to the MBA program you choose. This means there are varied salary ranges for MBA in Finance, MBA in Cloud Computing, General MBA, MBA in Information Systems, MBA in Human Resource Management, MBA in Project Management, and MBA in Marketing. MBA is most employable degree in Ireland, but different elements can affect your salary. These include the company you are employed in; the specialization you choose; your work experience, and the city you work in, Ireland. One of the greatest advantages of completing your MBA from Ireland is gaining international business know-how and a degree that offers the scope to work in different European nations.
FAQ:
---
How to manage finances when studying MBA in Ireland?

First, you can contact the study abroad advisors at GoIreland to find some of the most affordable MBA programs in Ireland. Speaking of managing your finances when studying MBA in Ireland, there is no rulebook to follow, and you eventually learn about the process. You can avail of fellowships and scholarships to manage your living costs and tuition fees for MBA in Ireland.
---
What should you do next after you arrange for the funds required to do an MBA in Ireland?

Again, you must contact your education consultant at GoIreland to know the following steps. Remember, submitting your application successfully does not mean the end of all worries. You may have multi-fold concerns regarding the acceptance of their application at their preferred university or whether they will successfully find a job. Always feel free to discuss everything with our education counselors.
---
What to do next after submitting the MBA application form successfully?

You cannot relax! Keep following up with your education consultant till you get a response from the admission team of your preferred university. However, if you have already got a notification from the university asking you to wait for the admission team to confirm an offer, the only thing that you can do is wait.
---
What to do while waiting for the MBA university to respond?

Meanwhile, you can use the available time to carry out different activities, like getting the details of different accommodation options in Ireland, social and cultural life in Ireland, student life in the country, and on-campus work opportunities available to the students. Our education consultants can help you with all these things.
---
What if the university rejects my application?

Rejection does not mean you must feel dejected. Suppose the university of your choice rejects your MBA application. In that case, you can apply for admission to another Irish university that offers MBA programs that closely match your choices. Our education consultants will help you get admission to the best MBA universities in Ireland.
---
Will I receive a job after completing my MBA in Ireland?

Well, you must ask different questions during your study abroad counselor to understand your job prospects in Ireland after completing your MBA. What happens after an MBA depends completely on what you do during your course. If you start networking early on with prospective employers outside campus or if you choose to intern at a company to grasp added skills, finding a job will be easier.
---
How beneficial is GoIreland's counseling?

Our certified and expert study abroad education consultants will guide you professionally in choosing the right MBA program in Ireland. They can help you by giving you detailed knowledge while explaining all available options to help you proceed in the right direction.
---
How do you help with MBA university choice in Ireland?

Our study abroad consultants will give you all the details about Ireland, the right way to shortlist MBA programs and universities, and the best MBA course to pursue based on your previous education. We also provide information about the different scholarships available in Ireland. With us, you can also expect proper guidance in writing your SOP and find all details about different English Proficiency tests.
---
What about detailed assistance on the part of GoIreland?

Yes, we offer detailed assistance in helping you understand the entire cost of living and education in Ireland, information about all available intakes, visa requirements, financial guidance, mock interviews, lodging visas, pre-departure orientation, and student health coverage.
---
How can GoIreland's study abroad consultants help with MBA application processing?

Sending several applications can get overwhelming sometimes. Our study abroad consultants at GoIreland indulge in hand-holding until you understand the entire procedure. With us, you will get step-by-step help on application procedures. This includes offering detailed information about the universities we represent and helping with documentation.
---