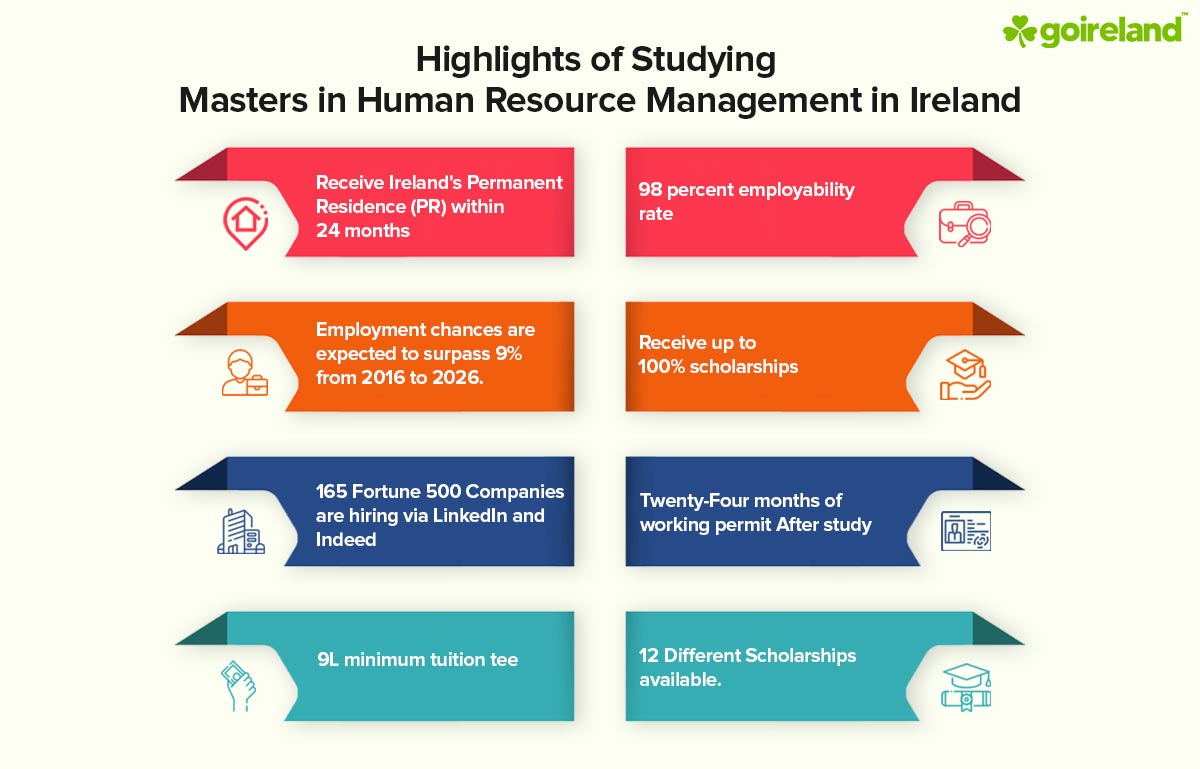 Masters (MSc) in Human Resource Management in Ireland
If you have decided to study Masters (MSc) in Human Resource Management in Ireland, you have apparently taken the best initiative toward your career. Ireland, the land of opportunities and unparalleled advancements, offers students a unique and comprehensive postgraduate program to study for a Masters (MSc) in Human Resource Management in Ireland. The immense opportunities in this industry segment and the growing requirements for seasoned human resource managers have paved the path to hundreds of job chances in the country. Moreover, the staggeringly increasing numbers of prolific Irish institutions offering comprehensive and diversified course curricula on the subject make this country one of the best destinations to pursue the course. Human Resource Management Masters in Ireland for Indian students projects to open up at least 45% more employment chances in the coming financial year.

Human Resource Management in Ireland for International students is an elaborate course that makes the students adept in all kinds of analytical, rational, and critical-thinking skills for better management of resources in any organization, which is an integral part. Our MSc Human Resource Management (HRM) curriculum aims to advance our students' careers in HR while capturing the reality of the modern Human Resource (HR) profession. The Chartered Institute of Personnel Development (CIPD), whose credentials are the acknowledged professional standard for HRM and training specialists operating throughout Ireland, the UK, the Middle East, and Asia, has accredited the curriculum. The program's instructors are a mixture of senior HR practitioners and research-driven academics.
Get all your doubts
clarified now for

Free
I agree to GoIreland terms and privacy policy
or The Masters in Human Resource Management in Dublin allows HR managers to successfully address the problems confronting the Hr department in modern organizations by adopting a strategic approach. For full-time students, the program lasts one year; for part-time students, it lasts two years. The MSc Human Resource Management program is taught once a week for part-time students and twice a week for full-time students each semester. With a mixed learning strategy, we deliver content in person, online, and through a range of workshops. There will be a lot of reading required for this level 9 MSc program. Students will collaborate both individually and in groups. In the Practical Research Project (MG6825), which is a component of Part II of the curriculum, students collaborate with a company to undertake research on a relevant HR topic while being closely mentored by academic experts. His curriculum has been specifically created to help students build successful careers in the broad field of human resources. Our strategic emphasis encourages students to develop their critical thinking abilities about the function of human resources in modern businesses.

These Ireland Human Resource Management Masters (MSc) programs were thoughtfully created with an emphasis on developing important themes, including business intelligence, health businesses, and talent development. They reflect the realities of the HR industry. Professional development skills are heavily emphasized in this program, which is taught by a team of top-tier academics and accomplished practitioners. This helps students get ready for the next stage in their careers. Irish universities emphasize the relationship between students, learning, research, and management with the vision for a Connected University, which is reflected in the learning style as well as in the dedication to the Connected Curriculum.
GoIreland's Extensive Footprint in India
Offices across India
250+ Experienced Consultants
Chennai, Coimbatore, Bangalore, Cochin, Hyderabad, Mumbai, Pune and many more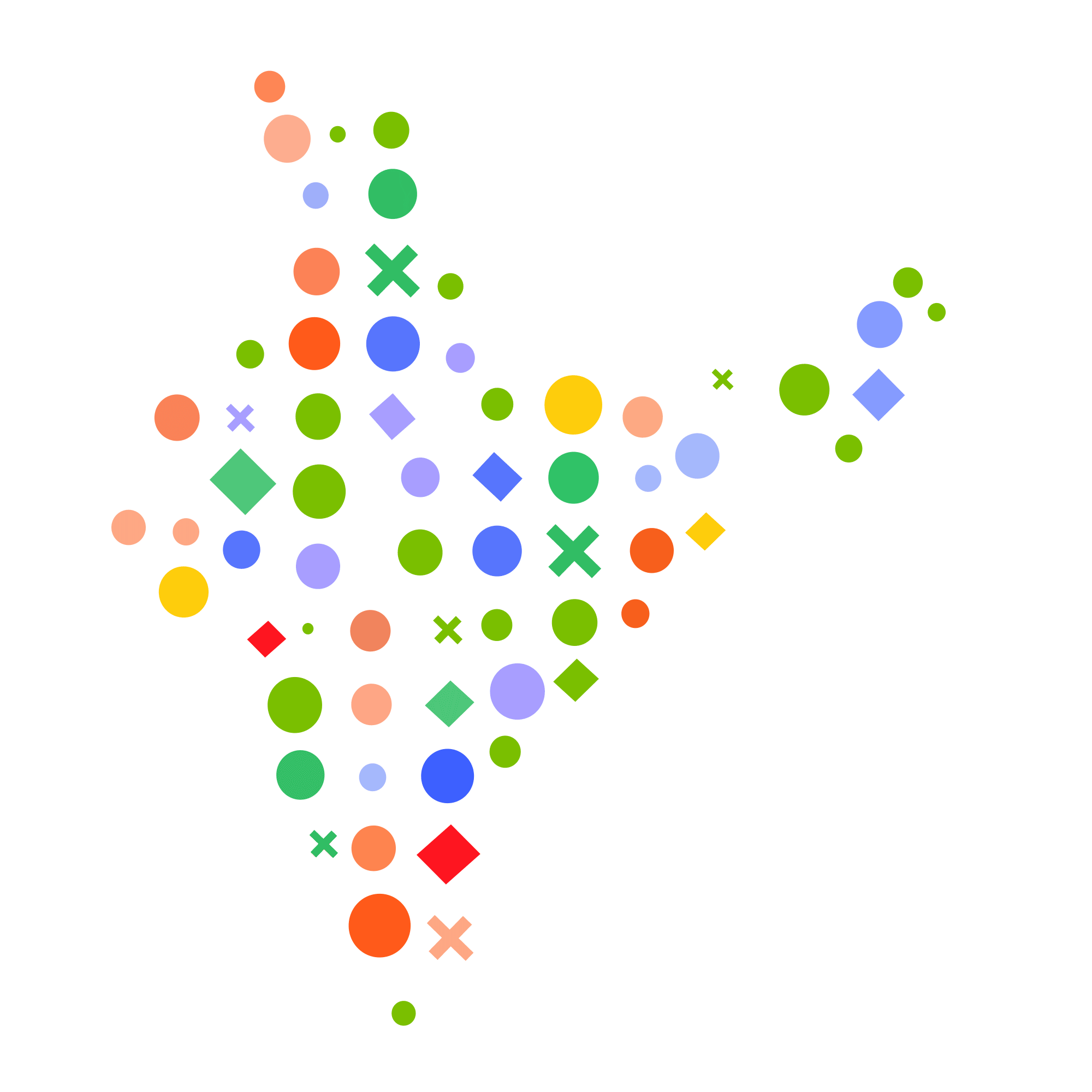 Our staff is at the vanguard of this integrated learning approach, and they will assist you in discovering significant connections inside and between disciplines like business, management, and human resources. This curriculum, which is intended for students in all undergraduate fields, has received full accreditation from the HR Certification Institute (CIPD) and is completely in line with the Association for Human Resource Management. In order to support organizational effectiveness, you will acquire the specialized skills and practical knowledge required of prospective human resources management experts.
Get application fee waiver
by applying through us
I agree to GoIreland terms and privacy policy
or To know about the Requirements
To learn more about the requirements and criteria for admission to the top universities in Ireland for the Human Resource Management Masters degree program, check out all the necessary information mentioned below. GoIreland consultants, at any point in time, can help you with the best career guidance and additional assistance on admission to these universities.
To know about Costing
For additional information on the numerous costs associated with earning a master's in Human Resource Management in Ireland, such as housing, meals, and other fees, see the options below. You can talk to a GoIreland counselor whenever you want to acquire a detailed knowledge of the fees.
Salary After Masters(MSc) in Human Resource Management
Human Resources (HR) Generalists make an average salary in Ireland after masters (MSc) in Human Resource Management of €34,843 annually. If you have an HR management specialty, you could also work as an office manager and make between €30,000 and €35,000 a year working in Ireland after Masters (MSc) in Human Resource Management. The annual salary range for Masters in Human Resource Management in Ireland for a development office is €42,000. You can pursue a career in the private and governmental sectors, employers and workers, trade unions, research, consulting, or teaching with an MSc in Human Resource Management from Ireland. In 2016, 87% of Masters in Human Resource Management students found work within six months of graduation in multiple verticals, including research, trade unions, and well-known corporations, including Google, Facebook, LinkedIn, Accenture, Diageo, Mercer, Microsoft, and PwC, among others.

The starting salary for Human Resource Management in Ireland is usually around €32,450. The median freshers salary after Human Resource Management in Ireland is no less than €50,347 annually, which is quite impressive. The expected salary after studying Human Resource Management in Ireland is upwards of €84,000 annually. Possible occupations include Recruitment Consultant, HR Business Partner, Talent Performance Specialist, Staffing Associate, Personnel Office, and many more. With such employment factors, the masters in Human Resource Management is most employable degree in Ireland.
Get all your doubts
clarified now for

Free
I agree to GoIreland terms and privacy policy
or FAQ:
---
Which University is Ideal for an MSc in Human Resource Management in Ireland?

Trinity Dublin College, University of Waterford Letterkenny, Ireland Galway Institution, as well as Shannon Academy are leading institutions providing Human Resource Management degree courses in the Irish nation.
---
Is Ireland good for studying MSc in Human Resource Management?

Recruitment Consultant/Talent Acquisition Experts are the most sought-after HR positions, with salaries ranging from €40,000 to €90,000. Given the lack of skilled recruiters, the talent acquisition industry will continue to be extremely competitive through 2022.
---
How to Become A Human Resource Management Expert in Ireland?

You should have a bachelor's business degree in marketing, accountancy, finance, law, or a field closely linked to business in order to be considered for admission. If you have appropriate job experience in human resources, you can apply for the course even if you have an engineering degree.
---
What Can I Do With a Human Resource Management Degree in Ireland?

Graduates in Human Resource Management are able to go for employment opportunities such as Recruitment Consultant, HR Business Partner, Talent Performance Specialist, Staffing Associate, and Personnel Office.
---
Does Human Resource Management Involve a Lot of Math Lessons?

Maths? You selected HR over accounting since you were told you wouldn't have to do mathematics there. Sorry! Even if accounting doesn't require as much maths, a majority of compliance work still necessitates a strong background in maths and statistics.
---
Is Acquiring Masters in Human Resource Management Hard?

It won't be simple to get an online HRM degree, particularly if you have additional responsibilities like full-time employment.
---
How Many Hours a Week are Human Resource Management Masters?

Since this is a standard program, you should be ready to commit about 38 hours each week to your study. For semesters 1 and 2, you will normally receive up to 14 contact hours of instruction per week. The arrangement of these activities is provided in the description of each module. Teaching is done through a combination of lecturers, tutorials, seminars, and lab sessions.
---
Can I Get A Job After Masters in Human Resource Management in Ireland?

But there are plenty of positions open, and graduates with an MHRM degree can easily find employment through the group of connections and contacts, which also includes relatives, professors, fellow students, and employers. Ireland is one of the top locations to seek a profession in human resource management.
---
How can GoIreland help me in the process of fulfilling my dream?

GoIreland can be the support system that can help you right from choosing the university that meets your needs and goals to availing of scholarships and loans. Moreover, GoIreland will also support you in the crucial VISA application process. Every step is carefully monitored and fulfilled to take you to your destination.
---
How long are IELTS and TOEFL results recognized in Ireland?

The validity of IELTS and TOEFL scores is limited to two years following the test date. It is advisable to submit your application before the test expires.
---