Griffith College Dublin (GCD)
Call now
Highlights of Studying in Griffith College Dublin (GCD)
Permanent Residence (PR) in just 2 years

1:20 average student lecturer ratio.

Free Counselling by our expert counsellors at GoIreland.

CGPA as low as 6.0 accepted for post graduate programmes.

Simple and hassle-free application process.

18 Postgraduate courses available.

IELTS requirement is just an overall score of 6.0.

One of the two largest independent higher education institutions in Ireland.
FREE 1 – 1 Unbiased Counselling by IEAC Certified Consultants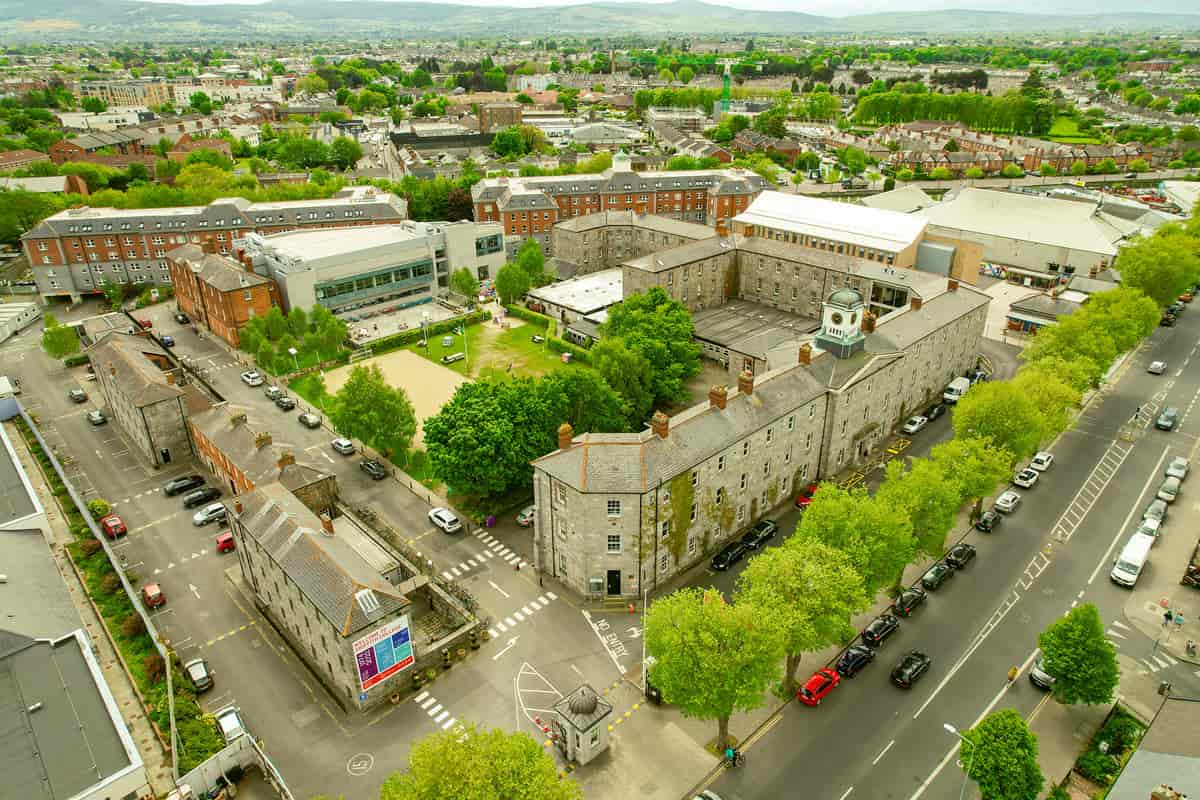 Griffith College Dublin
Established in the year 1974, Griffith College Dublin boasts of four campuses located in Limerick, Dublin and Cork. It is one of the 2 biggest independent 3rd level higher education institutions in Ireland. Speaking of a student population of more than 7000 with approximately 14, 00 students from more than 77 foreign countries, the college is one amongst the most sought after colleges in Ireland. Its name was given after the former Griffith Barracks on South Circular Road in Dublin. The college is spread over an area of 7 acres and is just five minutes from the centre of Dublin city. The college also has an additional campus located right in the centre of the city of Dublin. There are Students Halls of Residence located right on the campus. Facilities available to the students include bar and restaurant, library, gym, creative studio and Student's Union.

GCD offers part-time and full-time higher education and degree qualifications in Accountancy, Law, Computing Science, Business, TV Production, Media, Design, Film Production, Drama and Music. There are professional accountancy programs also offered by the college for Association of Chartered Certified Accountants or ACCA, CPA, IATI and ACA. It is a gold star CPA accredited educator. The ACCA offered platinum accreditation to the college, which is probably the highest recognition by the entity. GCD is also an ACCA CPD registered course Provider. It is the residence to the Leinster School of Music & Drama. Leinster School of Music & Drama came into being in the year 1904 and it offers theory classes in drama and music to individuals and groups provide there is availability for the same.

Griffith College in Dublin enjoys both national and international fame for the success of students. It has been successful in gaining an award winning and enviable reputation for offering students with top quality lectures and stunning study material. The college offers internationally recognized postgraduate and undergraduate programs in combination with a wide assortment of short-term, corporate and professional training solutions. It is a designated academic institute of Quality & Qualifications Ireland. The former students of the college have moved on to enjoy some of the most distinguished careers nationally and internationally. They are well-known names in diverse fields like media, accounting, business, design, computing, drama, music and law.
Get all your doubts
clarified now for

Thank you for choosing us
Our experts will get back to you at the earliest
or
Why Study at GCD?
Griffith College Dublin boasts of an exclusive environment and history that contributes to an engaging and rounded educational experience. The original campus of the college located at Dublin dates back to more than 200 years with its construction being completed in the year 1813. In the last two centuries, the college has played an important role in both national political and local political events. The new campus located in the city of Dublin makes way for a brand new expansion of the footprint of the college along with its mission. There are different new courses offered by the college bringing lifelong education to the modern audiences. The college works in partnership with different validating entities across Ireland and UK. This fact comes with the assurance that the degree programs provided at the college are recognized national and internationally. Some of the most important reasons why it is worth studying at GCD are as follows:
The college has been successful in achieving QQI (HETAC) validation. Here, it is important to note that the HETAC or Higher Education and Training Awards Council which is now a part of the QQI is the awarding entity for higher education and training organizations in Ireland.
In the year 2004, GCD became the very first third level independent college in Ireland to have its own BA in Business & Law and LLB degrees duly recognized by the Honorable Society of King's Inns.
Overlooking the highly popular Grand Canal of Dublin, it was initially an army barrack. College facilities for the students include common room, library, computer laboratories, CAD laboratory, workstations throughout ten laboratories, fitness room, photography lab, shop and bar, studios and restaurant. Students at GCD are also offered career advice solutions. There are professional counselors available off campus for offering suggestions and even counseling for non-academic and personal problems.
The library within the college campus offers study and research facilities to the students and even to the college alumni. You can find an extensive arrangement of background reading materials and course texts for different degree programs offered by the college.
There is also a conference centre within the Griffith College Dublin. The facilities at this conference centre include small rooms and suites for hire and a 575-seat auditorium. The conference centre of the college can be used for different functions like conventions of medical bodies, political parties, television programs and industry groups.
All the degree programs offered by the college enjoy external approval and recognition. Classes and sessions are delivered by experienced and knowledgeable lecturers for offering students a rewarding and inspiring education.
The students who have passed out of this college have achieved a number of awards in different disciplines like computing, digital media, fashion design, interior design, media, business and law.
Knowledge acquisition at GCD combines academic excellence with refinement of skills considered necessary for large scale growth in the professional arena. The college makes use of different teaching methodologies like group work, tutorials, project work, discussions, independent study and web-based learning.
These are some good reason why studying at Griffith College Dublin is a good idea.
GCD Ranking
GCD ranking is 23 in Ireland mainly because the college has a very good track record of producing award-winning graduates and students. Griffith College Dublin world ranking is 6883 and since its inception the college has always worked towards developing an enviable reputation for producing students with great capabilities and knowledge. The students who have graduated from GCD have moved on to work in different prominent fields both nationally and internationally. The School of Professional Accountancy at GCD has accomplished first position in the world rankings on 7 varied occasions in the ACCA examinations. There are a number of notable awards that have been offered to the students from the law faculty of the college and these include the 50th Irish Times Debating Competition. All these reasons have together contributed to the perfect GCD QS ranking.
Postgraduate at Griffith College Dublin
GCD masters courses have been specifically designed to suit different lifestyles. There are part-time, full-time, blended and online options available in the category of master's degree in GCD. Griffith College Dublin postgraduate courses include postgraduate and masters diplomas along with awards in computing, business, journalism, design, law, media communications, education and training and drama and music. The college also offers a host of accountancy and professional courses customized to meet the requirements of the industry.

By way of its portfolio of GCD graduate programs, the college offers graduate students contemporary knowledge and education in an international environment. Masters programs in Griffith College Dublin are available in different areas like International Law, International Business Management, International Commercial Law, International Human Rights, Interior Architecture Design, Digital Media, Journalism and Media Communications, Software Development, Computing, Music and Drama, Education and Training and Information Management. The postgraduate programs at the college are 1 year full-time degrees consisting of a set of elective and compulsory subjects including the dissertation stage.
List of Postgraduate Courses in Griffith College Dublin
Postgraduate courses in GCD are a scope of delving deeper into chosen areas of study, regardless of whether you are looking for personal fulfillment or you want to unlock the career of your dreams. The college offers an extensive list of postgraduate courses and certificate programs to choose from. Hence, it can rightly be said that GCD is the right destination for you to pursue your undying passions. Faculties offered at the college include Graduate Business School, Computing, Pharmaceutical Science, Law, Journalism and Media Communications, The Leinster School of Music & Drama, Professional Law and Education and Training.

Below it the list of courses at Griffith College Dublin
MSc in Accounting & Finance Management
MSc in Big Data Management and Analytics
MSc in Global Brand Management
MSc in Computing
MSc in Network and Information Security
MSc in Applied Digital Media
MSc in International Tourism and Hospitality Management
MBA in International Business
MSc in International Business Management
MA in Journalism & Media Communications
MA in TV and Radio Journalism
MA in Journalism and Public Relations
LLM in International Commercial Law
LLM in International Human Rights Law
LLM in International Law
MSc in International Pharmaceutical Business Management
MSc In Pharmaceutical Business and Technology
MSc in International Procurement and Supply Management
Postgraduate Tuition Fee in Griffith College Dublin for International Students
Griffith College Dublin is an independent college and thus postgraduate tuition fee in GCD applies on majority of the programs offered. Here, it is important to note that master's degree course fee in GCD represents the payment that needs to be made for the first stage of the postgraduate program. Masters programs tuition fee in Griffith College Dublin is €14,000. The graduate programs tuition fee in GCD in the diploma category is €12,000. Here, there are some exceptions that also need to be noted. Students pursuing Masters in Pharmaceutical Business & technology are required to pay €15,000 as tuition fee.

Below is the average tuition fee at Griffith College Dublin
Tuition Fee for Griffith College Dublin - €12,835
Postgraduate Entry Requirement for International Students in GCD
Griffith College Dublin has already announced the GCD postgraduate application deadline and is accepting applications intake. The postgraduate IELTS requirement in GCD is 6.0 bands though students with 5.5 bands are also accepted. Postgraduate TOEFL requirement in Griffith College Dublin for all courses is 79 while the postgraduate PTE requirement in GCD is 59 overall, it can be said that the postgraduate English requirement in GCD is quite flexible for the overseas students.

The minimum entry requirement for Griffith College Dublin is given below:
Entry Requirement for Griffith College Dublin (Percentage or CGPA) - 60% or 6.0 CGPA
IELTS Requirement for Griffith College Dublin
An English Language Test is mandatory for all students to take for admission in Griffith College Dublin. IELTS - International English Language Testing System is accepted by Griffith College. Students are tested on the basis of their Writing, Speaking Listening & Reading skills. The Minimum IELTS requirement for Griffith College Dublin is an overall band score of 6.0 with no section less than 5.5.

IELTS Requirement for Griffith College Dublin is as follows:
IELTS Requirement for Griffith College Dublin - 6.0 with no section below 5.5
TOEFL Requirement for Griffith College Dublin
Students can also clear their English Language Test by doing the TOEFL test which is also considered by Griffith College Dublin. The minimum TOEFL requirement for Griffith College Dublin is 79.

TOEFL Requirement for Griffith College Dublin is as follows:
TOEFL Requirement for Griffith College Dublin - 79
PTE Requirement for Griffith College Dublin
Students are required to do the Pearson Test of English or PTE in order to do their Masters in Griffith College Dublin. The candidate's reading, writing, listening and speaking skills are evaluated An overall score of 59 is the minimum PTE requirements for Griffith College Dublin.

PTE Requirement for Griffith College Dublin is as follows:
PTE Requirement for Griffith College Dublin - 59
Undergraduate at Griffith College Dublin
GCD undergraduate programs are highly beneficial for the students in that they get to enjoy the benefits of small class sizes, global campus atmosphere and experienced lecturers. One of the special qualities of the GCD bachelor courses is that they have been specifically designed to offer students the scope of developing successful careers in the fields that they have chosen. Boasting of more than 7000 students at its campus in Dublin and a record of the most successful graduates in a host of industries both nationally and internationally, Griffith College Dublin undergraduate courses are your key to success.

Bachelors programs in GCD are available in varied faculties like business, Design, Law, Computing and Music and Drama. The portfolio of bachelors degree in GCD includes degree programs that come with duration of three or four years. The undergraduate programs at this college are aimed towards expanding the skills and the knowledge of the students for the dynamic and the ever-changing professional world. It is also worth noting that the Bachelors programs at GCD include both academic and practical training where the students get to work of real time situations.
Undergraduate Tuition Fee in Griffith College Dublin for International Students
Bachelors degree course fee in GCD is €12,000. There is an additional annual bachelors programs tuition fee in GCD which is called R.I.A.P fees. This includes a compulsory fee of €250 each academic year and a visa administration and medical insurance fee of €300 each academic year. There is even a protection of enrolled learner fee of €245. Undergraduate tuition fee in Griffith College Dublin is calculated as 2% of the total fee along with the registration fee prior to scholarship. There are no other fees included in the category of undergraduate programs tuition fee in GCD.
Undergraduate Entry Requirement in GCD for International Students
The language used for delivering classes at GCD is English. Therefore, it is important for the overseas students to demonstrate a satisfactory level of proficiency in the English language prior to being admitted into any of the programs offered by the college. This means that the students need to satisfy the set undergraduate English requirement in GCD. Foreign students who are not able to meet the undergraduate IELTS requirement in GCD might fail to submit their applications within the GCD undergraduate application deadline. They will have to take up varied courses for proving their skills in English. The undergraduate TOEFL requirement in Griffith College Dublin and undergraduate PTE requirement in GCD is both 6.0 which can be 5.0 for students.
Research at Griffith College Dublin
Research, innovations, development and PhD in GCD have been duly identified by the college as one of its most important strategic objectives. The college has adopted a very broad definition of research. Research is carried out at the college by taking reference from books, journals, articles, reports, publications and presentations. Research at GCD also include the interpretation, dissemination and writing of research within and beyond the academic community. Generating research income, organizing conferences and enabling the learners and the staff to become members of the research community of the college is an important objective.

Research work at GCD is not just limited to doing research on learning and teaching but even includes applied and discipline specific research. The college promotes research work in every field of study and excellence. It works towards enhancing the learning procedure and the performance of the students through continued and efficient research. It is the supportive research culture of the college that has brought advantages to many students in different areas of study. The different research projects taken up by the college are formally documented every year by the lecturers and the staff members.
GCD Scholarships for International Students
There are basically two different categories of GCD international scholarships and these include the Academic Merit Scholarship and the Griffith College Bursary. GC Bursary is offered to all the applicants who have got a place on the Griffith College program offered. The AMS or Academic Merit Scholarship comes in the form of an additional scholarship that is provided to students who are successful in demonstrating strong academic performance during the application procedure. Griffith College Dublin scholarships for international students include €200 for all successful applicants for Master's degree program and €10,000 for all successful applicants for Postgraduate degree programs.