Ireland, designated as one of the rapidly growing European economies and tempting job opportunities in Aerospace, has experienced a drastic surge in immigrants, especially Indian students arriving there to pursue their dream career in Aeronautical engineering. Unfortunately, Ireland's living cost is expensive compared to most other European nations, but the oceanic opportunities justify it. On average, the cost of living in Ireland for a single person studying Aeronautical Engineering is between €7000 to €12000, depending on the lifestyle. On-campus accommodation cost for Aeronautical Engineering in Ireland is somewhere between €400 to €600 for a single student. The cost of living in Dublin to study masters (MSc) in Aeronautical Engineering consists of rent, energy, meals, textbooks, housekeeping, medications, and other connected costs. It ranges between €800 and €1100 each month.
To break down the average living expenses in Ireland for Non EU Aeronautical Engineering students, $400 is spent on lodging, €180 on meals and drinks, €150 is spent on transportation, and at the very least, €80 is spent each month on cellphone and other necessities. It is a prudent choice for students to set aside €100 every month for additional expenditures. The living cost for Indian students in Ireland per month to study Aeronautical Engineering is expected to be approximately €12000 per year for the calendar year 2022, which would be significant on the upper side. As stated, the expenditure vastly varies on the lifestyle of the students living there. Still, we have listed some significant Ireland expenses to give you an approximate idea. Here is a full breakdown of the estimated cost of living in Ireland while studying Aeronautical Engineering-
Milk for 1 liter: €1
A can or a bottle of Coca-Cola: €1.4
Coffee: €2.7
Afternoon lunch from a cafe in the campus: €7.5
Food from an inexpensive place: €15
Dinner at a restaurant: €55
Ticket for movies: €10
One-minute phone call: €0.26
A ride in the taxi for a kilometer: €1.25
Petrol for a liter: €1.3
Single bedroom apartment in the city center: €1,029
Single bedroom apartment in the suburbs: €829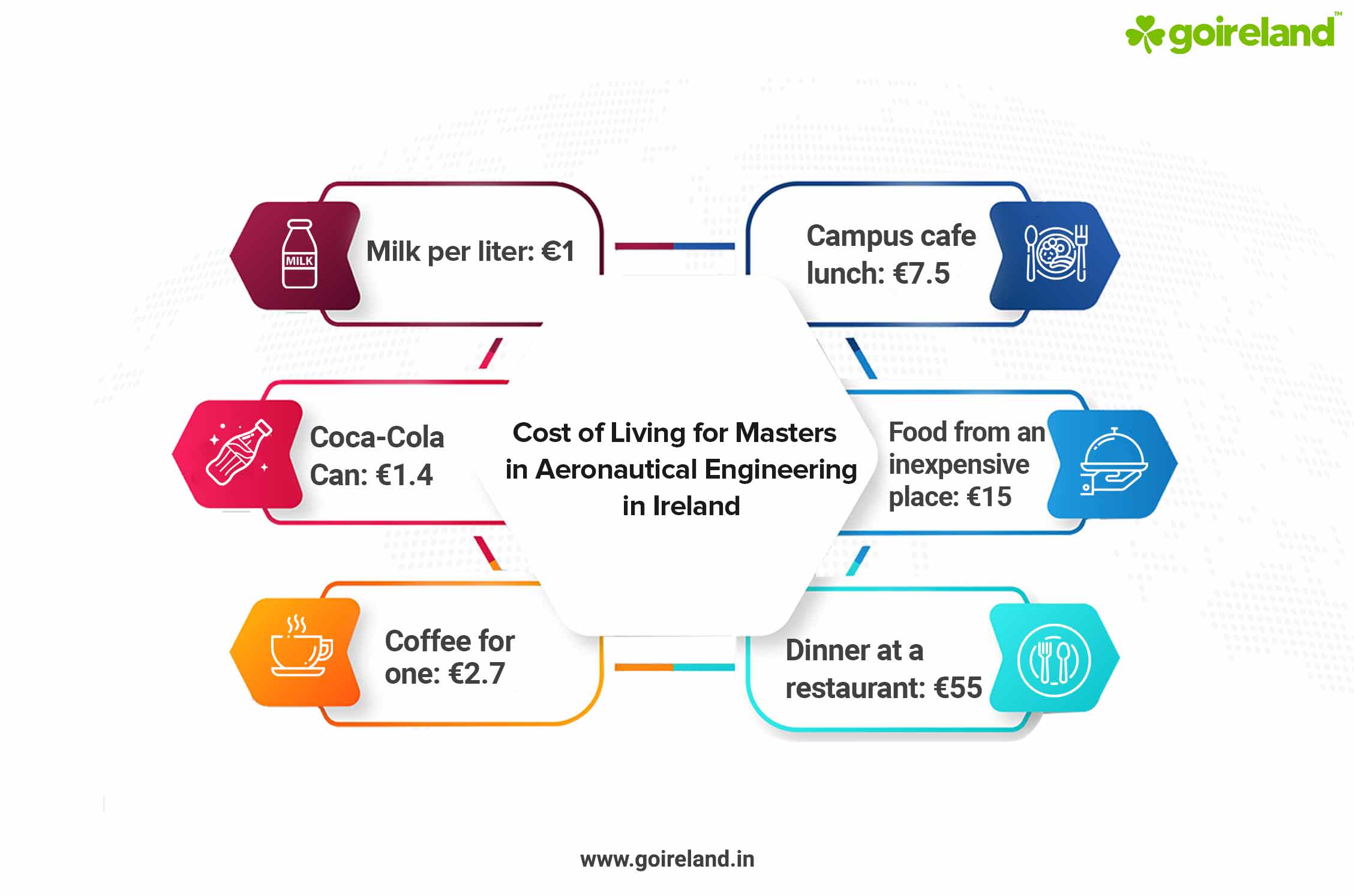 Dublin, the progressive capital of Ireland, is very expensive for non-EU folks to live in. Still, other Irish cities are cost-effective and pretty much on the lower side compared to major European countries like the UK. A frugal budget and a thoughtful, simple living in Ireland are efficient methods to save while pursuing Aeronautical engineering. GoIreland experts may assist students to obtain secured and unsecured education loans that cover all of their living and educational costs in Ireland, allowing them to concentrate on their master's degree and prepare for a promising future. Our financial associates may assist you with up to 90% of support and, in certain circumstances, up to 100% of the schooling, lodging, and other expenditures overseas. They are knowledgeable, dependable professionals who have worked in the funding for education business for many years. The loans are supported by government grants that can bring down the interests and offer a better moratorium.